Chicken Cordon Bleu is lightly breaded and baked chicken breasts stuffed with thinly sliced deli ham and gruyere cheese, topped with a creamy mustard sauce. For the same great flavors at your fingertips, try my Chicken Cordon Bleu Sliders!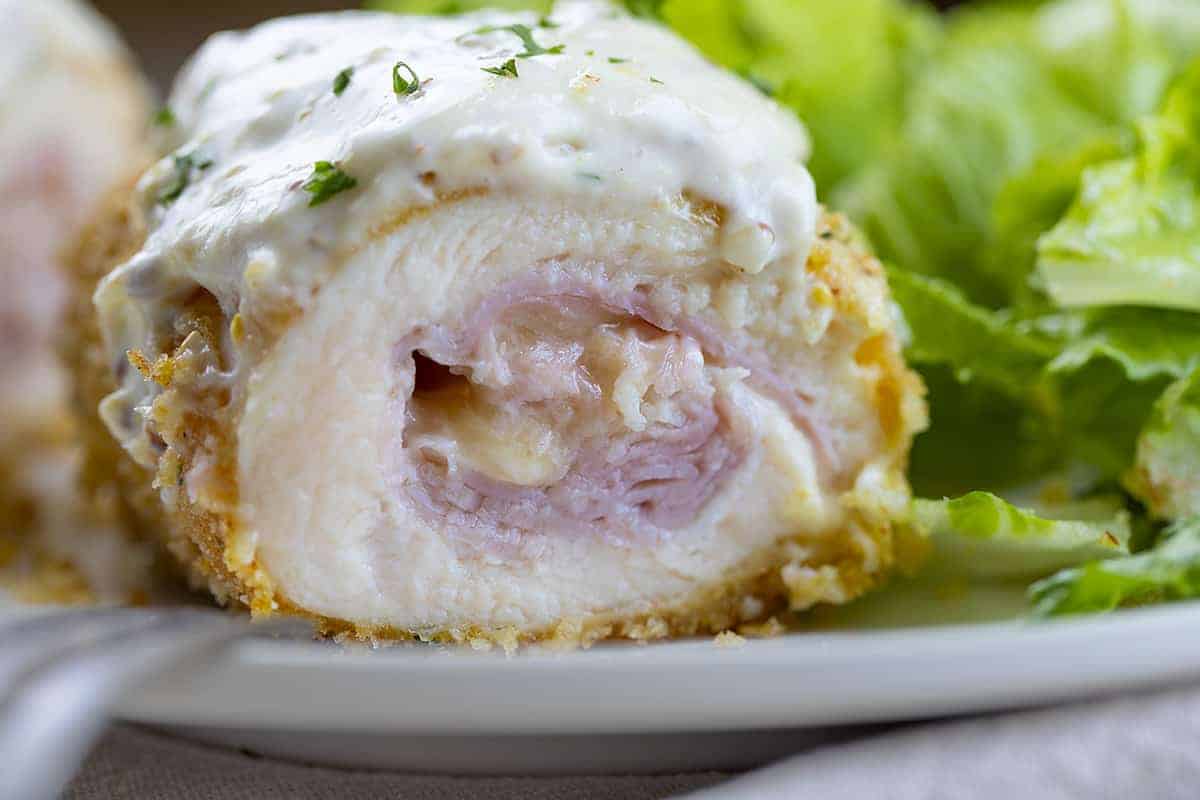 Chicken Cordon Bleu
Chicken Cordon Bleu is not food for the elite anymore! You don't even need to be a knight wearing a blue ribbon to enjoy these lightly breaded and stuffed chicken breasts. But, the flavor of this recipe makes this meal deserve a blue ribbon (which is the translation of 'cordon bleu')!
The lightly breaded chicken is wrapped around ham and cheese, baked (not fried) to perfection, and topped with a creamy sauce. Try the same great flavors in my Chicken Cordon Bleu Casserole!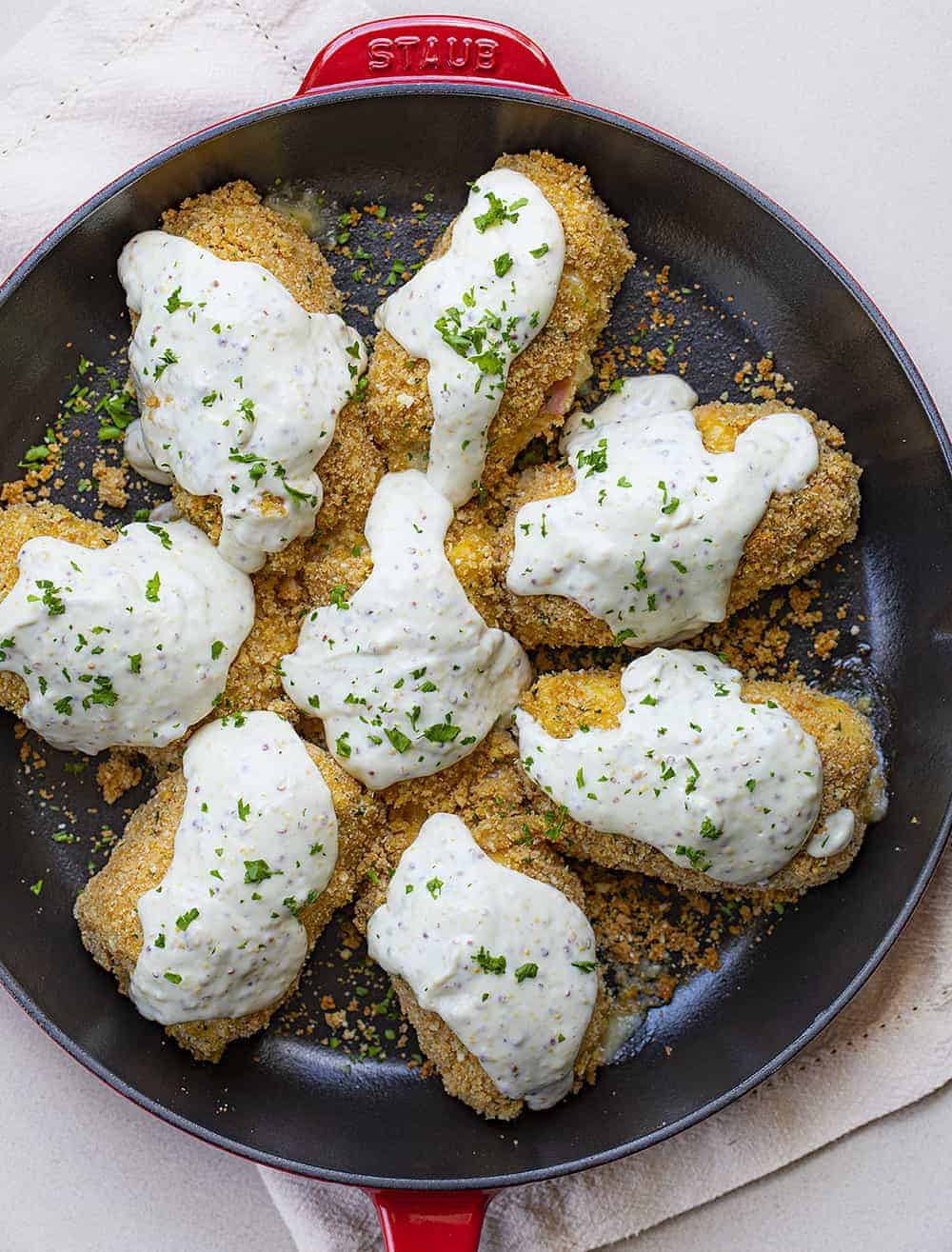 Chicken Cordon Bleu Ingredients
Chicken breasts: I used boneless, skinless chicken breasts.
Ham: I like the thinly sliced deli ham. You could also try turkey ham or just turkey, but the turkey may not give as much flavor to the dish.
Gruyere cheese: For shredded cheese, it's best to buy the block of cheese and shred it yourself. If you are looking to substitute this with a different cheese you want to select one that melts very easily. I would recommend a Compte' or Jarlsberg. Regular old Swiss cheese you find in masses at the grocery store may be substituted, but beware! The texture is different, and it may not give you that dish that stands out!

Can I Use Yellow Mustard instead of Dijon Mustard?
Yes, you can always substitute yellow mustard for Dijon mustard. But, the bright yellow color is not the only difference between the two mustards. Yellow mustard does not have as tangy of a flavor as Dijon mustard. In addition, the ingredients are a bit different.
Yellow mustard is made of powdered mustard seeds, vinegar, and water. Dijon mustard is made with brown or black mustard seeds and usually white wine. It definitely has a sharper flavor, so it is about preference which mustard you choose for this recipe.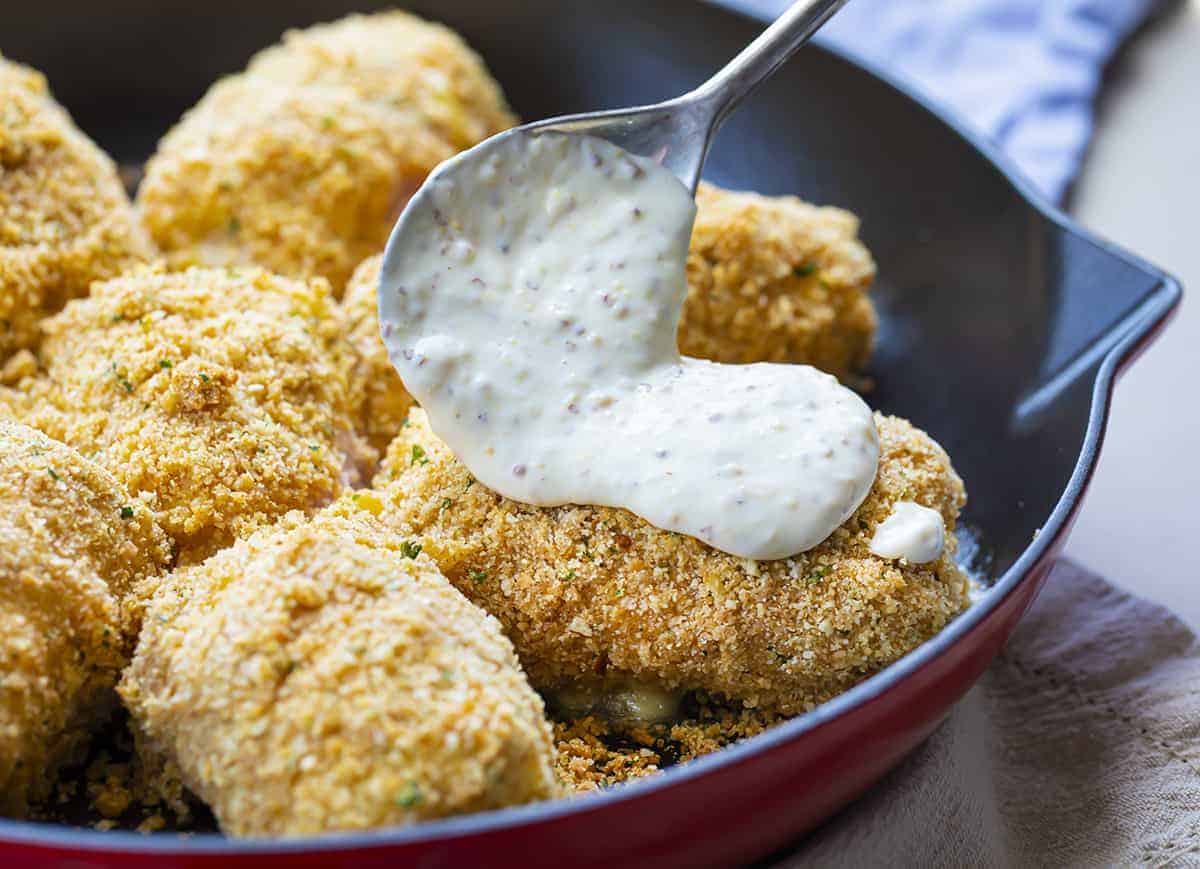 What to Serve with Chicken Cordon Bleu
Serve this dish with a side of Garlic Roasted Asparagus, Roasted Parmesan Green Beans, and/or Skins On Mashed Potatoes for a hearty and tasty meal.
Can I Make Chicken Cordon Bleu Ahead of Time?
Yes, you can get the chicken pounded out and rolled up with the ham and cheese inside. Wrap them tightly in the plastic wrap and store them in the refrigerator a day in advance. Wait to add the breading and make the sauce until you are ready to bake them.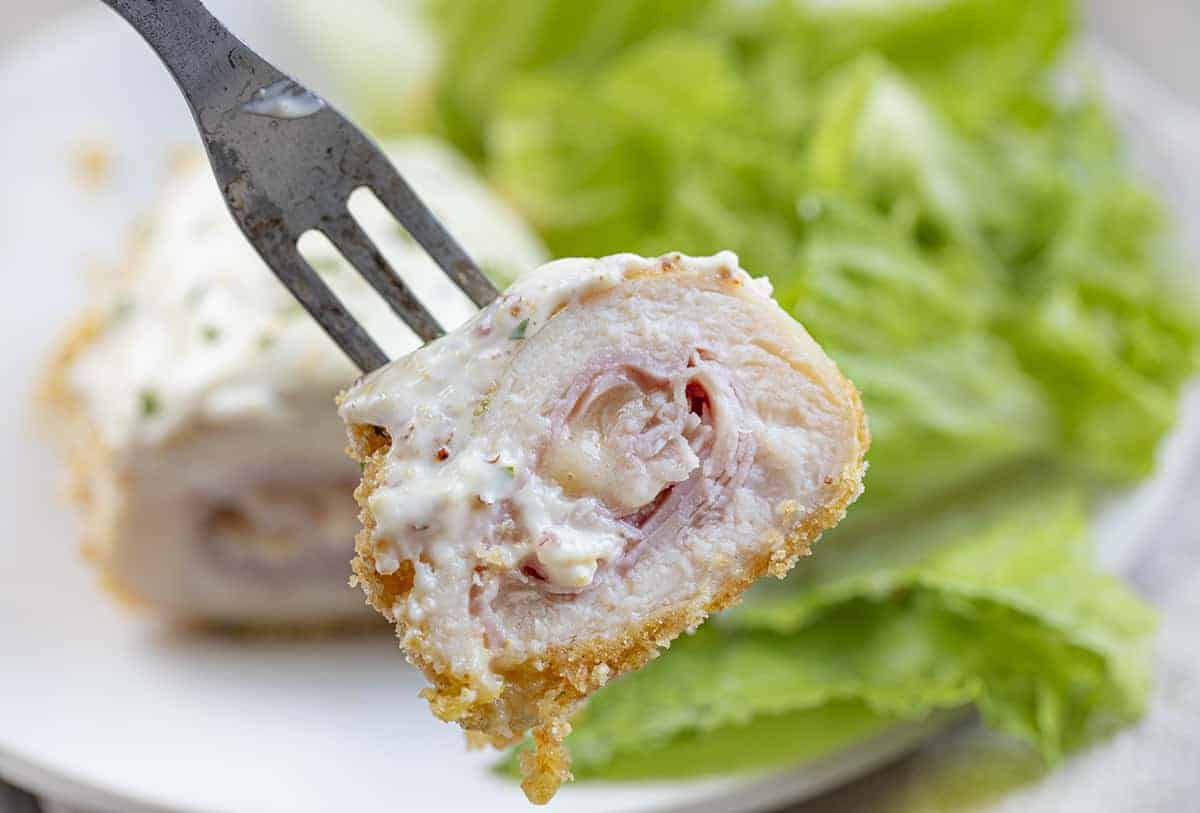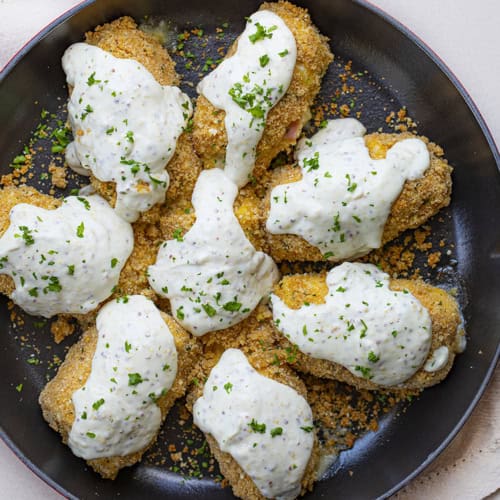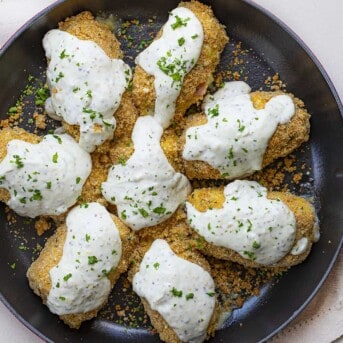 Chicken Cordon Bleu
Chicken Cordon Bleu is lightly breaded and baked chicken breasts stuffed with thinly sliced deli ham and gruyere cheese, topped with a creamy mustard sauce.
Ingredients
Chicken
4

boneless

skinless chicken breasts

16

slices

thin deli ham

1

cup

(113 g) gruyere cheese,

shredded
Breading
¼

cup

(31 g) all-purpose flour

¼

teaspoon

kosher salt

¼

teaspoon

pepper

¼

teaspoon

cayenne pepper

2

large

eggs,

room temperature

2

tablespoons

water

1

cup

(108 g) seasoned breadcrumbs

¼

cup

(½ stick / 56 g) unsalted butter,

melted

1

teaspoon

kosher salt

2

teaspoons

garlic,

minced
Cordon Bleu Sauce
1

cup

(238 g) heavy cream

1

tablespoon

corn starch

2

tablespoons

mayonnaise

2

tablespoons

dijon mustard
Instructions
Chicken
Pat the chicken dry with paper towels. Use a sharp knife to cut each chicken breast in half horizontally to create two chicken breast halves.

Place each breast flat between 2 sheets of plastic wrap and pound until it reaches an even thickness of about 1/4 inch. (Be careful not to tear the chicken).

Set out 8 pieces of plastic wrap (about 10 inches wide).

Set one chicken breast half on each piece of plastic wrap.

Top each chicken breast half with 2 slices of deli ham, and ⅛ cup of cheese.

Using the plastic wrap, roll the chicken into a tight roll, tucking the sides in slightly. Seal the chicken rolls tightly with the plastics wrap and refrigerate for 30 minutes.
Breading
Preheat the oven to 375°F.

Pour the flour, salt, pepper, and cayenne pepper onto a wide and deep plate.

On a second plate, whisk the eggs and water together.

On a third plate combine breadcrumbs, butter, salt, and garlic. Mix until well combined.

Working one chicken breast at a time, dredge the chicken into the flour, then the egg, then the breadcrumb mixture. Making sure to coat the entire chicken breast each time.

Transfer coated chicken breasts to a skillet.

Bake for 20 to 25 minutes in the preheated oven, until the chicken is cooked through and the juices run clear. Chicken is cooked through when it reaches 165°F on an internal thermometer.

Remove from the oven and set aside.
Cordon Bleu Sauce
In a medium saucepan, whisk together the heavy cream and cornstarch until smooth. Set over medium heat, and whisk constantly until the mixture starts to thicken. Add the mayonnaise and the dijon mustard and stir to combine.

Drizzle sauce over chicken and serve.
Did you make this recipe?
You can tag me at @iamhomesteader.