This Chicken Stroganoff has a thick and savory sauce with large chunks of seasoned chicken and tons of earthy mushroom slices. Definitely bursting with flavor!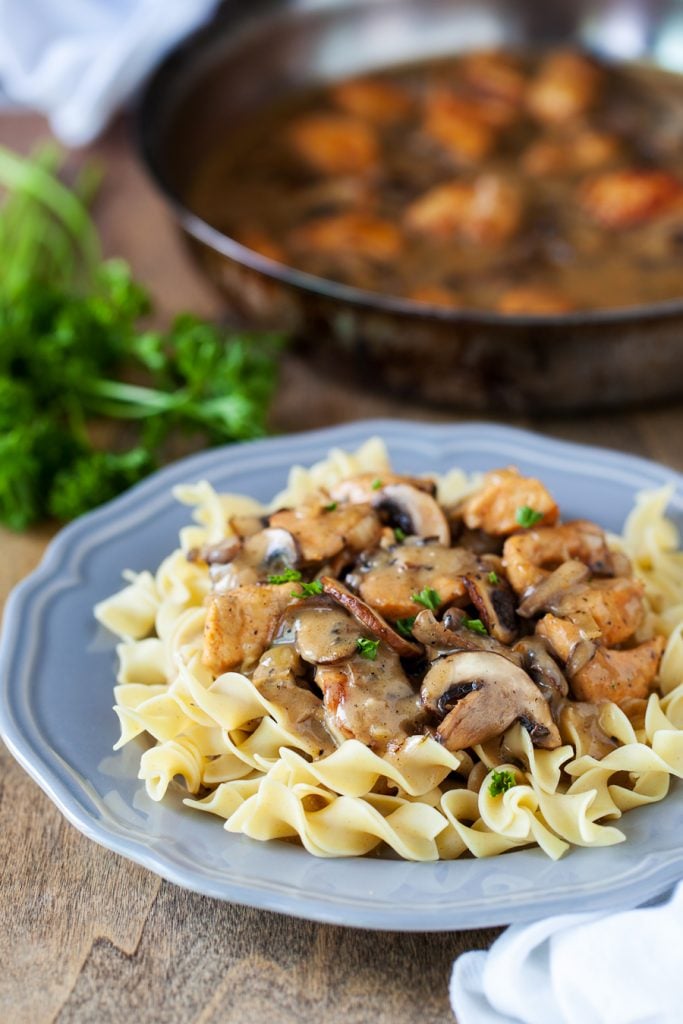 Chicken Stroganoff Recipe
We like to take our time with this Chicken Stroganoff recipe.  Allowing the dish to simmer gives the flavors time to soak into the chicken and will make you want to savor every last bite.  Make sure to have some bread around to sop up any leftover sauce!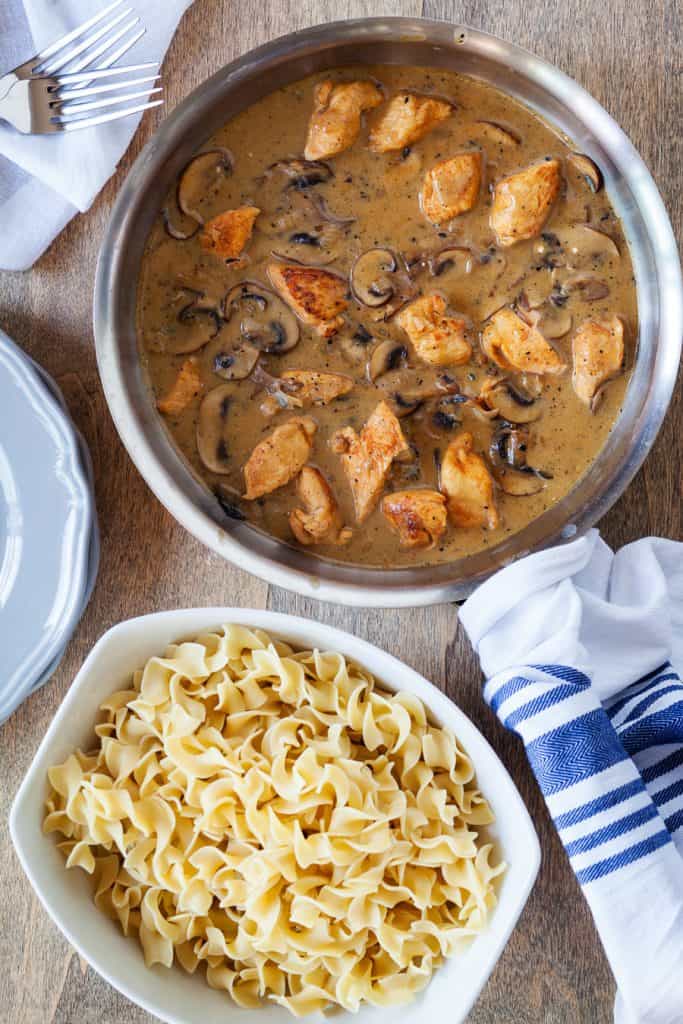 Want to dress it up even more?  How about making your own egg noodles?  Check out our homemade egg noodle recipe.
Tips Tricks and Variations
Can I make Slow Cooker Chicken Stroganoff?
Yes.  You basically just skip cooking the chicken.
Follow these directions for Slow Cooker Chicken Stroganoff:  In a crockpot, add the chicken, garlic powder, onion powder, paprika, cayenne, salt, and pepper and mix to coat evenly.  In a frying pan, heat 2 tablespoons of oil until shimmering. Add the shallot and onion and cook until softened. Add the garlic and cook until fragrant, about 30 seconds.  Add the mushrooms and cook until browned. Pour in the wine and cook until the wine has reduced by half, scraping any brown crust from the bottom of the pan. Stir in the butter until melted. Add the flour and stir until no lumps remain.  Add this mixture to the crockpot, along with the chicken broth,  Worcestershire sauce, sour cream, and thyme. Cook on low for 4 hours.
Can I serve Chicken Stroganoff with Rice?
We serve it over egg noodles, homemade or store-bought, but it's just as delicious over rice.  We recommend using Jasmine, but any variety long grain rice will work.
Tools used in making this Chicken Stroganoff
Meat Thermometer: Any time I cook chicken I break this tool out.
Adapted from Lil' Luna. Photography by The PKP Way.
Did you make this recipe?  I want to hear about it!  Take a picture and tag me on Instagram or on Facebook.  I would love to see your finished product!  Make sure to tag me @iamhomesteader or hashtag #iamhomesteader, or both!