Cornbread Dressing is a flavorful side dish made with pieces of cornbread, ground sausage, vegetables, herbs, and spices. Try my Wild Rice Stuffing (Dressing) for another delicious side dish.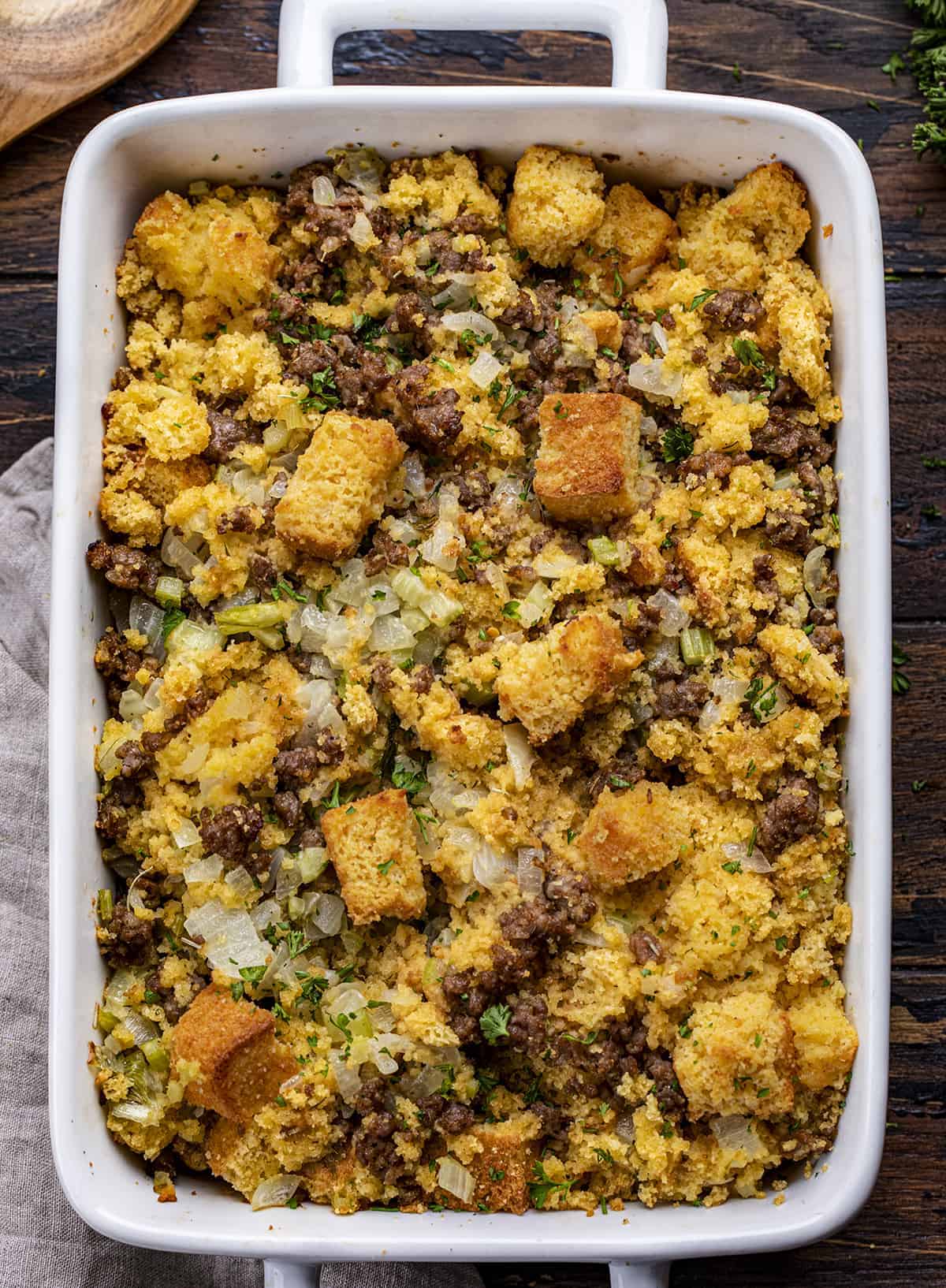 Cornbread Dressing
This recipe is called a dressing because it is not stuffed into a bird. However, I am from the midwest and we call it stuffing no matter where you cook it. This recipe starts with my homemade cornbread, cut into bite-sized pieces. Then, it's mixed with cooked sausage, veggies, herbs, and spices and all baked together in one dish. It's definitely worthy of being added to your Thanksgiving menu!
Dressing Ingredients
Cornbread: You can make homemade cornbread to use in this recipe. Or, you can use store-bought cornbread. The first step is to cut the bread into bite-sized pieces and bake them at a low temperature to harden the bread a bit. However, you could also let the bread pieces sit out overnight, uncovered, for similar results.
Meat: I added mild ground sausage to the mixture for some substance and flavor. You could also substitute another kind of meat or leave it out altogether for a meatless stuffing. If you leave out the sausage, simply add the seasonings to the onions and celery.
Chicken Broth: If you don't have any on hand, you can use chicken stock (but the flavor will be a bit stronger).
Egg: The egg helps all the ingredients stay together.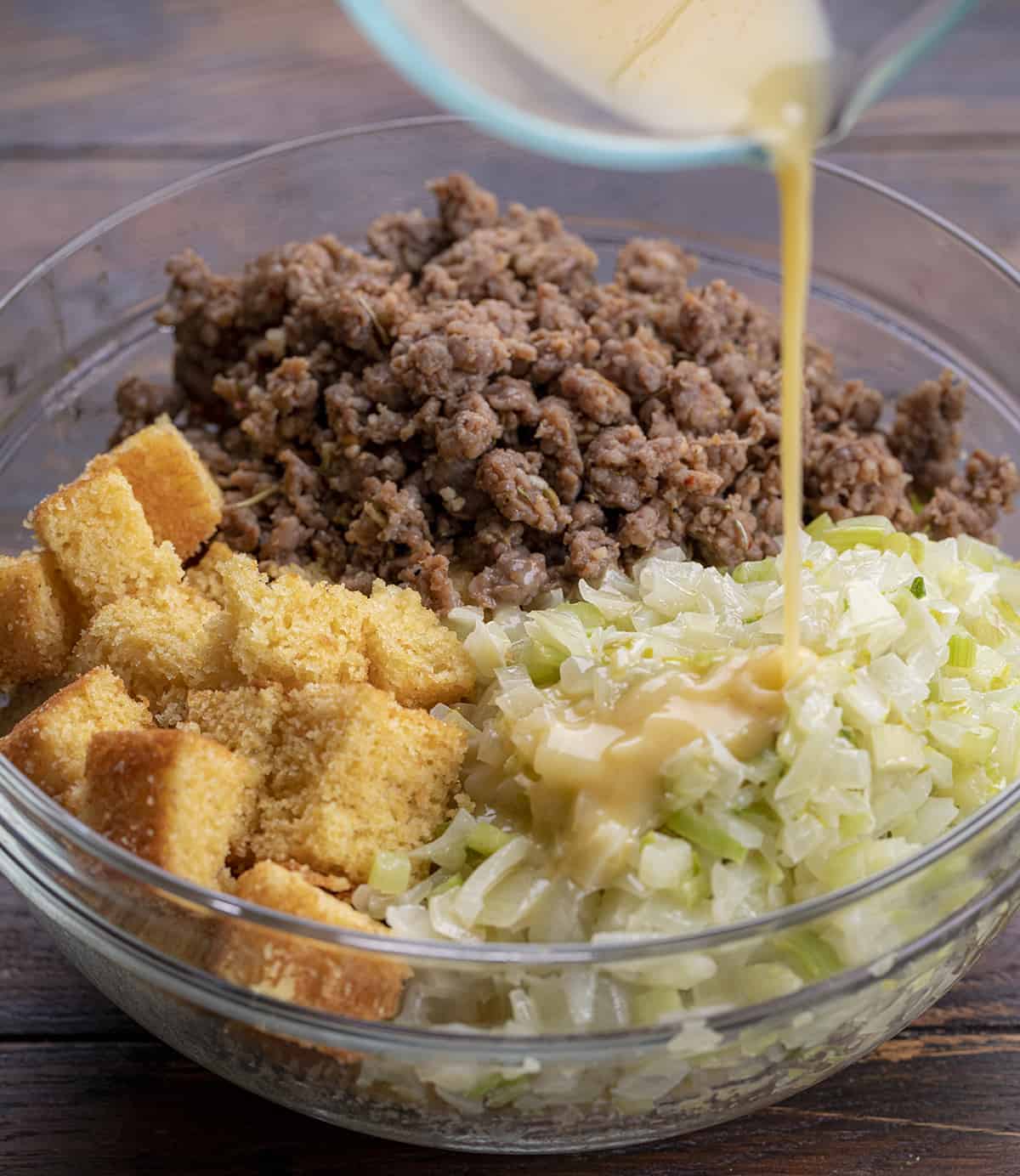 Preparing the Cornbread
The first thing to do in this recipe is to cut the cornbread into bite-sized pieces. Next, if using freshly baked cornbread, place the pieces on a parchment paper-lined baking sheet and bake the pieces for 20 minutes at 200°F, or until slightly toasted. You can skip this step if you are using stale pieces of cornbread. You could get stale cornbread by leaving the pieces out, uncovered, overnight. This is to harden the bread a bit. Add the cornbread to a large bowl and set it aside.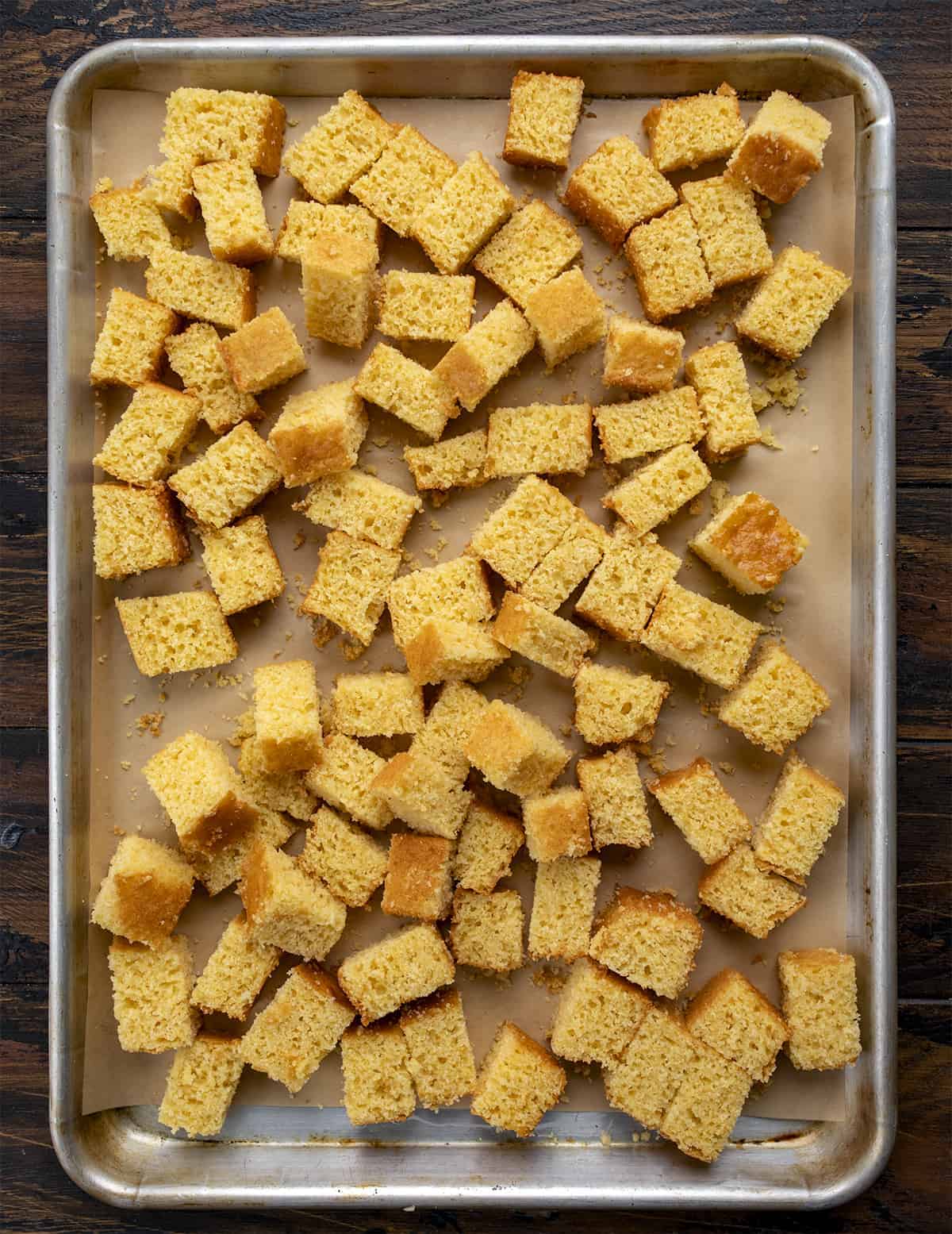 How to Make Cornbread Dressing
Once your cornbread is ready, it's time to get the other ingredients mixed with the bread and baked. First, cook the onions and celery until the onions are translucent. Add the onions and celery to the bowl of cornbread pieces.
Next, in the same skillet, brown the sausage until it is no longer pink. Add the garlic, sage, rosemary, thyme, salt, and pepper. Cook for one more minute before adding the seasoned sausage mixture into the bowl with the cornbread.
Then, in a small bowl, whisk together the egg with the chicken broth. Pour this over the cornbread mixture, combining all the ingredients together. Finally, pour the cornbread stuffing mixture into the prepared baking dish. Cover the dish with aluminum foil and bake for about 30 minutes, or until heated through. If you want a crispier top, remove the foil after 30 minutes and bake for an additional 10 minutes. Serve immediately.
Can I Make This Dressing Ahead of Time?
Yes! You can leave the cornbread out for a couple of days so you don't need to toast it. Then, assemble the cornbread dressing up to the point of baking. Then, cover the dish with plastic wrap and store it in the refrigerator up to a day in advance. When ready, bake it in the oven as instructed. (You may need a couple more minutes of bake time to heat it all the way through.)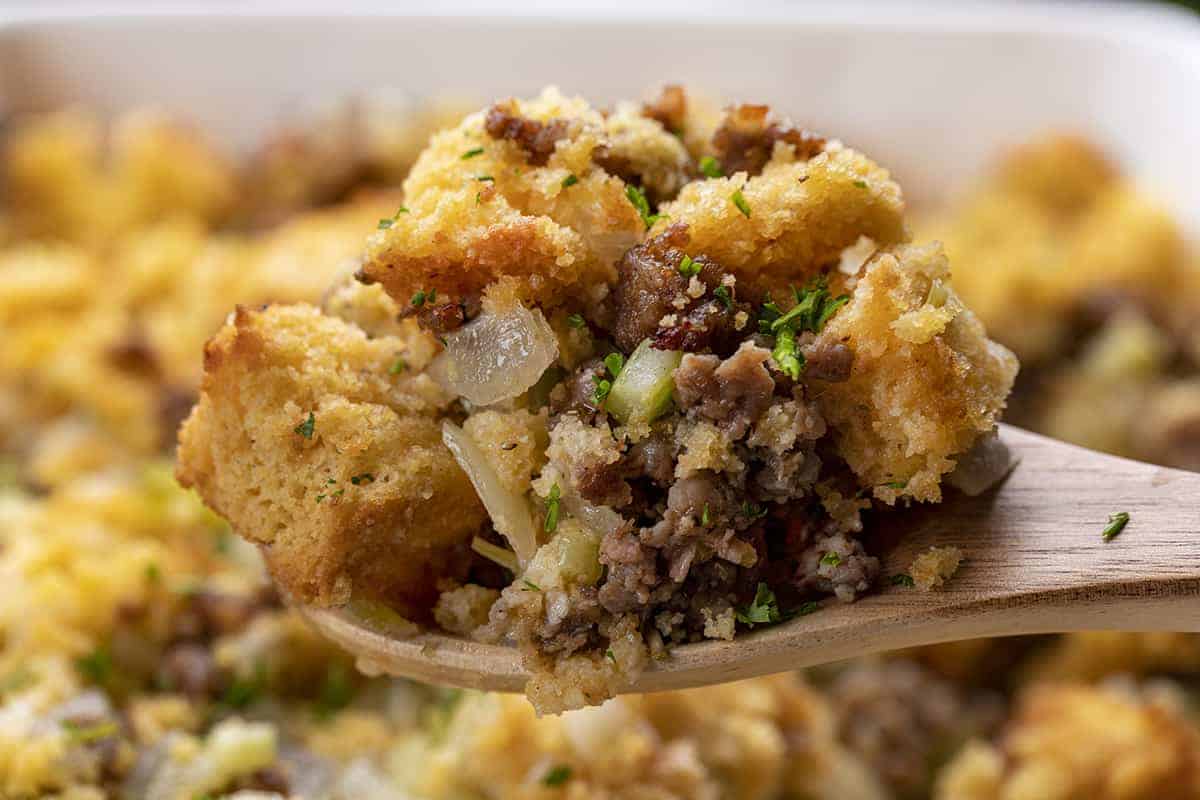 Do You Love Cornbread?
If you love cornbread, but don't want to use it in dressing, I have a few varieties you may want to try. I have jalapeno cornbread, country-style cornbread, and cake-like cornbread (a sweeter cornbread) that are all delicious on their own!
Looking for More Side Dishes?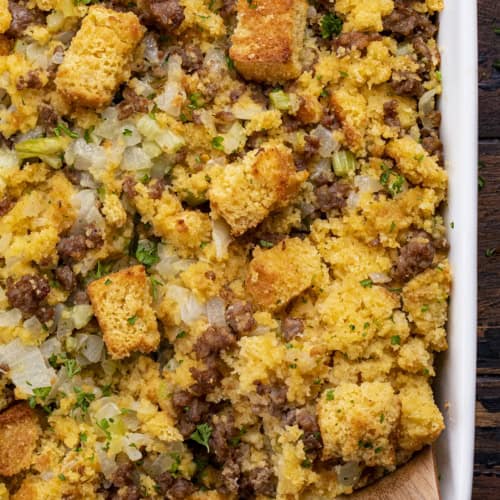 Cornbread Dressing
Cornbread Dressing is a flavorful side dish made with pieces of cornbread, ground sausage, vegetables, herbs, and spices.
Ingredients
9

cups

cornbread,

homemade or store-bought

4

tablespoons

(½ stick or 57g) salted butter

2

medium

onions,

cut into ¼-inch dice (about 2 cups)

3

stalks

celery with leaves,

cut into ¼-inch dice (about 2 cups)

1

pound

ground sausage,

mild

1

teaspoon

garlic,

minced

½

teaspoon

dried sage,

crumbled

½

teaspoon

dried rosemary,

crushed

½

teaspoon

dried thyme,

crumbled

½

teaspoon

salt

½

teaspoon

freshly ground black pepper

1

cup

chicken broth

1

large

egg,

room temperature

parsley,

for garnish
Instructions
Preheat the oven to 200°F and line a large baking sheet with parchment paper.

Cut cornbread into bite-sized pieces (about ½-inch). Place on the lined baking sheet and bake for 20 minutes. (You can skip this step if you are using stale cornbread.)

Add the cornbread to a large mixing bowl. Set aside.

Increase the oven temperature to 350°F and spray a 9x13-inch baking dish with nonstick spray.

In a medium skillet, melt butter over medium heat. Add in onion and celery stirring occasionally for about 5-10 minutes. You want onions to be translucent. Add the onion mixture to the cornbread.

In the same skillet over medium heat, cook sausage until no longer pink. Add garlic, sage, rosemary, thyme, salt, and pepper and cook 1 more minute. Spoon into the bowl with the cornbread.

In a small bowl, whisk together the broth and egg. Pour over the cornbread mixture and gently toss to combine.

Transfer the mixture to the 9x13-inch baking dish. Cover with aluminum foil and bake for about 30 minutes, or until heated through. (Optional: For a crispier top, remove foil and bake an additional 10 minutes.)