Cowboy Stew is a wholesome and satisfying dish that combines a variety of ingredients to create a flavorful and hearty meal! It features a medley of savory meats, vegetables, and seasonings in a rich beef broth that is sure to satisfy and fill you up. It's a stew that surely eats like a meal! For a side dish with many of the same flavors, try my Cowboy Beans, too!
Ingredients & Substitutions
Bacon: Cut up the bacon (thick-cut or regular) into smaller, bite-sized pieces before cooking it in the pot. After the bacon has been cooked, leave about a tablespoon of grease in the pot when browning the kielbasa.
Kielbasa: Kielbasa (sometimes also called ring sausage) is a flavorful, lightly smoked sausage that is pre-cooked. You could also use Andouille sausage, Mexican Chorizo, or other sausages as substitutes. I like to brown the rounds of kielbasa, but since it is pre-cooked, you wouldn't necessarily need to do that.
Ground Beef: I prefer ground beef in this recipe; but, you could definitely try ground turkey, ground chicken, or even ground pork as substitutes.
Potatoes: Russet potatoes are great for this recipe. Yukon gold potatoes would also work well. If you want to save some time in this recipe you can use frozen cubed potatoes which are called "Diced Hash Potatoes" or "Southern Style Hash Brown Potatoes" in your frozen food section of the grocery store.
Beans: Look for 2 cans of kidney beans, a common bean known for their kidney-like shape. Before adding the beans to the stew, rinse and drain them. Rinsing the beans removes excess sodium, starch, and preservatives, and improves flavor and texture. You could also make the stew with other kinds of beans like cannellini, pinto, black beans, or a combination of beans, just to name a few.
Vegetables: I added a bag of frozen mixed vegetables to the stew. If using freshly cut vegetables, cooking times may vary depending on the vegetables you are adding.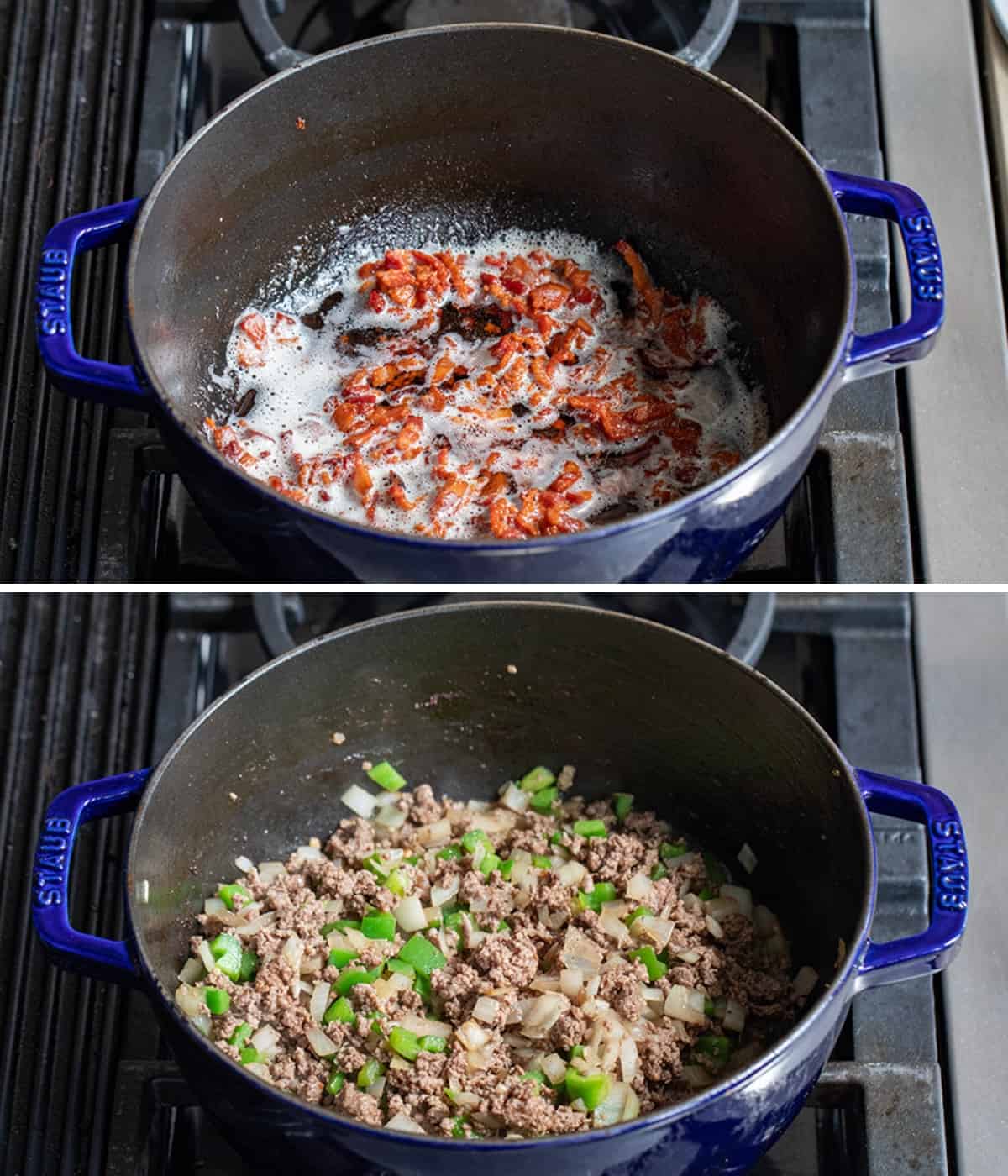 What To Serve With Cowboy Stew
Cowboy Stew is a hearty and flavorful dish that can be complemented with various side dishes to create a well-rounded meal. Here are some ideas for what to serve with Cowboy Stew: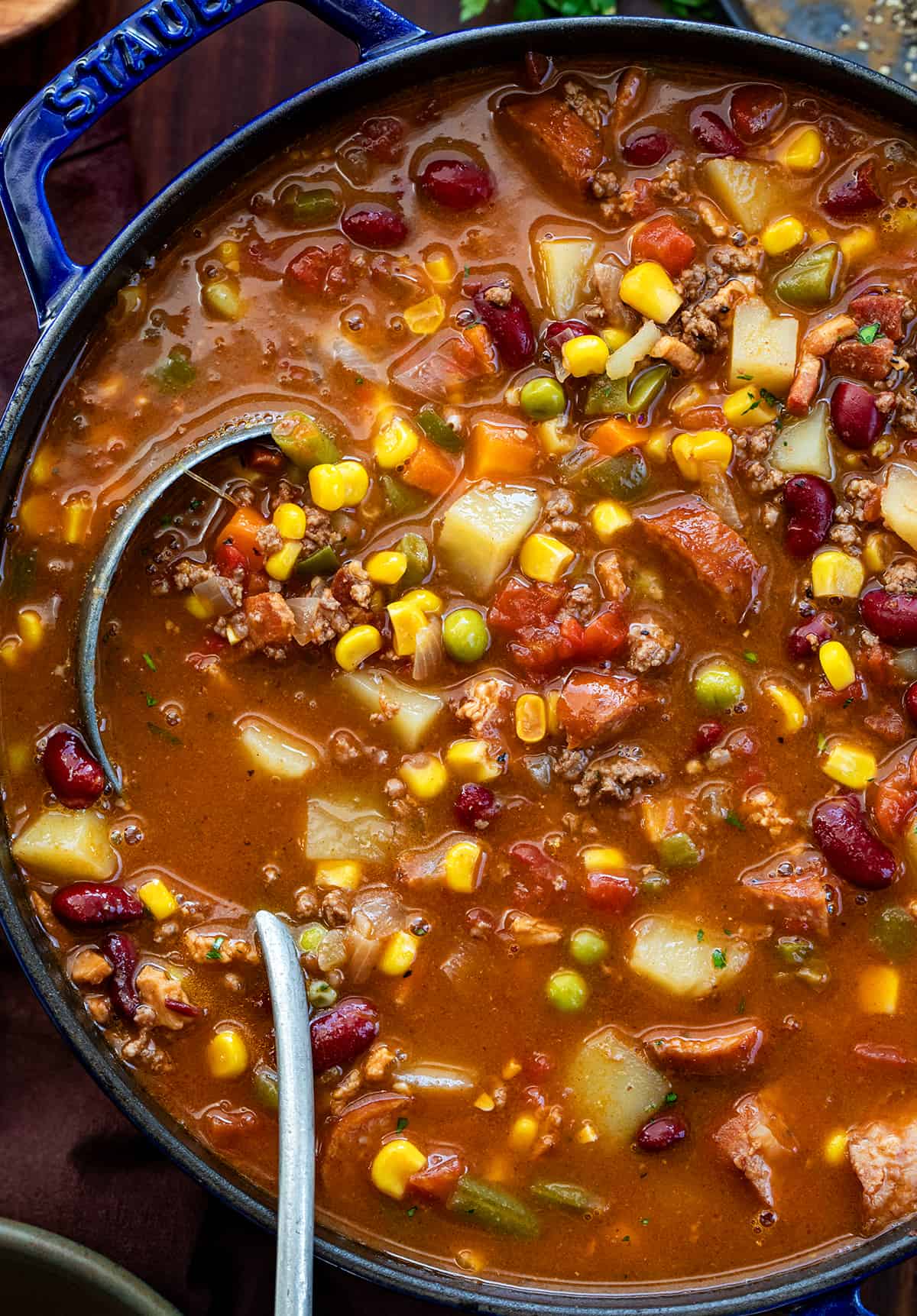 Can I Make Cowboy Stew Ahead Of Time?
Absolutely! In fact, many stews, including Cowboy Stew, often taste even better when they've had some time to sit and allow the flavors to meld. Once it's made, let it cool. Then, store the stew in an airtight container in the refrigerator. It's perfect to get made in advance and have your lunches or dinners ready for the week!
How To Store Cowboy Stew
If you have any leftovers of cowboy stew, store them in airtight containers in the refrigerator for up to 3-4 days. Reheat the stew in the microwave or on the stovetop until heated through.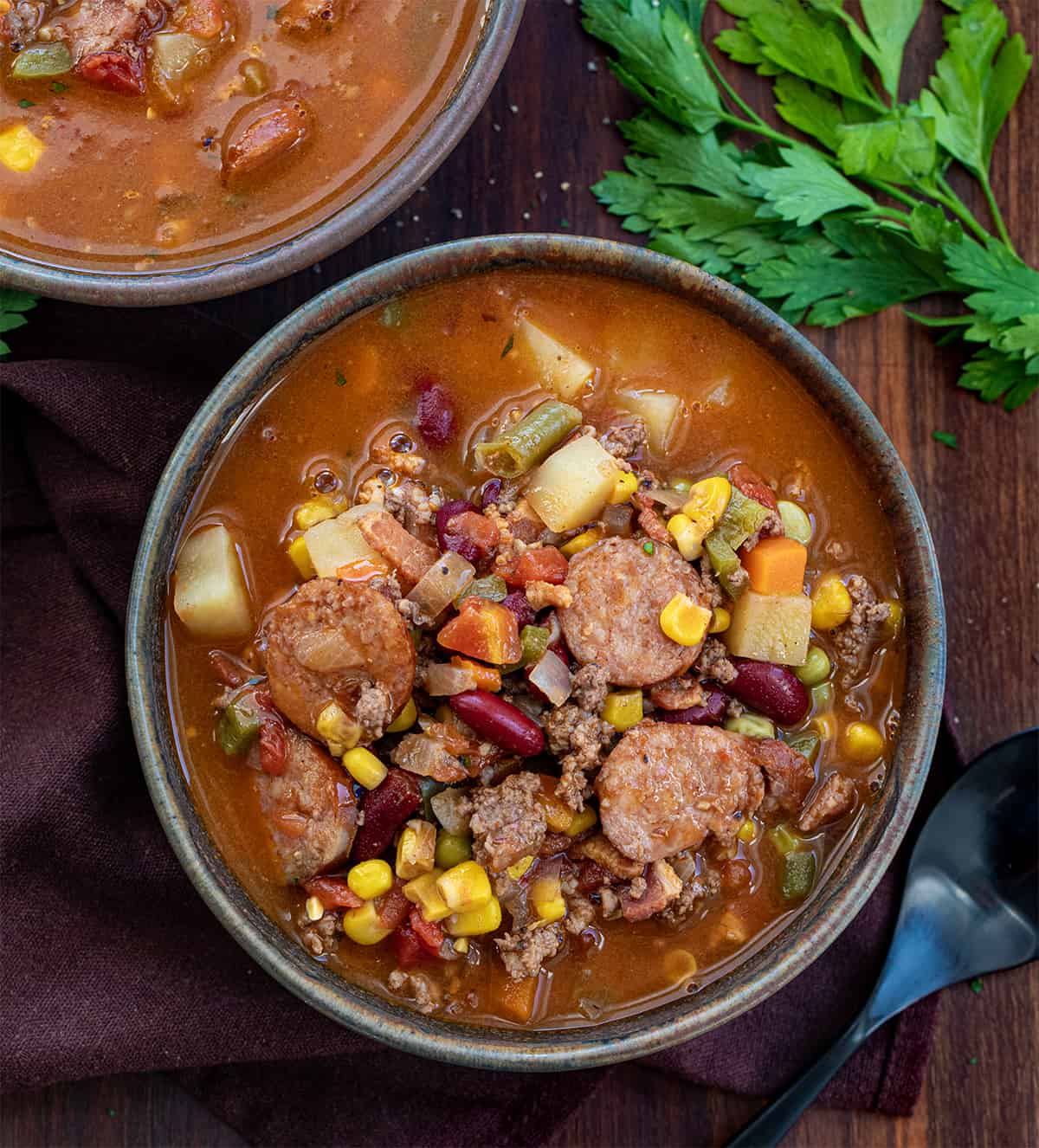 Can I Freeze The Stew?
Yes! First, let the stew come to room temperature (letting it cool for 1-2 hours). Then, store the soup in freezer-safe containers, leaving a little space at the top for expansion. I like to divide the stew into smaller portions for easy make-ahead meals. Label and date the packaging and store it in the freezer for up to 3 months. Let the soup thaw in the refrigerator overnight before reheating.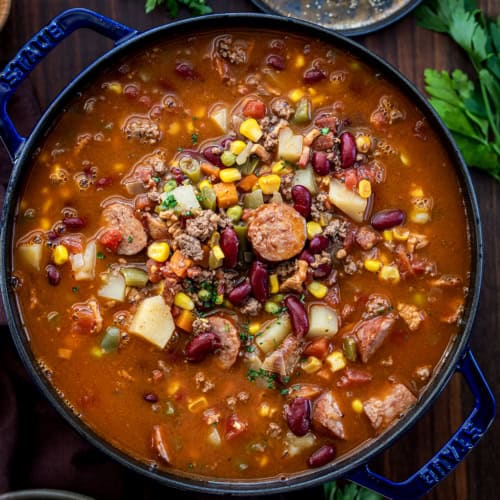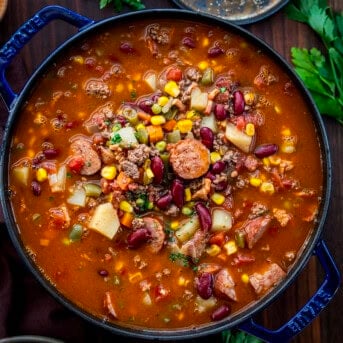 Cowboy Stew
Cowboy Stew is a wholesome and satisfying dish that combines a variety of ingredients to create a flavorful and hearty meal! It features a medley of savory meats, vegetables, and seasonings in a rich beef broth that is sure to satisfy and fill you up. It's a stew that surely eats like a meal!
Ingredients
8

slices

bacon,

cut into small pieces

1

ring

(13.9 ounces) kielbasa,

sliced into ¼-inch rounds

1

pound

ground beef

1

yellow

onion,

chopped (approximately 1 cup)

1

green

bell pepper,

seeded, diced (approximately 1 cup)

1

teaspoon

garlic,

minced

¼

cup

(31.25 g) all purpose flour

2

cans

(14.5 ounces each) diced tomatoes,

undrained

2

cans

(15.25 ounces) kidney beans,

rinsed, drained

1

can

(15.25 ounces) whole kernel corn,

undrained

2

medium

russet potatoes,

rinsed, peeled, diced

1

package

(10 ounces) frozen mixed vegetables

1

tablespoon

chili powder

1

teaspoon

kosher salt

1

teaspoon

black pepper

4

cups

(960 g) beef broth

parsley,

chopped for garnish
Instructions
In an 8-quart, heavy-bottomed pot (or stock pot) over medium heat, add bacon. Cook until crispy and browned, about 10-12 minutes.

Using a slotted spoon, carefully remove the bacon from the pan and set it on a paper towel-lined plate to drain off excess grease.

Drain all but 1 tablespoon of grease from the pot. Then add the kielbasa and cook until both sides are brown, about 3-4 minutes. Remove and set them on the plate with the bacon.

Drain any remaining bacon grease from the pot. Add ground beef, onion, green pepper, and garlic to the pot. Cook until the ground beef is no longer pink (6-8 minutes). Drain excess liquid.

Sprinkle flour over the mixture and mix until combined. Cook for 1 minute.

Add the bacon and kielbasa back to the pot, along with the diced tomatoes, beans, corn, potatoes, frozen mixed vegetables, chili powder, kosher salt, black pepper, and beef broth. Mix everything together until well combined.

Bring the mixture to a boil. Then, cover the pot, reduce the heat to low, and simmer for 30 minutes, or until the potatoes are tender.

Garnish with parsley before serving.
Did you make this recipe?
You can tag me at @iamhomesteader.
What the Test Kitchen had to say about this recipe: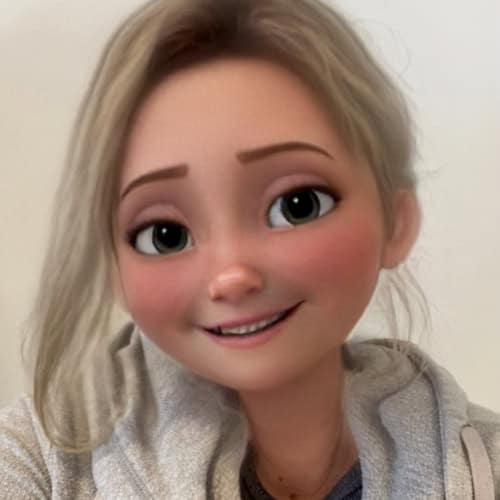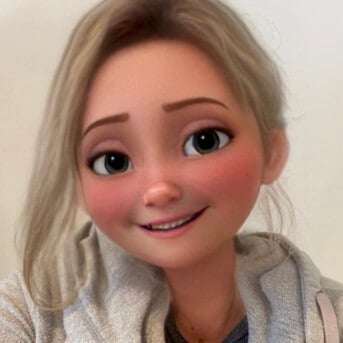 Autumn
Cowboy stew is perfect when you have a large group or a super-hungry group. As the name suggests, this will satisfy even the biggest appetite! Three different meats and loads of vegetables are all brought together with a little chili powder. This is definitely a hearty and delicious stew that I will make again!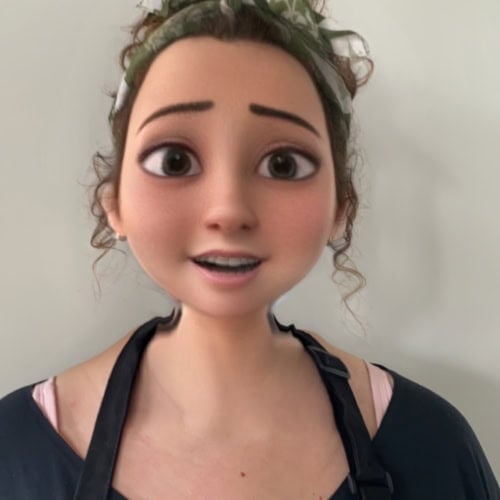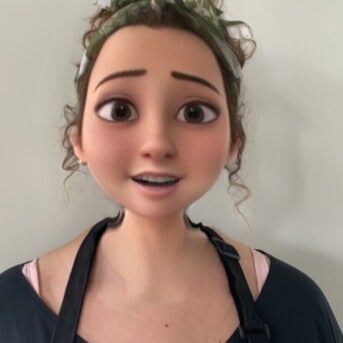 Rachael
This is an easy stew to put together with easy-to-find ingredients!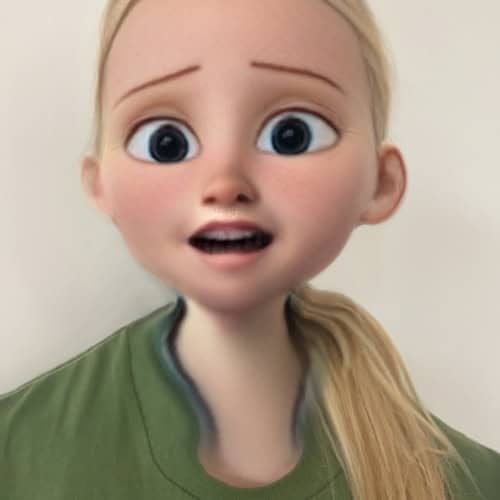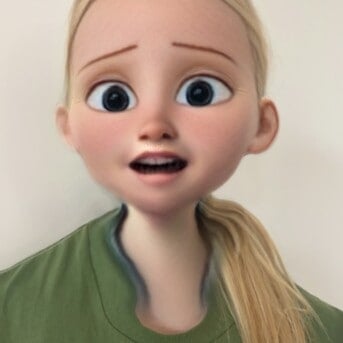 Annabelle
This is a super easy dinner and could feed a crowd!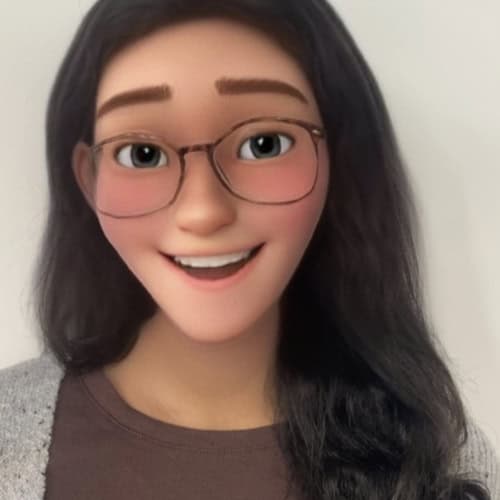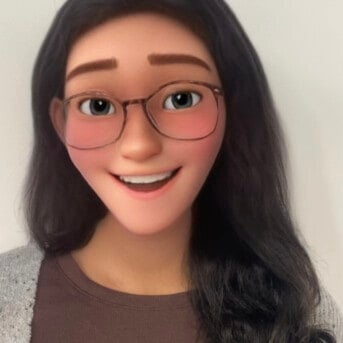 Bella
Definitely a hearty and delicious meal! So convenient as well!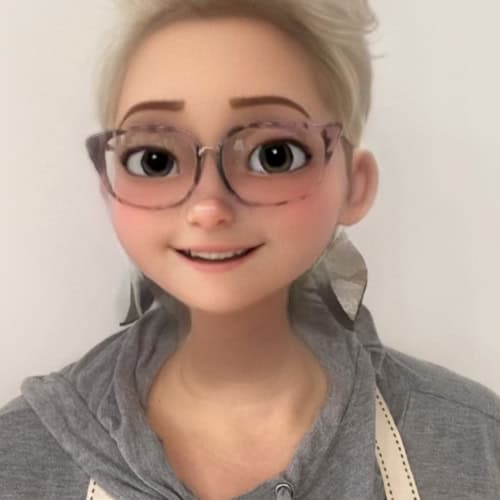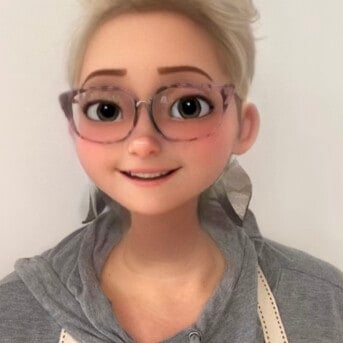 Selena
Super hearty and uses a lot of ingredients you probably already have on hand. Love the chili powder in it! Would be great for the fall!