This Crispy Grilled Cheese Sandwich takes grilled cheese to an even cheesier level! Made on sourdough bread, filled with two kinds of cheese, and topped with even more cheese for a cheesy, crispy crust, you will never make a traditional grilled cheese sandwich again! If you love variations of classic sandwiches, give my BBQ Chicken Grilled Cheese sandwich a try!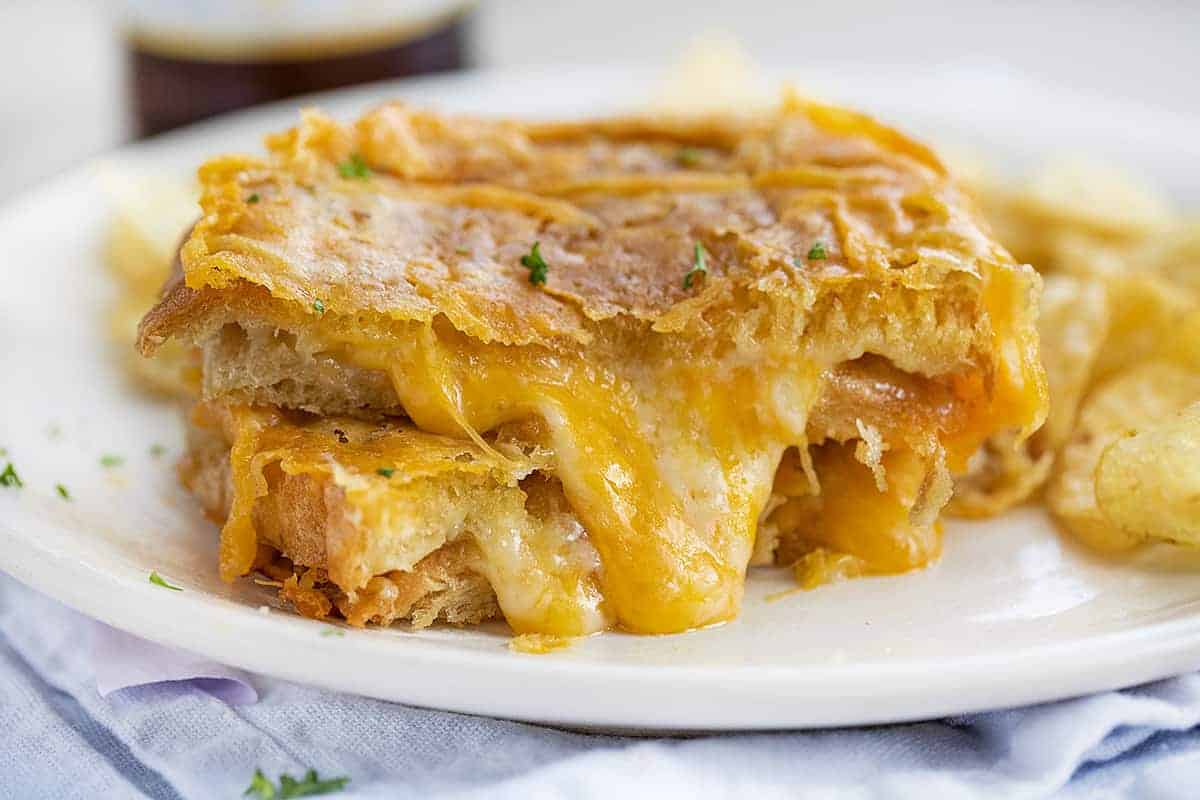 Crispy Grilled Cheese Sandwich
Say cheese! With all the cheese that is loaded in and on top of this Crispy Cheese Sandwich, you will hopefully not be able to say anything because you will be enjoying all the cheesiness of this sandwich! There is something so comforting about a grilled cheese sandwich and a bowl of tomato soup. It's simple but so satisfying. By adding a layer of cheese on the outside of the sandwich, you get even more flavor out of this popular meal. I also have a Jalapeno Ham Grilled Cheese that also has a crispy, cheesy crust!
Crispy Cheese Sandwich Recipe
Grilled cheese sandwiches have been popular for decades. The combination of processed sliced cheese and bread was easy to make and tasty! But, even before the sliced singles became so popular, these 'toasted cheese' or 'melted cheese' sandwiches were served open-faced. No matter how you decide to serve these sandwiches, adding more cheese on the outside of the bread just made sense (and made them even more delicious)!

How to Make a Crispy Grilled Cheese
Besides all the cheese, the bread is an important part of a grilled cheese sandwich. There is no need to stick with the processed white bread with all the options out there. I went with a loaf of sourdough bread, cut into hearty slices and buttered on both sides.
Once you have your bread sliced and buttered, add a piece of the bread to a pan over low heat.
Top the slice of bread with about 1/2 cup of both the cheddar and white cheddar cheeses.
Place the second slice of buttered bread on top and cook each side for about 3 minutes. A key to a perfectly grilled cheese is weight, or chef's press. This is the tool that makes smash burgers so good and helps sear a piece of meat more evenly. You don't have to have the actual tool to use as the weight. Just grab a small pan and use the bottom of it! The whole point is to help the sandwich cook at an even rate and get as close to the heat as possible.
Next, remove the sandwich from the pan and add a 1/8 cup of each type of cheese to the pan.
Place the grilled cheese back into the pan, on top of the cheese. Slowly remove it from the pan, add another 1/8 cup of each kind of shredded cheese and repeat with the other side. You will have a crispy cheese crust.

What Goes Best with Crispy Grilled Cheese?
If you are making these sandwiches as an appetizer, it's fun to cut them into triangles for people to grab. But, to make these Crispy Cheese Sandwiches a meal, you can always stick to the traditional tomato soup and add some veggies, like my Wedge Salad or Garlic Roasted Asparagus. Don't be surprised if someone adds the asparagus right into their crispy cheese sandwich. Hey, it's one way to get your serving of vegetables!

More Delicious Sandwiches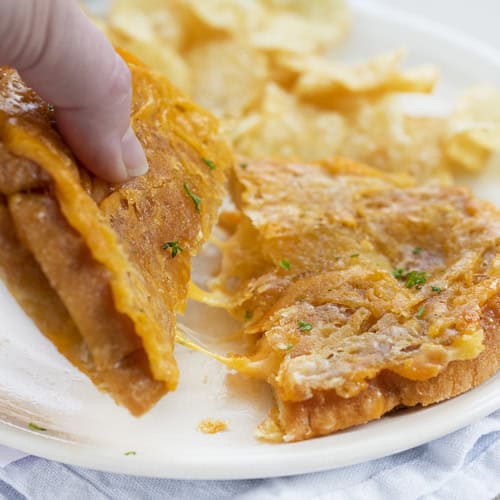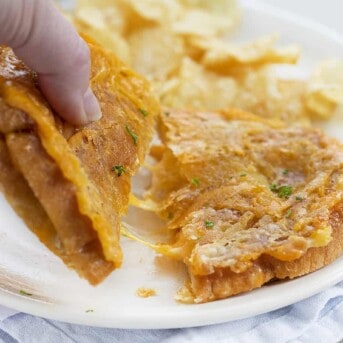 Crispy Cheese Sandwich
Ingredients
1

loaf

sourdough bread,

sliced into 8 slices

½

cup

(1 stick / 113 g) butter,

divided

3

cups

(339 g) mild cheddar cheese,

grated and divided

3

cups

(339 g) white cheddar cheese,

grated and divided
Instructions
Butter slices of bread on both sides.

In a pan over low heat, add a slice of bread, ½ cup of both kinds of cheese, and top with another slice of bread.

Cook over low heat about 3 minutes on each side, using a weight to hold the sandwich down.

Remove the sandwich from the pan.

Grate more cheese to add to the pan (about 2 tablespoons of each kind of cheese per side) and set the sandwich back down on top of the cheese.

Slowly remove from the pan creating a crispy cheese crust.

Repeat with the other side.
Did you make this recipe?
You can tag me at @iamhomesteader.