Caramelized onions and ooey-gooey Gruyere cheese bring all the flavors of French Onion Soup into a melt-in-your-mouth, double-stacked, juicy Double Decker French Onion Patty Melt. For another cheesy sandwich with tasty, crusty bread, try my Crispy Cheese Sandwich. (Or if you want a basic Patty Melt, try this!)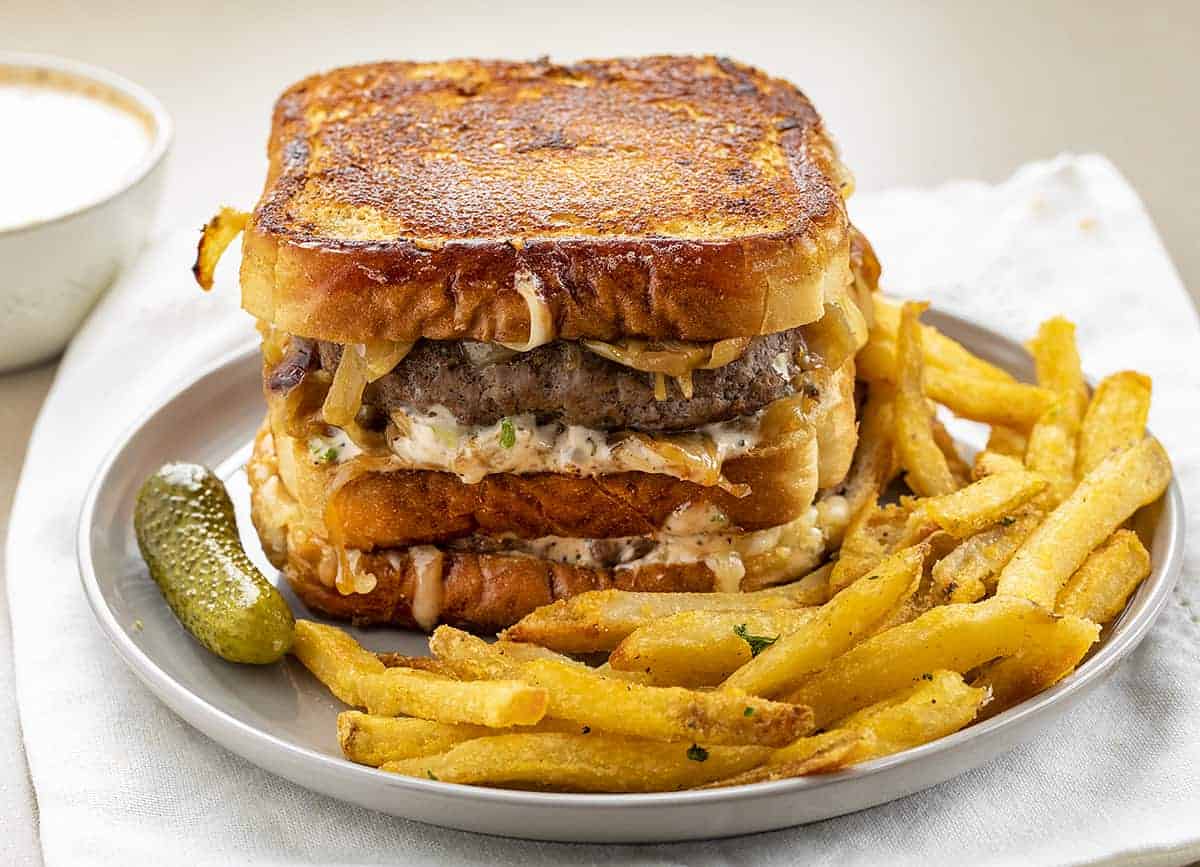 Double Decker French Onion Patty Melt
Patty melts are already known for their caramelized onions and cheese, so it seemed a no-brainer to make this French Onion Patty Melt. By simply using Gruyere cheese, you can have an updated version of the classic grilled sandwich. I decided to make it doubly good by double stacking the ingredients.
Traditionally, rye bread is used in patty melt recipes, but I went with the thick slices of Texas toast for this French Onion Patty Melt recipe. I dare you to try to take a bite of this towering sandwich!

Assembling the Double Decker French Onion Patty Melt
To put together the French Onion Patty Melt, wipe out the skillet, set the heat to medium, combine the aioli ingredients, and do the following for each sandwich:
Toast four slices of bread and set aside.
Take a piece of the untoasted Texas toast and top it with some shredded Gruyere cheese.
Add a beef patty on top of the cheese.
Add caramelized onions.
Top the caramelized onions with a toasted piece of bread, aioli spread on both sides of the toast.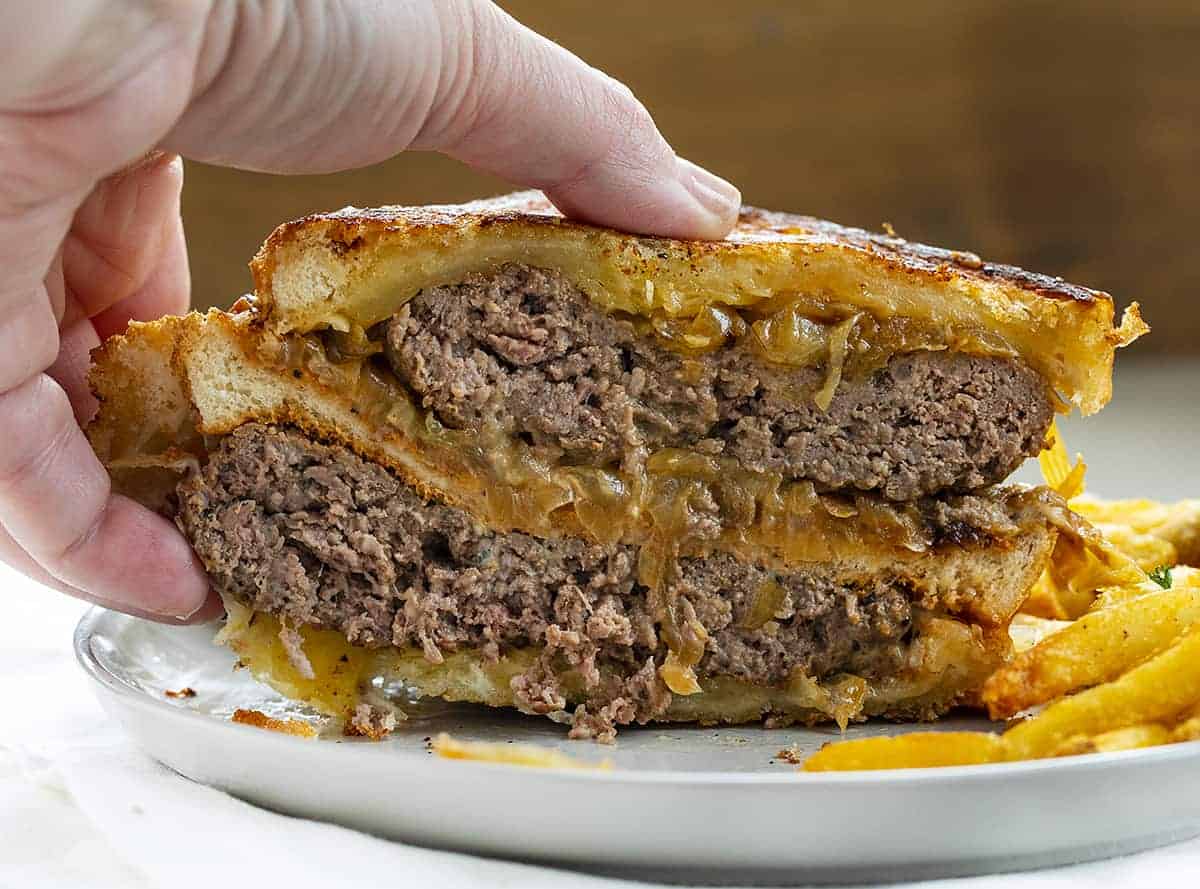 Place more cheese on top of the toast.
Add a second beef patty on top of the cheese.
Add more onions.
Put another untoasted piece of bread on top, spreading the mayonnaise on top.
Place the sandwich, mayonnaise side down, into the skillet. Cook this side for about 3 minutes. A key to a perfectly grilled patty melt is weight or chef's press. This is the tool that makes smash burgers so good and helps sear a piece of meat more evenly. You don't have to have the actual tool to use as the weight. Just grab a small pan and use the bottom of it! The whole point is to help the sandwich cook at an even rate and get as close to the heat as possible.
Remove the skillet from the heat to spread the mayonnaise on top of the melt, flip it over (carefully), and cook it for another 3 minutes, or until it is golden brown and the cheese is melted.
Repeat for all the patty melts.

Do I Have to Use Gruyere Cheese?
One trick to make French Onion Patty Melts stand out is to use authentic Swiss Gruyere Cheese! Trust me on this one. It's the best all-around cheese because of its firmness and anti-stringiness if that is even a word. It also has a nutty flavor that is delicious! If you can't find Gruyere, you can use a French Comte cheese. Regular old Swiss cheese you find in masses at the grocery store may be substituted, but beware, the texture is different, and it may not give you that taste that stands out from the crowd.
More Delicious Sandwiches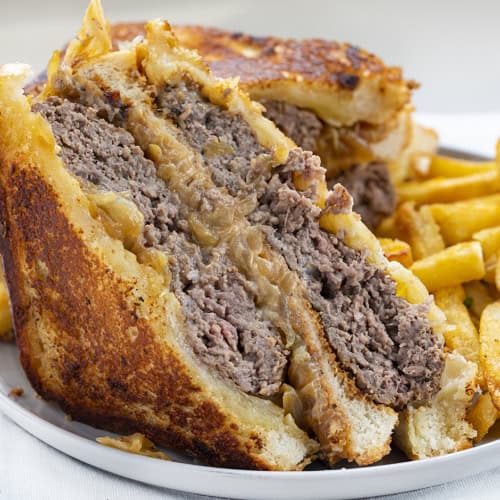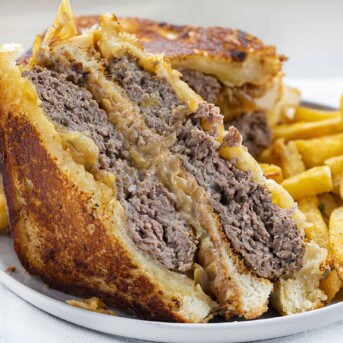 French Onion Patty Melt
Ingredients
PATTY MELT
3

tablespoons

butter

3

yellow

onions,

sliced thin

2

pounds

ground beef

1

tablespoon

ketchup

½

teaspoon

garlic powder

1

teaspoon

salt

½

teaspoon

pepper

2

cups

Gruyere cheese,

shredded

12

slices

Texas toast

8

teaspoons

mayonnaise
AIOLI SPREAD
⅓

cup

mayonnaise

1

tablespoon

lemon juice

1

teaspoon

pepper

1

tablespoon

(about 3 gloves) garlic,

minced

1

teaspoon

fresh parsley

1

tablespoon

ketchup
Instructions
In a medium skillet, melt butter over medium-low heat. Add onions and cook until caramelized (about 15-20 minutes), stirring often. Add water as needed to prevent burning. Remove from skillet and tent to keep warm.

In a large bowl, mix together ground beef, garlic powder, salt, and pepper.

Make 8 square patties (a little larger than the bread). Each patty should be about ¼ inch thick.

Wipe out the skillet and set the heat to medium-high. Add the hamburger patties in batches (two at a time) and cook 1-2 minutes per side. Remove patties from the skillet and set aside.

Toast 4 pieces of the Texas toast and set aside.

Meanwhile, in a small bowl, combine the mayonnaise, lemon juice, pepper, garlic, parsley, and ketchup to make the aioli spread.

Top 4 untoasted slices of bread with cheese, hamburger patty, onions, toast that has aioli spread on both sides, more cheese, a second beef patty, more onions, and top with a slice of bread.

Spread 1 teaspoon of mayonnaise on the top.

Wipe out skillet and set heat to medium. Add sandwiches to the pan, mayo side down. Place a weighted pan on top to hold the sandwich firmly in the pan. Cook until golden brown (about 3 minutes). Remove the weighted pan. Spread 1 teaspoon of mayo on the top slice of bread and flip carefully. Cook for 3 additional minutes (or until golden brown). Serve warm.
Did you make this recipe?
You can tag me at @iamhomesteader.