Fondant Potatoes are potatoes that are peeled, cut into cylinders, browned in butter, and then oven-roasted in butter and chicken stock. Try my Hasselback Potatoes for another delicious way to enjoy russet potatoes.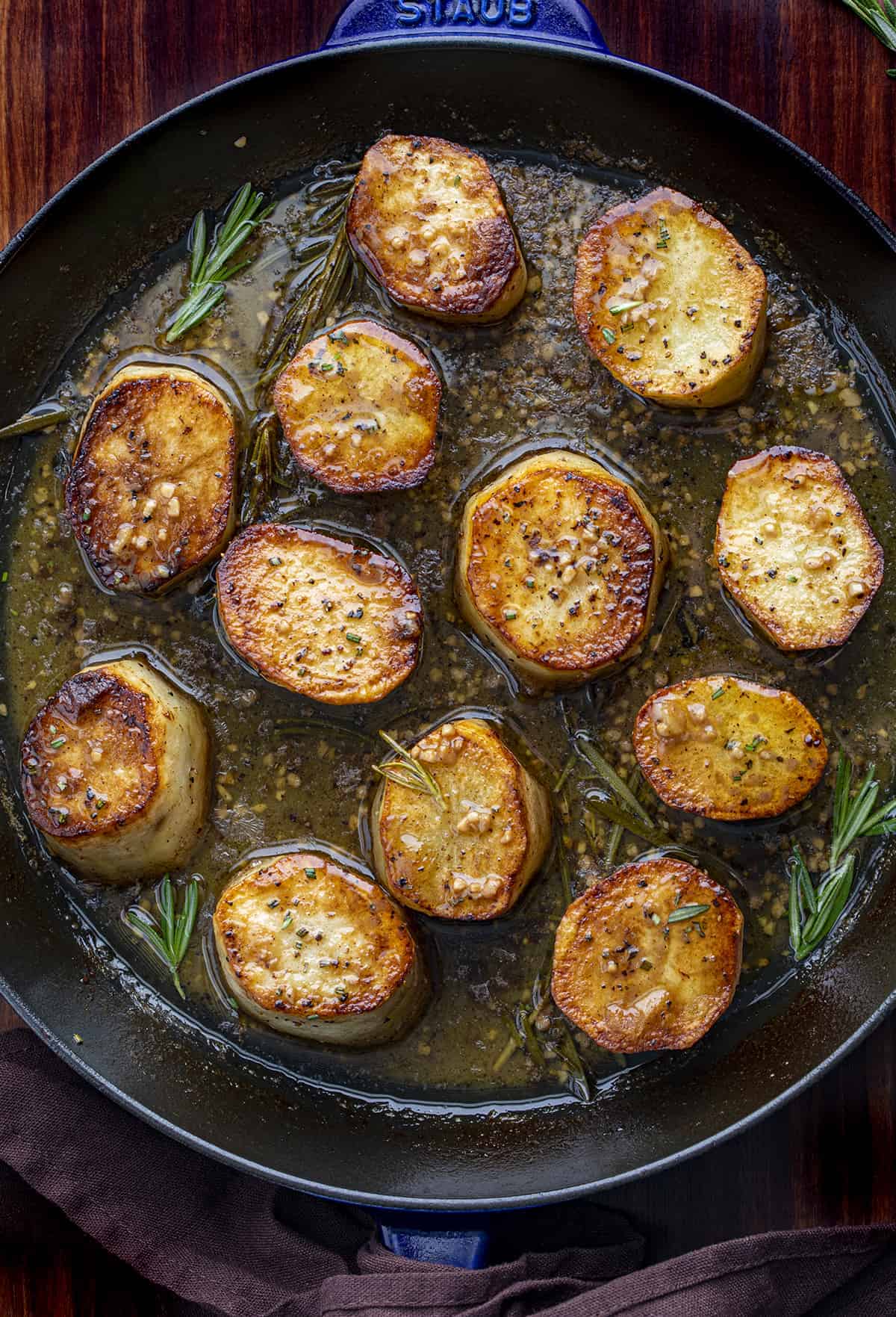 What is Fondant Potatoes?
Fondant potatoes, also known as pommes fondant, or melting potatoes, is a method of cooking potatoes that originated in France. Potatoes are peeled, the ends are cut off, and then they are cut into stout cylinders. They end up being crispy on the outside and soft and tender on the inside like they are melting in your mouth (hence, the name). And, to make them even more flavorful, they are smothered in a stock and butter sauce.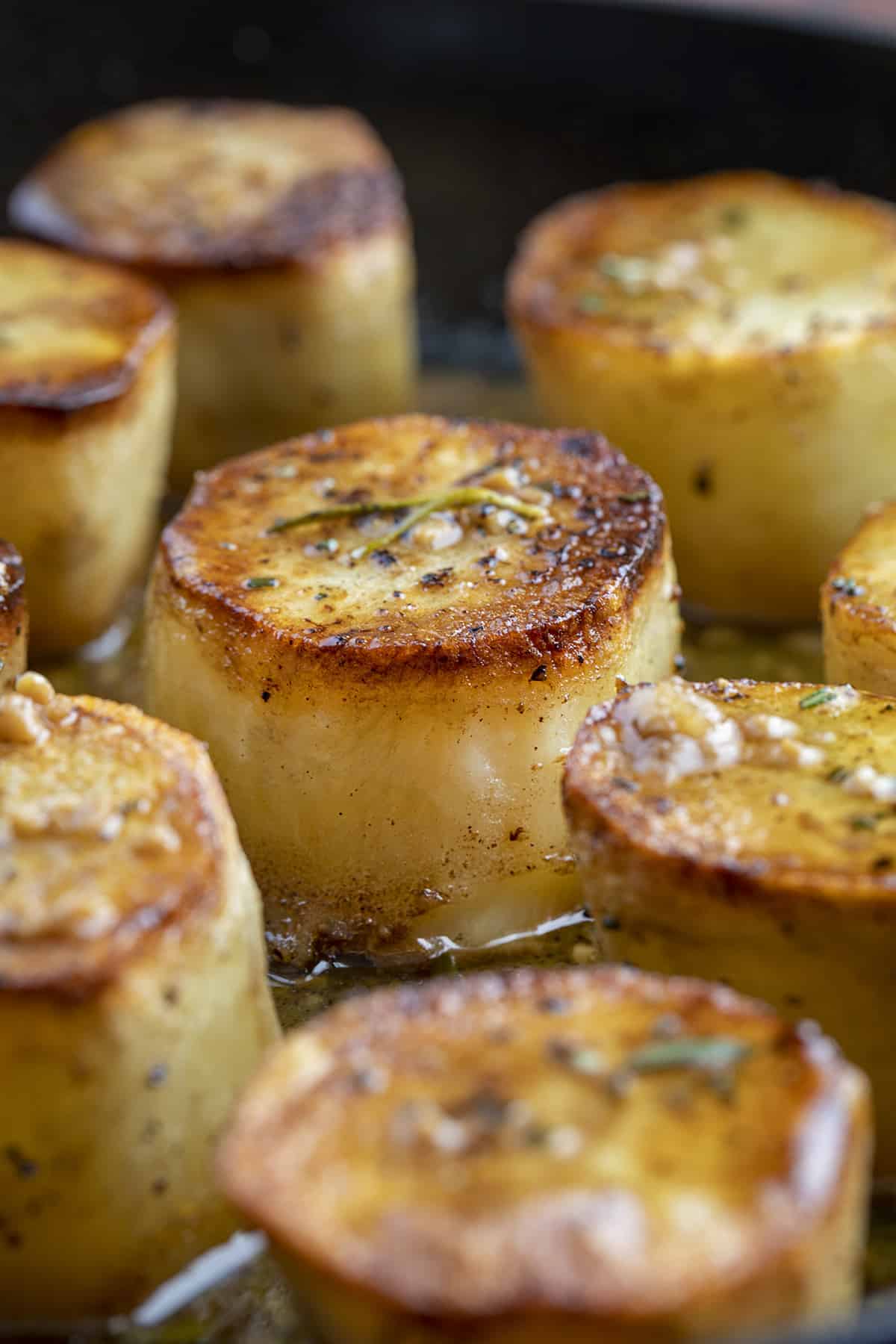 Potatoes Ingredients
Potatoes: I used russet potatoes for this recipe. Because of the high amount of starch in russet potatoes, you will need to soak the pieces in cold water for about 15 minutes before you begin to cook them. Soaking the potatoes removes some of the starch for more even cooking.
Butter: You need a stick of unsalted butter for this recipe. The butter and stock end up making a nice and rich sauce to spoon over the potatoes. If you do use salted butter, you may want to adjust the amount of salt. However, I did end up adding extra salt to my potatoes after they were cooked.
Chicken Stock: If you don't have any on hand, make your own chicken stock to use in this recipe.
Rosemary: Rosemary is an herb that brings a lot of bright flavor to dishes. You will add a couple of sprigs to the skillet before baking the potatoes; you can also add more for garnish.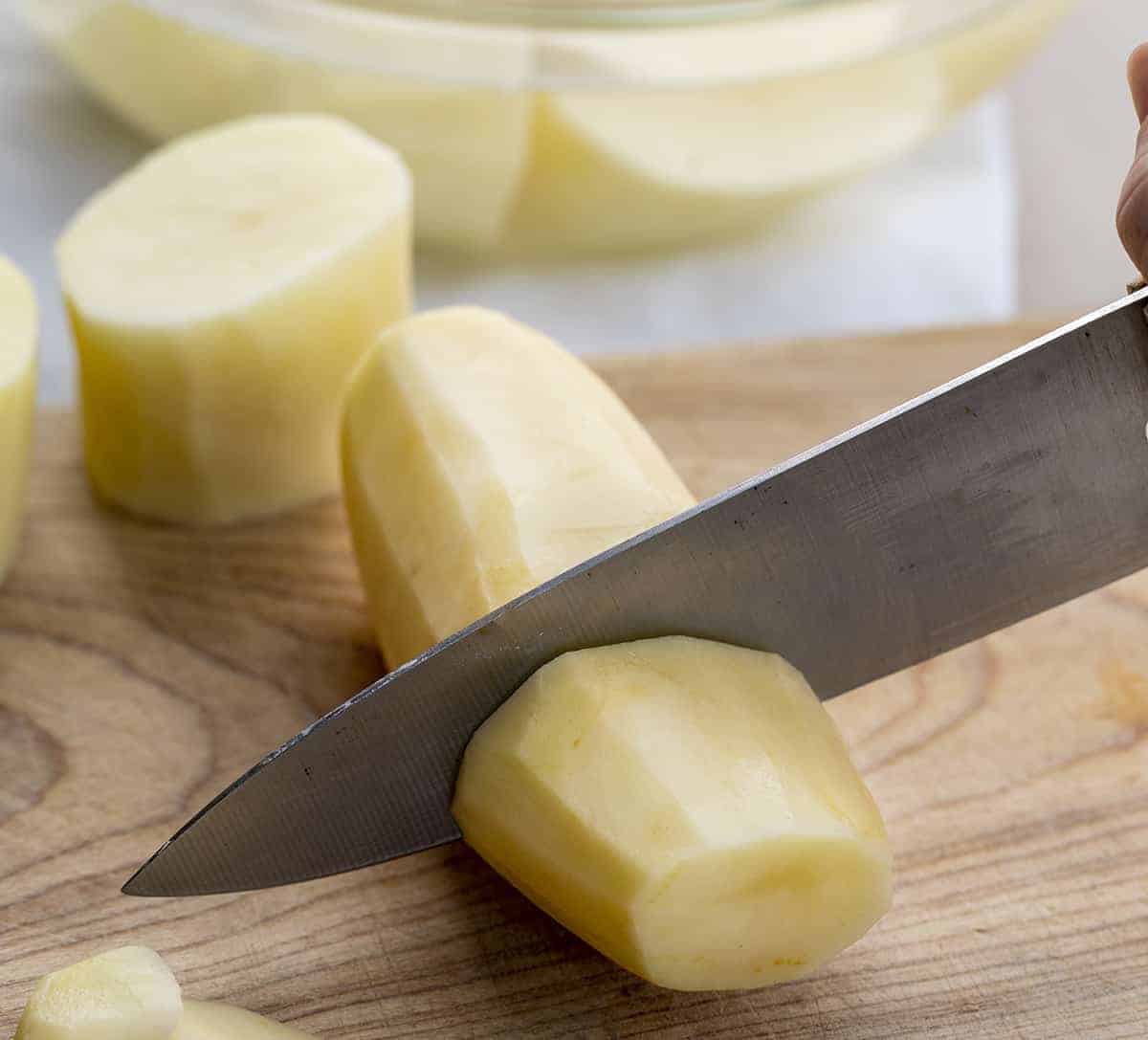 Preparing the Potatoes
To get started with this recipe, wash the potatoes. Next, peel the potatoes and cut off the ends. Then, cut the potatoes into cylinders. I was able to cut each potato into three sections. However, the size of the potatoes will determine how many sections you will get.
Soak the cut potatoes in a bowl of cold water to remove some of the starch. Don't use warm water; that will actually activate the starch, which is counterproductive. After the potatoes have soaked for 15 minutes, it's time to get the potatoes made!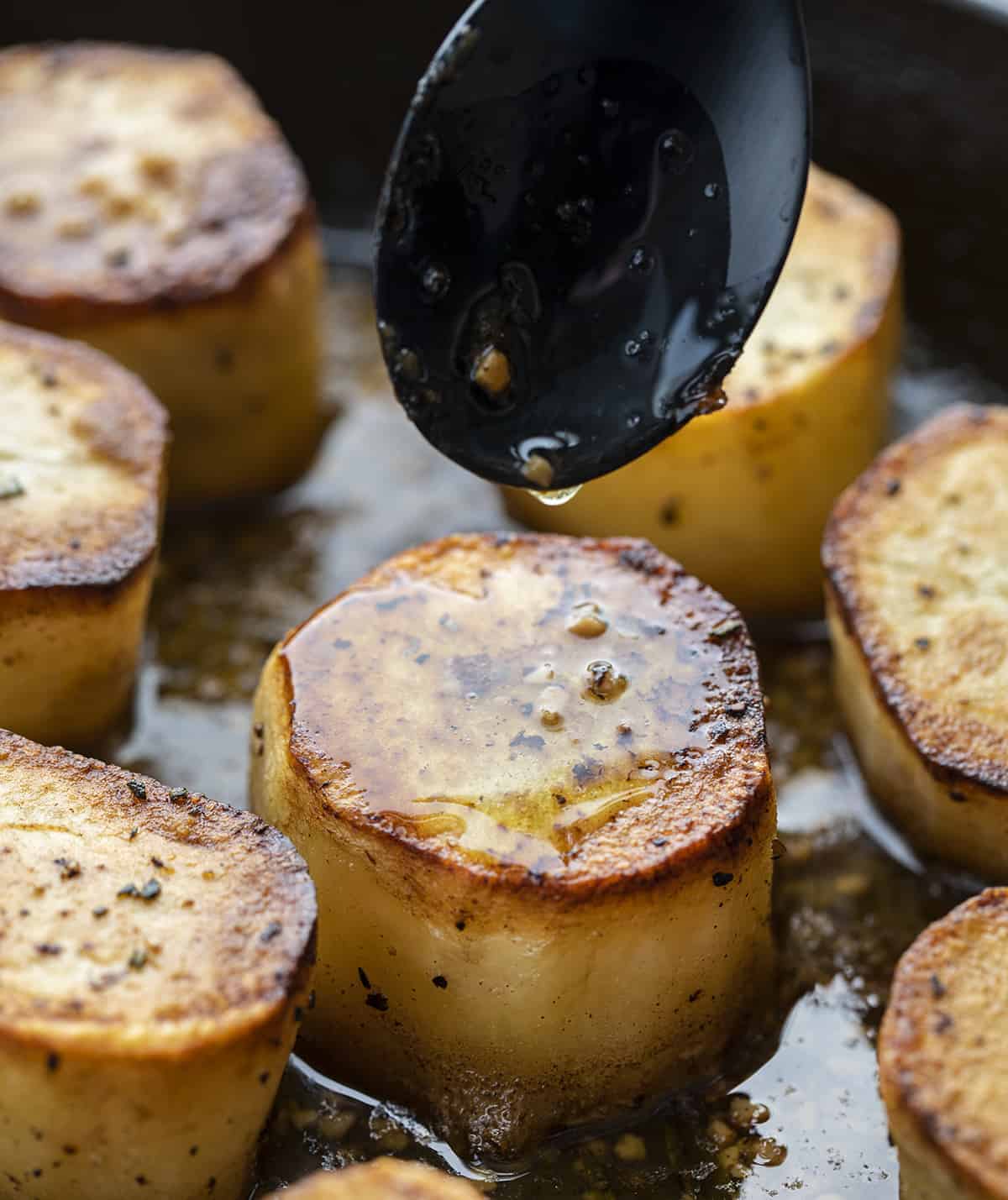 How to Make Fondant Potatoes
When ready, pat the soaking potatoes dry with a paper towel and season them with salt and pepper. Be sure to preheat the oven at this time, too. The potatoes start on the stovetop before being baked in the oven.
In a large, oven-safe skillet (like a cast-iron skillet), heat up the oil with 2 tablespoons of butter. Once hot, add the potatoes to brown the ends of them. After 4-5 minutes, flip the potatoes over and brown the other end.
Next, add the garlic and cook for about a minute before adding the rest of the ingredients, including the remaining 6 tablespoons of butter. Once the butter has been melted, transfer the skillet to the oven and bake the potatoes for about 30 minutes. The potatoes should be fork-tender when done.
Serve the potatoes with the stock and butter sauce spooned over the tops. I added some extra salt to mine. These potatoes pair well with most main dishes. Try them with marinated steak bites, French Onion Pork Chops, or a pot roast, just to give you a few ideas.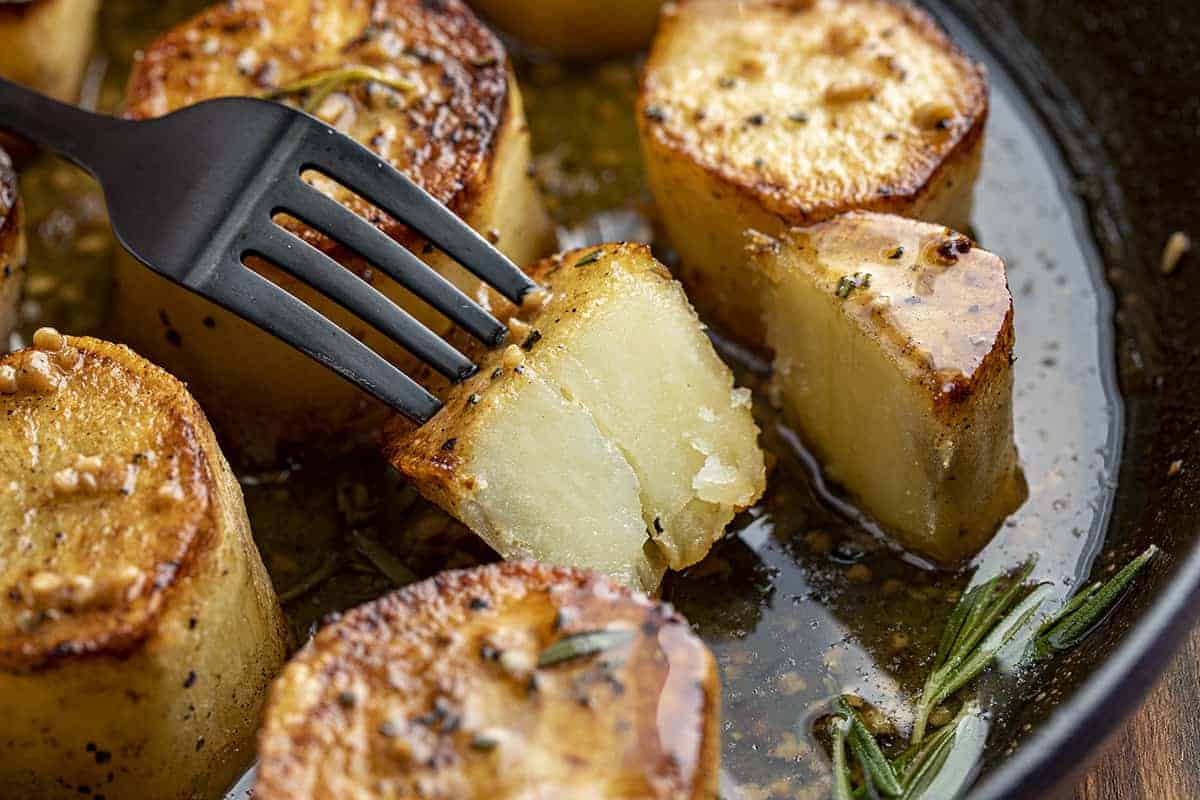 Helpful Tips for Fondant Potatoes
Most of the ingredients in this recipe you probably have on hand, so give this recipe a try! Here are some tips for the perfect potatoes:
Look for potatoes that are similar in size.  And, of course, try to cut them into equal-sized pieces. This helps the potatoes cook evenly so each one will be melting in your mouth as the name implies.
Don't skip on soaking the potatoes in cold water, so make sure you plan for that extra 15-20 minutes. You could soak them overnight in the refrigerator if you prefer (but not recommended); just cover the bowl of potatoes with plastic wrap.
Remember to add fresh herbs for more flavor. In addition to or in place of rosemary, you could use thyme, basil, oregano, or even a mixture of herbs.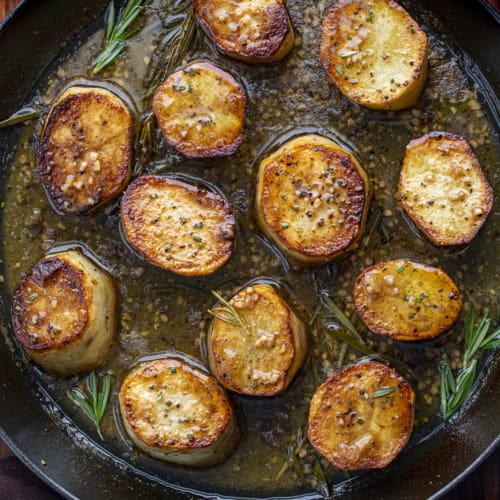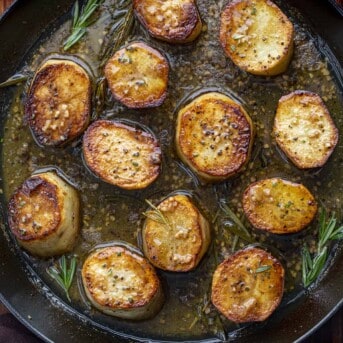 Fondant Potatoes
Fondant Potatoes are potatoes that are peeled, cut into cylinders, browned in butter, and then oven-roasted in butter and chicken stock.
Ingredients
4

russet

potatoes

½

teaspoon

kosher salt

¼

teaspoon

black pepper

2

tablespoons

olive oil

½

cup

(1 stick, 113g) unsalted butter,

divided

2

teaspoons

minced garlic

1

cup

(240g) chicken stock

2

sprigs

fresh rosemary,

plus more for garnish, if desired

salt and pepper,

to taste
Instructions
Wash and peel potatoes; then, trim off ends. Cut the potatoes into even 2-inch slices and place in a bowl of cold water to soak for about 15 minutes. I cut the potatoes into a total of 12 sections, but the number will vary depending on the size of the potatoes.

Drain water and pat the potatoes with a paper towel to dry slightly.

Season potatoes on all sides with with salt and pepper.

In a large oven-safe skillet, heat oil and 2 tablespoons of butter over medium-high heat. When hot, add potatoes to the pan and cook, undisturbed, for 4-5 minutes or until seared and browned. Flip and repeat.

Add the garlic to the pan and cook for 1 minute, or until fragrant.

Add rosemary sprigs, chicken stock, and the remaining 6 tablespoons of butter (cut into smaller pats). Cook until butter is melted.

Transfer the skillet to the oven and cook for 30 minutes, or until potatoes are fork-tender.

Spoon the sauce over the cooked potatoes and serve warm. Salt and pepper to taste.
Did you make this recipe?
You can tag me at @iamhomesteader.
This recipe was inspired by @you_can_whip_it on TikTok and Spend with Pennies Fondant Potatoes.