French Onion Twice Baked Potatoes are perfectly cooked potatoes loaded with all the flavors of French Onion Soup, including the caramelized onions and cheese. For another delicious potato recipe, try my more traditional Twice Baked Potato.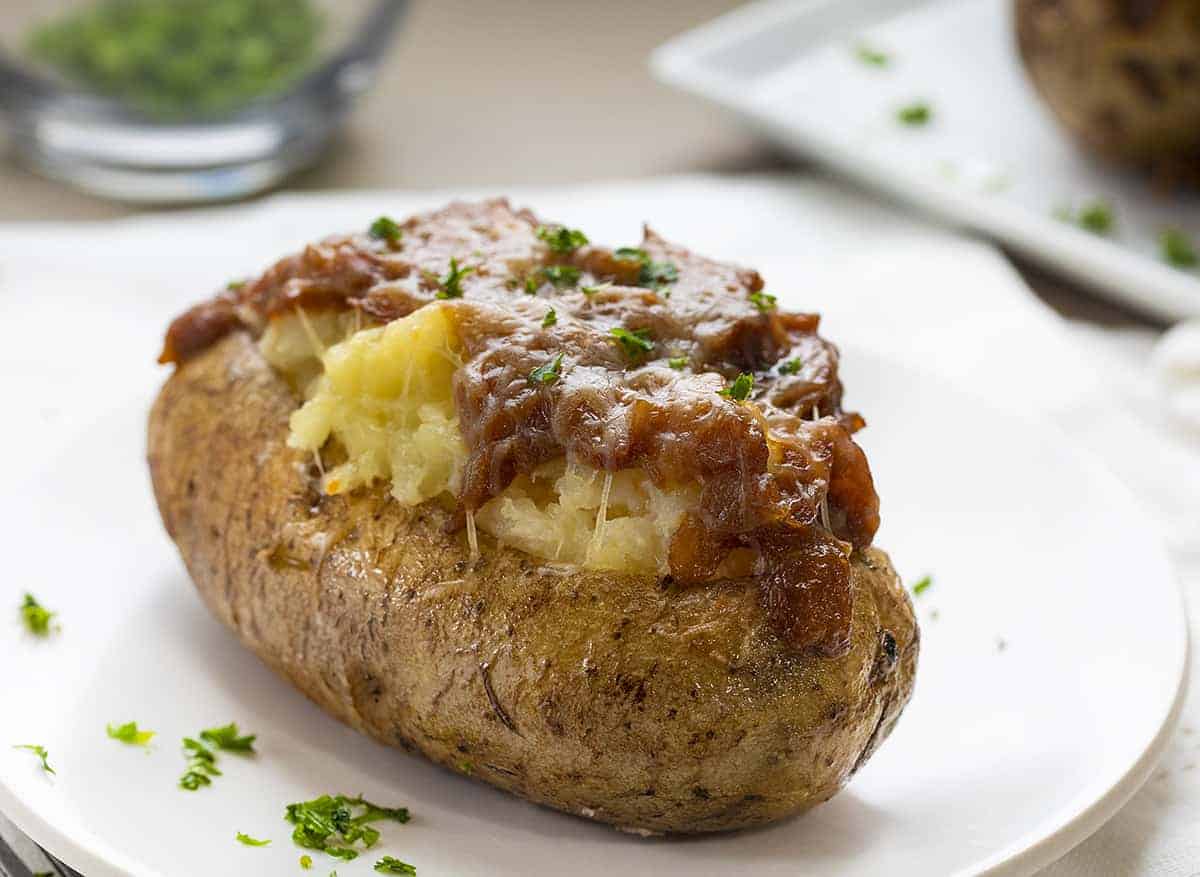 French Onion Twice Baked Potato
I have been on a French Onion kick lately. It had been a while since my Homemade Onion Soup Mix, but lately, I have expanded to making French Onion Dip, French Onion Deviled Eggs, Skillet Onion Dip, and my French Onion Zucchini Bake. I told you, there have been a lot of French Onion dishes around here! Well, I have added another recipe to that list. It is this French Onion Twice Baked Potato. It's a baked potato that is filled with all that taste that you would expect from a French onion dish.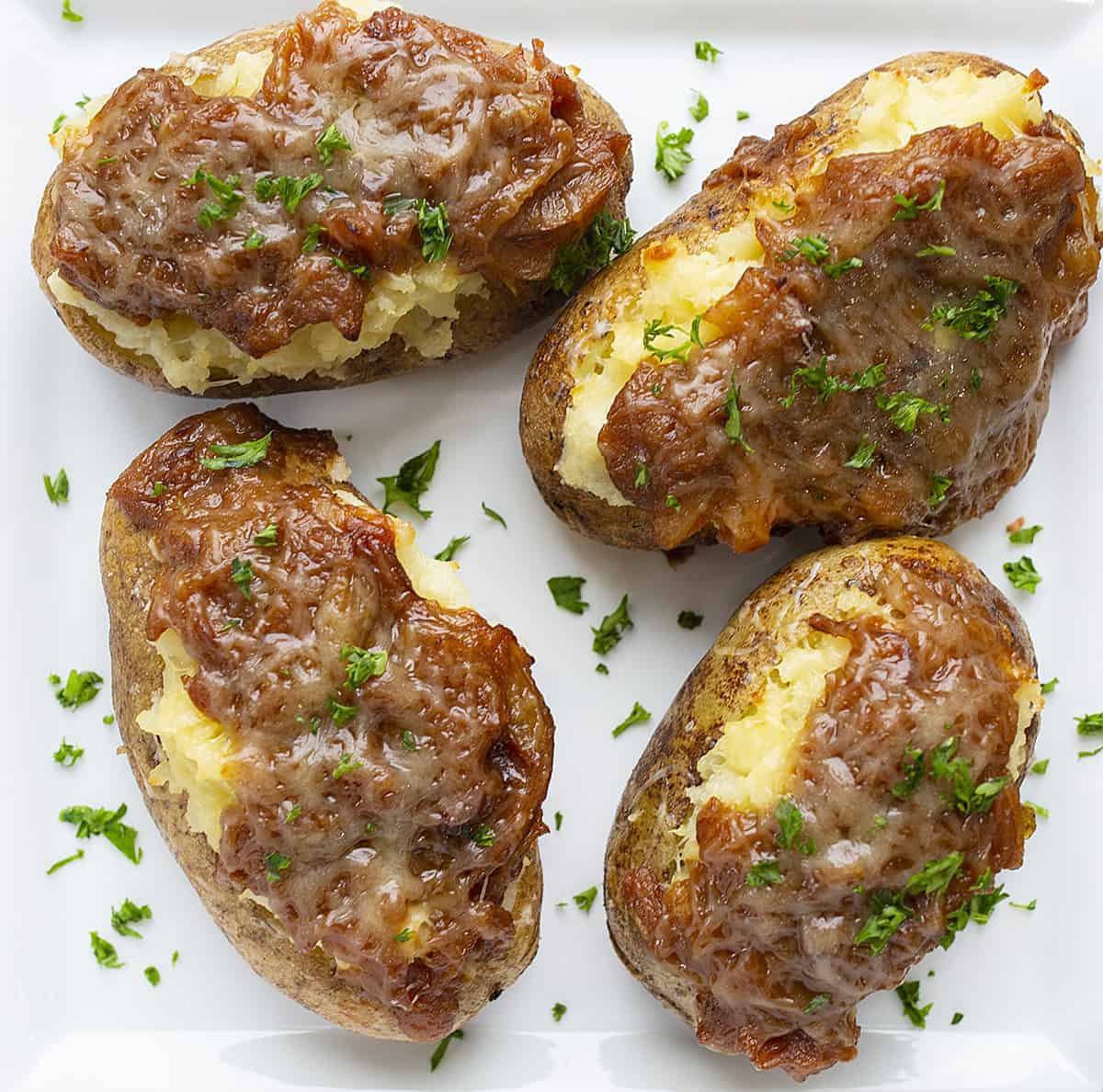 French Onion Twice Baked Potato Recipe
This recipe starts with a perfectly cooked potato. I will give you some tips on how to bake a potato next. After all, how many times have you baked a potato and it comes out rock solid? Then, it's a matter of caramelizing the onions and getting the cheesy filling inside the potato.

How to Bake a Perfectly Baked Potato
As I mentioned, it starts with the baked potato for this and all other baked potato recipes.
First of all, choose a starchy potato like a Russet potato or Idaho potato. Clean it well to get off all the dirt.
Preheat the oven to 350°F.
Prick holes all around the potato (carefully), using a knife or fork. This allows the steam to escape from inside the potato. If you do not prick holes in the potato, it may actually burst inside your oven.
Rub the potatoes with oil and season them with Kosher salt. Be generous with the salt.
Place the potatoes on a foil-lined baking sheet and let them cook at 350°F for about an hour, or until they are fork-tender. A fork should easily pierce the baked potato when it's done. If it is hard, bake it for a little longer. Be careful to not overbake, though! If you want to be exact, the temperature of a fully cooked potato is around 210°F.
Remove them from the oven and let them cool before you begin to handle them.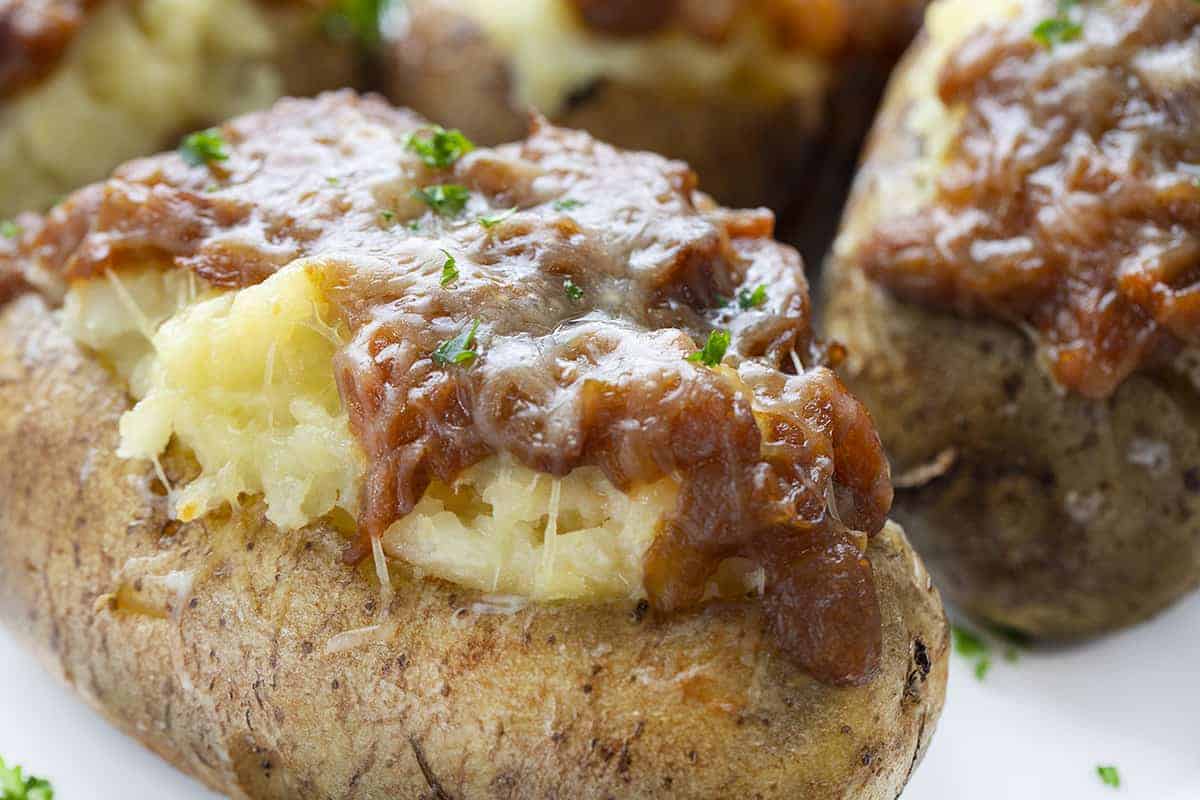 Can You Bake Twice Baked Potatoes in the Microwave?
Not everyone has an hour or two to get dinner on the table. One solution would be to use the microwave for the initial baking of the potato. Most of the prepping of the potatoes is the same as baking them in the oven. First, scrub and wash the potatoes. Then, poke holes in the potatoes using a fork or knife. Rub the canola oil over each potato and sprinkle on the salt. Finally, wrap the potatoes in a paper towel that has been moistened with a little more canola oil. Cook two potatoes at a time in the microwave, checking if they are fork-tender after 8 minutes. If not, cook one minute more at a time until they are ready. Then, simply follow the 'how to bake French onion twice baked potatoes' to finish them up. I would recommend baking them in the oven the second time, which only takes 15-20 minutes.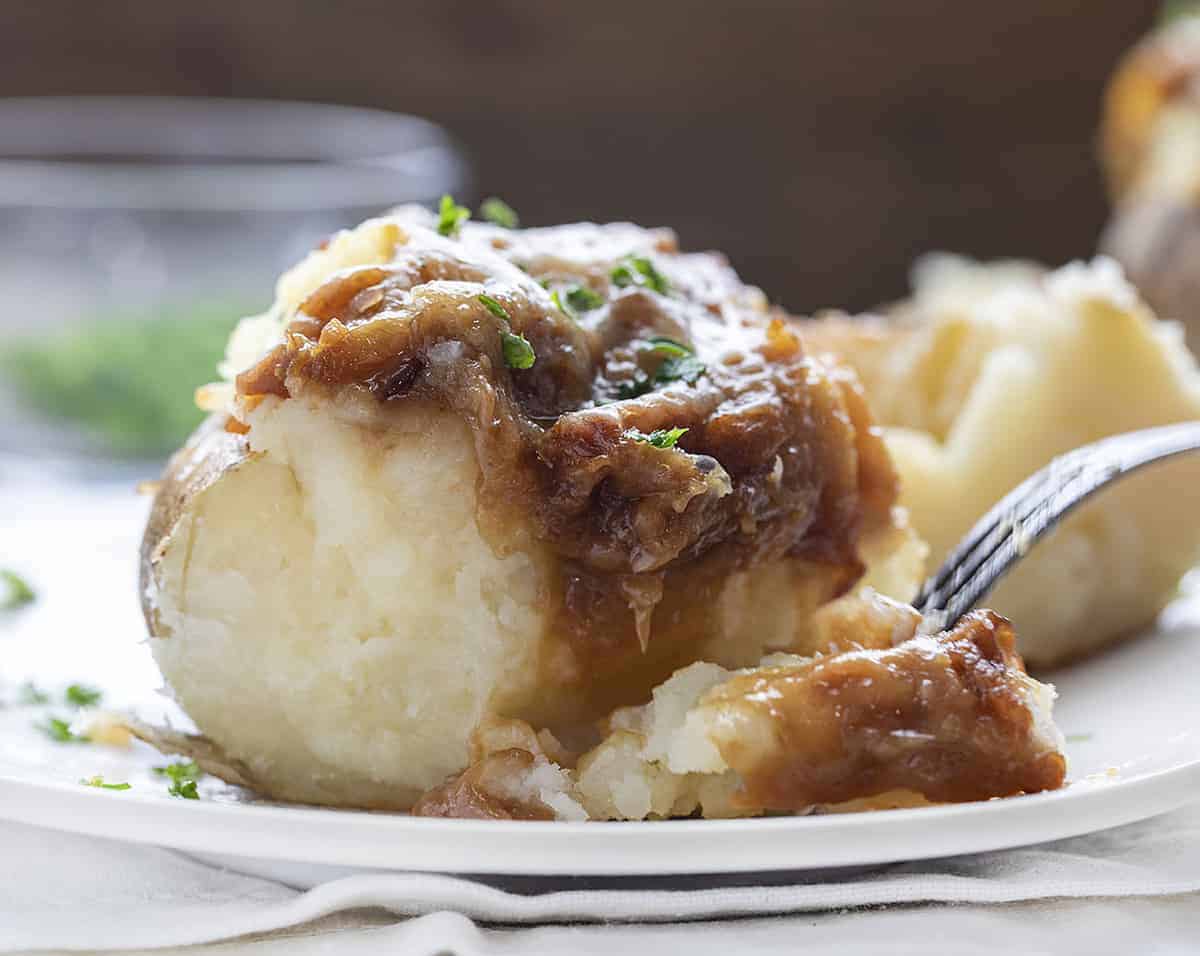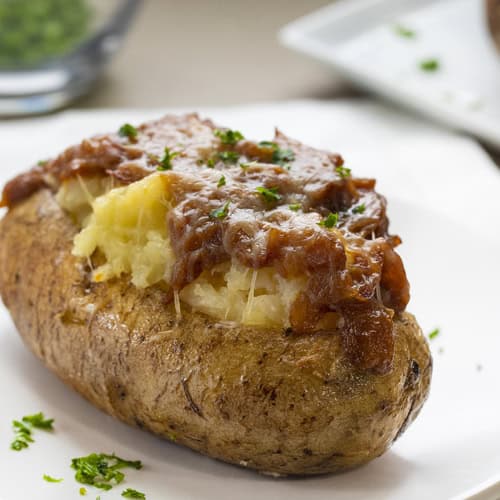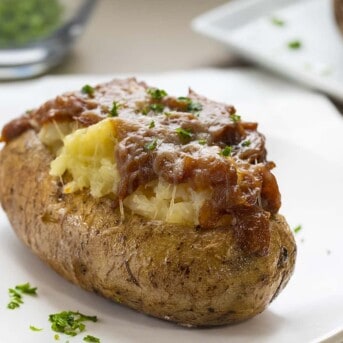 French Onion Twice Baked Potato
All the flavors of French Onion Soup are loaded into this French Onion Twice Baked Potato.
Ingredients
Potatoes
4

large

potatoes,

cleaned and pricked with holes

1

tablespoon

canola oil

2

teaspoons

kosher salt
Onions
3

tablespoons

butter

2

yellow

onions,

thinly sliced

2

tablespoons

all-purpose flour

1

cup

(240 g) beef broth

½

teaspoon

kosher salt
Filling
¼

cup

(½ stick / 57 g) salted butter

½

cup

(56.5 g) provolone cheese,

shredded

1

cup

(108 g) Gruyere cheese,

shredded and divided

½

teaspoon

kosher salt
Instructions
Potatoes
Preheat the oven to 350° F.

Wash each potato well, and prick holes all around the potato (carefully), using a knife or fork.

Coat each potato with canola oil and kosher salt and place on a foil-lined cooking sheet. Bake for 1 hour or until potatoes are fork-tender.

Remove from oven and let potatoes rest until they are cool enough to handle.
Onions
While the potatoes are baking, melt the butter in a large skillet over medium-high heat.

Add onions and cook until the onions are browned and tender (approximately 15-20 minutes).

In a medium bowl, mix together beef broth and flour. Pour over cooked onions and stir until mixture comes to a boil. Set aside.
Filling
Using a sharp knife, slice the top off of each potato (horizontally). You will not be using this part of the potato.

Using a spoon, remove the center of each potato and place it into a large mixing bowl. Be very careful not to tear the potato skin of the hollowed out part of the potato. Lay the hollowed-out potato shells on a baking sheet.

Add butter, provolone, and ½ cup of the gruyere cheese to the large bowl and mash with the spooned out potato until well mixed.

Filled the hollowed-out potato skins with the cheese and potato filling.

Top each potato with the onion mixture and the other half of the gruyere cheese. Bake for 15-20 minutes, or until the cheese is melted.
Did you make this recipe?
You can tag me at @iamhomesteader.