This Fried Egg BLT is a hearty sandwich piled high with bacon, tomato, arugula, and a fried egg. So, it's really a B.A.T. since I used arugula instead of lettuce, but more people are familiar with a BLT, and I don't know anyone that wants to eat a BAT sandwich. Anyway, this sandwich will definitely fill you up and is more than just a breakfast sandwich! If you love a good egg sandwich, give my Griddle Breakfast Sandwich a try!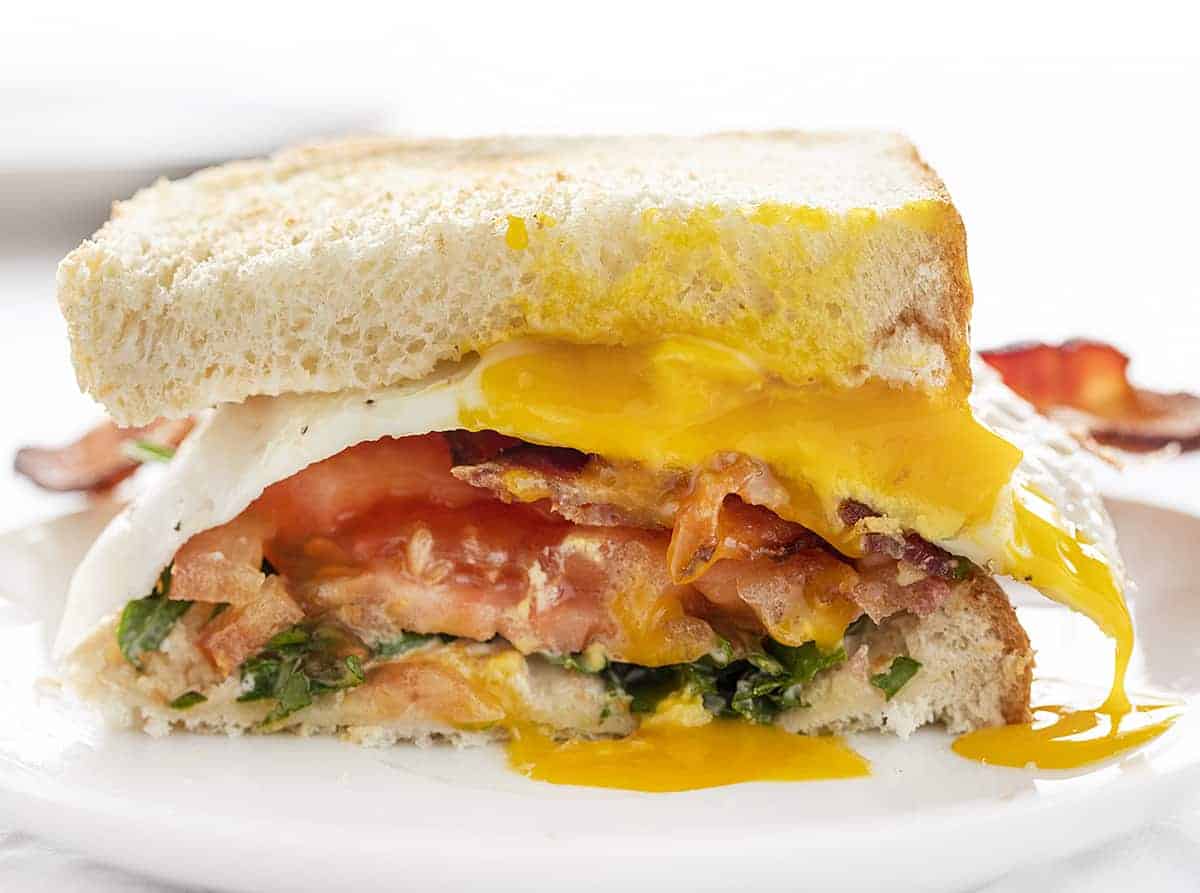 Fried Egg BLT
Although every state has its favorite way of eating eggs, I think we can all agree that eggs are an inexpensive way to get nutrients and protein. In fact, eggs are considered a superfood because of the energy they provide, as well as help lose weight and improve complexion. So, let's eat more eggs! This Fried Egg BLT is a delicious way to get your egg fix, and not just for breakfast. This sandwich would be a wonderful lunchtime or dinnertime meal.
What is Arugula?
Arugula, also known as salad rocket or garden rocket, is a leafy green that falls between a vegetable and an herb. In fact, it belongs to the mustard family. It is packed with antioxidants and is most related to spinach, broccoli, and cauliflower (not lettuce). Arugula has a distinctive taste that can add a lot of flavor to your salads and sandwiches, including this Fried Egg BLT sandwich. The larger the leaf, the stronger the taste from arugula. You can usually find arugula in the produce section of the grocery store, many times next to the spinach or spring greens.
Alternatives to Arugula
If arugula is unavailable to you, there are some options to still get that peppery flavor it is known for. Use watercress (probably the closest in flavor), baby spinach, dandelion greens, or Radicchio. Of course, you can always use romaine lettuce or even iceberg lettuce for its nice crispy texture.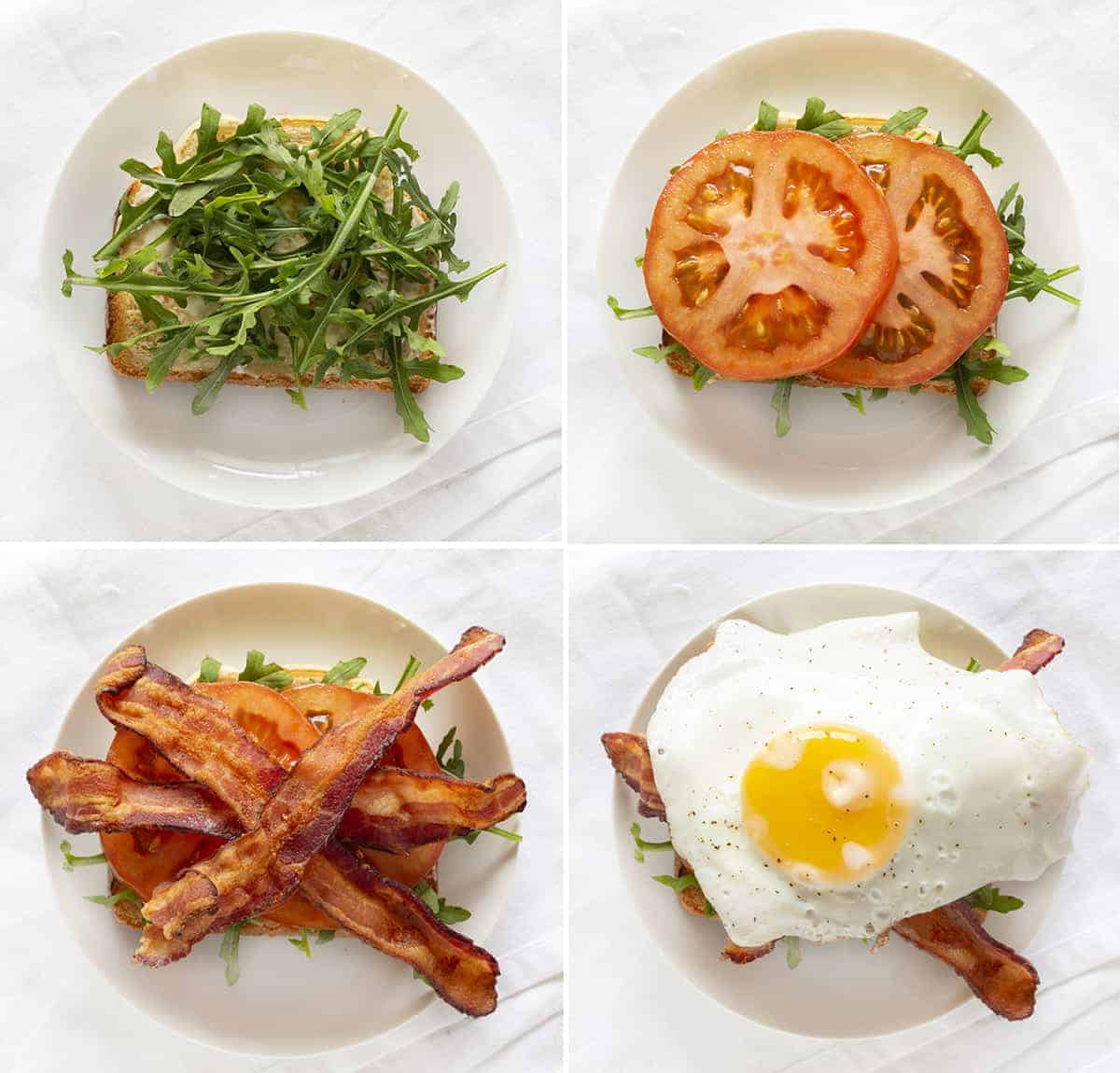 How to Fry an Egg
Having 'fried egg' in the name of the sandwich means that it better be done right! I prefer a soft yolk center, but if you want the yolk a little more firm, just cook the egg a little longer. 
First, use your freshest eggs.
Heat a skillet on medium heat, adding a little butter or olive oil to the skillet.
Crack open your eggs in individual containers. (This way, you can make sure the yolks are not broken.)
Add the eggs in the pan. You can cook more than one at once, depending on the skillet side.
After about a minute, the outer whites of the egg will become opaque.
Cover the skillet with a lid and cook for 4 minutes. (5 minutes for a harder yolk; 6 minutes for a hard yolk).
That's it! You will have a perfectly fried egg every time!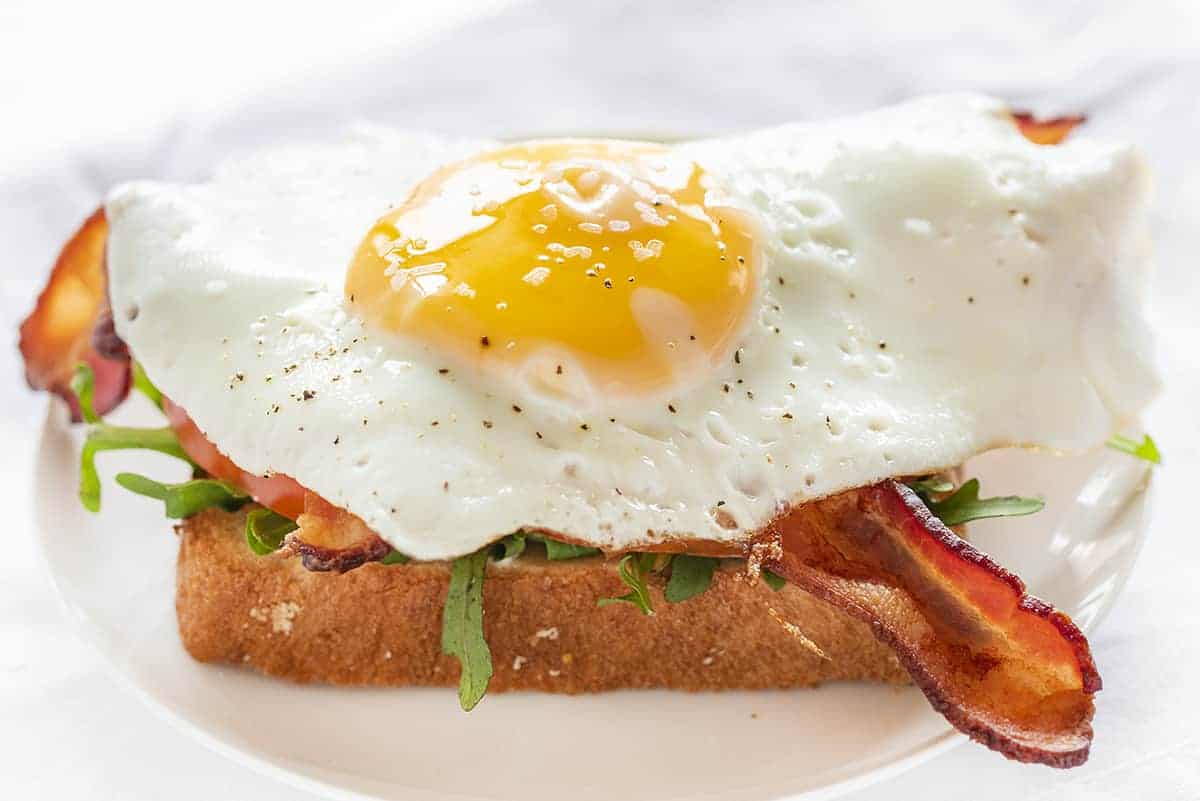 How to Assemble a Fried Egg BLT
Once you have your eggs perfectly fried and your bacon cooked, it's time to pile high on this delicious and hearty sandwich. Choose a bread that you want to use for the Fried Egg BLT. I love whole-grain bread, but it's really your choice. Toast the bread and spread a layer of mayonnaise on one side of all eight pieces. Start with the bacon topped with a few pieces of arugula. Remember, the larger the pieces of arugula, the more distinct flavor you will get from the leafy green. Add the fried egg and tomato, finishing the sandwich by placing the second slice of toast, mayo side down, on top of the sandwich. This recipe will make four sandwiches.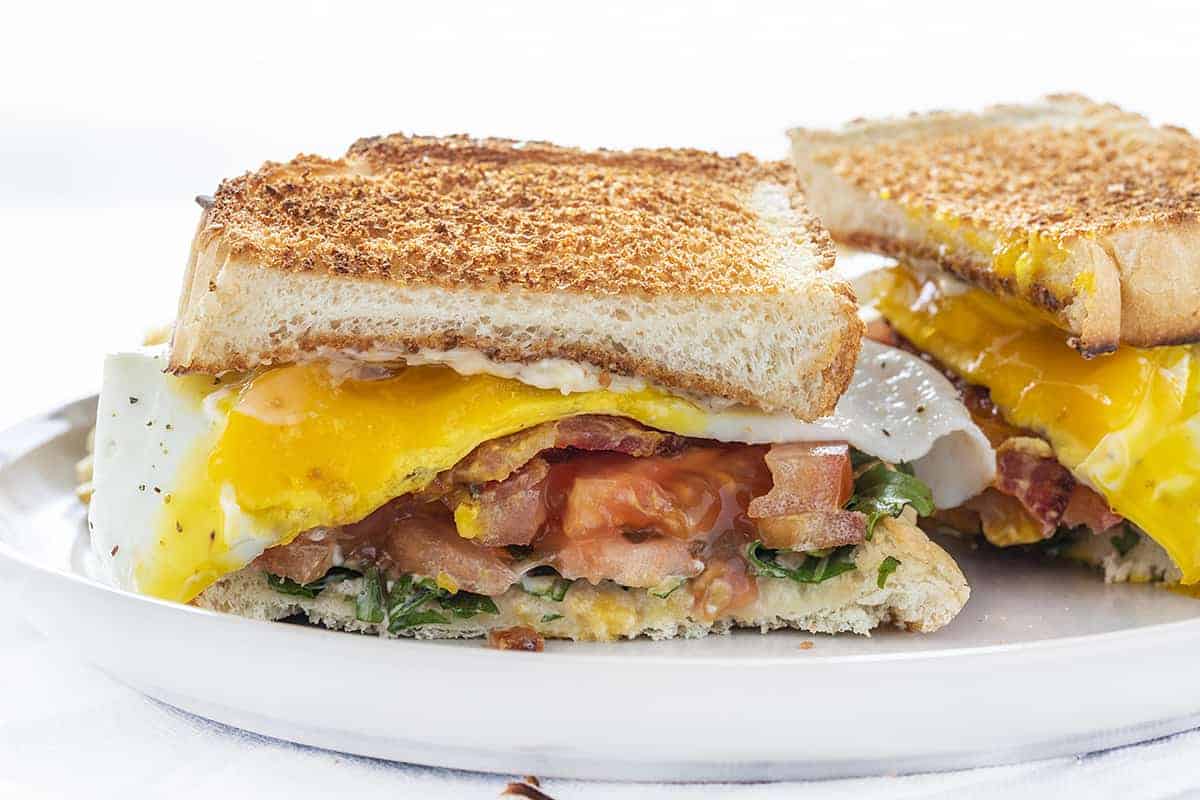 More Delicious Sandwiches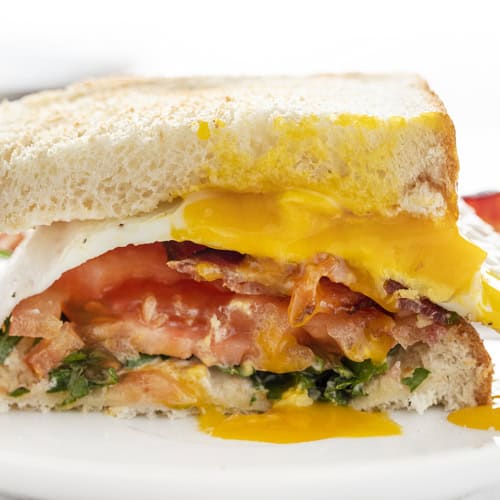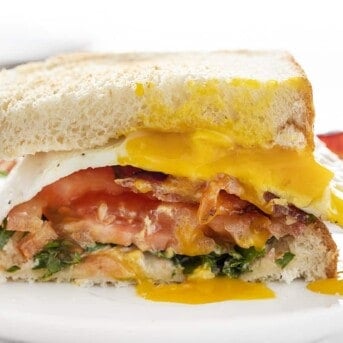 Fried Egg BLT
Piled high with arugula, bacon, a fried egg, fresh tomato, and mayo, this Fried Egg BLT is not just a breakfast sandwich, but any anytime sandwich.
Ingredients
8

slices

white bread,

or bread you have on hand, toasted

½

cup

mayonnaise

16

slices

bacon,

crispy

1

cup

arugula

4

large

eggs,

fried

2

large

tomatoes,

sliced

1

pinch

kosher salt,

to taste

1

pinch

pepper,

to taste
Instructions
Spread mayonnaise over one side of each slice of toasted bread.

Layer one slice of toast with 4 pieces of bacon and a few leaves of arugula.

Top with a fried egg and tomato slices.

Cover with a second slice of toast, mayo side down. Repeat to make the other three sandwiches.
Did you make this recipe?
You can tag me at @iamhomesteader.