Topped with both Gruyere and mozzarella cheese and with just the right amount of garlic, Gruyere Roasted Brussels Sprouts have definitely found themselves at the top of the vegetable leaderboard! These Brussels Sprouts will have even your pickiest vegetable eaters on board. Once you fall in love with the vegetable, try my Brown Butter Brussels Sprouts and Parmesan Roasted Brussels Sprouts, too!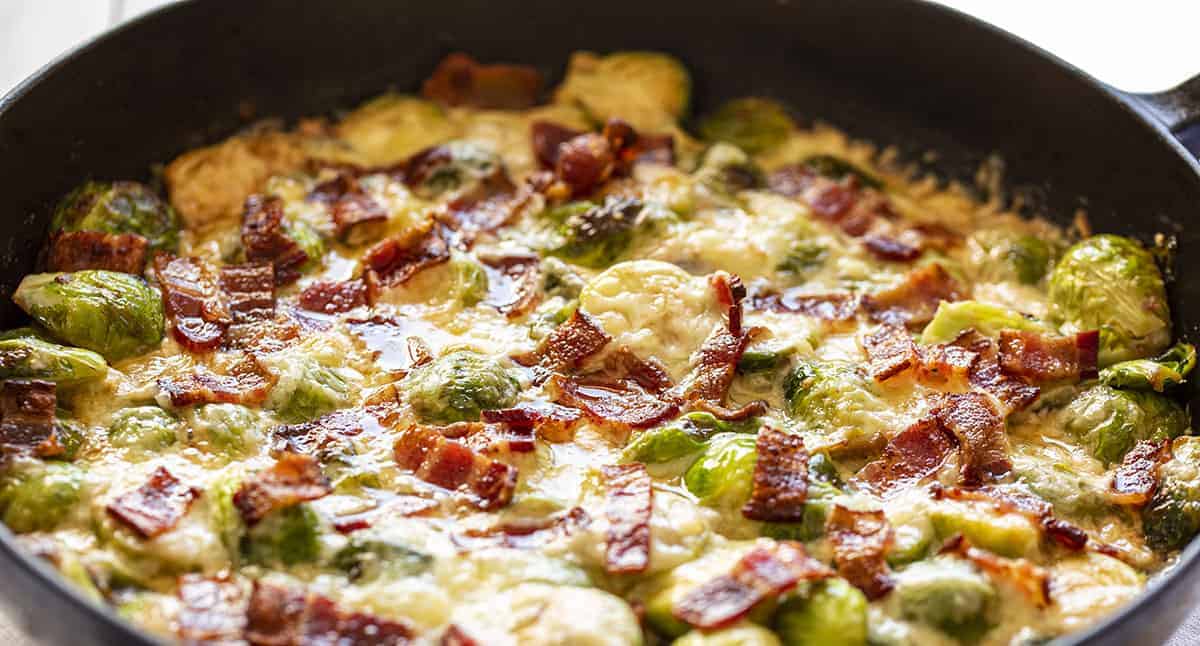 Gruyere Roasted Brussels Sprouts
Growing up, I had to finish my vegetables before I was excused from the table. Well, when it was Brussels sprouts, I cringed. They seemed so soggy and lifeless with a taste that was far from my favorite. Lately, it seems that Brussels sprouts are all the rage, even at the fanciest restaurants! Once I tried an expensive side of balsamic roasted Brussels sprouts at a local restaurant, I knew I could make my own and I was hooked! And so, I have been playing around with variations of the vegetable, from this recipe to Bacon Wrapped Brussels Sprouts to Smashed Brussels Sprouts to Brussels Sprouts in Maple Bourbon Sauce, just to name a few!

Gruyere Cheese Substitutes
There are not many great substitutes for Gruyere cheese itself, but if you must find a replacement with a similar flavor, look for Emmental, Jarlsberg, Beaufort, or comté cheese. (Stay away from American Swiss cheese if you can.) For other alternatives, use cheddar cheese or provolone cheese. In all the cheesy varieties, shred your own cheese out of a block of cheese if possible.

How to Prepare the Brussels Sprouts
In the recipe, I mention trimming and slicing the Brussels sprouts. This is pretty simple to do. Just take a sharp chef's knife and cut off the bottom of the core. Then, take off any loose or brownish-looking leaves. Slice them in half since you will be placing them in the skillet on their flat surfaces. Brussels sprouts are in season from September to March, so that is the best time to find the sprouts with the least amount of brown and yellow leaves. Or, shred the sprouts for my Shredded Brussels Sprouts recipe.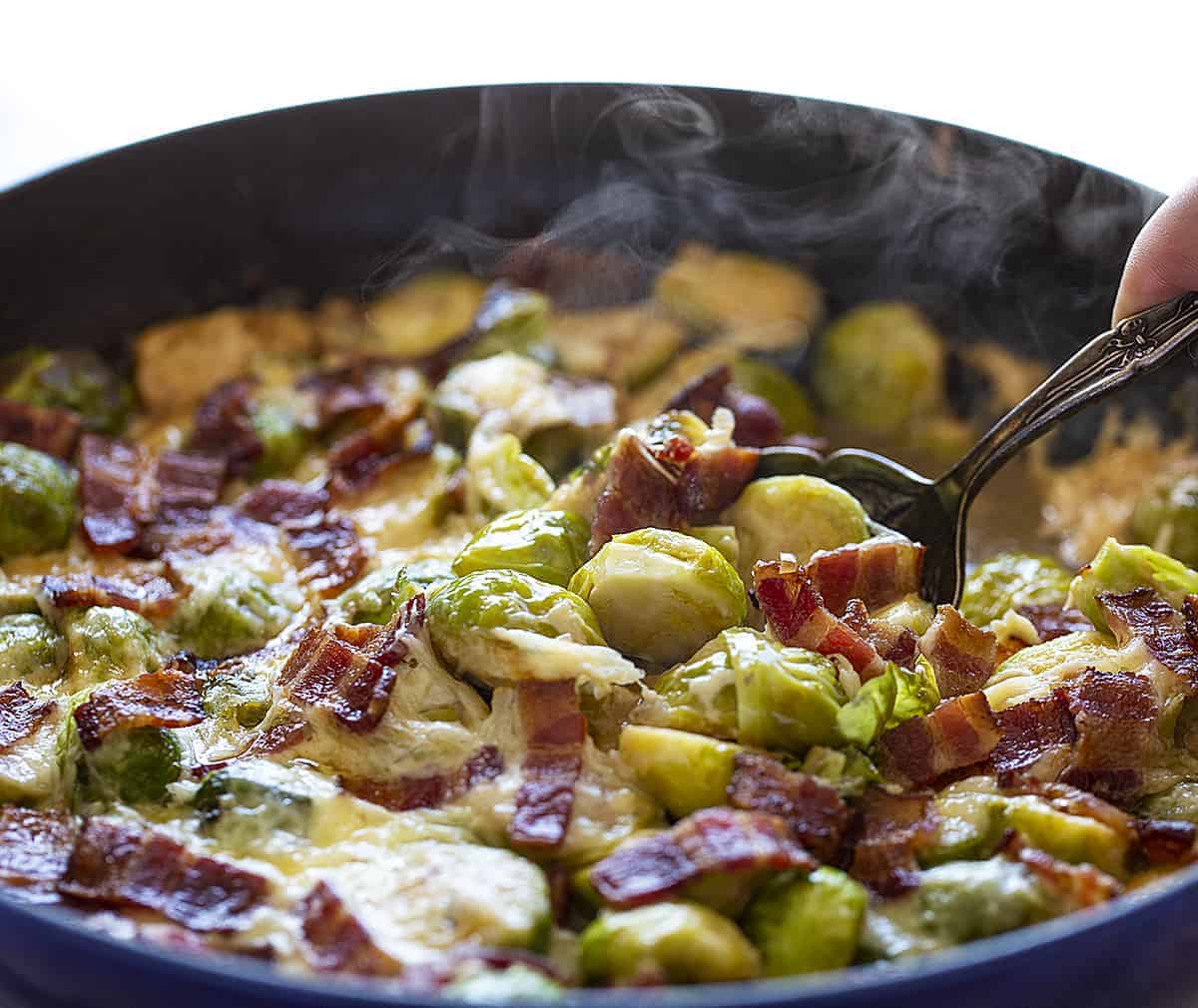 How to Store Gruyere Roasted Brussels Sprouts
Store the roasted Brussels sprouts in an airtight container in the refrigerator. They will last up to 4 days or so. Reheat in the oven.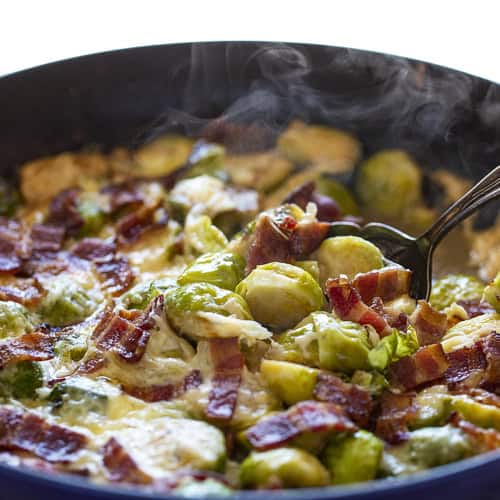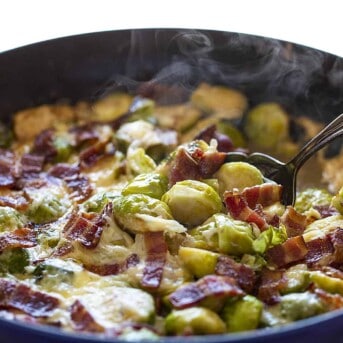 Gruyere Roasted Brussels Sprouts
Roasted with garlic and topped with Gruyere cheese, Gruyere Roasted Brussels Sprouts are tasty enough for everyone to enjoy their veggies!
Ingredients
6

slices

bacon,

chopped into pieces

24

ounces

Brussels sprouts,

washed, trimmed, and sliced in half

2

tablespoons

unsalted butter

6

cloves

garlic,

minced

½

cup

(119 g) heavy cream

1

teaspoon

kosher salt,

or to taste

¼

teaspoon

black pepper,

or to taste

1

cup

(113 g) Gruyere cheese,

shredded

1

cup

(113 g) mozzarella cheese,

shredded
Instructions
Preheat the oven to 425°F.

In an oven-safe skillet, cook bacon over medium-high heat. Once browned, remove bacon from the pan and set it aside on paper towels.

Add Brussels sprouts to the skillet, cut side down, seasoning with the salt and pepper. Cook for 6-8 minutes.

Stir in the butter until melted. Then, add the garlic and cook for about 30 seconds. Add the heavy cream and cook for one more minute.

Transfer the skillet to the oven, baking for 8-10 minutes.

Remove the skillet from the oven. Add the Gruyere and mozzarella shredded cheeses and reserved bacon pieces, and put the Brussels sprouts back into the oven. Broil for about 2-3 minutes, or until the cheese is melted.

Serve when hot. Add additional salt and pepper to taste.
Did you make this recipe?
You can tag me at @iamhomesteader.