Jalapeno Corn Dip collides spicy and sweet for a flavor explosion you will love. Spicy fresh cut jalapenos, sweet bursts of sweet corn, and crispy thick cut bacon come together in this creamy and delicious dip recipe and will have you firmly holding your spot at the table until its finished. If you love jalapenos, try my Jalapeno Popper Dip!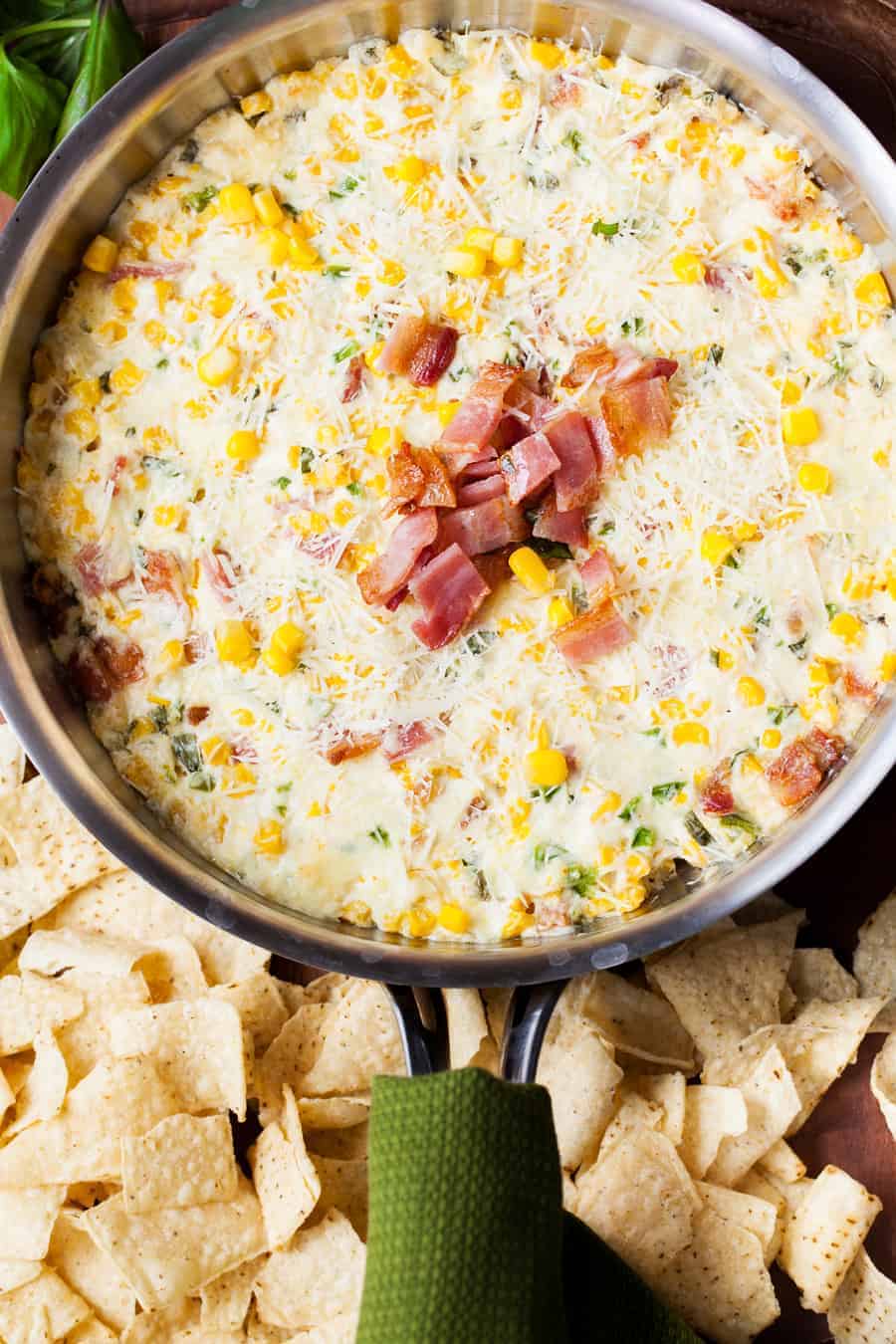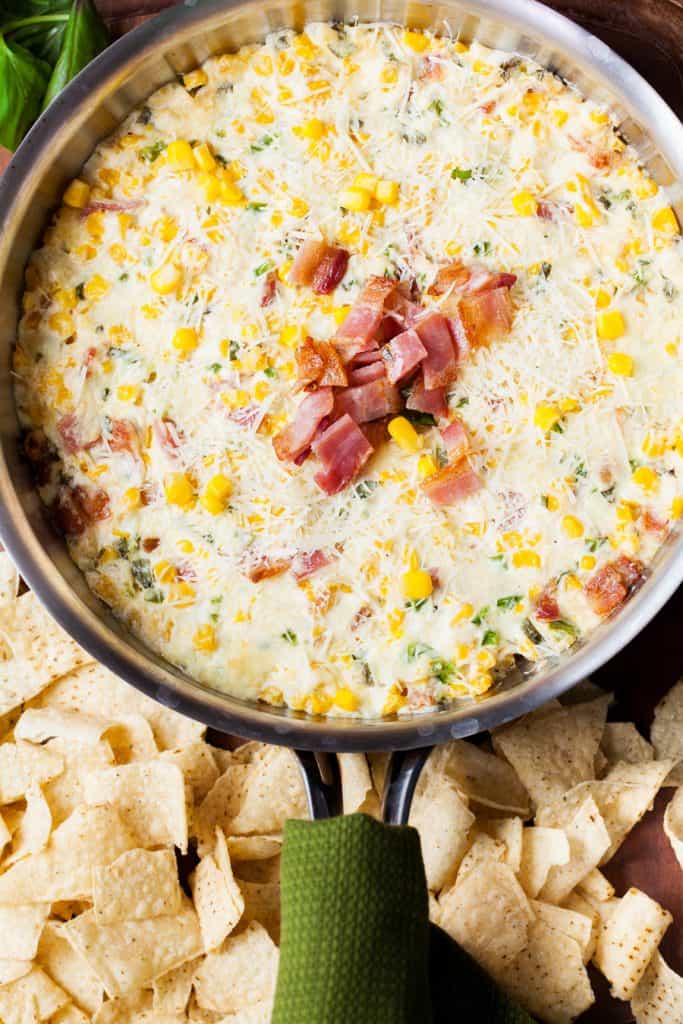 Jalapeno Corn Dip
Look no more for the perfect dip for any gathering. This Jalapeno Corn Dip will leave your guests begging you to make more immediately! Serve with lightly salted chips or a platter of vegetables, this dip will disappear before your eyes!  The cheesy smoothness mixed with the spicy and sweet vegetable combination makes this dish so different from the average dip recipe. I also have a super flavorful Cowboy Corn Dip as well as a warm Cheesy Baked Cowboy Dip you will love!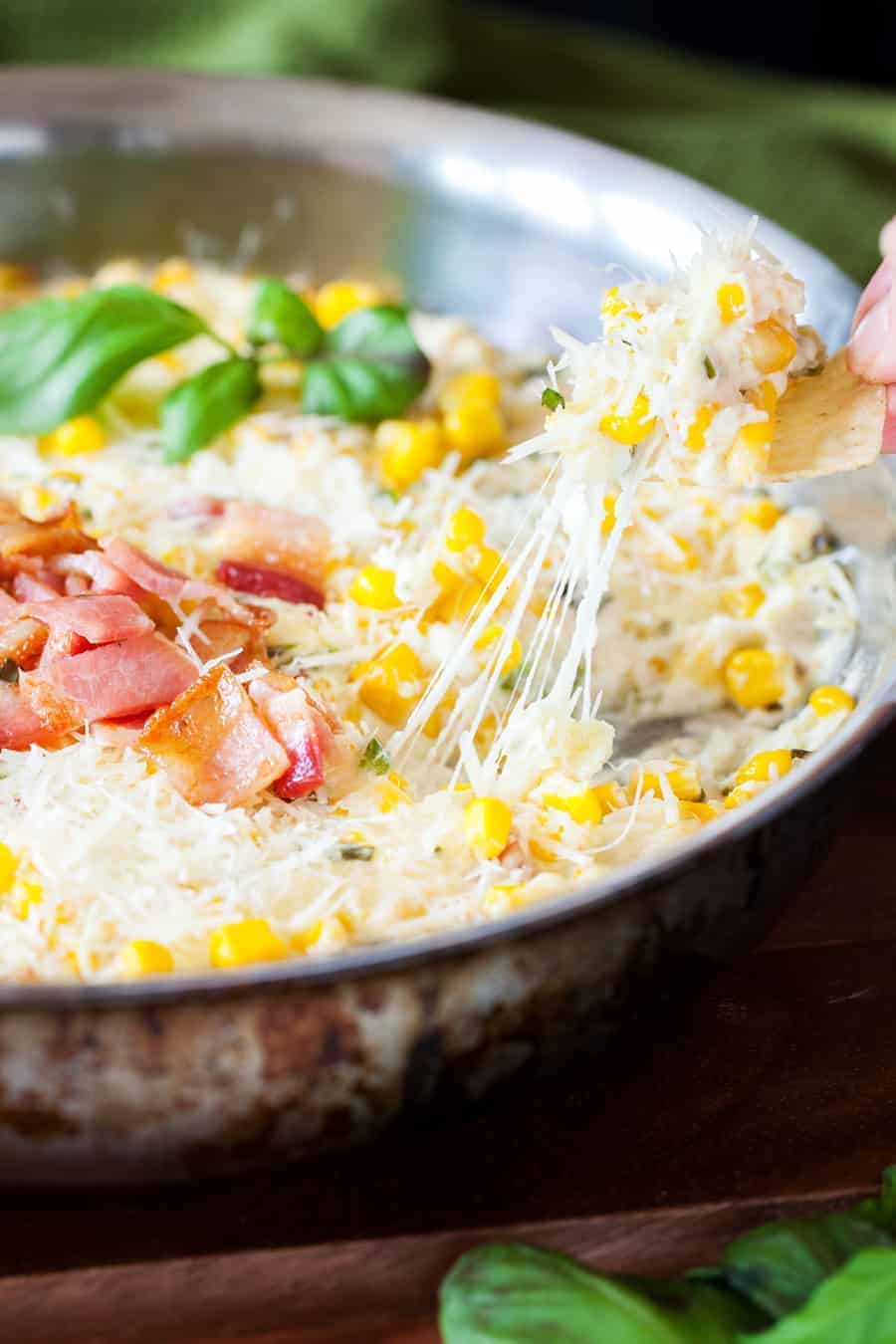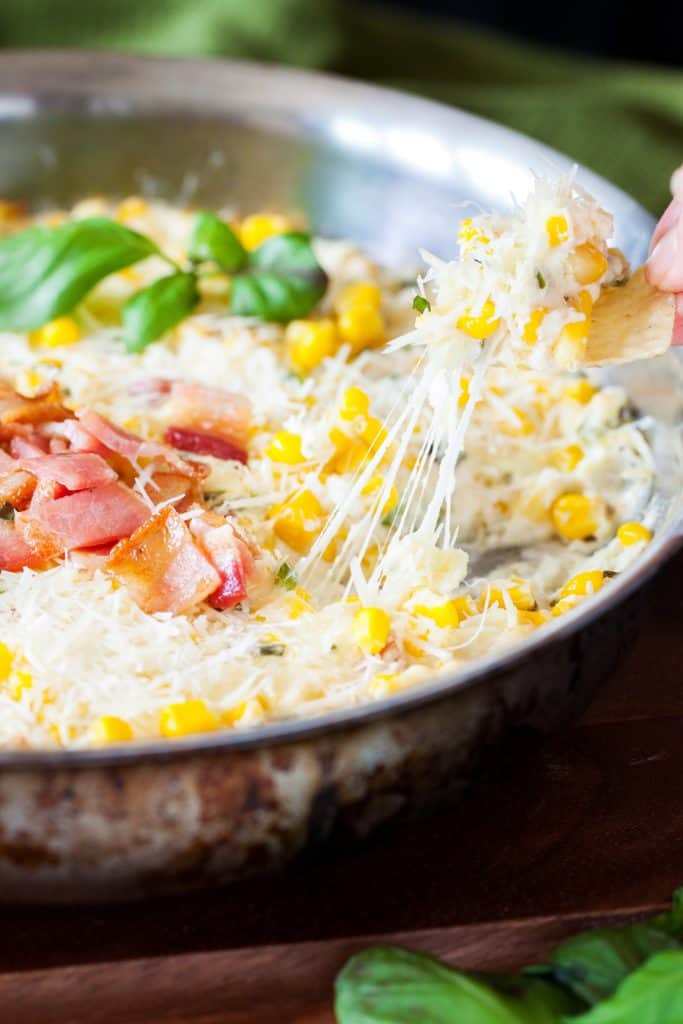 How to Properly Cut Jalapeno Peppers
After cleaning and removing the jalapeno seeds, the rest is a short mixture of chopping and mixing. It really doesn't take long at all! However, removing the seeds from a jalapeno is touchy business, literally speaking. Hopefully, this isn't your first rodeo with cutting a jalapeno, but if so, take my advice from here on out. Some people think that the seeds hold all of the heat, others think the membrane is the culprit. Knowing how to seed and slice a jalapeno properly will make your life a whole lot easier. If you have ever cut into a jalapeno all willy-nilly you may have experienced the accidental eye or nose contact. Trust me, you do not want to experience this. If you are not careful, this could happen to you. To avoid this accidental tragedy I suggest wearing gloves or holding the jalapeno with a paper towel while you cut. Make a lengthwise cut, exposing the membranes that hold the seeds in place. Then take a spoon and scrape out the membrane, working from the bottom to the top of the pepper. Scoop the seed directly into the compost. Finally, WASH YOUR HANDS!
How to Know When the Jalapeno is Spicy
If you are like me and you like things a little spicy, you have been the recipient of the jalapeno that had no kick. On the flip side, you may have had the jalapeno that tasted like a ghost pepper. So, how you can you tell if the jalapeno is spicy? The older the pepper the spicier it will be. Looking at a pepper, the older ones will have stress marks, like little white lines or flecks on the flesh. The younger (less spicy) peppers will have a clear shiny flesh. So if you like them hot, pick the older pepper and if you like the mild, pick the younger one.
Corn Dip
This is one of my all-time favorite dips. Sometimes I double the recipe and make two skillets… one of them EXTRA hot by adding more jalapeno! No matter how I make it, it's always a crowd pleaser!
Tips Tricks and Variations
How can I spice this dip up?
Make this dip even spicier by adding some extra jalapenos. Did you know that adding a few of the seeds will add an extra layer of heat? With all of the different textures in this dip, no one would even notice (unless they are sensitive to heat).
Can I make Crockpot Jalapeno Corn Dip?
Make your life even easier by making this dish in a crockpot. You basically cook it up the same way, but in step 5, you will place everything into a slow cooker instead. Allow the mixture to cook on low for about 2 hours.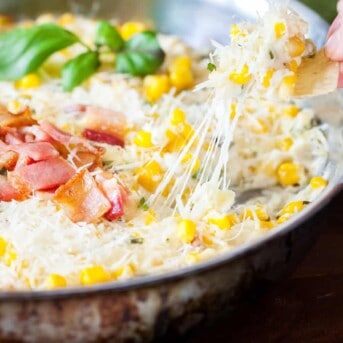 Jalapeno Corn Dip
Jalapeno Corn Dip collides Spicy and Sweet for a flavor explosion you will love.
Ingredients
8

strips

bacon

¼

cup

Parmesan cheese

to taste

⅛

cup

fresh basil

chopped

1

dash

cayenne pepper

½

teaspoon

kosher salt

1

cup

mozzarella cheese,

shredded

1

medium

jalapeno pepper,

seeded and diced

1

can

(11 ounces) whole kernel sweet corn,

drained

8

ounces

cream cheese,

room temperature

Unsalted tortilla chips
Instructions
Pre-heat oven to 350°F.

Fit an oven-proof rack over a baking sheet. Lay the bacon strips over the rack and bake for 20 to 30 minutes, until the bacon is cooked. All the bacon to cool. Coarsely chop into ½-inch pieces. Set aside.

Increase the oven temperature to 400°F.

In a medium bowl, beat the cream cheese with a hand mixer until smooth. Use a wooden spoon to stir in ¾ of the bacon pieces and the corn, jalapeno, mozzarella cheese, salt, cayenne pepper, and basil.

Transfer to an oven-proof skillet and spread to form an even layer. Bake for 20 minutes, until the edges begin to bubble. Sprinkle on the Parmesan cheese and garnish with the remaining bacon. Serve hot with chips.
Did you make this recipe?
You can tag me at @iamhomesteader.