Maple Bacon Carrots have the sweetness of maple syrup glazed over the saltiness of the bacon, working beautifully with the cooked carrot. It's an appetizer or side dish that really takes the 'carrot'! I use bacon a lot with vegetables like my Bacon Wrapped Brussels Sprouts and my Bacon Stuffed Mushrooms. Hey, if that is the only way to get your daily dose of veggies, it's a start!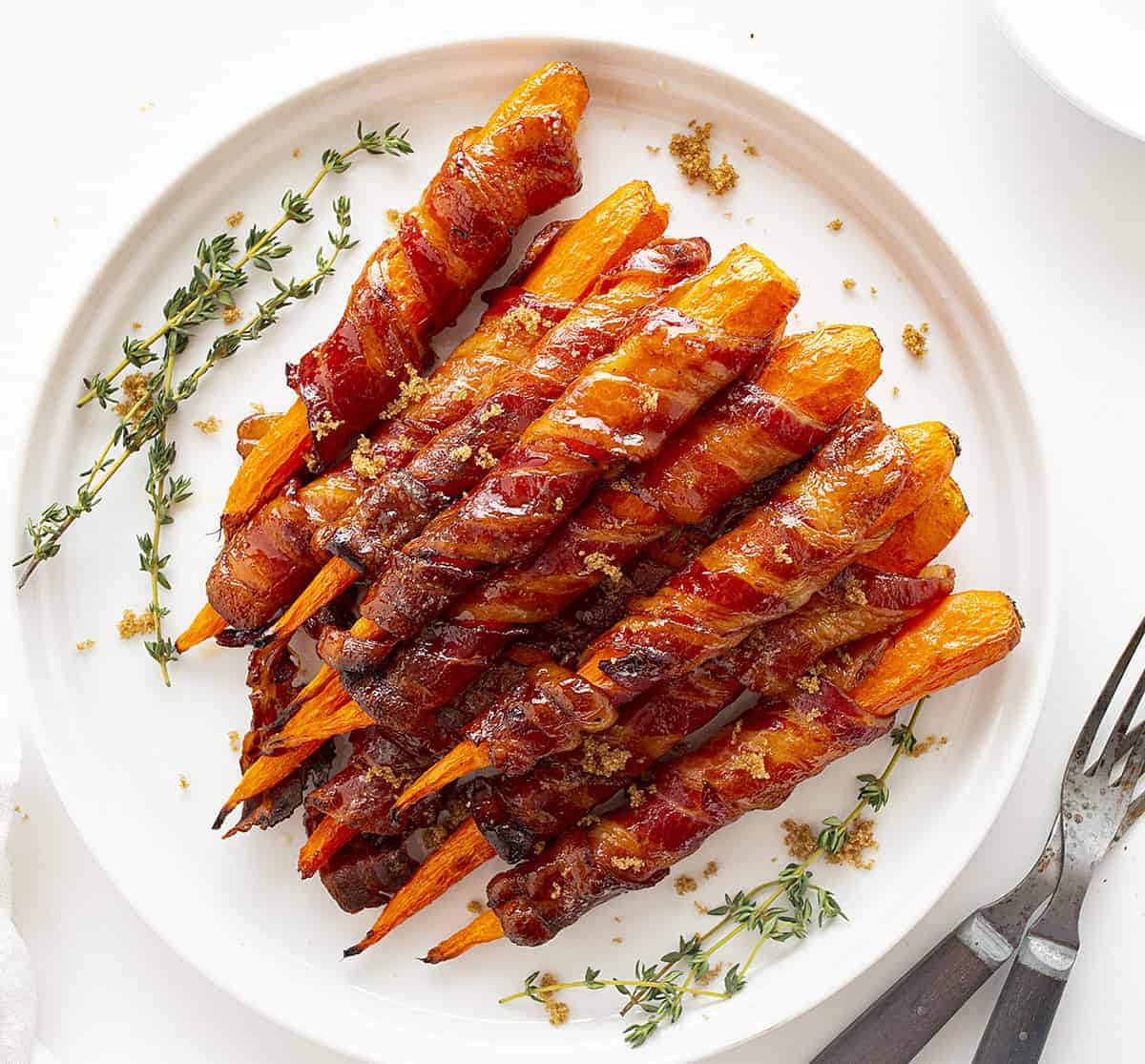 Maple Bacon Carrots
Maple and bacon have come together to be such a 'power couple' in the food world! You've had maple bacon donuts, right? I guess it only makes sense because how many times has your breakfast bacon gotten a little maple syrup on it and you ate it anyway? It's a perfect combination of sweet and savory. I have even seen maple bacon jam as well as maple bacon brownies. Hey, I should get on that brownie one! I guess adding a carrot to the mix makes it a little less like a guilty pleasure.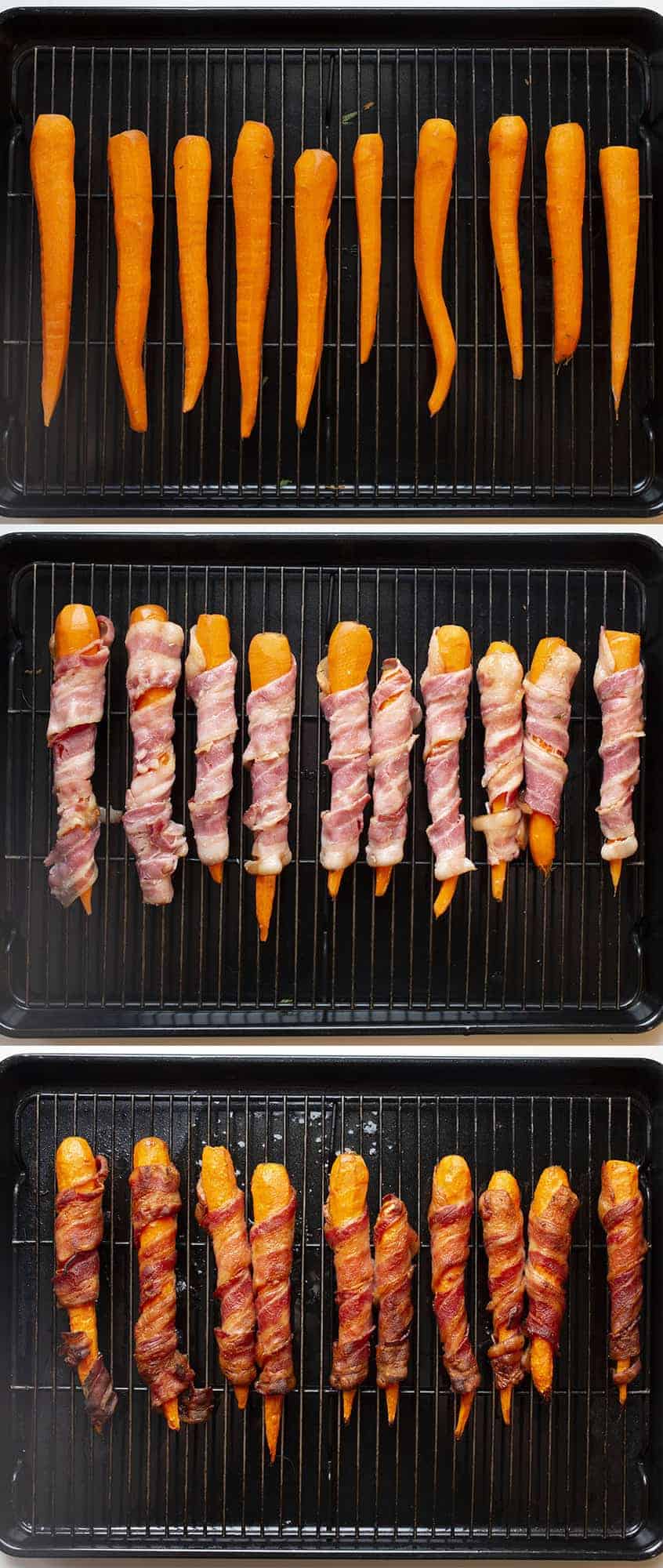 Ingredients & Substitutions
Carrots: When choosing carrots to use, try to keep the size and thickness as close to the same as possible. This will ensure even cooking.
Bacon: If you can, use thin-cut bacon to wrap the carrots. This will allow the bacon to get crispy without overcooking the carrots.
Maple Syrup: Pure maple syrup is best as it does not contain additives, preservatives, or artificial flavors.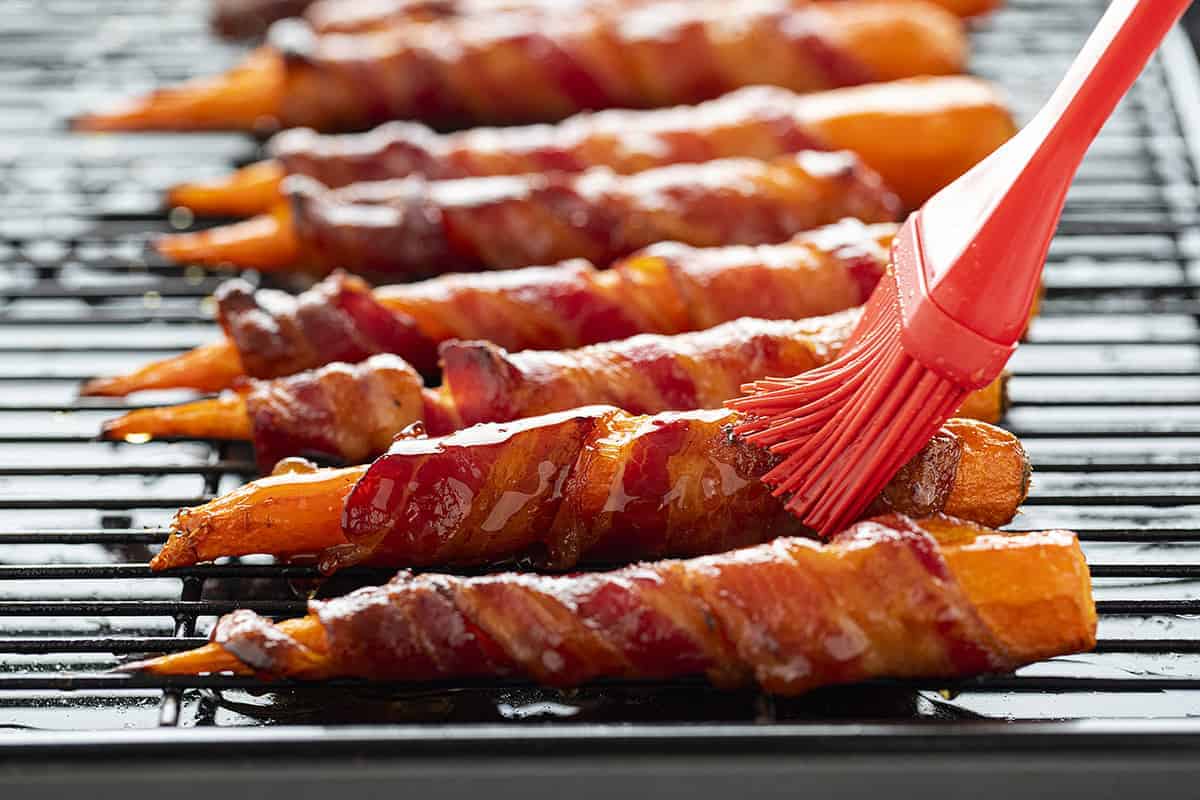 Air Fryer Bacon-Wrapped Carrots
It's easy to make bacon-wrapped carrots in an air fryer. First, wash and peel the carrots. (You may have to trim the ends if they won't fit into the basket of your air fryer.) Next, wrap the raw bacon around each carrot.
After wrapping the carrots in bacon, set them in a single layer in the basket of your air fryer. Depending on the size of your air fryer, you may have to work in batches. Set the air fryer to 385°F and air fry for 10 minutes. After ten minutes, carefully brush the maple syrup over each bacon-wrapped carrot. Then, air fry for an additional 6-8 minutes, or until the bacon is crispy and the carrots are tender.
How to Store Bacon-Wrapped Carrots
Bacon-wrapped carrots can be stored in an airtight container in the refrigerator. They will last up to three days. Reheat them in the oven or in an air fryer.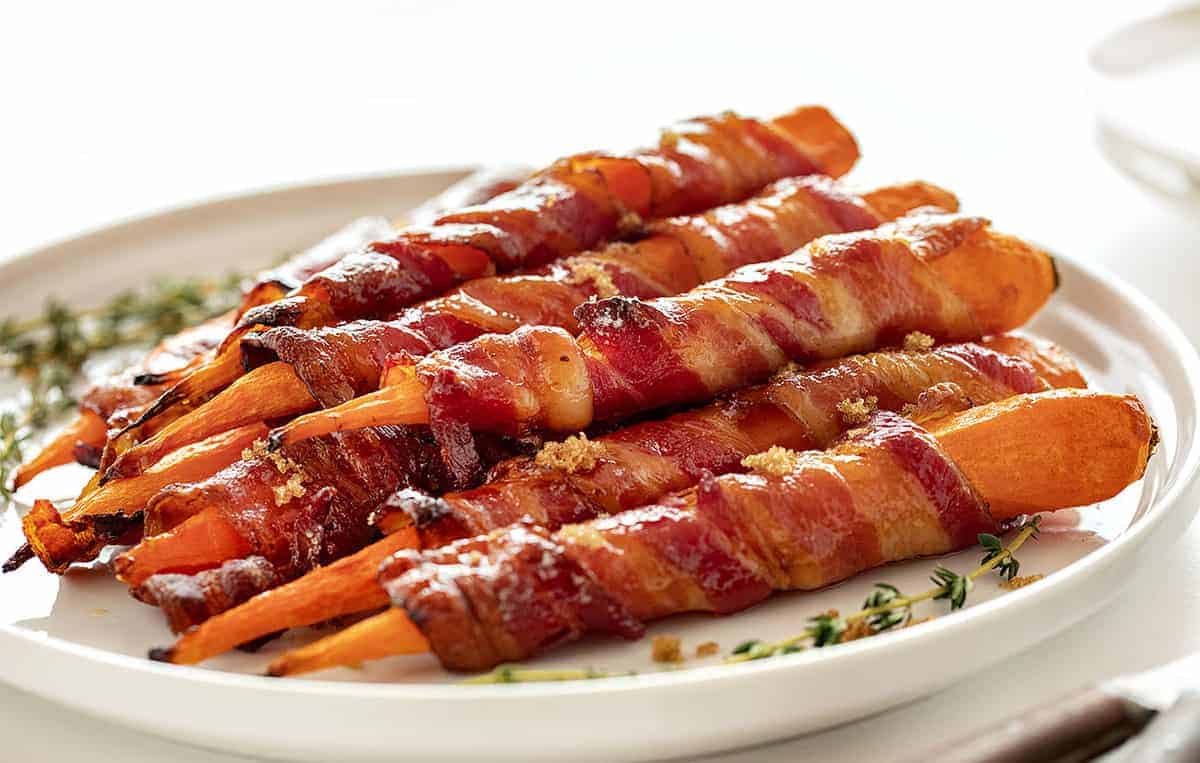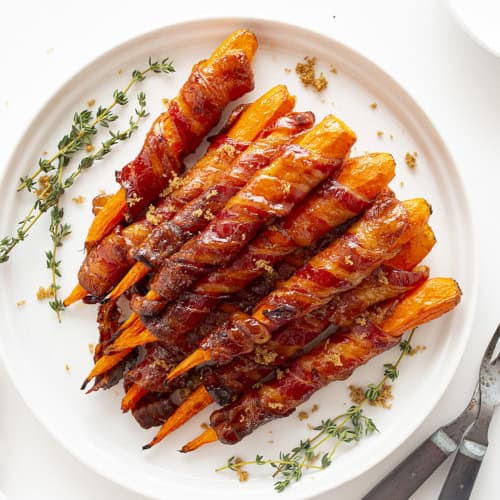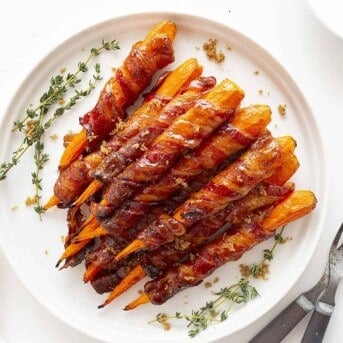 Maple Bacon Carrots
Maple Bacon Carrots are a perfect combination of salty and sweet with crispy maple bacon wrapping a tender cooked carrot.
Ingredients
2

pounds

carrots,

less than ½ inch thick, peeled

1

pound

thin-sliced bacon

¼

cup

maple syrup
Instructions
Wrap one slice of bacon tightly around each carrot (starting at the thick end of the carrot). When wrapping bacon, be careful not to overlap the layers.

Arrange the carrots on a wire rack on a baking sheet.

Bake for 25 minutes, or until the bacon is crispy and the carrots are tender.

Remove from the oven and carefully glaze all sides with the maple syrup.

Bake for an additional 8-10 minutes.

Serve.
Did you make this recipe?
You can tag me at @iamhomesteader.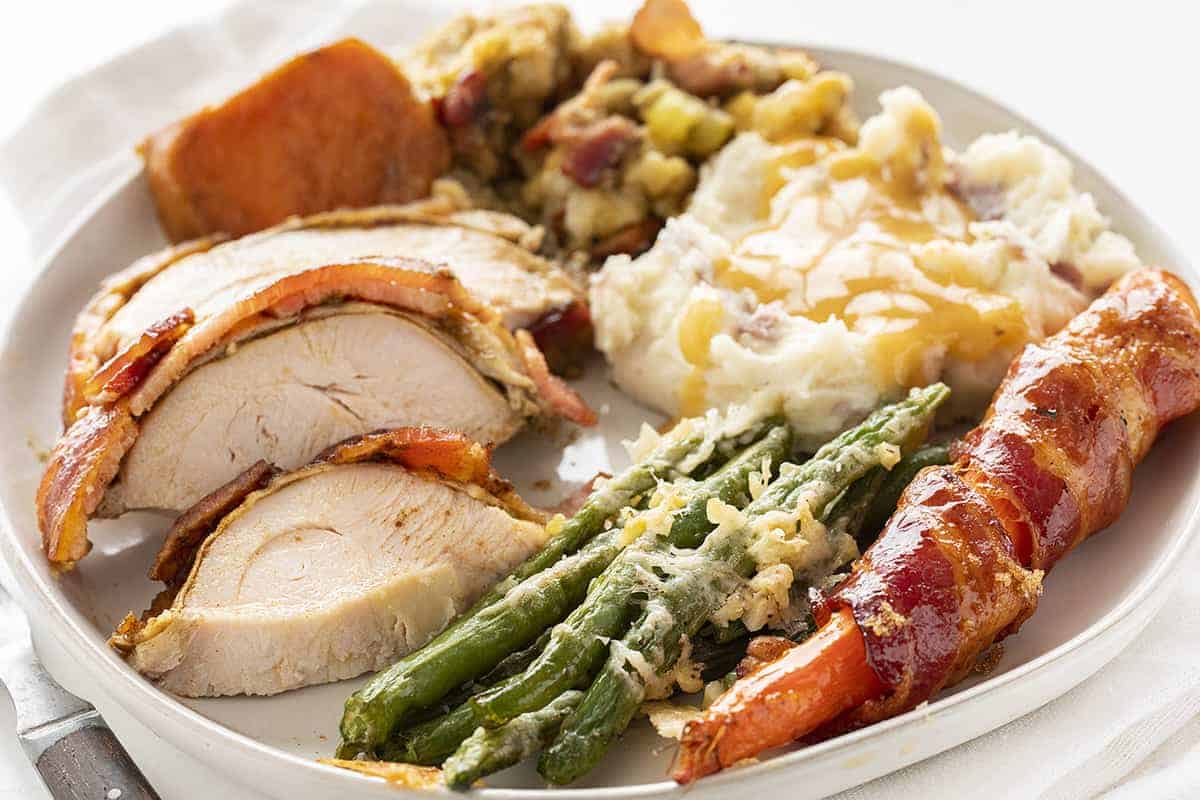 To Make This Amazing Plate of Delicious Thanksgiving Day Food: