No need to wait until Holidays to serve up these buttery and creamy mashed sweet potatoes! With just five simple ingredients you can serve up a side dish that everyone will love! If you are looking for more holiday recipes, make sure to check out my bacon-wrapped turkey or my green bean casserole!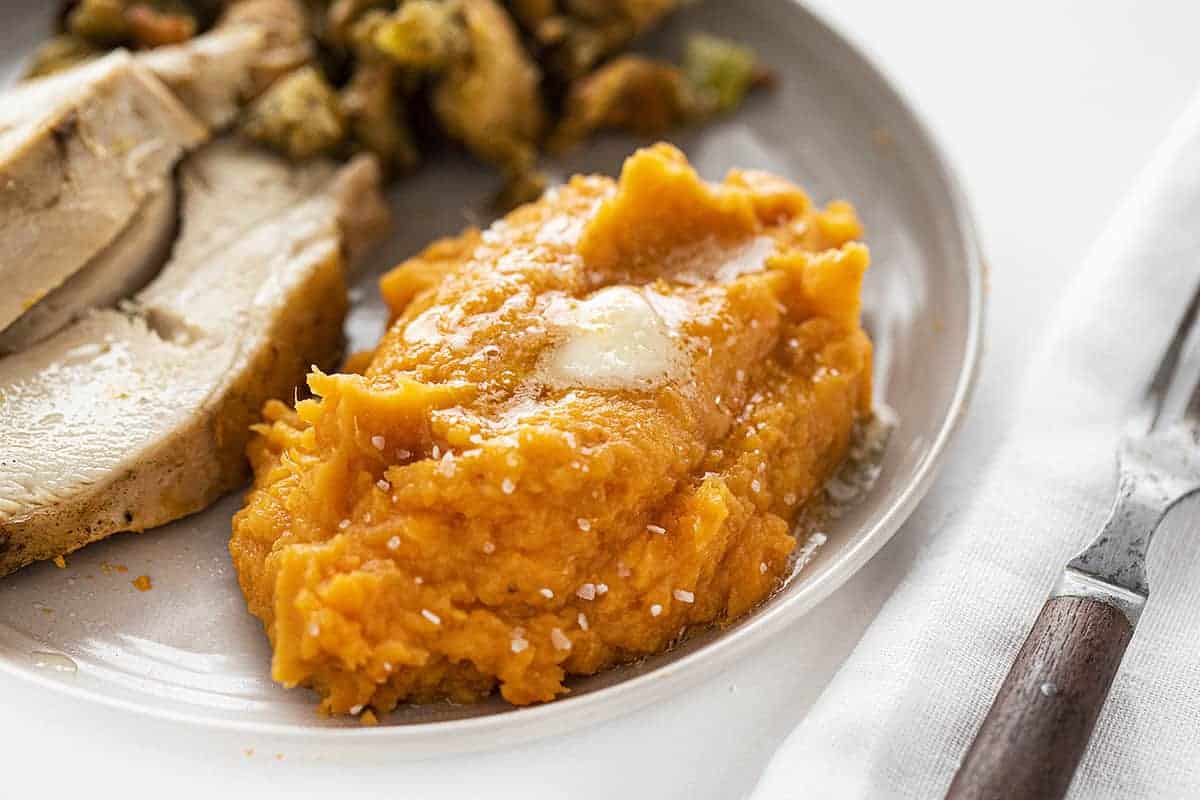 Mashed Sweet Potatoes
Looking for something new and exciting to add to your dinner table? Time to give mashed sweet potatoes a try. Outside of being packed with an amazing savory and sweet flavor, these little vegetables are packed with all sorts of nutritional benefits. Loads of fiber, iron, and calcium, as well as vitamins B and C. In addition, they are a great source of beta-carotene, which is a powerful antioxidant. There are multiple ways to cook up sweet potatoes too, make sure to check out my sweet potato casserole too!
Mashed Sweet Potato Ingredients
It is amazing that something so delicious can also have such simple ingredients. There are only five total ingredients in this entire recipe.
Sweet Potatoes – unlike Yams, sweet potatoes have red flesh and are orange on the inside. Yams are brown on the outside and white on the inside (the outside flesh looks like tree bark). Both have a starchy taste and texture, however, sweet potatoes (like their name) are much sweeter.
Milk – We use whole milk, but if you like your potatoes more on the creamy side, you can also use heavy cream.
Butter – Typically with savory recipes, it is ok to use salted or unsalted butter. You can always adjust the salt levels at the end by adding more salt.
Maple Syrup – Always check the label to make sure it says 100% pure maple syrup.
Kosher Salt – Kosher salt will have a little more texture than table salt.

How to Peel and Slice a Sweet Potato
Sweet potatoes generally have tougher skin than other potatoes, especially depending on the specific yam or sweet potato you are using. But, do not let that stop you from making Mashed Sweet Potatoes! There are a few tricks you can do to help make the process a little easier…
Wash the potatoes in warm water. The warm water will help to soften the skin a bit, but not as much as you would like. If you really scrub while cleaning the potatoes, that will also help thin the skin.
Cut off any rough or 'woody' ends of the potato.
Use a serrated peeler (preferably) or regular peeler to peel from root to tip. Generally, the tapering point is the bottom and the blunt end is the top, but sometimes it is hard to tell. Just make sure you are peeling top to bottom or bottom to top😊.
Once peeled, slice the potatoes as evenly as you can. This will help them cook more evenly.

Can I Peel and Cut Sweet Potatoes ahead of time?
Yes! If you are making these Mashed Sweet Potatoes for the holidays, you may want to prepare as many recipes as you can ahead of time. It's nice to know that you can peel the potatoes a day before you use them. Just keep the peeled sweet potatoes in a bowl of cold water. Be sure to dry off the potatoes with a paper towel before slicing and cooking them to reduce any bacteria.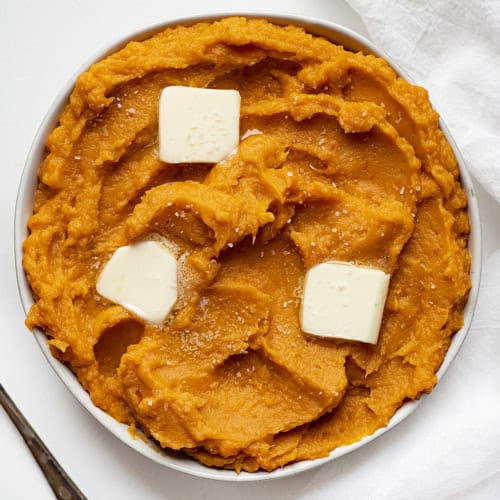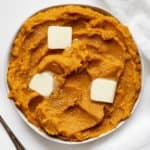 Mashed Sweet Potatoes
No need to wait until Holidays to serve up these buttery and creamy mashed sweet potatoes!  With just five simple ingredients you can serve up a side dish that everyone will love!
Ingredients
5-6

large

sweet potatoes,

peeled and cubed

1/2

cup

milk

1/2

cup

butter

3/4

cup

maple syrup

1

teaspoon

kosher salt
Instructions
Bring a large pot of salted water to a boil.

Add sweet potatoes and reduce heat to medium.

Simmer until tender, about 25-30 minutes.

Remove from heat and drain.

Using a hand mixer, blend sweet potatoes until smooth.

With the mixer on low, add in milk, butter, and maple syrup.

Mix well and serve topped with butter and salt.
Looking for More Side Dish Recipes
Looking for more side dish options? Check out some of my favorite dishes!