Million Dollar Spaghetti is a layered baked spaghetti dish with noodles, marinara, meat sauce, and four kinds of cheese!! If you are looking for a simpler version, try my Spaghetti Recipe or Spaghetti Carbonara!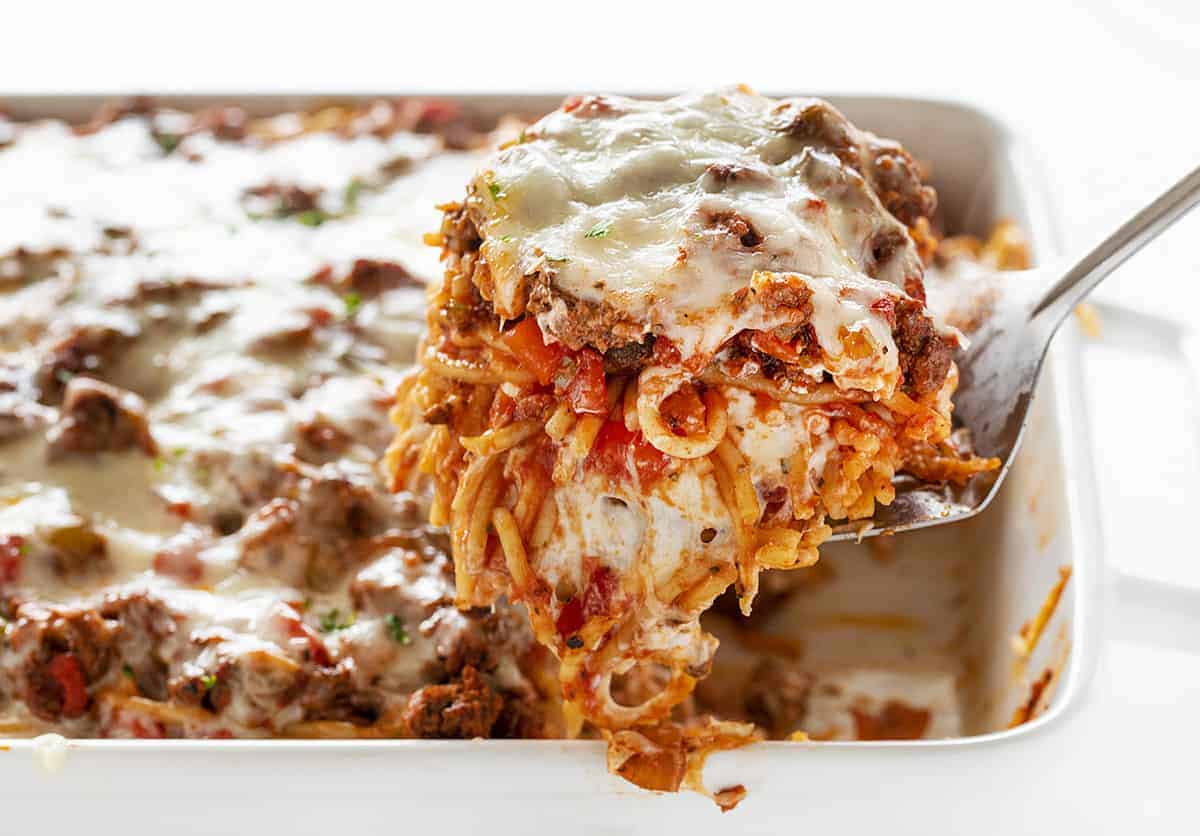 Million Dollar Spaghetti
I absolutely love a good hearty bowl of delicious spaghetti. This recipe is unique in that it's more like a spaghetti lasagna! Layers of noodles, pasta sauce, and all the cheese, and presto, you have an amazing meal that everyone will love.
Making the sauce from scratch is so easy to do and the results are completely worth it! I find that making homemade spaghetti is also a great way to get the kids involved in and excited about cooking. This is where all great cooks get their start. When you are ready to upgrade to a more complicated spaghetti recipe, check out my tomato spinach chicken spaghetti!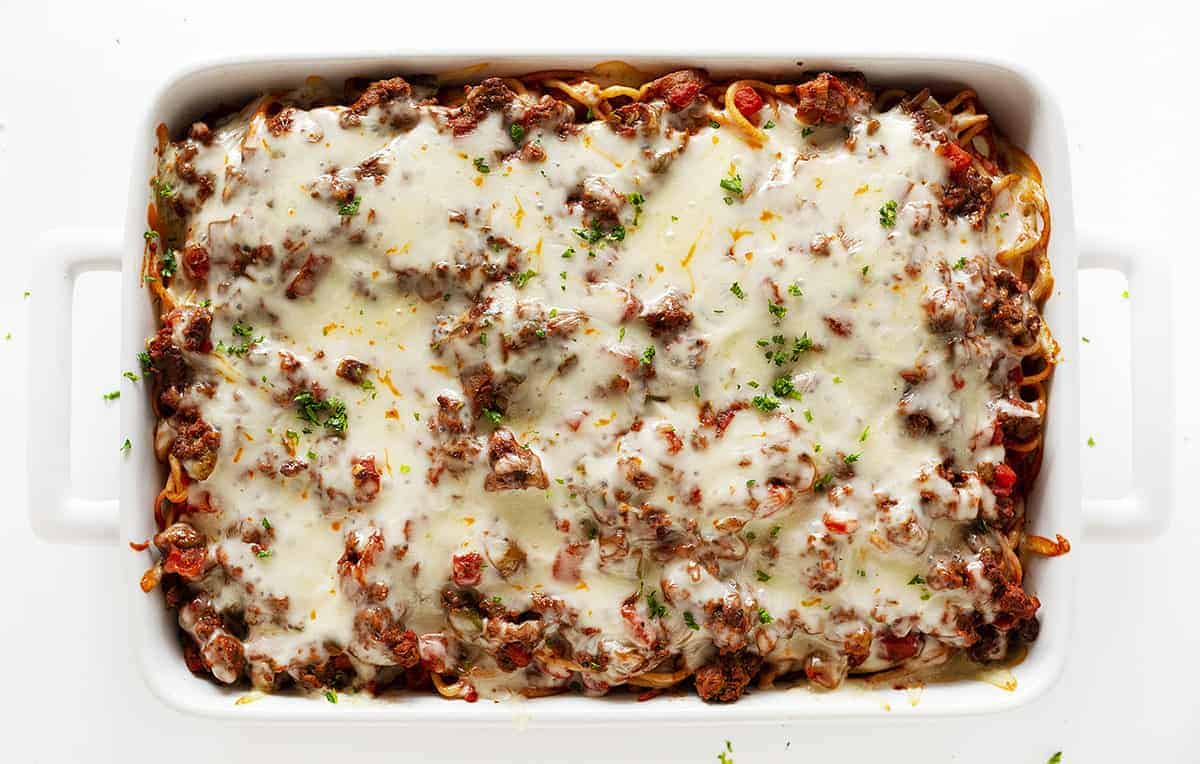 How to Make Million Dollar Spaghetti
Let's start with the marinara sauce. The rest of this simple recipe is just a few more basic ingredients. This is really where you can start to get creative and take ownership of the recipe. The very basic ingredients that I add in this stage are:
Canned Tomatoes: I prefer a rougher chopped tomato. We typically can our own tomatoes every year, so we crack open a bottle of our stewed tomatoes and just chop them up. If you are buying canned tomatoes and prefer a smaller tomato, make sure to grab the diced or crushed version. Sometimes you can get these already seasoned with garlic, Italian seasoning, basil, and various other seasonings. Just make sure you read the label and adjust so you don't over season the sauce.
Tomato Sauce and Tomato Paste: These two combined add the hearty tomato flavor and give the dish some much-needed thickness. If you like your spaghetti sauce a little runnier, you can add extra sauce. If you like your spaghetti sauce thicker, you can add some extra paste.
Seasonings:  The very basic seasonings you will need are basil and oregano.  Add more or less to adjust the flavor.  If you are looking to change the game up a bit, add crushed red pepper or cayenne for some additional spice.  If you aren't getting enough of the garlic flavor, add in some garlic powder.  It may sound strange, but you can also add a little sugar to the sauce.  Sugar will enhance the natural sweetness of the tomatoes.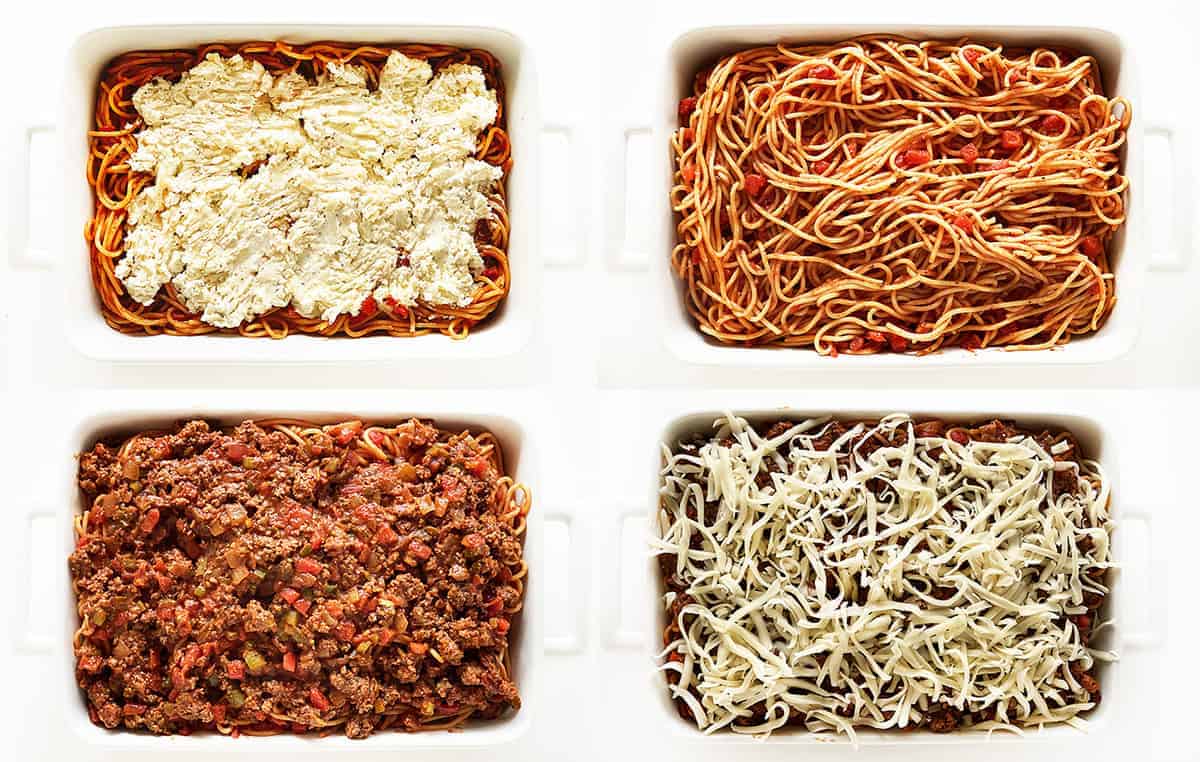 Now we get to start layering!
In a prepared pan, add half of the noodle and marinara mixture.
Add the cheese mixture and spread as smooth as you can.
Add the rest of the noodles.
Pour the meat sauce over top.
Sprinkle with remaining cheese.
Bake! Pay attention to the ingredients as you bake it with foil and then without for a few minutes.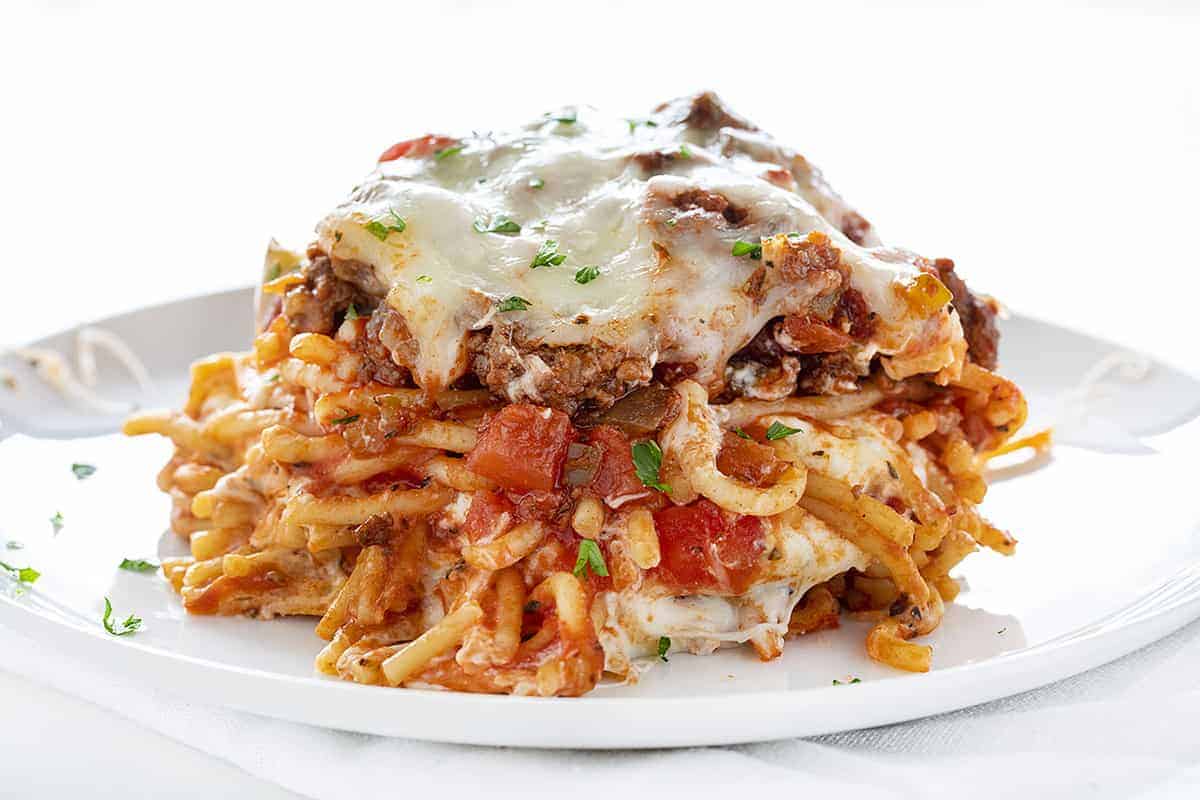 How to Make Ahead, Freeze, and Gift
When I am making a pan to freeze I do a few easy things.
First I start with a foil casserole pan, these are inexpensive and if gifting, no pan needs to be returned.
Next, follow the recipe preparation up until the point of baking. At this point, cover it with foil and label and date it. Place in the freezer for up to 3 months.
If you are gifting this here are the thawing instructions: "Remove a day ahead of time and place in the refrigerator to come to room temperature. If you don't have time to thaw in the refrigerator, you can place the frozen baked spaghetti directly in the oven, but it will cook longer, for about 55-65 minutes. Remove the foil towards the end so that the cheese can melt completely."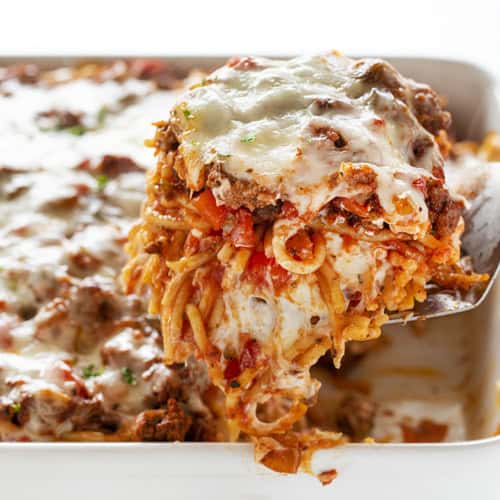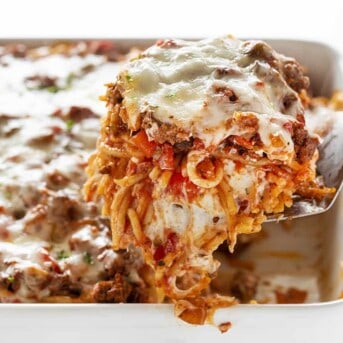 Million Dollar Spaghetti
It sure lives up to its name! Tastes decadent and comes together fast!
Ingredients
Marinara Sauce
1

can

(28 ounces) diced tomatoes

1

can

(16 ounces) tomato sauce

1

can

(6 ounces) tomato paste

2

teaspoons

dried oregano

2

teaspoons

dried basil

1

teaspoon

salt

½

teaspoon

black pepper

1

box

(16 ounces) spaghetti noodles,

cooked to package directions
Meat Sauce
1

pound

ground beef

1

medium

yellow onion,

chopped

1

small

green bell pepper,

diced

4

cloves

garlic,

minced

½

teaspoon

kosher salt

½

teaspoon

black pepper
Cheese Layer
8

ounces

cream cheese,

softened

½

cup

ricotta cheese

3

cups

shredded mozzarella cheese,

divided (save 1 cup for sprinkling on top)

½

cup

parmesan,

grated (we prefer freshly grated)

½

teaspoon

dried basil

½

teaspoon

dried parsley

salt & pepper,

to taste

parsley,

chopped (for garnish)
Instructions
Preheat the oven to 350°F.

Spray a 9×13-inch baking dish with nonstick cooking spray.
Marinara Sauce
In a large saucepan over low heat combine diced tomatoes, tomato sauce, tomato paste, oregano, basil, salt, and pepper. Simmer on low for 10 minutes, stirring occasionally.

Remove 1 cup of the marinara sauce and set aside for later.

Add cooked spaghetti to the saucepan and toss to combine.

Cover to keep warm. (The longer it sits the more flavorful it is!)
Meat Sauce
In a large skillet (I used a 10-inch skillet) add the ground beef, onions, green pepper, garlic, salt, and pepper. Cook on medium-high.

Once browned, remove from the heat, drain the grease, and add the reserved cup of marinara sauce.
Cheese Layer
In a medium bowl, mix the cream cheese, ricotta cheese, 2 cups of mozzarella cheese, parmesan cheese, basil, parsley, salt, and pepper.
Assembling
Add half the noodle and marinara sauce mixture to the prepared baking dish.

Top with the cream cheese mixture and spread in an even layer.

Top with the remaining noodle and marinara sauce mixture.

Top with the meat sauce mixture and remaining cup of mozzarella cheese.

Cover with aluminum foil. Bake for 25 minutes.

Uncover and bake for an additional 5-10 minutes until cheese is melted and bubbly.
Did you make this recipe?
You can tag me at @iamhomesteader.
Recipe inspired from All Recipes.