We love everything about pulled pork. The versatility of the process (dry rub or wet) and the way you can cook it. Our favorite is smoking, but this easy oven method for making Pulled Pork works in a pinch!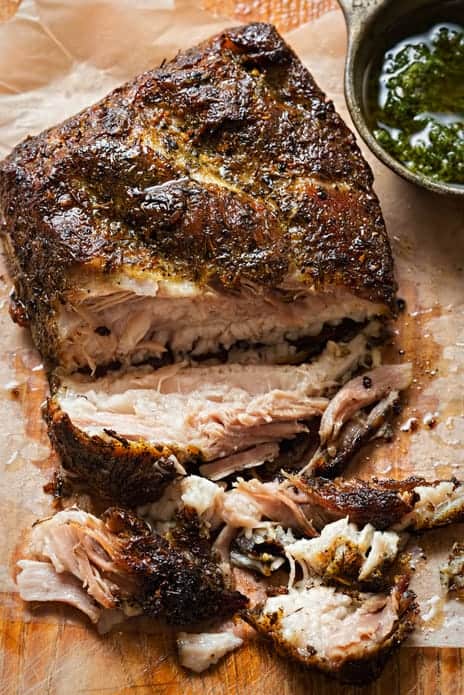 Oven Roasted Pulled Pork
Pulled Pork means very different things to people depending on where they live and what they grew up with. For us here in Minnesota, it is a pork butt that is roasted, smoked, or grilled and usually has a dry rub. The sauces are added after cooking and are always optional. Sometimes the dry rub is so good you don't need any!
I mentioned that our favorite way to make pulled pork is by smoking it in our Traeger Grill, but the smoker is my husband's domain and sometimes I have a craving! This is the recipe I use when I get a craving in the afternoon and want to have pulled pork for dinner.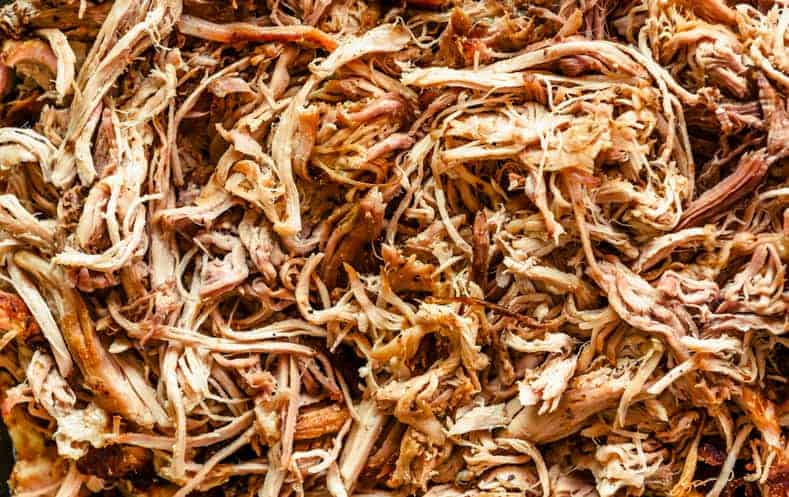 COOKING A PORK BUTT TO 195°F
We estimate about 1 hour per pound based on the trimmed weight of pork butt. This is only an estimate—it may take more or even less time, depending on the thickness of the pork butt and any hot spots or inconsistencies in your oven. We often open the oven several times to check on the progress and temperature, so it's wise to factor that in as well. For example, a 5-pound trimmed pork butt should be done in about 5 hours when cooking at 225°F. (This is the low & slow method)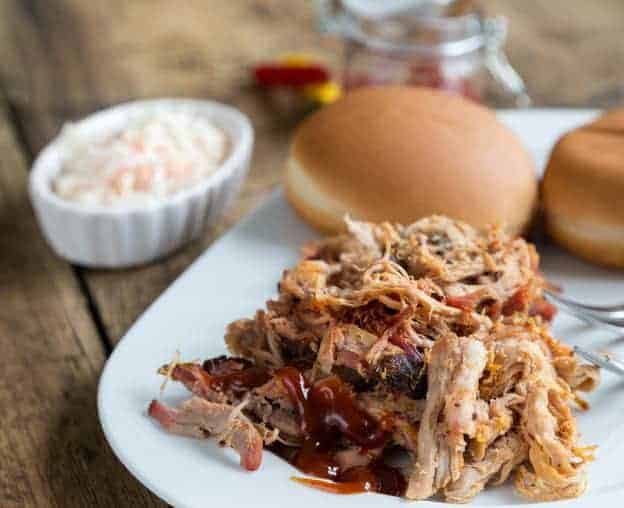 How to Serve Pulled Pork
On a bun of course. 😉 We love ours piled high and with our favorite BBQ sauce. I like sweet & tangy, my husband loves spicy & hot, and the kids love a combination. You can also serve the sandwich with coleslaw, raw or cooked onion, and any other ingredient that strikes your fancy.
I love to add all the sauces individually. As in, I do not add it directly to the pulled pork and create a BBQ pulled pork. The reason is that we have developed a number of recipes using pulled pork that our family LOVES. For instance, you can try this Pulled Pork Hash. We also make Pulled Pork Nachos, Pulled Pork Quesadillas, and Cheesy Pulled Pork Soup. (I will be sharing all of those recipes soon!)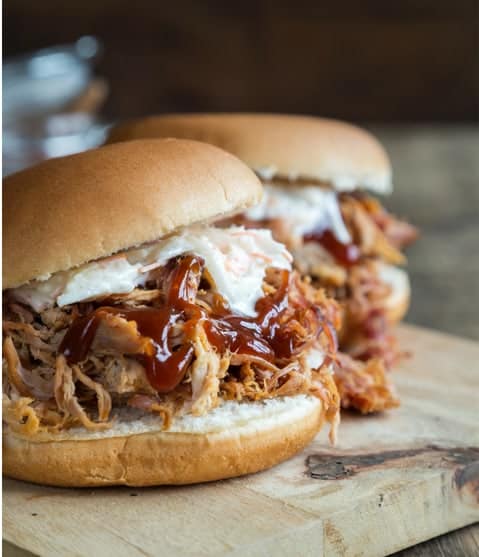 Can You Make Pulled Pork in a Slow Cooker
Absolutely! Just a few little changes to my recipe help to make sure a slow cooker pulled pork is just as amazing as oven-roasted. It's important to brown the pork before adding it to the slow cooker. Don't skip this step, trust me!!
Start by heating your oven to 500°F. Cover a large baking sheet with foil and then place a wire rack on the baking sheet.
Make your dry rub according to the recipe below. Cover a 3-4 pound pork butt with 1/2 of the dry rub and place on the baking sheet. Cook for about 10 minutes. You don't want the spices to burn, so keep an eye on it.
Add 2 onions that have been quartered, a can of cola, a cup of apple cider vinegar, and a couple of tablespoons of Worcestershire sauce to the bottom of your slow cooker. Remove pork butt from the oven and carefully set it into the slow cooker. Cook on LOW for about 6 hours, or until the internal temperature reaches 195°F.
Remove from the oven and allow to cool to a temperature that you are comfortable shredding the meat at. I like the meat to be at room temperature, my husband likes to shred it while it's hot! Strain the chunks out of the liquid in your slow cooker and then spoon over the meat. OR discard and use your favorite BBQ sauce.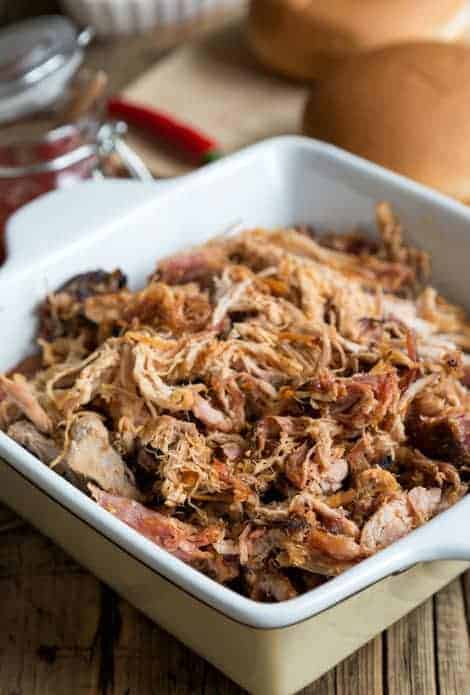 How to Refrigerate or Freeze Pulled Pork
Transfer the cooled pork to freezer-safe plastic sealable bags, making sure to completely seal the bags to prevent leakage. Do not overfill, try to fill each bag about 3/4 full.
Write the date that the pulled pork was cooked on the outside of the bag using a permanent marker. Place the bags of pulled pork in your refrigerator for up to 1 week or in your freezer until they are frozen solid. If you have a vacuum sealer I highly recommend using it as you can thaw the meat right in the bag in hot water.
IT IS RECOMMENDED TO eat the pulled pork within two to three months from the date written on the freezer bag. However, we have enjoyed pulled fork in frozen February here in Minnesota even though it was prepared in June.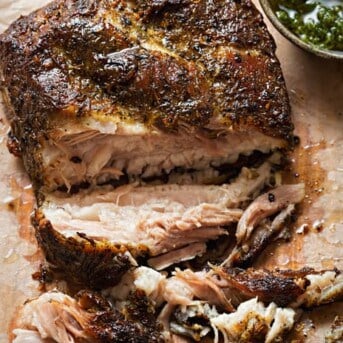 Oven Roasted Pulled Pork
We love everything about pulled pork. The versatility of the process (dry rub or wet) and the way you can cook it. Our favorite is smoking, but this easy oven method for making Pulled Pork works in a pinch!

Ingredients
4 -6

pounds

fresh pork butt, Boston butt, or pork shoulder,

bone removed

2

teaspoons

kosher salt

1

teaspoon

black pepper

1

teaspoon

smoked paprika

1

teaspoon

onion powder

½

teaspoon

ground mustard

½

teaspoon

chipotle chili pepper

½

teaspoon

celery salt
Instructions
Preheat oven to 225°F. Trim excess fat from pork and set aside to come to room temperature.

In a small bowl, combine the salt, pepper, smoked paprika, garlic powder, onion powder, ground mustard, chipotle chili pepper, and celery salt.

Rub the spice mixture all over the pork.

Place the pork in a Dutch oven, covered with a lid.

Remove the lid and cook the pork for an additional hour. The pork should be very tender, pulls apart easily with a fork, and has reached an internal temperature of 195°F.

Remove pork from Dutch oven and let rest until it is cool enough to work with.

Shred pork using two forks.
Did you make this recipe?
You can tag me at @iamhomesteader.