This Pulled Pork Hash is our new favorite breakfast! Packed with flavor, it's easy to pull together and is something everyone will enjoy! If you enjoy hash you might also like my Brussels Sprout Breakfast Hash. Or maybe even this Country Skillet Breakfast! Check out our favorite Oven Roasted Pulled Pork if you need an easy and delicious recipe.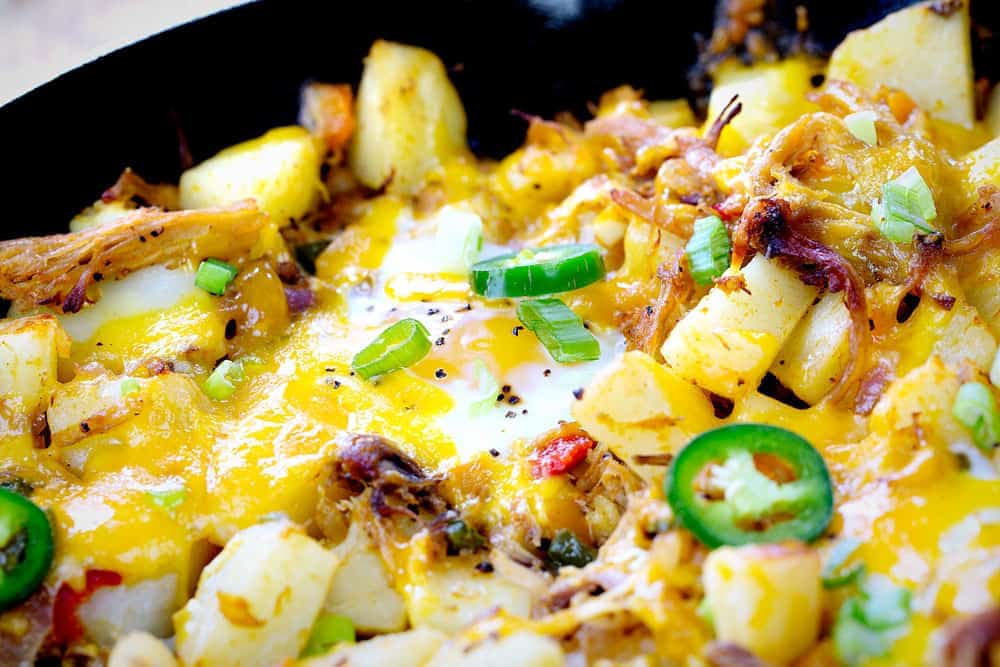 Pulled Pork Hash
We recently had a party and my husband smoked 80 pounds of pork. While it was a big hit at the party, we did have some left over. I have been coming up with new recipes to incorporate the pulled pork leftovers into our meals and WOW has it been fun not to mention delicious! I had no idea how versatile pulled pork was and am thrilled to be able to use it up in such mouth-watering ways.
If you don't happen to have excessive amounts of pulled pork as I do, feel free to use sausage, bacon, or hamburger in your hash. Most proteins work really well!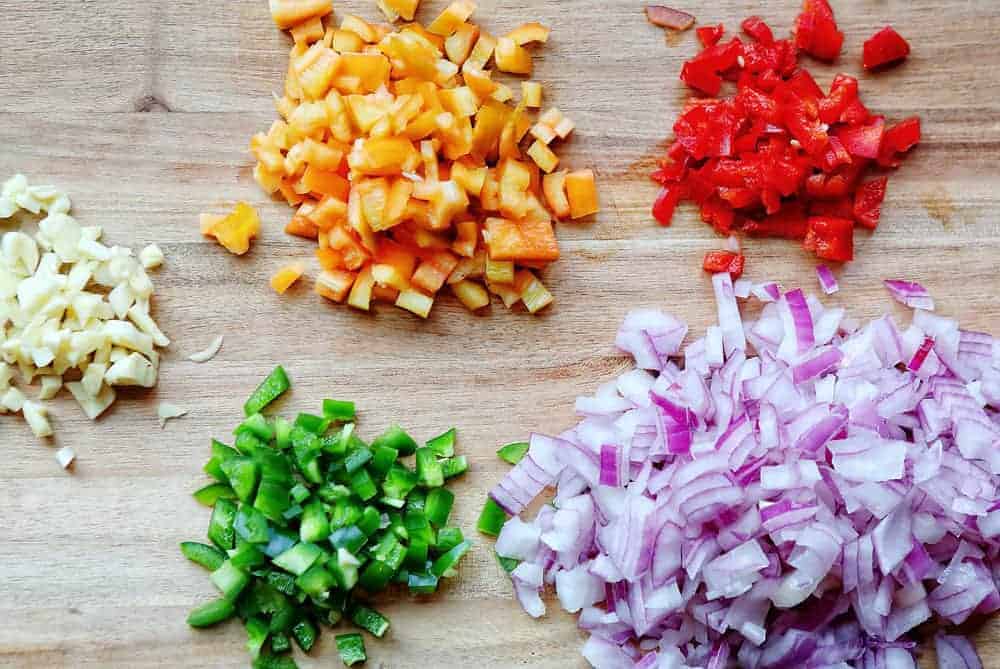 How to Make Hash
Growing up I refused to eat hash because the name scared me. How could anything called "hash" taste good? Boy did I miss out.
When making hash you can prepare it fresh or use leftover ingredients. Meat, roasted veggies, left-over veggies that need to be used so they don't go bad—it all works in a hot cast-iron skillet with potatoes. I used 3 kinds of peppers in addition to the onion and garlic, but you could swap out your favorite veggies. I think onions and garlic are a must, but the peppers should definitely be added based on your preferences. Other great options are mushrooms, corn, spinach, Brussels sprouts, carrots, or even apples!
Most folks use corned beef in the hash with a few fried eggs on top. But in reality, a hash can be any combination of meat and potatoes. Learning how to make breakfast hash is easy because hash can basically involve anything. We find ourselves making it for any meal, not just breakfast!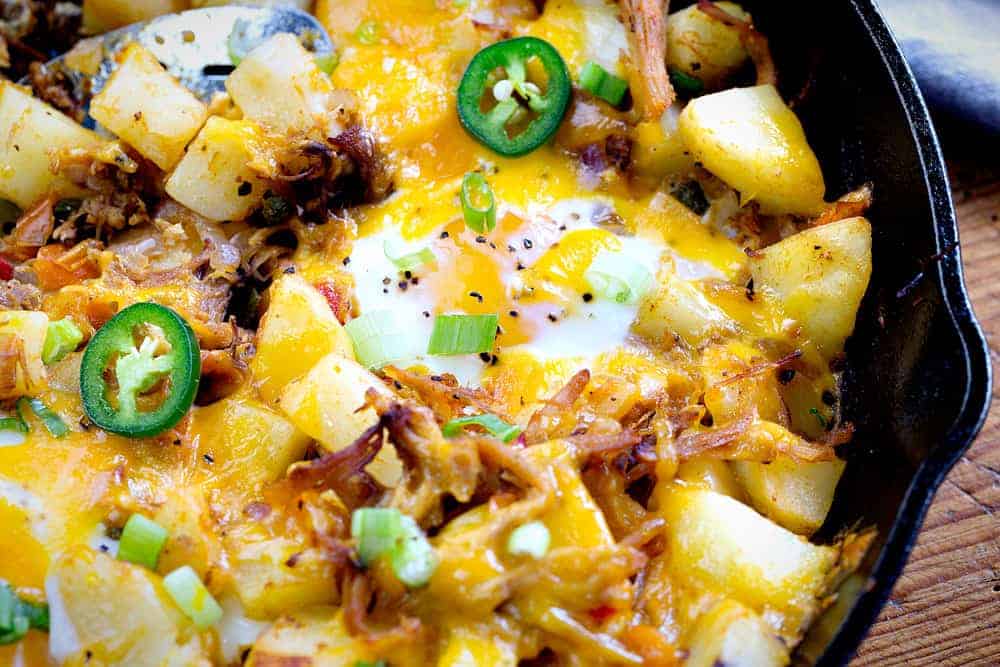 Cheesy Hash
I stuck with the basics in this recipe and add cheddar cheese, but you could incorporate any of your favorites! We also love gruyere, muenster, jack, and pepper jack cheeses. You can add as little or as much as you would like! Or, if you are looking for a healthier option, omit the cheese altogether.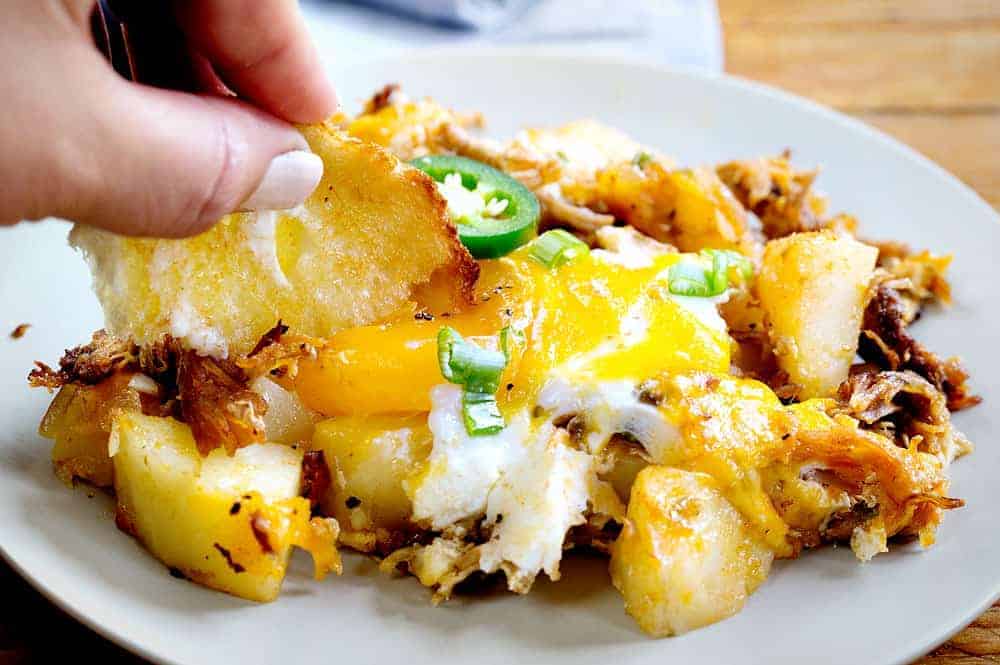 Potatoes in Hash
This recipe calls for 5 large potatoes boiled and diced. I used peeled red potatoes and I love how they stand up to boiling. I diced my potatoes into large cubes, but some folks (my husband!) prefer them into much smaller cubes. If you want really crispy potatoes smaller cubes are the way to go. If you want to save some time in this recipe you can use frozen cubed potatoes which are called "Diced Hash Potatoes" or "Southern Style Hash Brown Potatoes" in your frozen food section of the grocery store. And yes, you can certainly opt for traditional hash browns, which are grated potatoes.
Want a REALLY fun twist? You can make this recipe over french fries and serve it for dinner!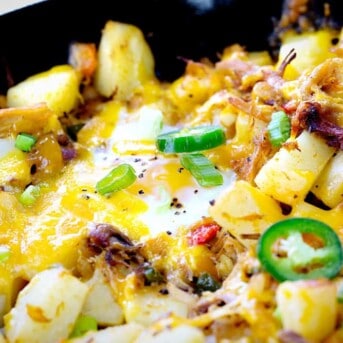 Pulled Pork Hash
This Pulled Pork Hash is our new favorite breakfast! Packed with flavor, it's easy to pull together and is something everyone will enjoy!
Ingredients
1

tablespoon

vegetable oil,

1

red

onion,

diced

1

orange

pepper,

diced

¼

cup

red pepper,

diced

2

cloves

garlic,

minced

1

cup

pulled pork

5

large

potatoes,

boiled and then diced into cubes (peeling optional)

2

teaspoons

paprika

1

teaspoon

kosher salt

1

teaspoon

pepper

1

cup

cheddar cheese

3

large

eggs*

scallions and jalapeno for garnish,

optional
Instructions
Preheat oven to 375°F.

Set 12-inch skillet over medium heat. Add oil.

Add onion and peppers and heat for about 3-5 minutes.

Add in garlic and cook for an additional 3-5 minutes.

Add the pulled pork and stir well.

Add paprika, salt, and pepper and stir, making sure everything is fully incorporated.

Add potatoes and stir. Try to make sure that there are some potatoes on the bottom, touching the pan. Let potatoes crisp for at least 5-10 minutes. (Depending on how crispy you like your potatoes.)

Make 3 wells in the hash* (I used a soup ladle) and then sprinkle half the cheese (½ cup) over the hash.

Crack the 3 eggs into the wells. (Add more salt and pepper if you want).

Carefully place the hot skillet into the oven and bake for up to 10 minutes. (At 5 minutes the whites should be cooked but the yolk will be very runny, at 10 minutes the yolks should only be a little runny. Adjust to your tastes.)

Carefully remove skillet from oven and sprinkle with remaining cheese. Garnish with scallions and jalapeno.
Notes
*Alternatively, you could soft-scramble the eggs and add stir in right before topping them with cheese and garnish. 
Did you make this recipe?
You can tag me at @iamhomesteader.
Oven Roasted Pulled Pork is what we used for the pulled pork in this recipe.