Reuben Dip takes one of my favorite sandwiches, the Reuben Sandwich, and breaks it down into a cheesy and savory dip. It works perfectly with rye or pita chips, and you can make it with my homemade Thousand Island Dressing.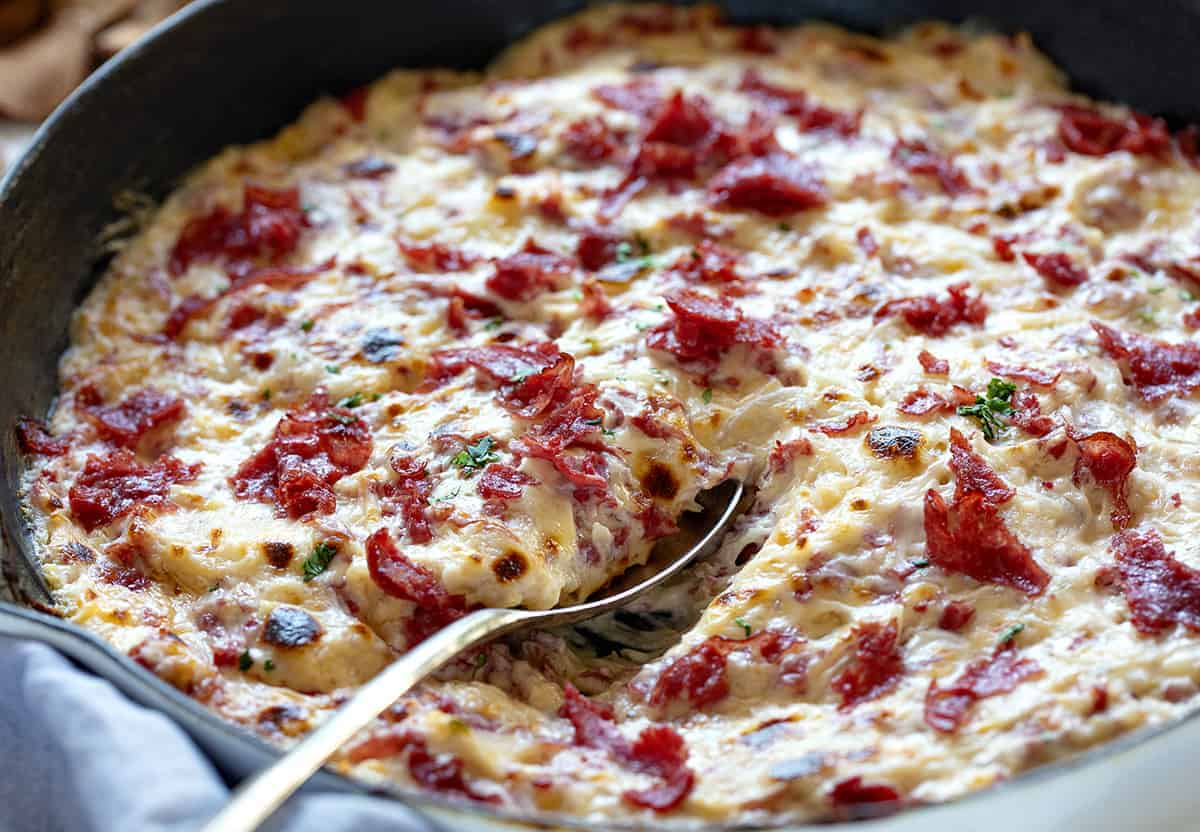 Reuben Dip
Get ready to 'dip in' to this hearty, flavorful Reuben Dip. With Fall right around the corner, that means football season is quickly approaching. If you are like me, I love to have a few appetizers on hand for game day, and the more, the merrier! Although the traditional appetizers are great, this will step up your game, so to speak, with all of your guests. With all the taste of a Reuben Sandwich in a dip, you will definitely score some extra points with this one! Plus, it pairs perfectly well with rye crisps.
I remember as a kid, I would buy Gardetto's Original Recipe Snack Mix just for the rye crisps. I would take out all the crisps and put them off to the side, saving the best for last. In some cases, I would simply eat the rye crisps only and forget about the rest of the mix. Well, lucky for us (for me, anyway), in 2006, Gardetto's came out with a Special Request snack bag including only the brown rye chips. And yes, they are still available, and the ideal vessel to carry the Reuben Dip right into your mouth. Yum!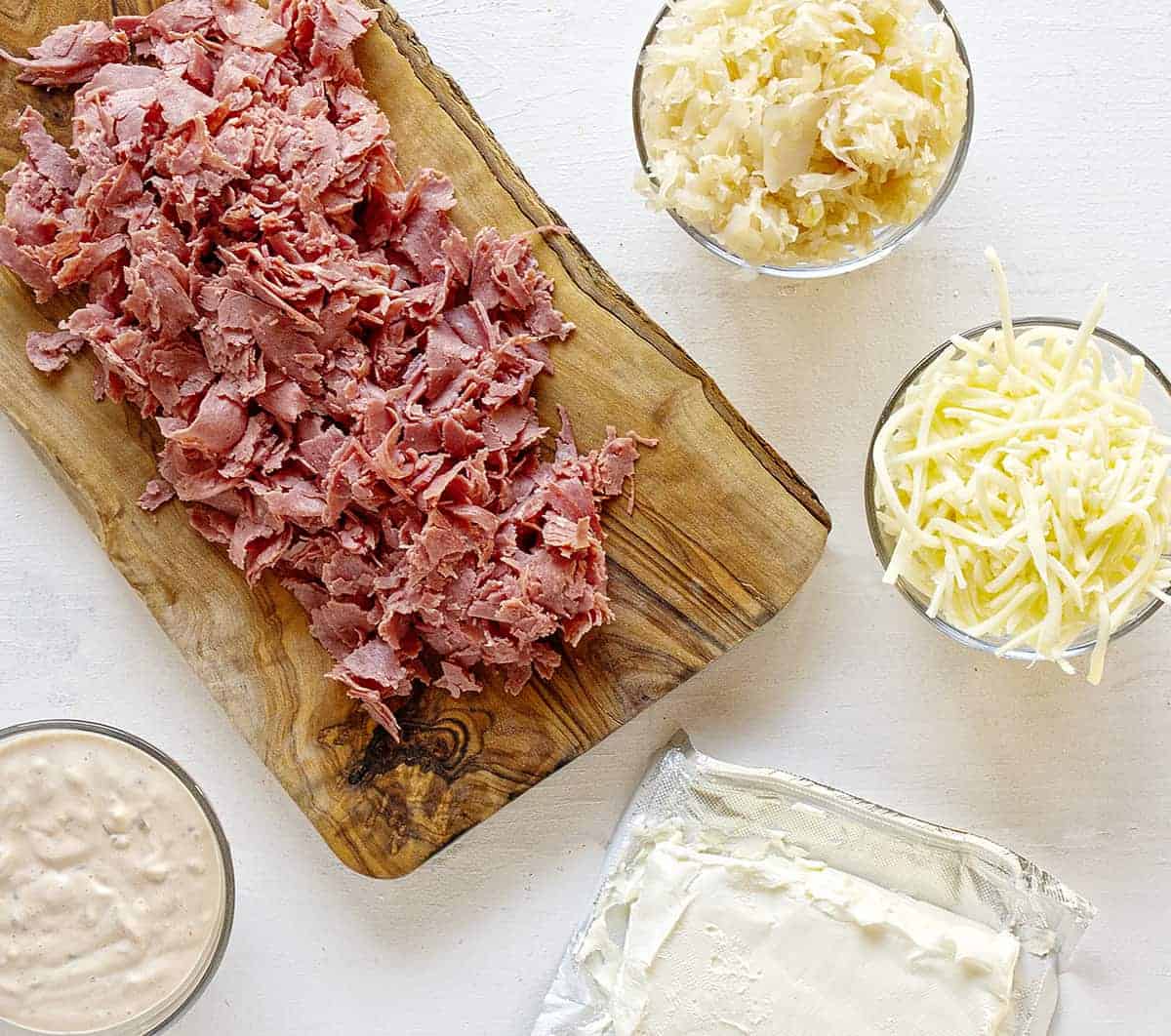 Reuben Dip Recipe
As soon as I grabbed a rye crisp and dipped it into this flavorful dip, I knew I had a winner! I actually couldn't stop grabbing the rye chips and dipping in. I even tried the Reuben Dip on some pita chips and baguette chips, and I loved both of those combinations as well! In fact, since pita chips and baguettes are a bit larger, I could pile on even more of the dip. Believe me, I wasn't complaining. This has turned out to be one of my favorite dips that I can't wait to share with others.
Ingredients:
Butter
Flour
Milk
Cream cheese
Swiss cheese: Swiss cheese is generally used for a Reuben Sandwich because of its mild flavor, so I also chose it for this dip. You may also try mozzarella or provolone cheese, two more mild-tasting kinds of cheese.
Thousand Island dressing: Rather than buy Thousand Island dressing from the store, make your own! You can get my recipe for Thousand Island here. If you would like a spicier, bolder flavor, use my Russian Dressing recipe.
Sauerkraut: Sauerkraut has some health benefits, being that it is a good source of fiber, and the fermented cabbage produces probiotics that keep our digestive system on track.
Corned beef: Make sure you have a couple of forks to shred the corned beef. Don't forget to get rid of any fat around the edges of the beef.
Rye crisps/baguettes/pita chips: As I mentioned earlier, it is up to you as to which crisp or chip to use with the Reuben Dip. Have a variety on hand for your guests.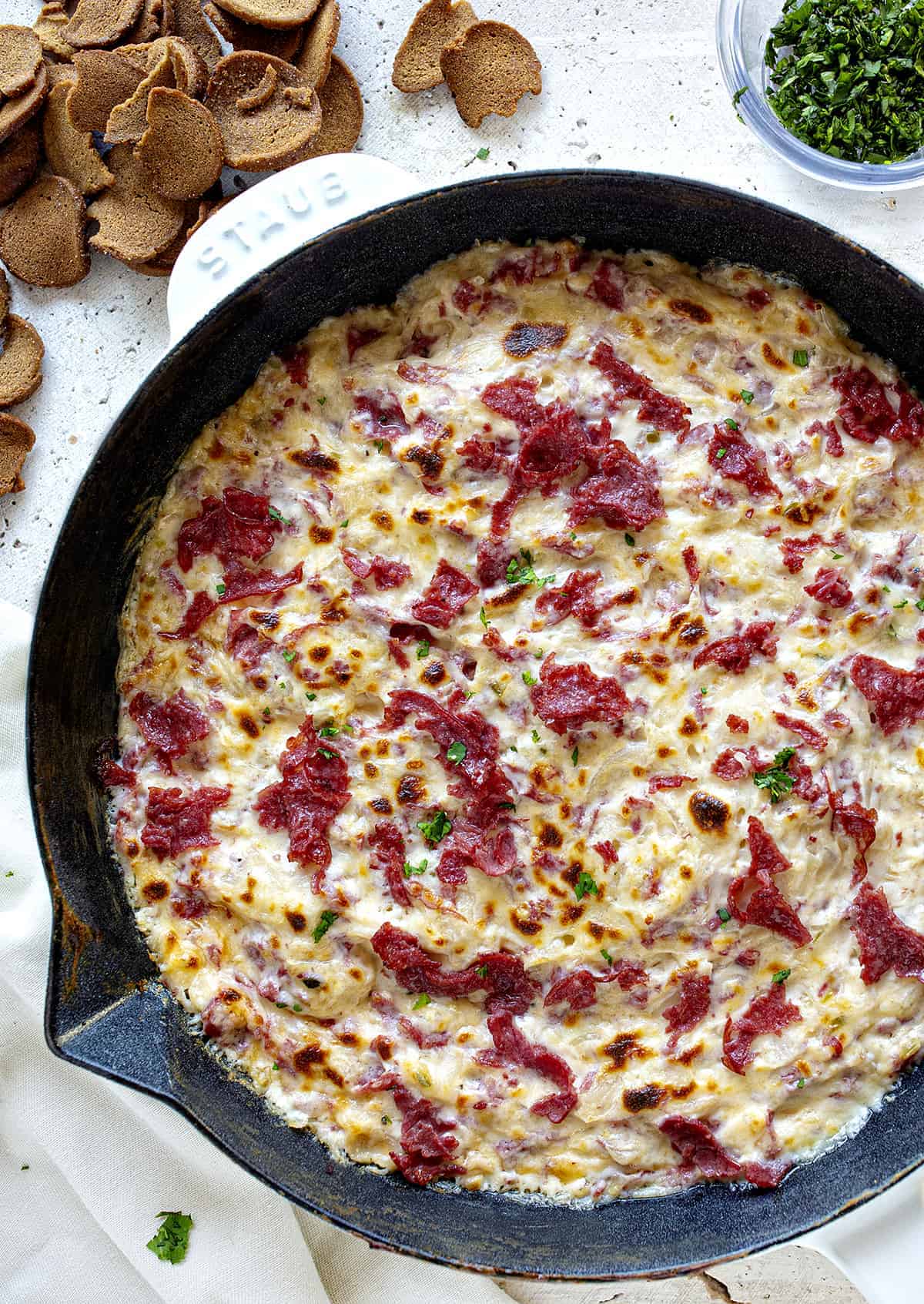 How to Make Reuben Dip
I like to shred the corned beef first and set it aside. I used forks to shred it, and that worked just fine. The majority of the shredded corned beef will be mixed in with the other ingredients, but be sure to leave 3-4 tablespoons of the beef for the topping.
It's time to mix all the ingredients together. Begin by combining the butter and flour in a saucepan over medium heat. After the butter has melted, add the milk. Then, add the cream cheese, Swiss cheese, and Thousand Island Dressing. Once the cheese has melted, pour in the drained sauerkraut and most of the corned beef. Stir it all together, and finally add the 3-4 tablespoons of your shredded corned beef to the top. The final step is to broil the dip for about 5 minutes, or until the corned beef is slightly crispy. This is best served hot.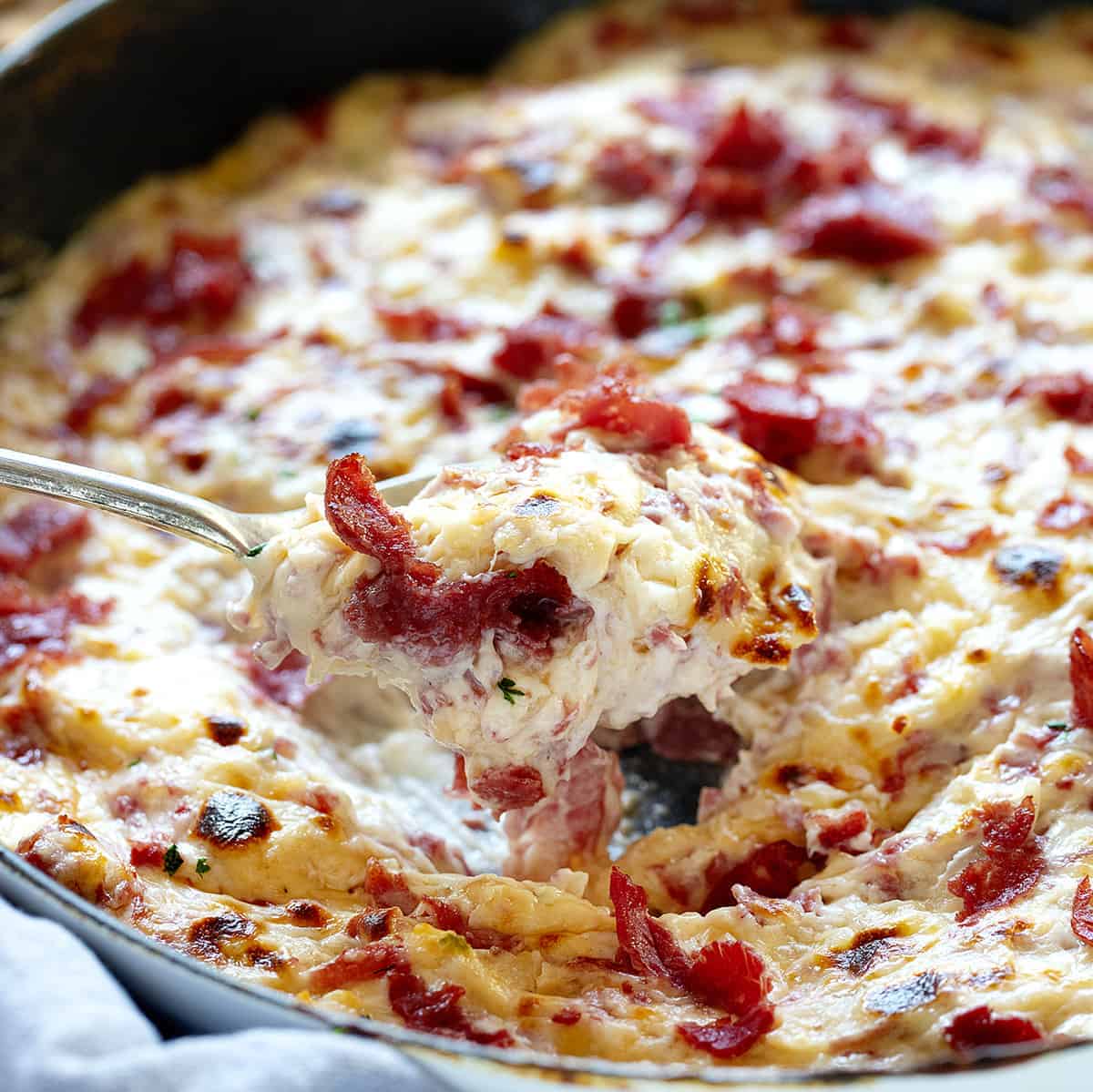 Thousand Island Dressing vs. Russian Dressing
It seems that it is assumed that Russian Dressing is interchangeable with Thousand Island Dressing. I would like to make that fine line between the two a bit more clear. Both dressings are tasty, in their own right, and deserve to have their own place in the food world. There IS a difference! Russian dressing has more of a spicy flair and is much less sweet than Thousand Island. So, I would encourage you to give the dip a try using my Russian Dressing if you want the dip to have a bit more flair.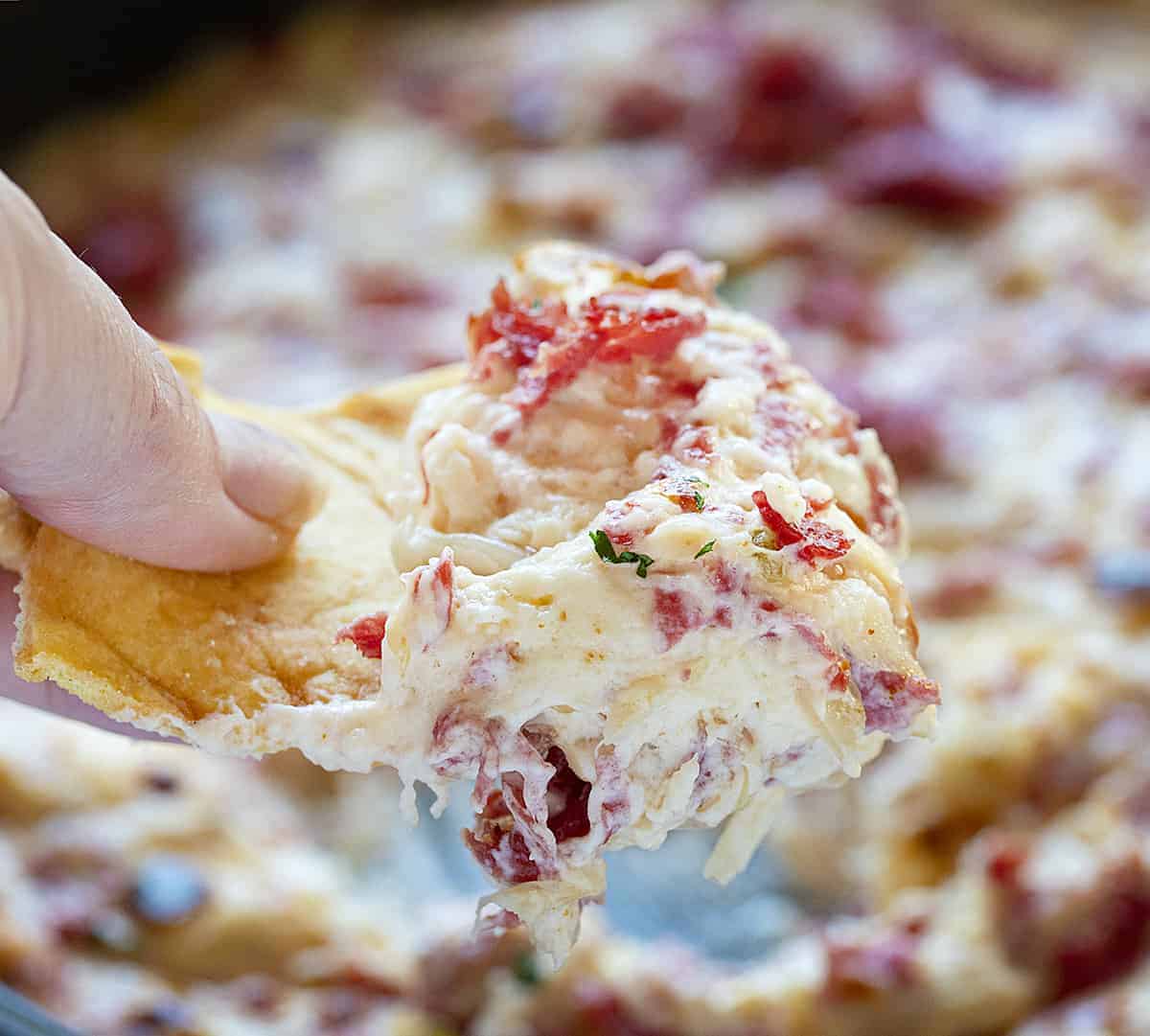 Are you Looking for More Game-Day Dips?
I have plenty of dips you can choose from for your next gathering or game day get-together! Everyone will love the variety of choices they have!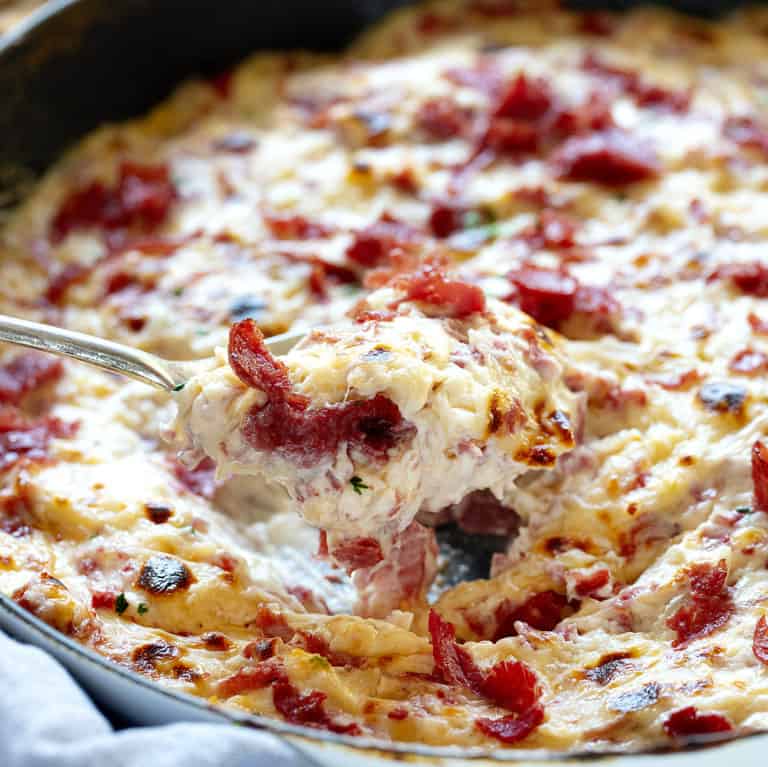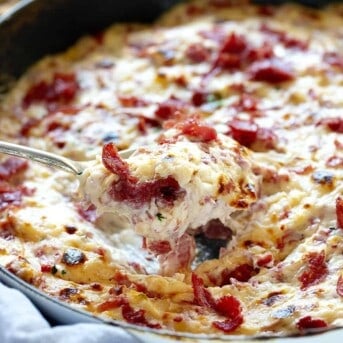 Reuben Dip
Break down your Reuben Sandwich into this cheesy and savory dip.
Ingredients
2

tablespoons

butter

2

tablespoons

flour

2

tablespoons

milk

8

ounces

cream cheese

8

ounces

Swiss cheese,

block

1/3

cup

thousand island dressing

16

ounces

sauerkraut,

drained

8

ounces

shredded corned beef,

reserve 3-4 tablespoons for topping

1

bag rye chips or baguettes
Instructions
Shred corned beef with a fork.

Place butter and flour into a saucepan over medium heat.

Stir until butter is melted and flour is combined.

Add in milk and stir to combine.

Add cream cheese, Swiss cheese, and thousand island dressing.

Once cheese is melted add in drained sauerkraut and corned beef. Stir to combine.

Top dish with reserved corned beef.

Place in broiler for 5 mintues or until the corned beef is slightly crispy.

Serve hot with rye chips or baguettes.
Did you make this recipe?
You can tag me at @iamhomesteader.