Smothered Chicken is seasoned pan-fried chicken breasts nestled in a rich, creamy bacon gravy, topped with extra pieces of crispy bacon. It is a delicious and comforting meal that's perfect for any night of the week. It's easy to make, and the creamy bacon gravy adds a rich and decadent touch to the chicken. The dish pairs well with a variety of sides, but mashed potatoes are a classic accompaniment that complements the flavors of the dish.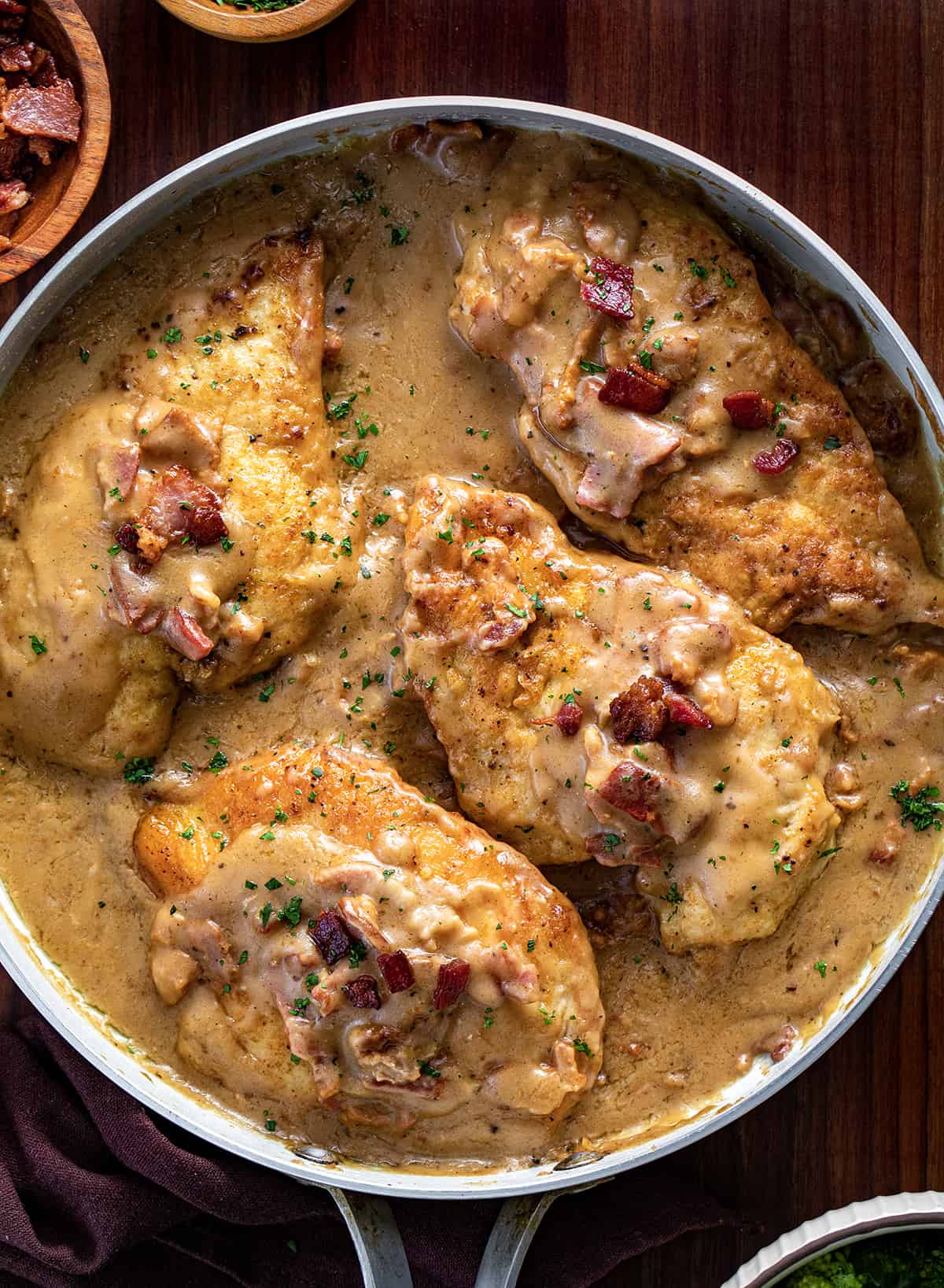 Ingredients & Substitutions
Bacon: For this recipe, I recommend using thick-cut bacon. However, regular bacon can also be used if desired. It is important to save a few tablespoons of bacon grease to use in making the gravy. And, save a few pieces of cooked and crispy bacon pieces to top each smothered chicken breast when serving.
Chicken: Although I used chicken breasts in this recipe, you could certainly use chicken thighs instead. Simply substitute an equal amount of boneless, skinless chicken thighs for the chicken breasts. The cooking time may need to be adjusted slightly depending on the size of the chicken thighs, but the general cooking method remains the same.
Chicken Stock: If you don't have chicken stock on hand, you can make your own! Or, substitute chicken broth. Just keep in mind that the final flavor of the gravy may be slightly lighter than if you had used chicken stock, but it should still be delicious.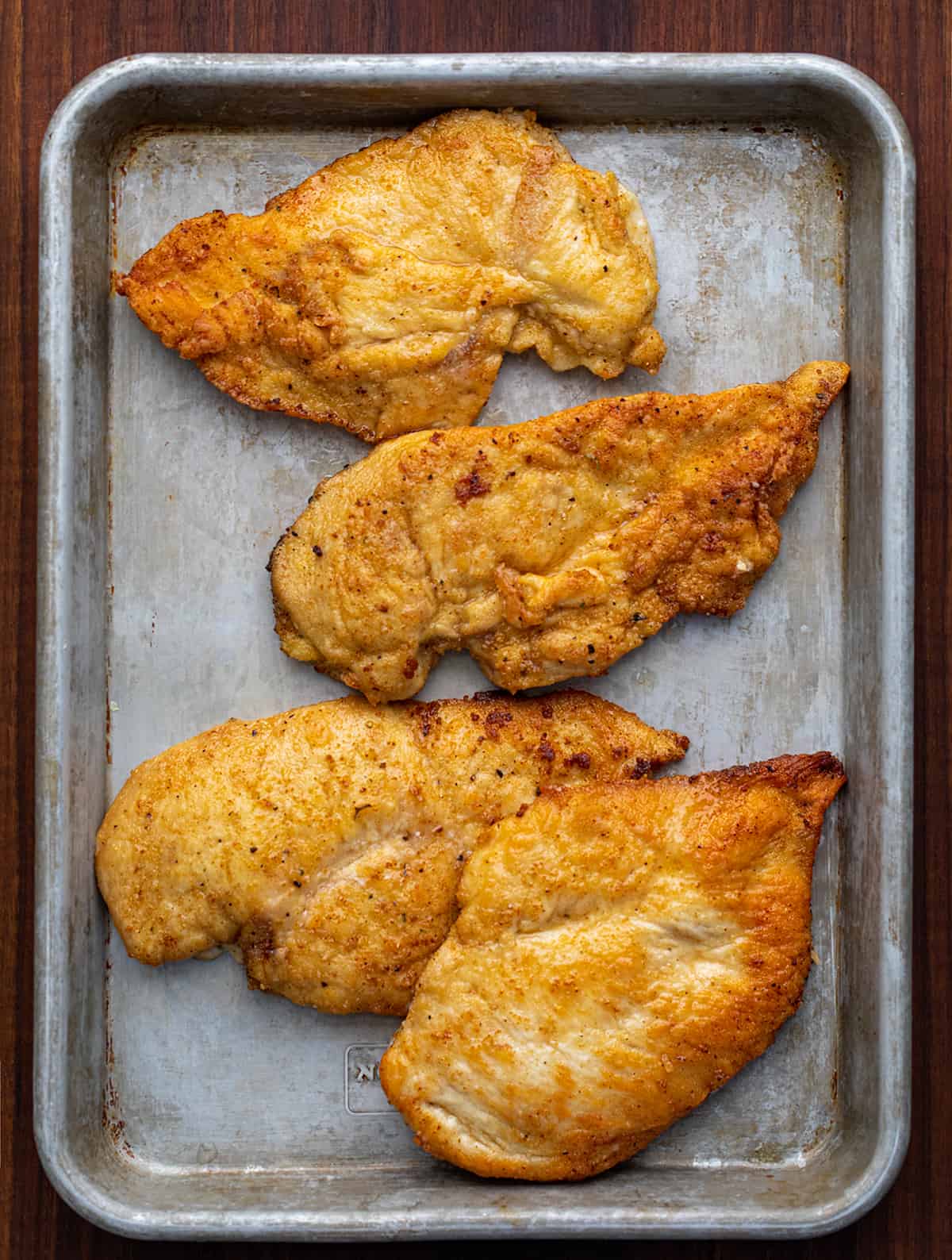 What to Serve with Smothered Chicken
Mashed potatoes are a popular choice when it comes to serving this dish. However, there are a few options that are a delicious complement to the dish: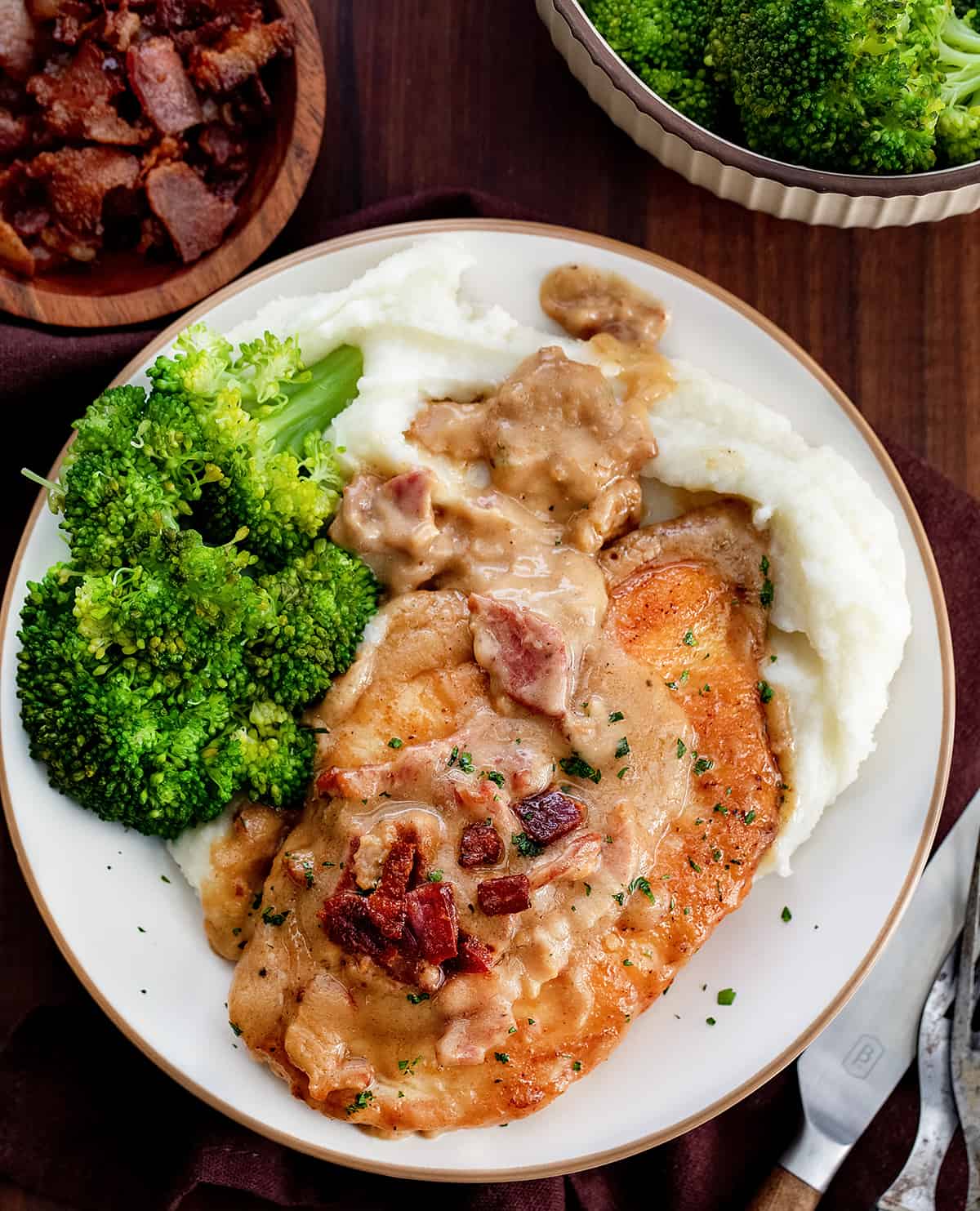 Storing and Reheating Smothered Chicken
Smothered chicken can be stored in an airtight container in the refrigerator. It will last up to 3-4 days. When ready to enjoy, it can be reheated in the oven, on the stovetop, or in the microwave. If heating in the oven, reheat it at 350°F for 15-20 minutes, or until heated through. On the stovetop, reheat in a saucepan over medium-low heat until warmed. You can also use the microwave, but it may affect the texture of the chicken.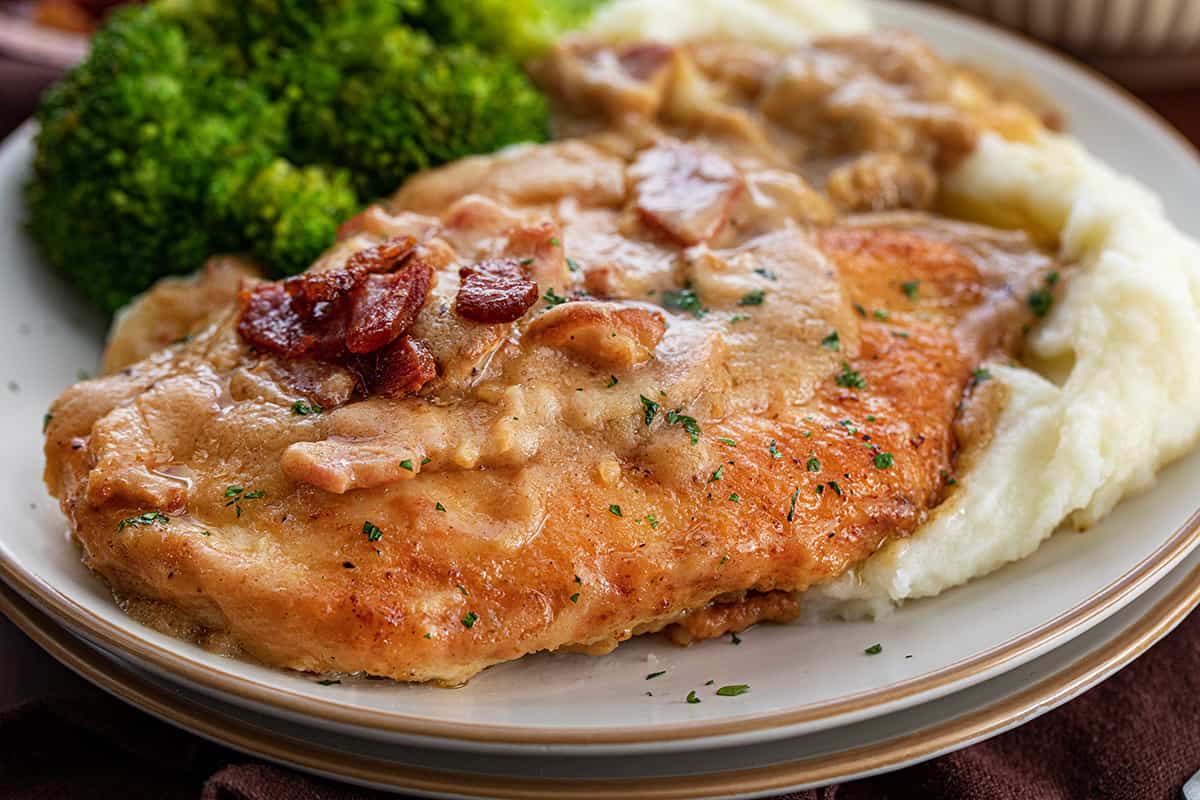 Can I Freeze Smothered Chicken?
Yes, you can freeze the smothered chicken. However, freezing and thawing may affect the texture and flavor of both the chicken and the gravy. To freeze, let both the chicken and gravy cool completely. Then, store it in a freezer-safe container or freezer bag. It will last 2-3 months. When ready to enjoy, let it thaw in the refrigerator overnight before reheating.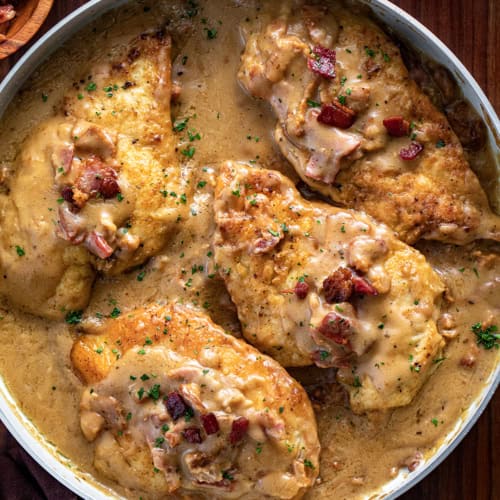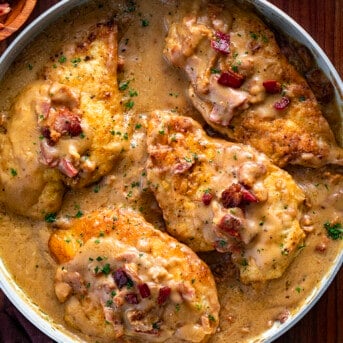 Smothered Chicken
Smothered Chicken is seasoned pan-fried chicken breasts nestled in a rich, creamy bacon gravy, topped with extra pieces of crispy bacon.
Ingredients
Bacon
8

strips

thick-cut bacon,

chopped into ¼-inch pieces
Chicken
2

large

boneless, skinless chicken breasts

½

cup

(62.5 g) all-purpose flour

¼

cup

(27 g) Italian breadcrumbs

½

teaspoon

garlic salt

½

teaspoon

paprika

½

teaspoon

kosher salt

¼

teaspoon

black pepper

½

cup

canola oil,

for frying
Gravy
2

tablespoons

unsalted butter

¼

cup

(31 g) all-purpose flour

2

cups

(480 g) chicken stock

2

tablespoons

heavy cream

¼

teaspoon

black pepper

1

pinch

cayenne pepper,

optional

parsley,

for garnish
Instructions
Bacon
In a large skillet over medium heat, cook the bacon until crispy. Transfer to a paper towel-lined plate and reserve 2 tablespoons of bacon fat to use in the gravy. Then, wipe out the skillet and set aside.
Chicken
Pat the chicken dry and slice each breast in half horizontally to make two pieces (for a total of 4 halves). Using a meat mallet, pound each piece to an even thickness.

On a large shallow plate, combine the flour, breadcrumbs, garlic salt, paprika, kosher salt, and pepper. Whisk to combine.

Dredge each piece of chicken in the flour mixture, pressing it to make sure it's coated on all sides. Set aside.

In the same skillet you cooked the bacon, heat the oil over medium heat until shimmering. Add the chicken and cook until seared, about 3-5 minutes per side, or until browned. (The chicken will not be cooked through yet.) Remove the chicken from the pan, place it on a plate, and tent to keep it warm.
Gravy
Drain the oil from the skillet, leaving the browned bits. Add the reserved bacon fat and butter and heat over medium heat until melted. Sprinkle the flour over the top and whisk to combine, scraping up the browned bits as you go. Cook until the roux is golden brown, about 4-6 minutes.

Slowly pour in the chicken stock, whisking constantly to remove lumps. Cook, stirring occasionally until the gravy thickens and coats the back of a spoon.

Add the bacon pieces (reserving some for topping), heavy cream, pepper, and cayenne. Bring to a boil, then reduce heat to low and simmer for 1-2 minutes.

Place the chicken back into the skillet. Cover and simmer for an additional 10 minutes, or until chicken is cooked through to an internal temperature of 165°F.

Spoon the sauce over the chicken breasts. Serve topped with the reserved bacon and parsley for garnish.
Did you make this recipe?
You can tag me at @iamhomesteader.