Add Sun-Dried Tomato Skillet Dip to your collection of dips! With a hint of sun-dried tomato and a kick from the jalapeno pepper, this garlicky, cheesy dip is perfect for game day or any other day you are craving a creamy, savory dip! Try a few of my other favorites, like my Skillet Pizza Dip, Jalapeno Popper Dip, or Reuben Dip!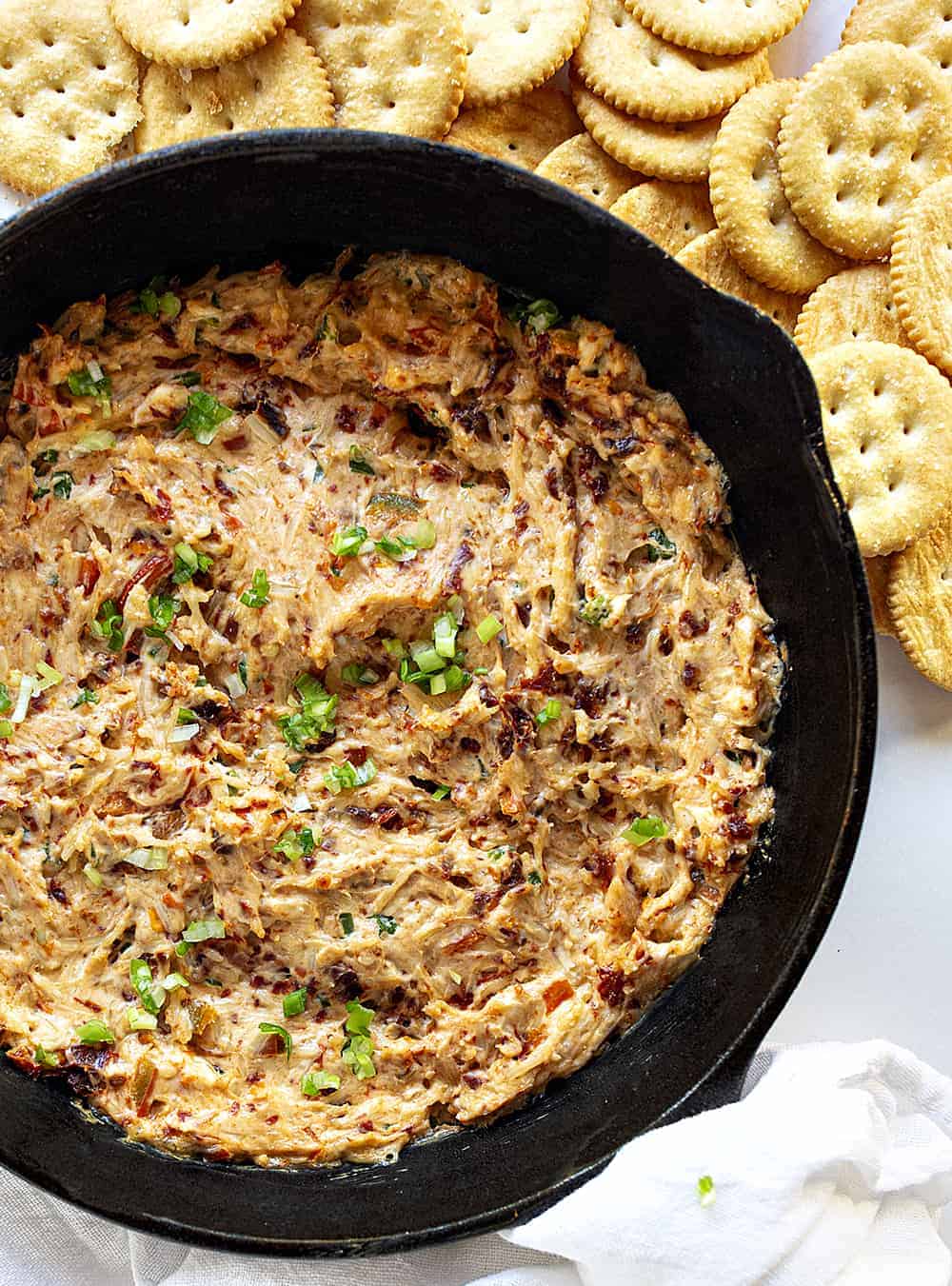 Sun-Dried Tomato Skillet Dip
It's Football season if you haven't heard! In my house, it is simply an excuse to have appetizers, finger foods, and dips all day on game day! I was on a roll with dips for a while, and I thought I was caught up until I had a bag of sun-dried tomatoes and an idea! You can never have too many dips to share or make for yourself. The more varieties, the better! It's hard enough to please everybody, so the more options available, the better the odds of pleasing more people! It also didn't hurt that a little wine was used in the making of this recipe😊.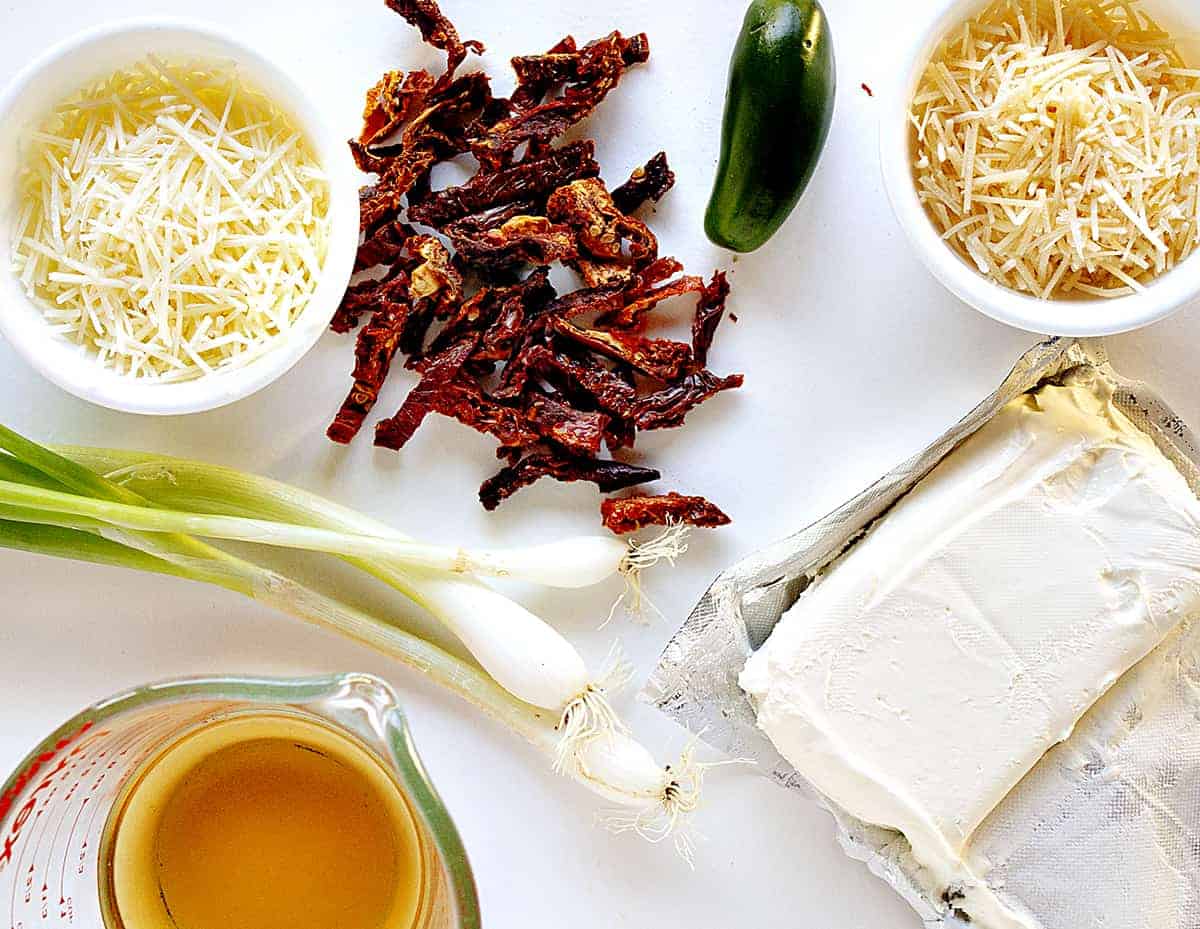 Sun-Dried Tomato Skillet Dip Recipe
If you are not a big fan of sun-dried tomatoes, I encourage you to still give this Sun-Dried Tomato Skillet Dip a chance! After I made it, one of my friends didn't get an overwhelming taste of the sun-dried tomatoes. I could taste them more than she could, but it wasn't too overpowering! With the garlic and the cheese, I think this will still be a winner at your next party or game day celebration. After all, who can pass up a hot, cheesy dip?!? There are three main parts to the recipe.
Roasted Garlic Ingredients
Sun-dried Tomatoes Ingredients
Sun-dried tomatoes
Chardonnay
Dip Ingredients
Jalapeno
Cream cheese
Parmesan cheese
Romano cheese
Green onions

How to Make Sun-Dried Tomato Skillet Dip
Sun-Dried Tomato Skillet Dip is a baked dip, so before anything else, preheat your oven to 450°F. You will also need the oven to roast the garlic. Drizzle the garlic cloves with olive oil until they are a golden brown, which is about 10-15 minutes. Set the garlic aside to cool before dicing them for the dip.
Do you know what rhymes with dip? Sip! That makes perfect sense since it's time to get out the bottle of wine to cook the sun-dried tomatoes! I used chardonnay for this recipe, but any dry white wine would work. Sauvignon Blanc or Pinot Grig would also be options. I am usually a red wine drinker, but I can sacrifice for a recipe😉. We are boiling the tomatoes in the wine, so the wine will evaporate if you are worried about that. Just like the garlic, let the tomatoes cool before dicing them. Combine everything together and put it all in a small oven-safe skillet for 5-8 minutes.

How to Serve Sun-Dried Tomato Skillet Dip
I love a warm dip almost immediately after removing it from the oven. However, if you make the Sun-Dried Tomato Skillet Dip ahead of time, simply warm it up on the stovetop before serving it. We had a debate going on around here as to what pairs best with the dip. I preferred the traditional tortilla chips, but two of my friends went for the crackers. As I have said before, you really can't go wrong with a cheesy dip!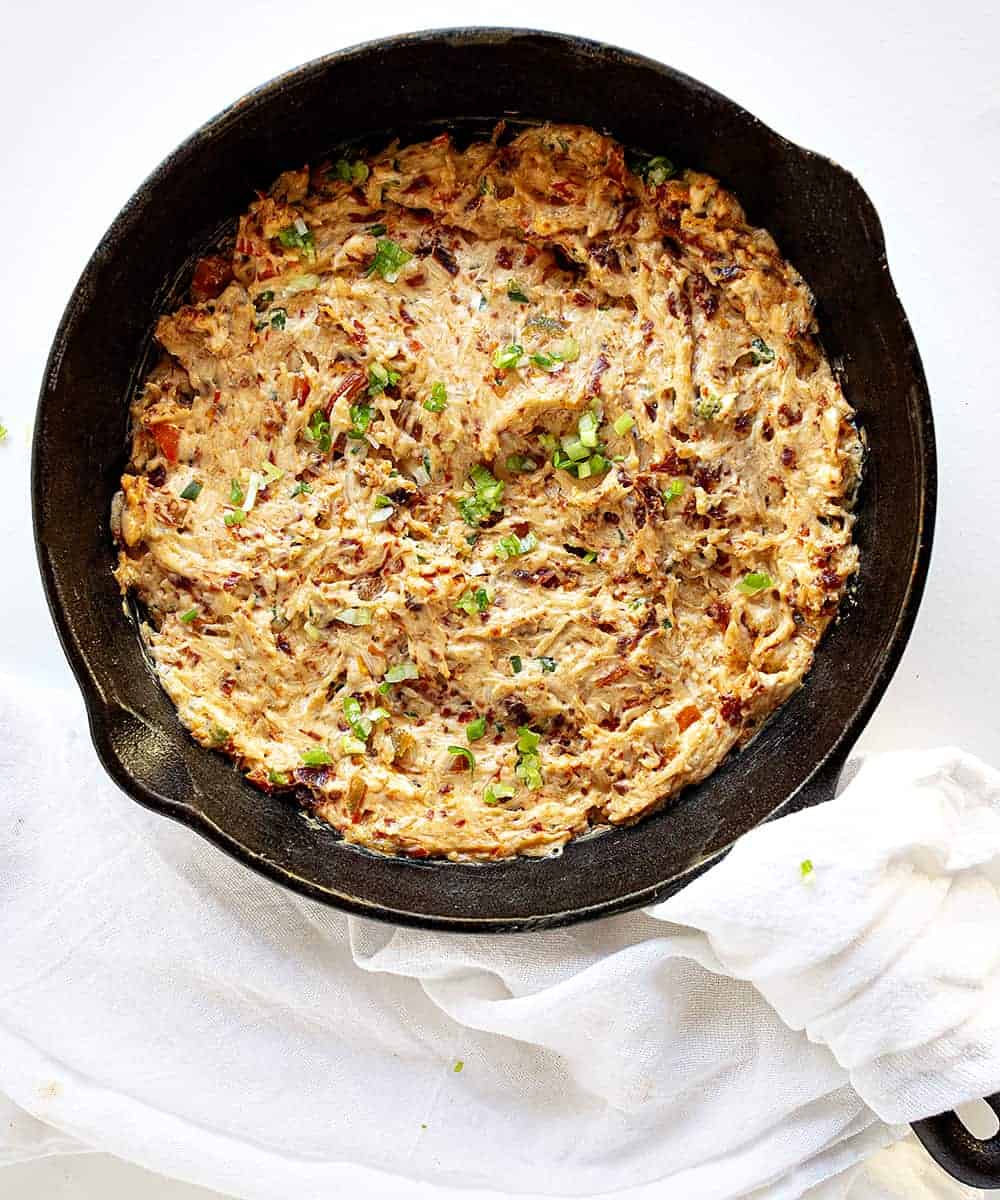 Looking for More Dips to Share?
Chicken and Velveeta Cheese Dip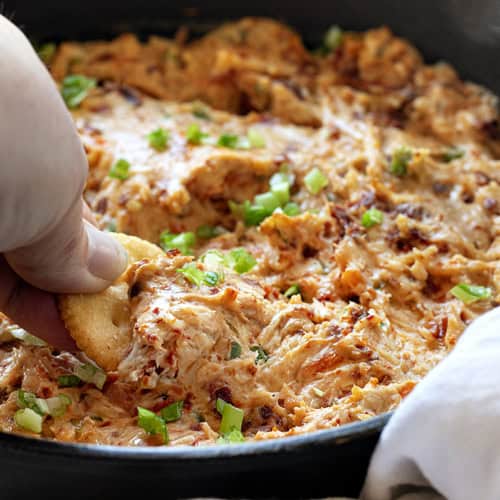 SunDried Tomato Skillet Dip
Garlicky and cheesy, this Sun-Dried Tomato Skillet Dip is perfect for game day, and every day!
Ingredients
Roasted Garlic
3

garlic cloves

2

teaspoons

olive oil
Sun-Dried Tomatoes
1/2

cup

sun-dried tomatoes

1/2

cup

chardonnay,

or other dry white wine
Dip
1

small jalapeno,

finely diced

1

(8-ounce) package cream cheese,

room temperature

1/2

cup

Parmesan cheese,

shredded

1/2

cup

Romano cheese,

shredded

2

tablespoons

green onions,

finely diced (for garnish)
Instructions
Roasted Garlic
Remove outside paper from garlic cloves.

Prepare an 8 inch square of aluminum foil.

Place garlic in the center and drizzle with oil.

Fold the corner of the aluminum foil over the garlic, creating a seal.

Place directly in the hot oven and bake for 10-15 minutes or until garlic is golden brown and tender.

Remove the garlic from the foil and place on a cutting board to cool.

Once cool enough to touch, finely dice and set aside.
Sun-Dried Tomatoes
In a small saucepan over high heat, add the wine and sun-dried tomatoes.

Bring the mixture to a boil for 5 minutes and then reduce the heat to low and cook until the wine is completely evaporated and the tomatoes are soft (about 5 more minutes).

Remove the tomatoes from the pan and set on a cutting board to cool.

Once cool enough to touch, finely dice and set aside.
Dip
In a medium bowl, combine cream cheese, garlic, tomatoes, jalapeno, parmesan, and romano cheese.

Pour mixture into a small skillet and bake 5-8 minutes or until mixture is golden brown.

Remove from oven, top with green onions for garnish.

Serve immediately with crackers or tortilla chips.