Thanksgiving Bacon Stuffing is a simple yet delicious take on the oh-so-popular Thanksgiving Stuffing. With bacon as the star of the show, what is not to love! If you are looking for more stuffing recipes, make sure to check out the World's Worst Stuffing recipe (hint: it is definitely NOT the worst).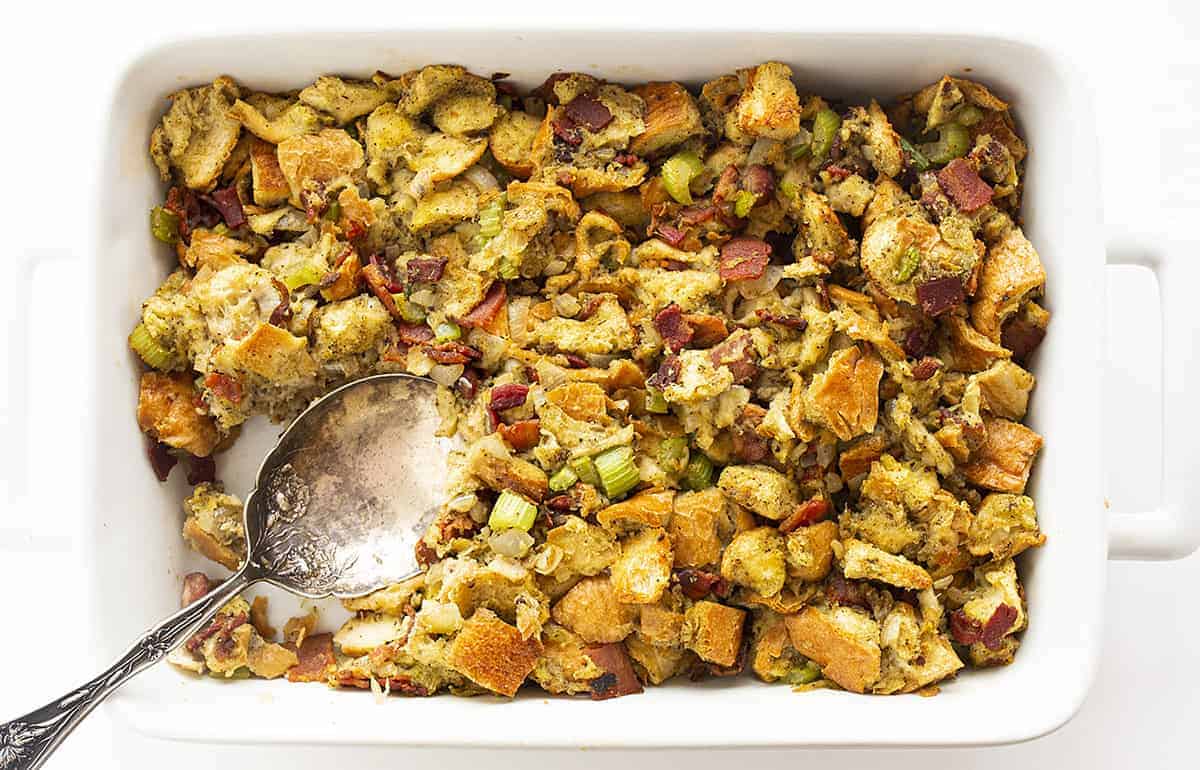 Thanksgiving Bacon Stuffing
Thanksgiving is kind of a big deal around here so I try to change up the menu from year to year. Also, bacon. I love bacon and I will jump at any chance I get to incorporate it into my meals. This Thanksgiving Bacon Stuffing is no joke either. Infused with bacon flavor, it matches up perfectly with the traditional Thanksgiving staples like mashed potatoes, herbed butter roasted turkey, green bean casserole, and dinner rolls.
What Is The Difference Between Stuffing and Dressing?
Nowadays, it seems like the terms "stuffing" and "dressing" are words that are used interchangeably with this amazing little Thanksgiving side dish. Technically speaking, a "stuffing" is stuffed into the cavity of turkey during cooking, and a "dressing" is made on the side. So I guess if we are getting technical, this recipe should be called "dressing", but I am a rebel and it is difficult for me to change my ways (stomps feet in protest).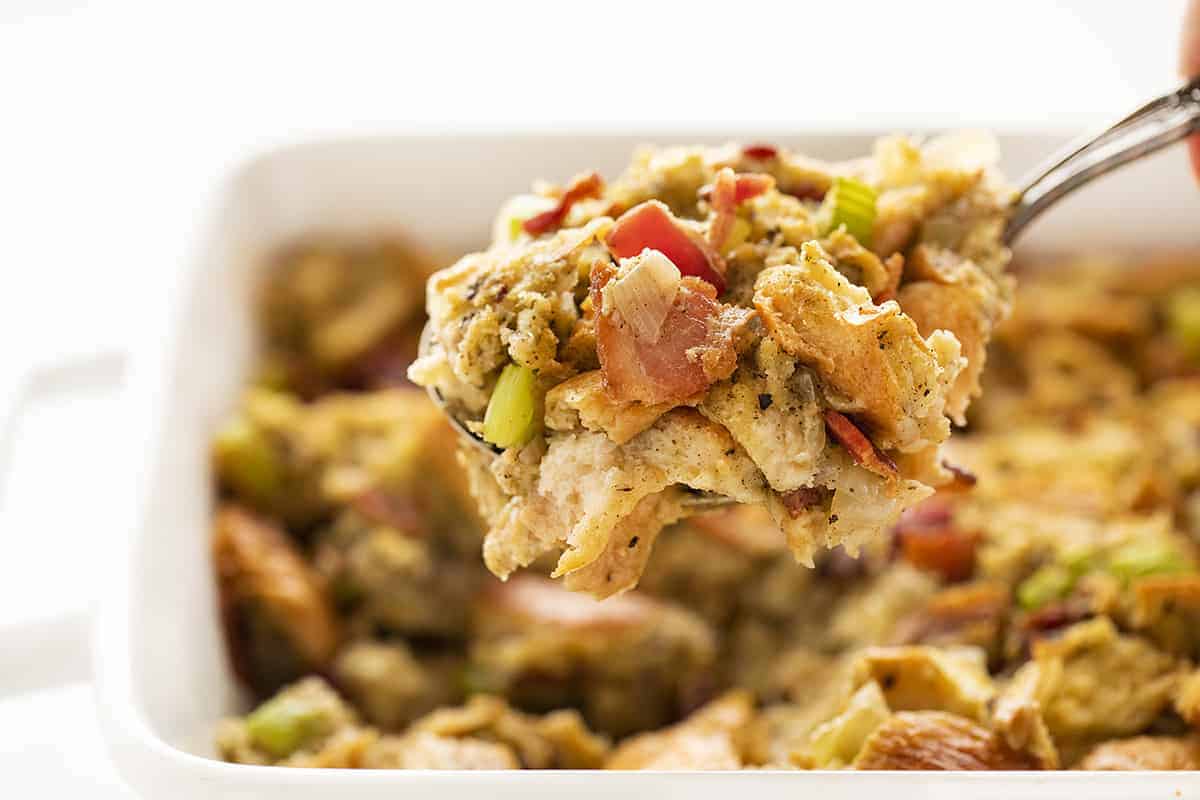 What is Stuffing Made Of
Traditional stuffing (or dressing) is made of four basic ingredients that you will likely see in almost all recipes. Those are:
bread cubes
diced celery
diced onion
chicken broth
We used those too, but it is in the variations and the slight simple touches that you really begin to make the stuffing great. To make the flavor in this particular dish really come out we added:
Bacon
Poultry Seasoning
Eggs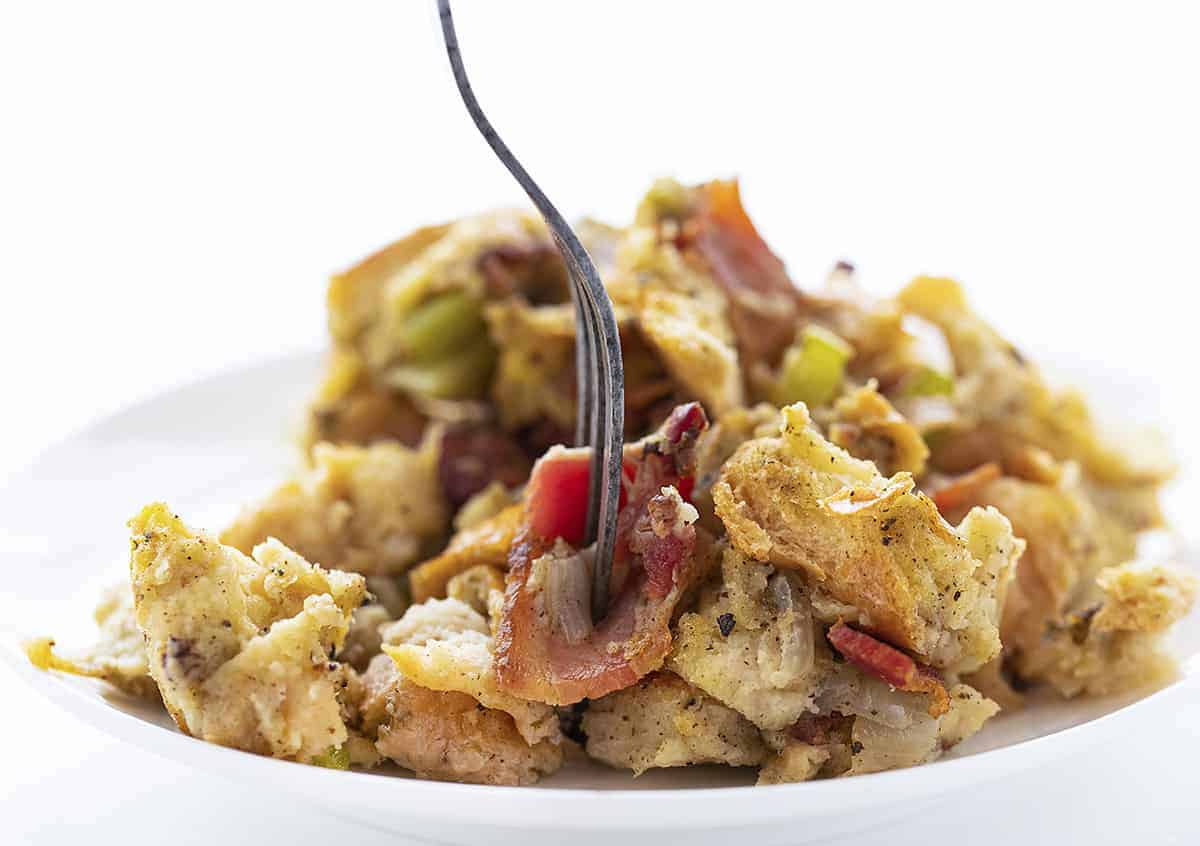 How To Prepare Thanksgiving Bacon Stuffing
To prepare Thanksgiving Bacon Stuffing, start by crisping your bacon. I like to cut the bacon into bite-sized cubes and cook them in a skillet. Once the bacon is nice and crispy you can remove it from the pan and drain some of the grease using paper towels. Don't mess with the bacon grease in the pan though! This will be used to soften the onions and the celery. Go ahead and dump them into the hot pan and let them cook for about 5 minutes. The cooked bacon can then be added back into the skillet, along with the poultry seasoning.
Grab a large bowl (seriously, you need a lot of space). Pour in the cubed bread, the bacon mixture, the eggs, and the chicken broth. Gently mix it all together well, taking care to coat all of the bread with the broth. Once everything is mixed together you can transfer the entire mixture to a 9×13 casserole dish and bake it at 400°F for 20 minutes. The top will be slightly crispy, but the inside will be a softer lighter texture.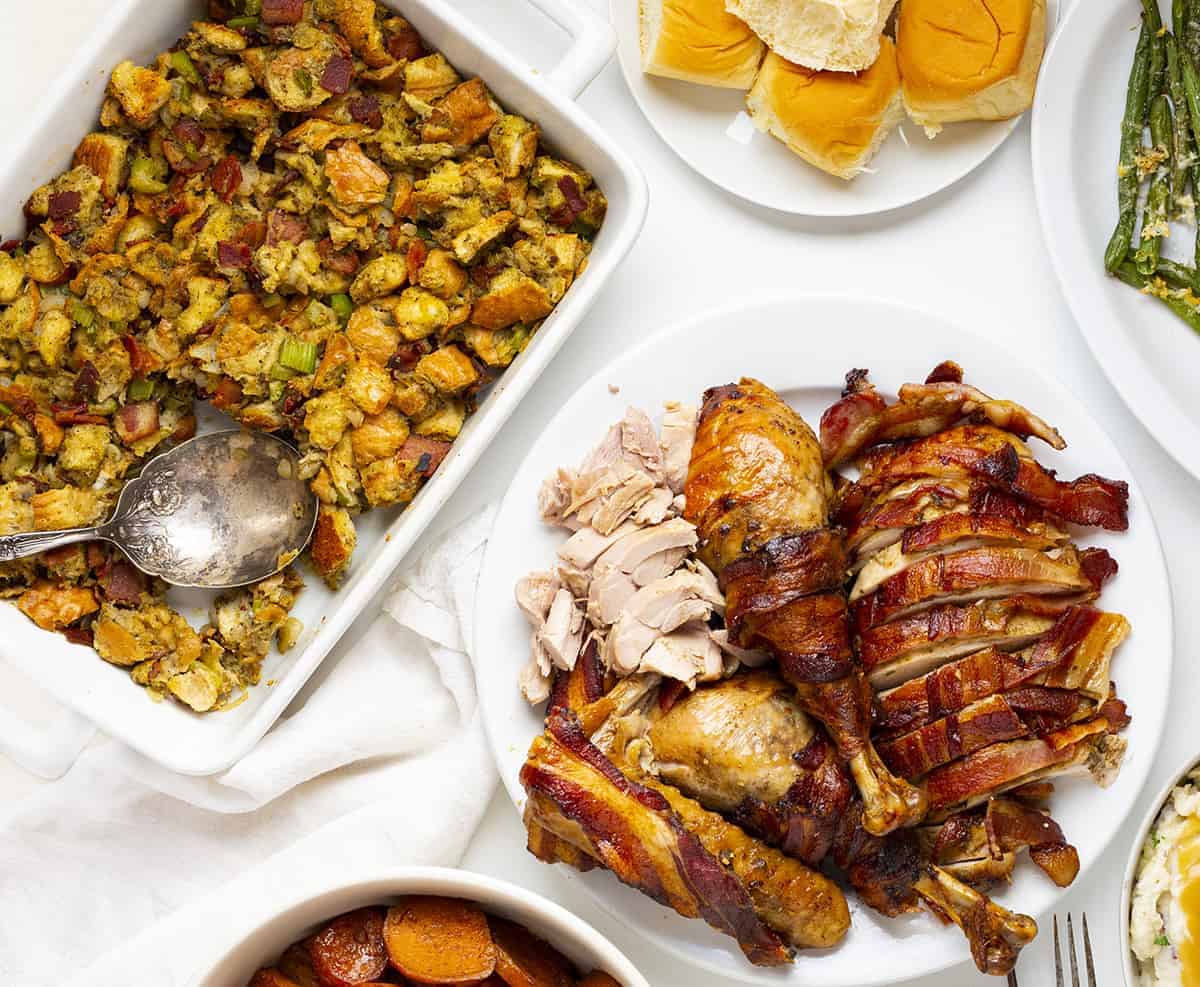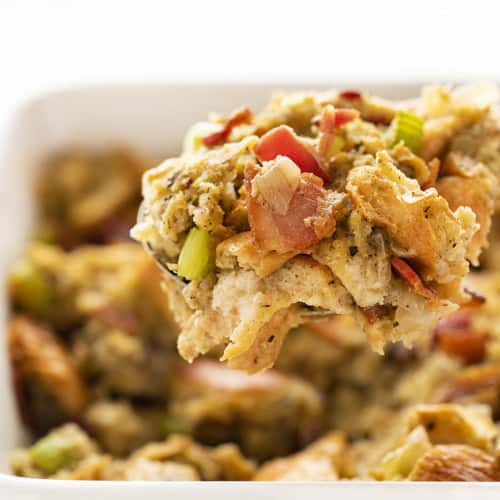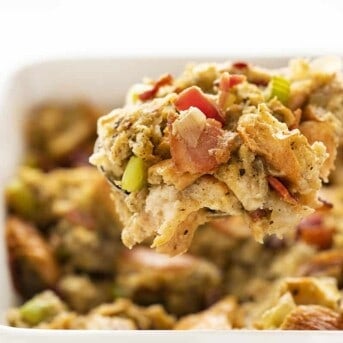 Thanksgiving Bacon Stuffing
Thanksgiving Bacon Stuffing is a simple yet delicious take on the oh so popular Thanksgiving Stuffing.  With bacon as the star, what is not to love! 
Ingredients
1

pound

bacon,

cut into 1/2-inch pieces

1

cup

onion,

finely chopped

1

cup

celery,

chopped

2

tablespoons

poultry seasoning

2

loaves

bread,

day-old and cut into 1-inch chunks

2

large

eggs,

beaten

2

cups

chicken broth
Instructions
In a large skillet, cook bacon over medium-high heat until cooked through (approximately 10 minutes).

Place the bacon slices on paper towels, leaving the bacon drippings in the skillet.

In the same skillet, saute the onion and celery until softened, about 5 minutes.

Stir in the bacon pieces and poultry seasoning into the onion-celery mixture.

In a large bowl, combine the onion-bacon mixture with the bread chunks.

Fold in the beaten eggs and top with broth.

Transfer the bread mixture into a casserole dish and bake for about 20 minutes (or until the top is crispy).
Did you make this recipe?
You can tag me at @iamhomesteader.