This Tuna Melt recipe is served open-faced and covered in a fresh tomato relish. This amazing meal will transport you to your favorite deli with delicious homemade tuna salad and ooey-gooey mozzarella cheese, all on top of freshly toasted french bread! This would also taste amazing on my homemade Amish White Bread!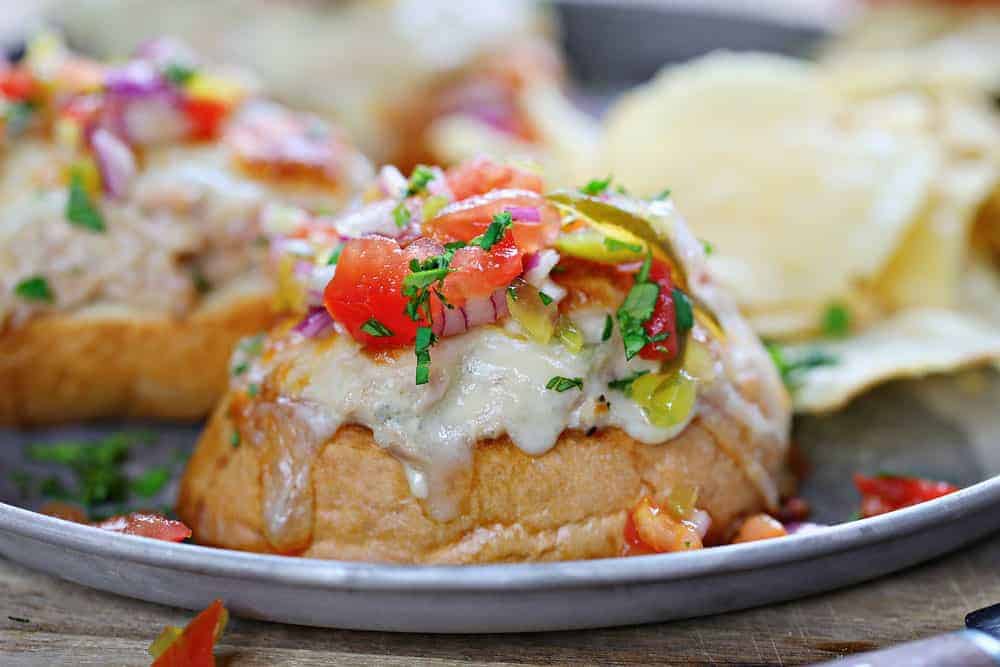 TUNA MELT WITH TOMATO RELISH
Every deli has a classic tuna melt sandwich.  This open-faced tuna melt recipe takes a unique spin on this deli classic with the addition of fresh tomato relish.  Feel confident that this is one that you can make from the comfort of our own home any time of year!   We like it in the hot summers and cool Minnesota winters.  It is quick and easy to prepare, and the kids just love it!   This sandwich tastes amazing with a heaping bowl of the best ever homemade tomato soup!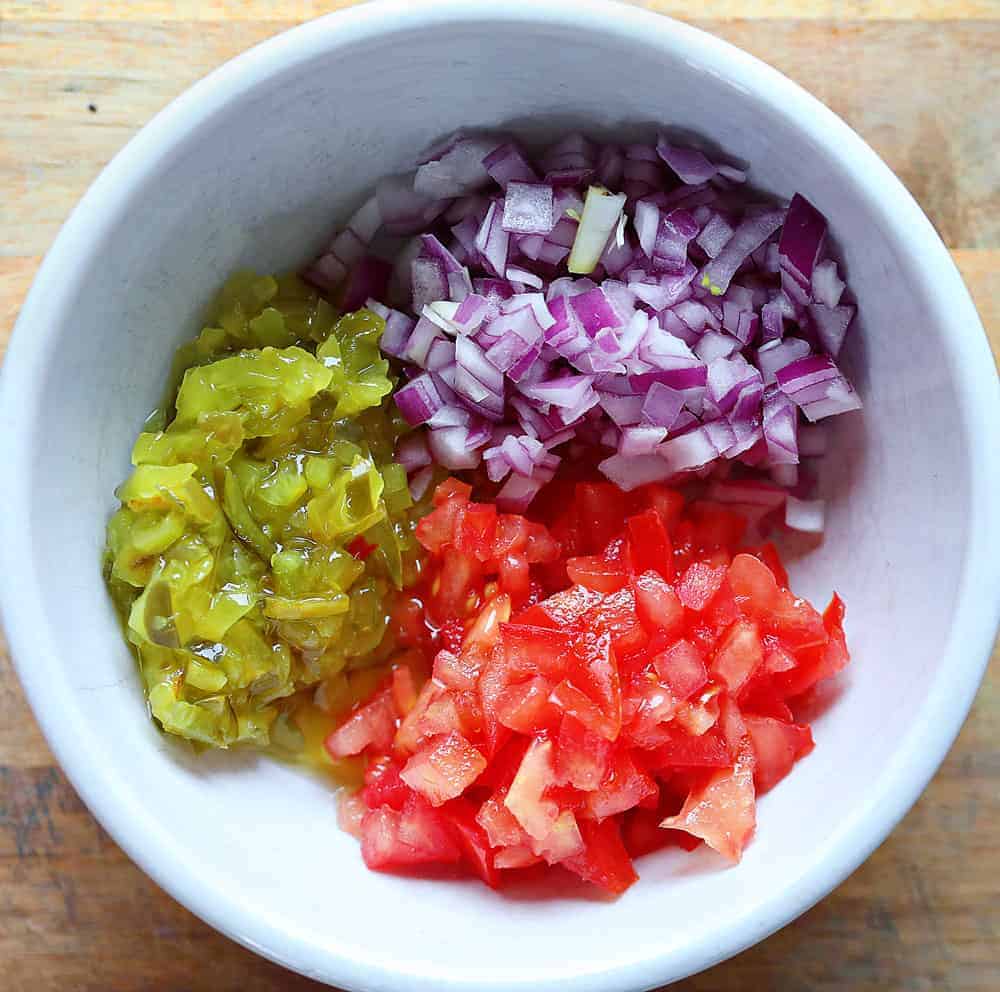 TUNA MELT RECIPE
There are a few things that I highly recommend when making this tuna melt recipe, and there are a few variables that you can change up.
Tuna – For this recipe, we use canned tuna. You can use the can or the foil packs, but make sure to carefully drain the liquid before mixing in the additional ingredients. Too much moisture will make this sandwich runny.
Cheese – We used mozzarella for this recipe, but you can change this up. Some that we have tried and love are Havarti, Muenster, Cheddar, and Provolone.
Bread – We like a good crunch from the bread, I highly recommend toasting the bread for a bit BEFORE you add the tuna Salad Mixture, tomato, and cheese. For the bread, a good thick grain bread is best, such as french bread, hoagie rolls, or sourdough. Any homemade bread would be amazing as well, such as my homemade Amish White Bread.
Butter – If you are looking to lighten this recipe up a bit, you could skip the butter. Personally, I like the flavor it brings to the sandwich, but you could toast the bread dry, or with a light spray of extra virgin olive oil as well.
Mayonnaise – There is some debate out there about mayonnaise versus miracle whip. We go Mayo all the way. Miracle Whip has a distinctly sweeter taste which doesn't mix well with the celery salt seasoning in this recipe.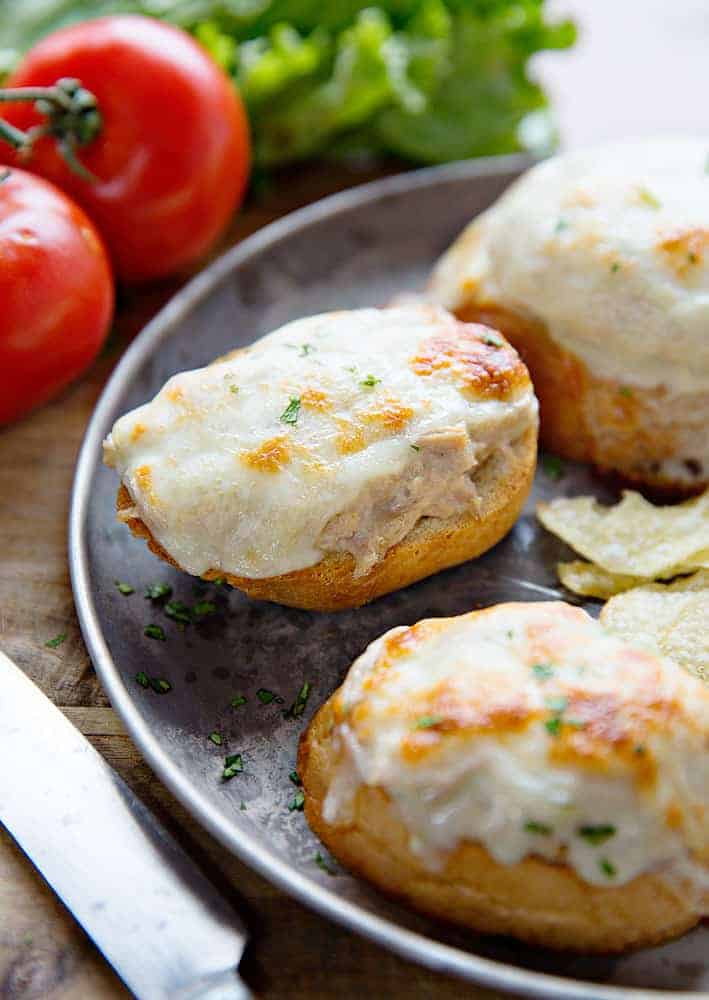 HOW TO MAKE A TUNA MELT WITH TOMATO RELISH
The hardest part about making this recipe is waiting to devour it. The steps are really simple and basically just a combination of chopping, layering, and baking.
Chop and slice your ingredients.

pickles (finely diced) – this ingredient is used in both the tuna salad mixture and the tomato relish.
red onion (finely diced)
cilantro (finely diced)
shallots (finely diced)
garlic (minced)
tomato (sliced and finely diced – it gets used twice!)
bread (sliced at an angle)

Prepare the Tomato Relish – Mix together your diced tomato, pickles, red onion, and cilantro.  Chill this while you are preparing the rest of the dish.
Butter and toast the bread.  You will want to spend about 5-7 minutes on each side or until the bread starts to get golden brown.  It will go back in the oven once the rest of the ingredients will be added, so you don't want it to get too dark just yet.
Prepare the Tuna Salad.  This includes tuna, mayo, celery salt, the remaining pickles, shallots, garlic, lemon juice, salt, and pepper.  There are a lot of salty items in this recipe, so be careful to not add too much.  You can always add more if you need it.  Give it a good taste test and then add more if you want.
Place one scoop of the tuna mixture on the toasted bread, top with a slice of mozzarella and pop it back in the oven (on broil now) for about 5 minutes or until the cheese starts to bubble.
Top with the tomato relish.
Serve!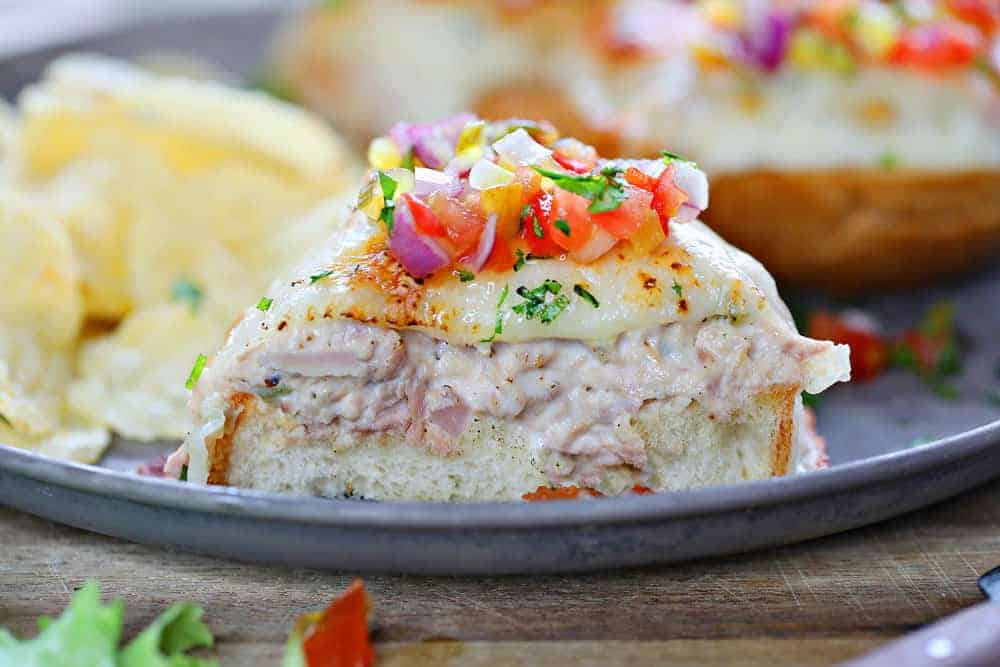 More Delicious Sandwiches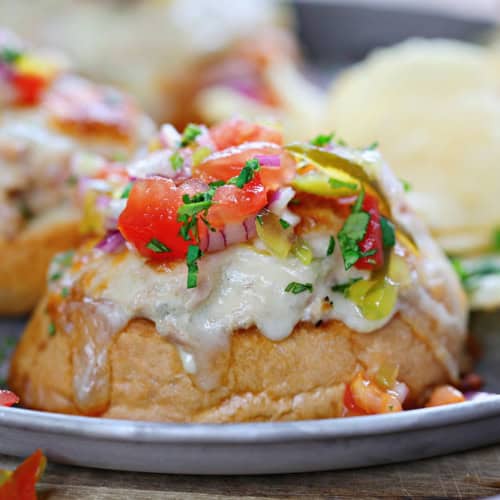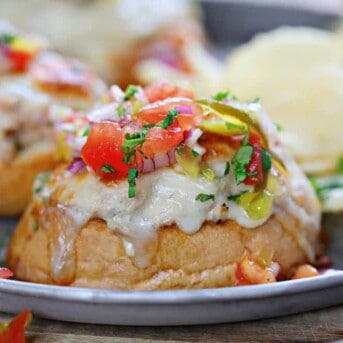 Tuna Melt
Once you try this version, you will throw out your other recipe!
Ingredients
Tomato Relish
½

cup

(90 g) tomato,

diced

¼

cup

(61 g) dill pickles,

diced

¼

cup

(40 g) red onion,

diced

½

teaspoon

cilantro,

finely diced
Tuna Melt
1

loaf

french bread (9 inches)

2

cans

(5 ounces each) tuna,

drained

½

cup

(119.5 g) mayonnaise

¼

tablespoon

celery salt

2

tablespoons

shallot,

finely diced

1

tablespoon

dill pickle,

finely diced

½

tablespoon

lemon juice

1

clove

garlic,

minced

½

teaspoon

kosher salt

½

teaspoon

black pepper

8

slices

mozzarella cheese

2

tablespoons

butter,

melted

1

medium tomato,

sliced
Instructions
Tomato Relish
In a small mixing bowl, combine tomato, pickles, red onion, and cilantro. Set aside.
Tuna Melt
Preheat oven to 350°F.

Slice French bread into 1-inch sandwich slices.

Places slices in baking pan and lightly coat the top with butter.

Bake for 5 minutes and then flip, lightly coat the opposite side with melted butter and bake for another 5 minutes (slices should be a light golden brown).

Meanwhile, in a medium bowl, combine tuna, mayonnaise, celery, salt, shallot, pickle, lemon juice, garlic, salt, and pepper.

Remove bread from oven and spread tuna mixture on the bread. Top each with one slice of mozzarella.

Return baking dish to oven and broil for 5-7 minutes or until cheese is golden and bubbly.

Top with tomato relish and serve immediately.
Video
[brid video="408238″ player="16519″ title="Tuna Melt Tomato Relish "]
Did you make this recipe?
You can tag me at @iamhomesteader.