Zucchini Corn Chowder is a creamy and delicious soup filled with garden-fresh corn, zucchini, and crispy bacon.  It's a creamy and comforting soup with a delightful combination of flavors. I also have a Corn Soup you will love!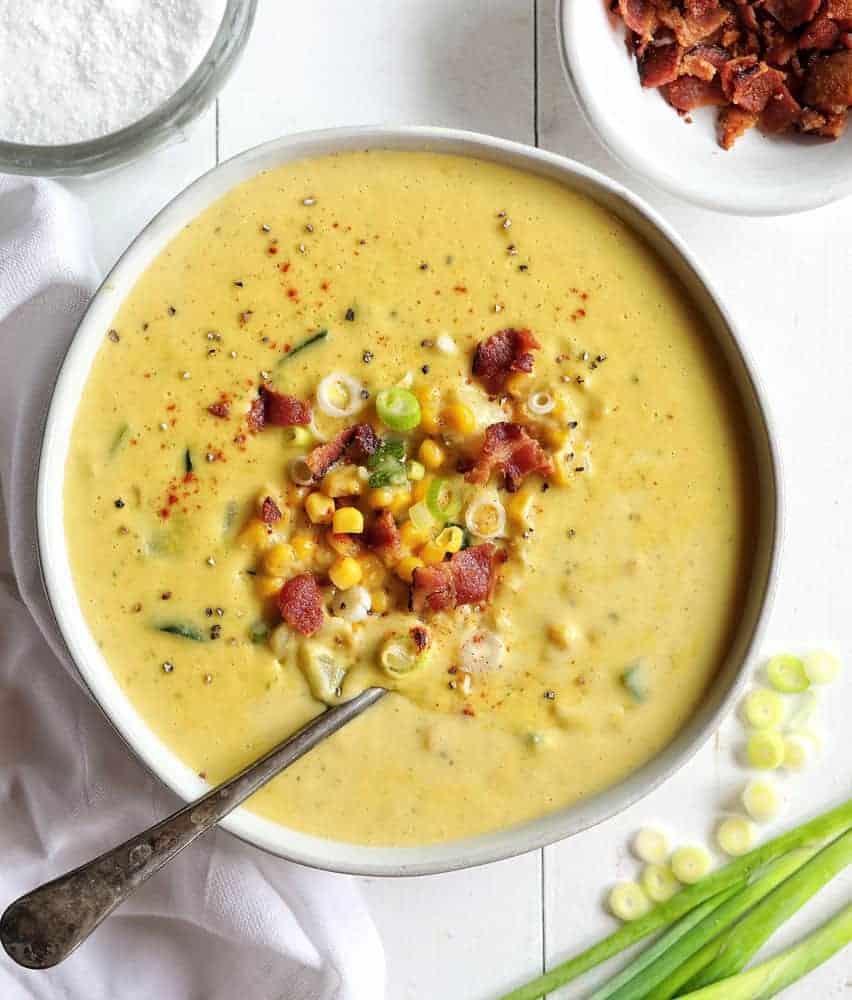 Ingredients & Substitutions
Bacon: Dice the bacon before frying it up nice and crispy for a savory flavor to the soup.
Potatoes: Russet potatoes are washed, peeled, and diced into ½-inch cubes. They help thicken the soup and provide a hearty texture. Yukon gold potatoes would also be delicious.
Chicken Broth: If you don't have broth on hand, you could substitute chicken stock.
Corn: When corn is in season, use fresh ears of sweet corn, cutting the kernels from the cobs. However, you could also use 2 cans of corn kernels, drained.
Zucchini: With the abundance of zucchini that I have, the more recipes to use it the better! You will need only one zucchini, diced for this chowder.
Heavy Cream: The heavy cream, or heavy whipping cream, gives the chowder a creamy consistency. You could substitute half and half.
Optional Garnish: I like to add some freshly chopped parsley to my bowl of chowder. And, for a little kick, add some jalapeno peppers and cayenne pepper to the mix!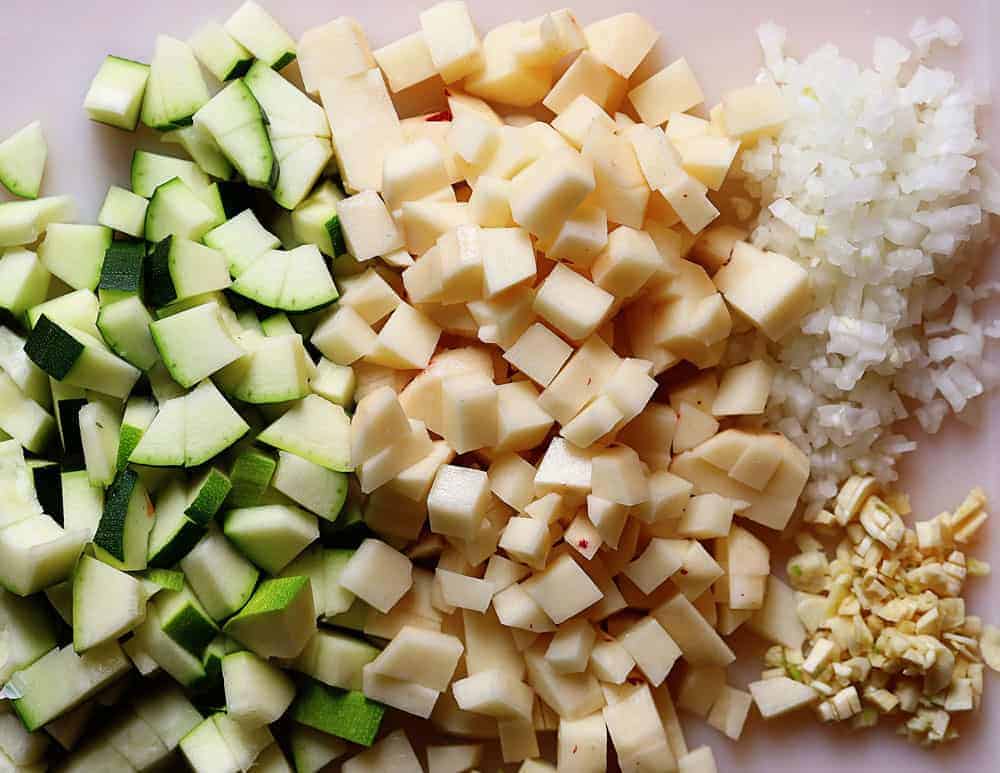 Can I Make This Chowder Without Zucchini?
Some people just are not fans of zucchini, and that is okay! You can make this without the zucchini, you will basically just need to ramp up some of the other veggies. The corn and the potatoes will need some more weight to balance out the loss of the zucchini.  I would suggest adding a full pound of potatoes, and maybe an additional cup of corn.  Also, most corn chowder recipes call for cheese, and there is nothing wrong with that! Try adding a cup of cheddar to fill out that soup.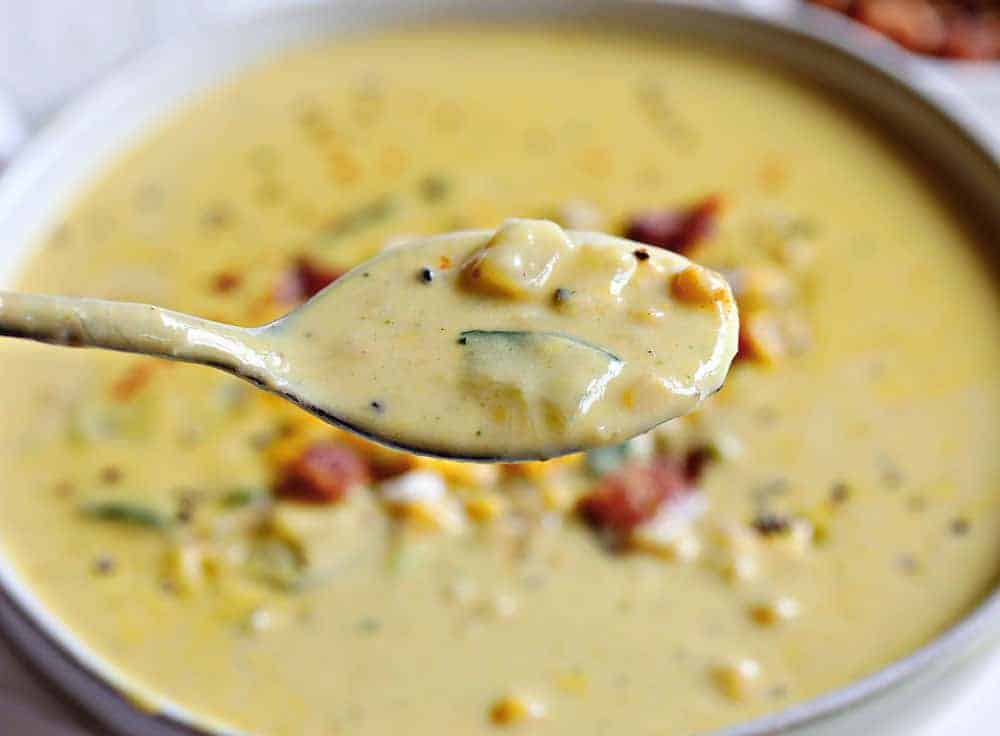 Variations To Zucchini Corn Chowder
The best thing about this summer chowder is how versatile this soup is.  The main staples in this zucchini corn chowder recipe are zucchini, corn, and potatoes, but you could easily add peppers, carrots, celery, parsnips, or anything else in the cabinet. Another option is adding some special additions to spice it up.  I like to throw some jalapenos on top and a double dash of cayenne pepper. Do this with caution, especially if you are opposed to spicy dishes.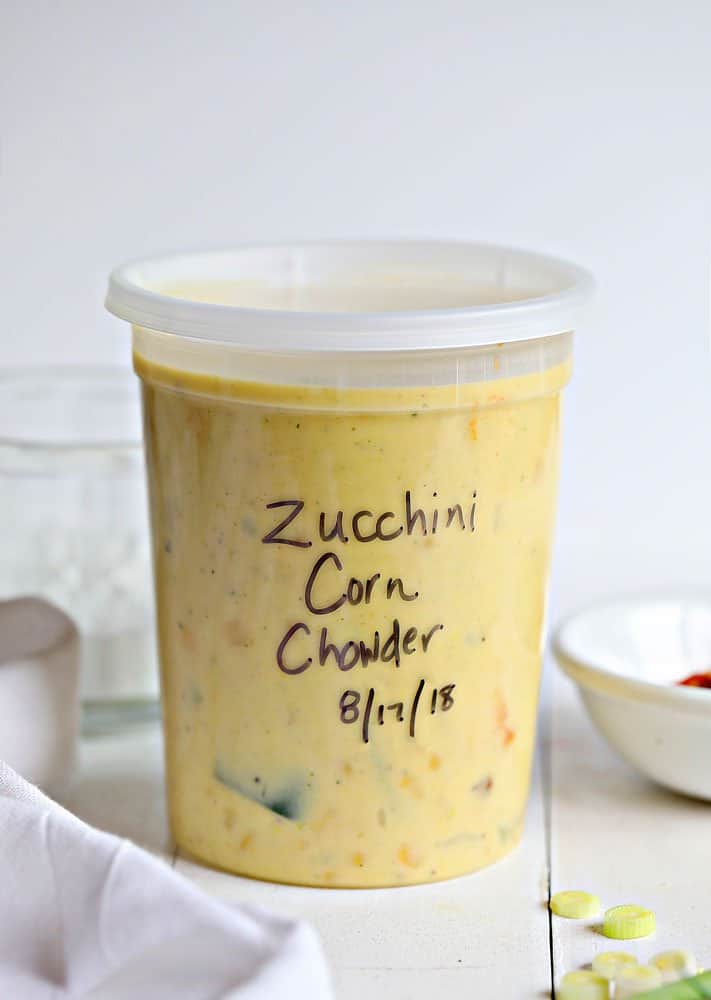 How to Store Zucchini Corn Chowder
Any leftover chowder should be stored in an airtight container in the refrigerator. It will last up to a week. I like to make extra just to have it on hand for easy lunches or a light dinner. I do NOT recommend freezing this recipe.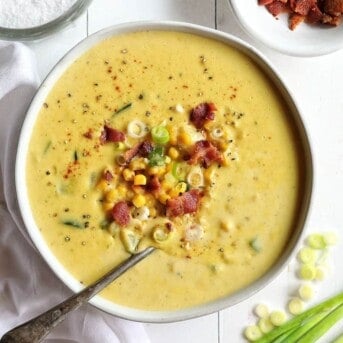 Zucchini Corn Chowder
Zucchini Corn Chowder is a creamy and delicious soup filled with garden fresh corn and zucchini and crispy bacon.
Ingredients
1

tablespoon

unsalted butter

2

strips

bacon,

diced

1

cup

yellow onion,

diced

2

cloves

garlic,

minced

1

pound

russet potatoes,

washed, peeled, diced into ½-inch cubes

4

cups

chicken broth

1

medium

zucchini,

diced into ½-inch cubes, (about 1 ½ cups)

4

ears

sweet corn,

husk + silk removed, kernels cut from cob (2 ¾ cups or 2 cans corn kernels, drained)

1

cup

heavy cream

⅛

teaspoon

kosher salt

⅛

teaspoon

black pepper
Garnish
fresh parsley,

chopped

1

teaspoon

jalapeno,

seeded, minced

cayenne pepper,

optional
Instructions
In a large heavy-duty bottom stockpot or Dutch oven over medium heat, melt butter.

Add diced bacon and cook until bacon renders its fat and begins to brown, about 3-4 minutes.

Add onion and garlic. Cook until vegetables begin to soften, about 5 minutes, stirring a couple of times.

Increase the heat to medium-high and bring to a simmer. Decrease the heat to medium and simmer for 8-10 minutes.

Add zucchini, corn, heavy cream, salt, and pepper. Simmer for additional 8-12 minutes, or until all of the vegetables are completely tender.

Remove half of the chowder, pouring it into a separate bowl. Using an immersion blender, puree the remaining chowder until smooth. Stir the other half of the chowder back into the pot.

Salt and pepper to taste. Serve garnished with freshly chopped parsley, jalapeno, and a sprinkle of cayenne pepper, optional.
Did you make this recipe?
You can tag me at @iamhomesteader.
TOOLS USED IN MAKING Zucchini Corn Chowder
Every kitchen simply must have a good skillet! I love my Staub Skillet. They come with a lifetime warranty so they are worth the price tag in my opinion. Also, they are so easy to clean and care for.