Scallops are shellfish that are pan-seared to a golden brown and smothered in a garlic butter sauce for a slightly sweet, buttery flavor. Try my Bang Bang Shrimp for another flavorful seafood recipe.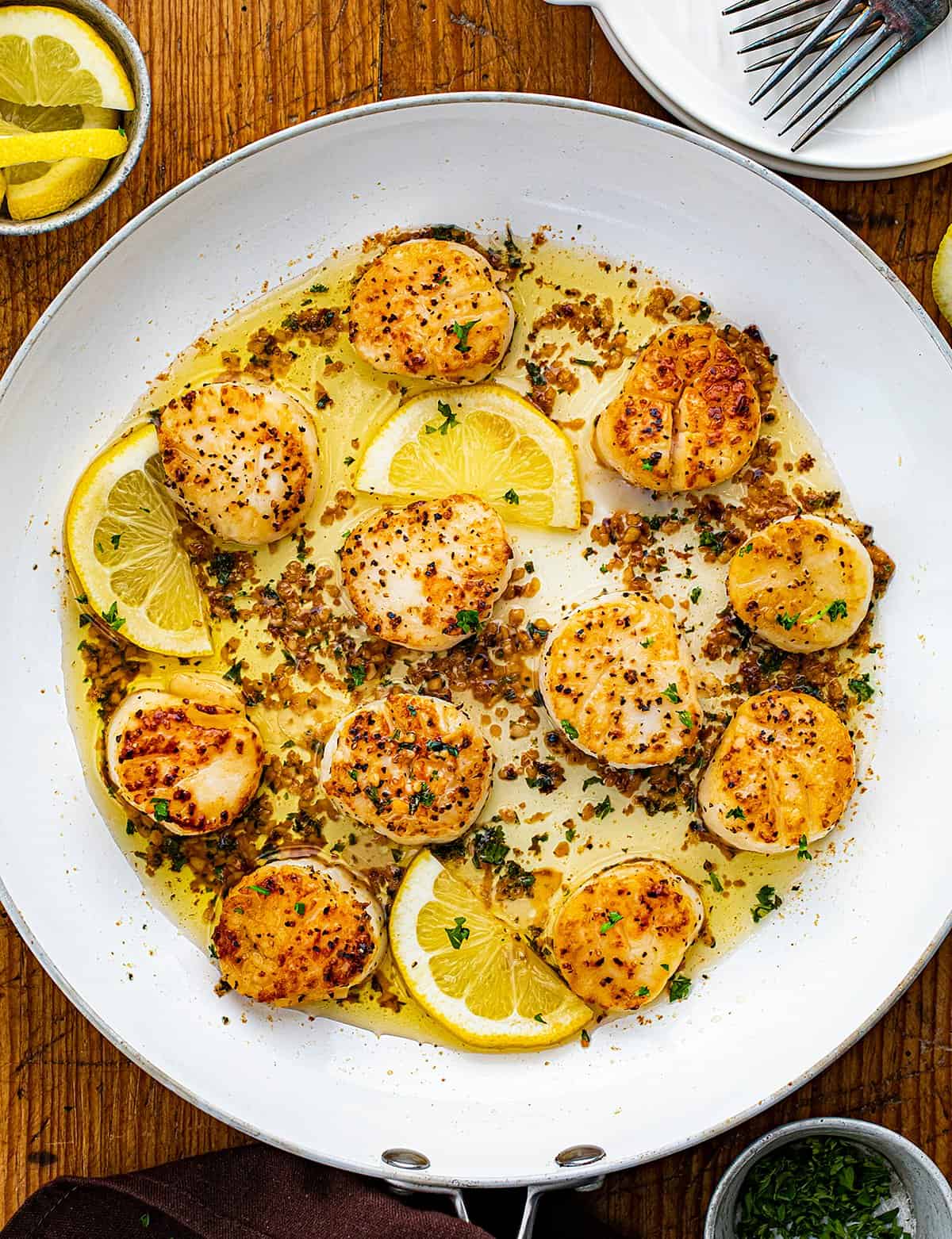 Scallops
Scallops are bivalve mollusks, which means they have a hinged shell, like clams, oysters, and mussels. They have a soft and tender texture with a naturally sweet and buttery flavor. In fact, they are sometimes referred to as the 'candy of the sea'. They are not fishy in taste and cook up quickly.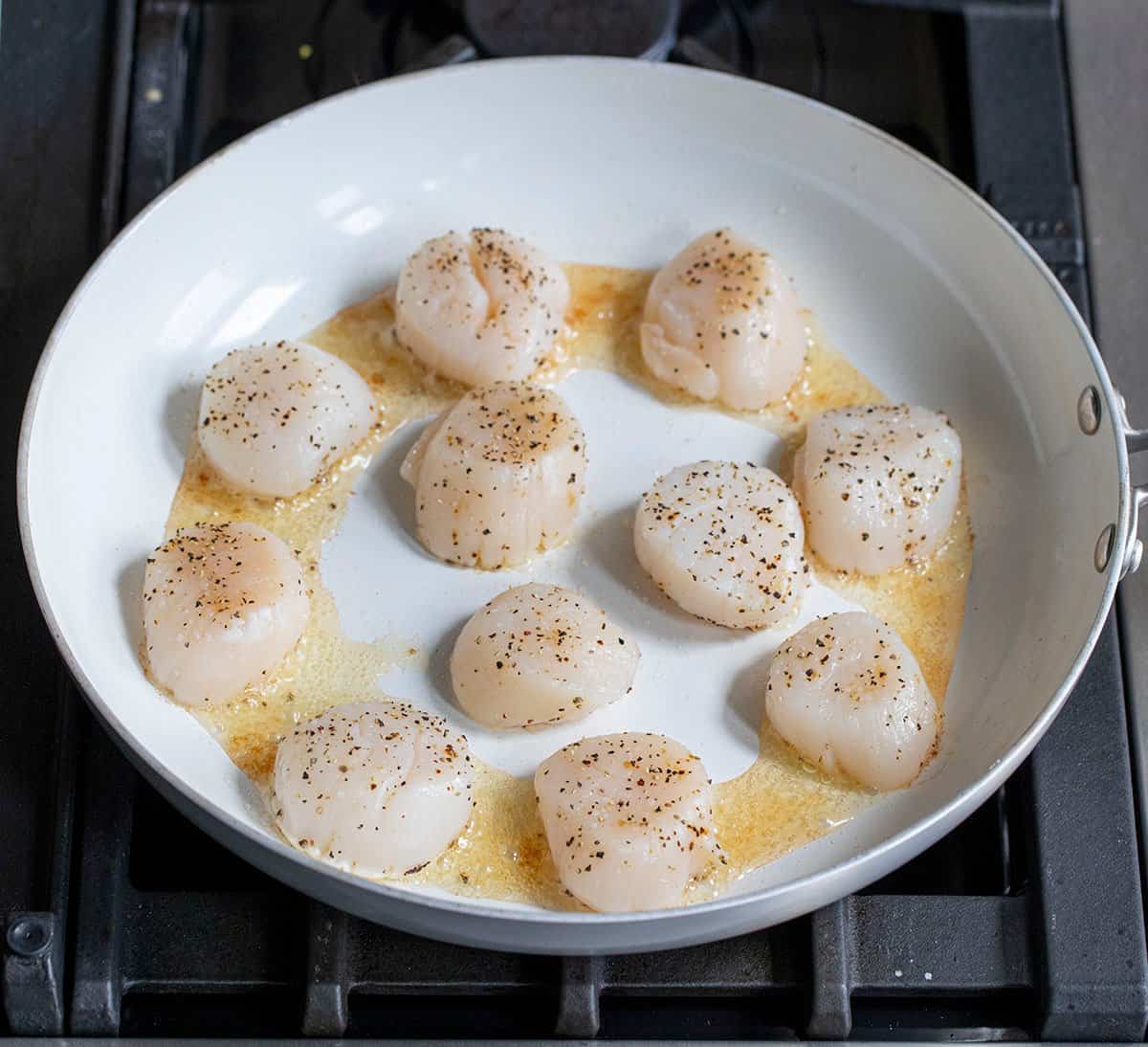 How to Buy the Best Scallops
For the best results, choose the best scallops. But, how do you choose? First of all, look for dry, dry-packed, or chemical-free sea scallops. I will explain more about that next. Then, look at the color. The colors could range from an off-white, pearly color to a light gray or even a pinkish-orange color. All of those colors are okay to eat. 
As for the smell, scallops should not smell fishy or sour at all. However, they will have a briny or slightly salty smell to them.
What is the Difference Between Wet and Dry Scallops?
As I have stated above, try to use dry scallops in this recipe, as opposed to wet. Dry scallops are untreated and will sear to a lovely golden brown. Wet have been packed in a solution called sodium tripolyphosphate. Being soaked in this solution adds shelf-life, but also adds extra water for plumping them up. They will not cook up as well and will have lots of extra moisture. They will also shrink in size when cooked.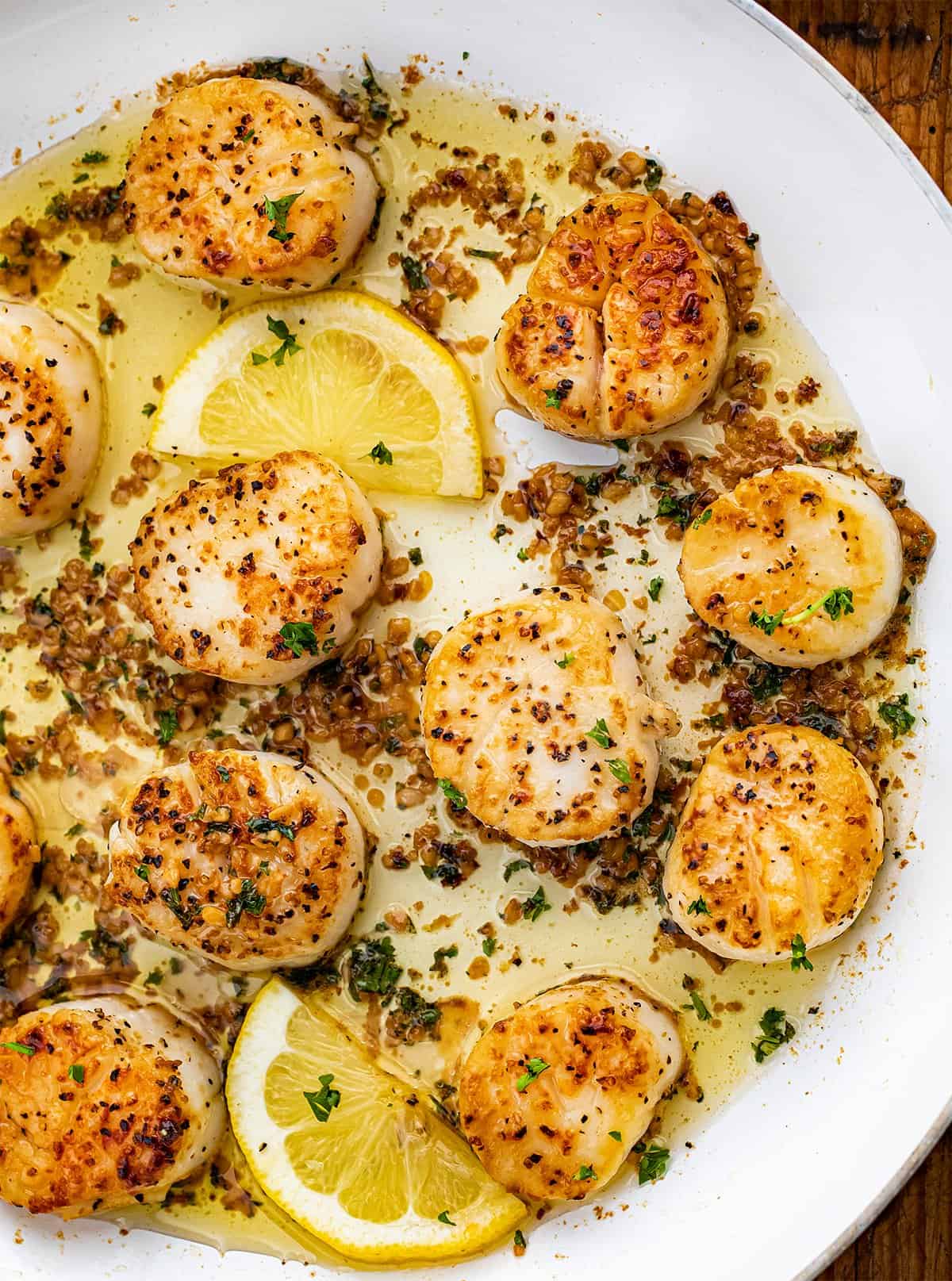 Can I Use Frozen?
Yes. Again, look for dry (vs. wet) scallops. Let them thaw in the refrigerator overnight before cooking them.
How to Cook Scallops
Scallops can be expensive, but so delicious and good for you at the same time. So, how do you cook them just right? One nice thing is that they are flavorful enough on their own that there is not a lot of fuss involved when prepping them.
The first step before cooking them is to remove the small rectangular side muscles that may still be attached. Simply pinch it off with your fingers. If you miss one or two, it's not a huge deal. They are edible, but just might be a little tough.
Next, pat them dry with a paper towel. This applies to both wet and dry scallops. This will prevent them from steaming and instead give you the perfect golden brown sear.
Then, heat up oil in a nonstick skillet over medium-high heat. Once the oil is shimmering, add the scallops in a single layer. Work in a couple of batches if needed; you don't want to overcrowd the pan.
Let them cook for about 2 minutes on one side, undisturbed. If they are easily removed from the pan, they are ready to be flipped. If they are sticking to the pan, give them about 30 more seconds or so. After flipping, cook the other side for 2-3 minutes.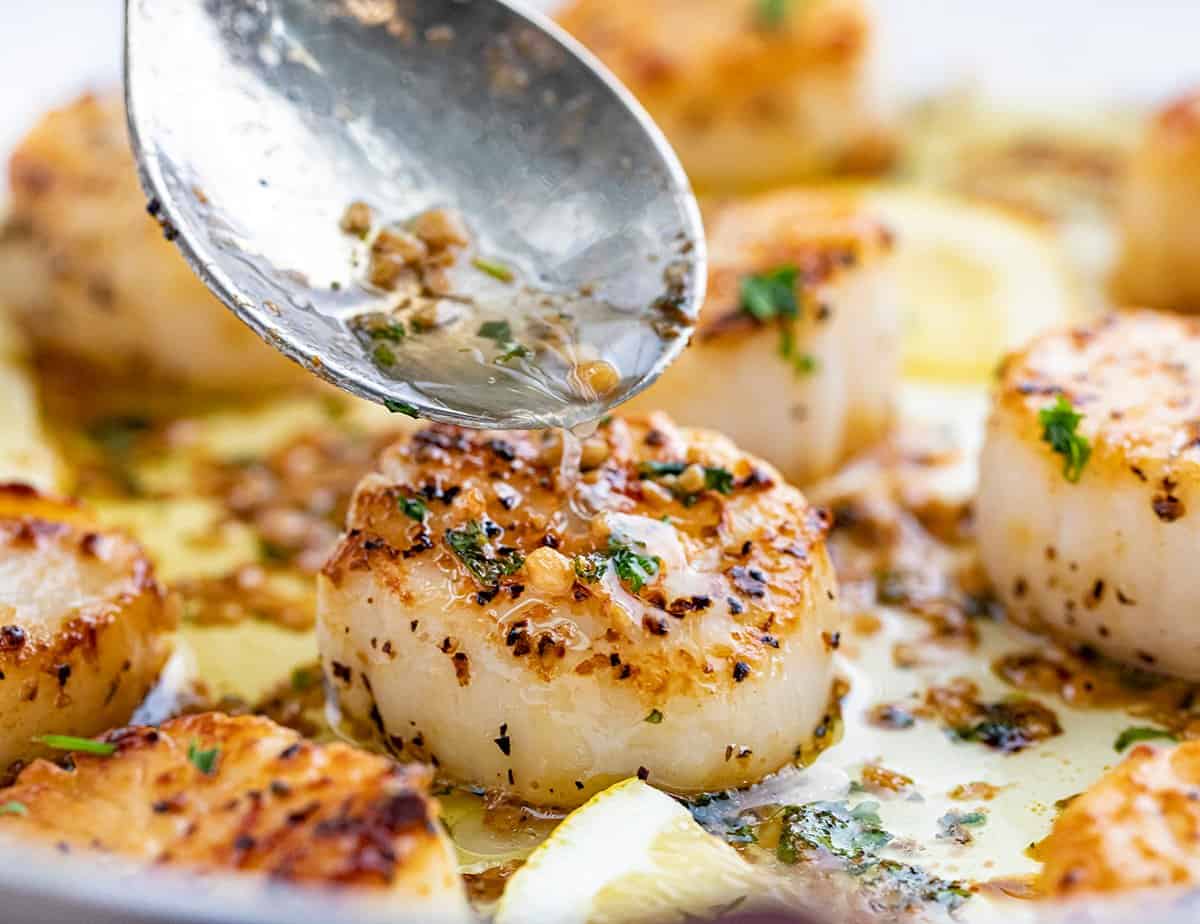 When Are They Done Cooking?
Scallops are done cooking when they are opaque. They will be firm to the touch, but will still be a little soft. If the scallops are overcooked, they will end up being chewy and rubbery. Cooking times can vary depending on the size of the scallops, so watch them closely!
What to Serve with Scallops
There are plenty of side dishes that pair well with scallops. To get you started, here are some ideas: mashed potatoes, buttered noodles, green beans, asparagus, and creamed corn, just to name a few.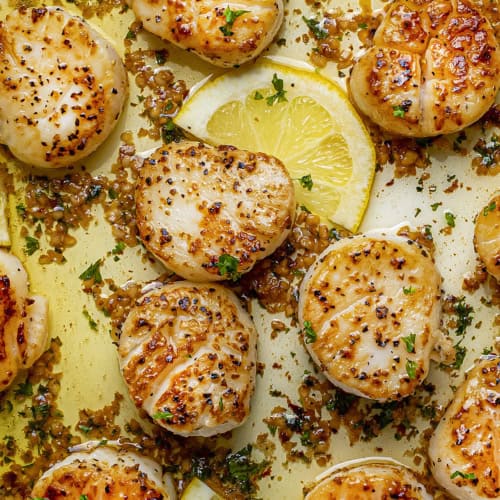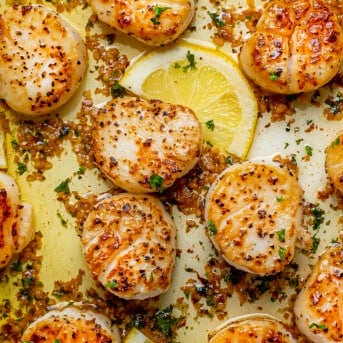 Scallops
Scallops are shellfish that are pan-seared to a golden brown and smothered in a garlic butter sauce for a slightly sweet, buttery flavor.
Ingredients
Scallops
1

pound

large sea scallops,

about 11 scallops

½

teaspoon

kosher salt

½

teaspoon

black pepper

1-2

tablespoons

canola oil
Garlic Butter Sauce
3

tablespoons

unsalted butter

1

tablespoon

garlic,

minced

1

tablespoon

freshly chopped parsley

lemon rounds,

for garnish
Instructions
Scallops
Pat scallops dry with a paper towel. (Excess moisture will prevent the scallops from searing.) If the small rectangular side muscles haven't been removed already, take them off of the scallop. They are edible but have a tougher texture than the scallop.

Season the scallops on all sides with salt and pepper.

To a large, nonstick skillet over medium-high heat, add 1 tablespoon of canola oil. Add more oil if needed to coat the bottom of the pan. Once the oil is hot and shimmering, add scallops in an even layer without overcrowding the pan. Cook 2-4 minutes, undisturbed. When deeply golden brown, flip and repeat on the other side. Scallops are done when they are opaque; a slightly translucent area in the center is okay.

Carefully transfer the scallops to a plate and tent to keep warm.
Garlic Butter Sauce
To the same skillet over low heat, add the butter, garlic, and parsley. Stir the ingredients in the pan for about 1-2 minutes, scraping up any brown bits until the sauce comes together and the butter is melted.

Remove the skillet from heat. Add the cooked scallops back into the pan. Spoon or pour the sauce over the scallops and serve immediately.
Did you make this recipe?
You can tag me at @iamhomesteader.