Slow Cooker Turkey Chili uses fresh vegetables and lean meats to create a perfectly seasoned hearty soup for the soul!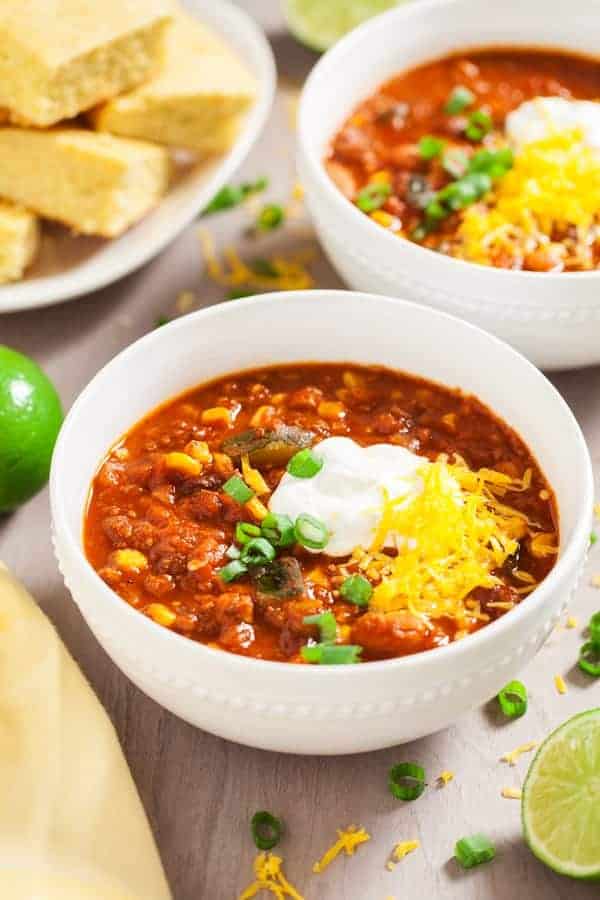 Slow Cooker Turkey Chili
Pretty much set it and forget it with this recipe. This slow cooker turkey chili cooks while you're running errands so you have a hot, hearty and home-cooked dinner waiting for you when you walk through the door! Enjoy it with a think chunk of country home style cornbread, pour it over corn chips, or add your favorite toppings like cheese, sour cream, jalapenos or green onions. No matter how you like your chili, this slow cooker turkey chili will be your next go-to recipe for those busy, time-strapped days.
The Great Turkey Chili Debate
There are so many meals that have a ground beef base. Recently we have seen the trend of people swapping out beef in exchange for its healthier alternative, ground turkey. The debate of ground turkey vs ground beef has become more and more prominent when making everyday choices for meals. When it comes to turkey, where is the actual health "savings"? Well, it depends. I know, what a terrible answer. The trick is to watch your labels when you are buying. Make sure you are looking for a lower fat content. Lean turkey or ground turkey breast are going to be your best option. Typically though, ground turkey and ground beef go head to head in the battles of calories and protein, but turkey takes the lead in the saturated fat game. By lead, of course, I mean that ground turkey has less saturated fat than ground beef, making it a healthier option.
Slow Cooker Chili with Beef
In any case, could you use ground beef in this recipe? Absolutely.  No matter which meat source you choose, this is the perfect meal to warm you up on a cool rainy day.  Throw it in the crockpot in the morning and get ready to be wrapped in a warm blanket of comfort food at the end of the day.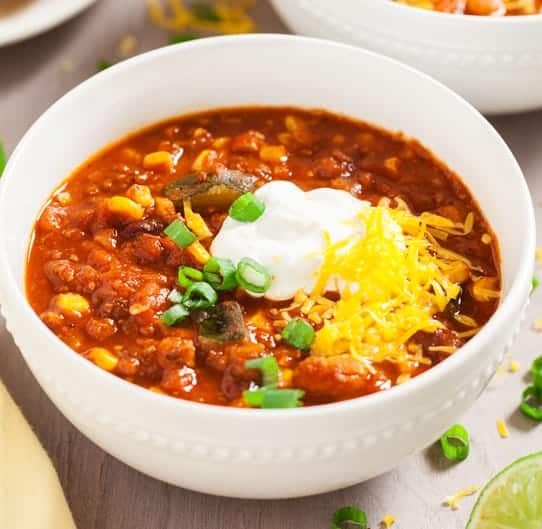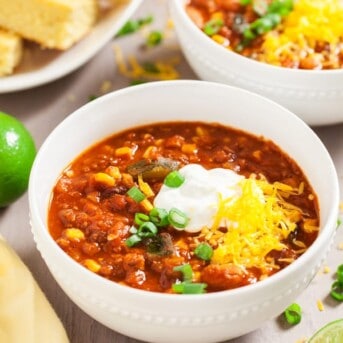 Slow Cooker Turkey Chili
Slow Cooker Turkey Chili uses fresh vegetables and lean meats to create a perfectly seasoned hearty soup for the soul!

Ingredients
1

tablespoon

vegetable oil

salt and pepper

juice from 1 lime

1

can

(15 ounces) cannellini beans,

rinsed and drained

1

can

(15 ounces) black beans,

rinsed and drained

1

can

(15 ounces) tomato sauce

1

can

(28 ounces) crushed tomatoes

1

can

(15 ounces) corn,

drained

1

package

(1.25 ounces) Chili seasoning mix

1

medium

zucchini,

diced into ½-inch pieces

1

pound

ground turkey

4

cloves

garlic,

minced

1

medium

yellow onion,

diced

Suggested toppings: Sour cream

scallions, shredded cheddar cheese
Instructions
In a skillet, heat the oil over medium heat until simmering. Add the onion and cook until softened and nearly translucent, about 2 minutes. Add the garlic and cook until fragrant, 30 seconds.

Add the turkey and break up into crumbles using the back of a wooden spoon. Cook until no longer pink. Add the zucchini and chili seasoning. Stir to coat.

Transfer to a slow cooker, making sure to scrape in all of the caked on brown bits from the bottom of the skillet. Pour in the crushed tomatoes, tomato sauce, and beans. Stir to combine. Cover with the lid and cook on low for 7 hours.

Add the lime juice and season with salt and pepper to taste. Serve warm with suggested toppings.
Video
[brid autoplay="true" video="385608″ player="16519″ title="Slow Cooker Turkey Chili "]
Did you make this recipe?
You can tag me at @iamhomesteader.
Photography by The PKP Way.