Tomato Bacon Jam is a sweet and savory spread made with fresh tomatoes, bacon, onions, sugar, spices, and red pepper flakes for a slight kick. It is a jam you could eat with a spoon! I also have Spicy Tomato Jam if you want to leave out the bacon and add even more heat to it.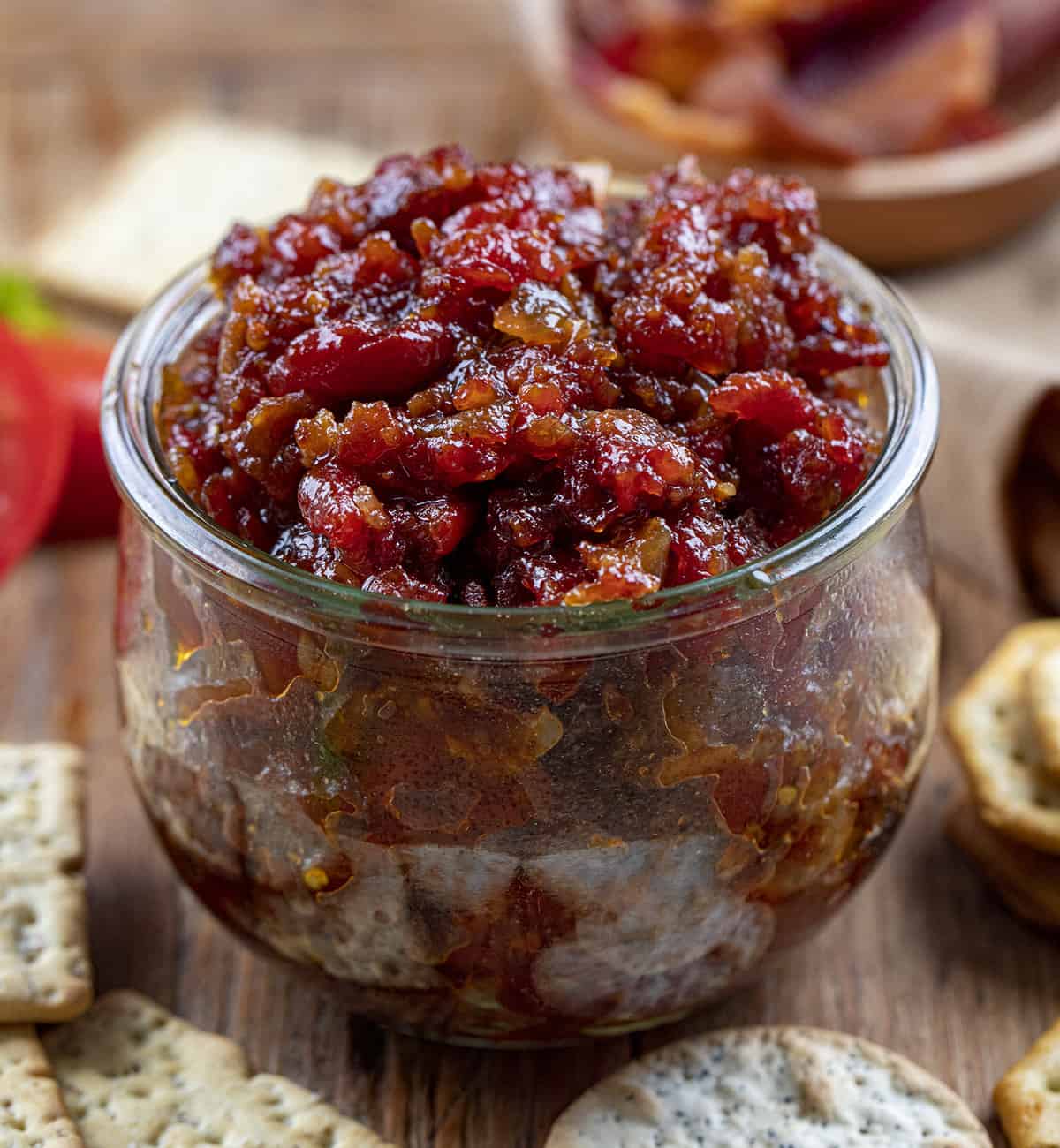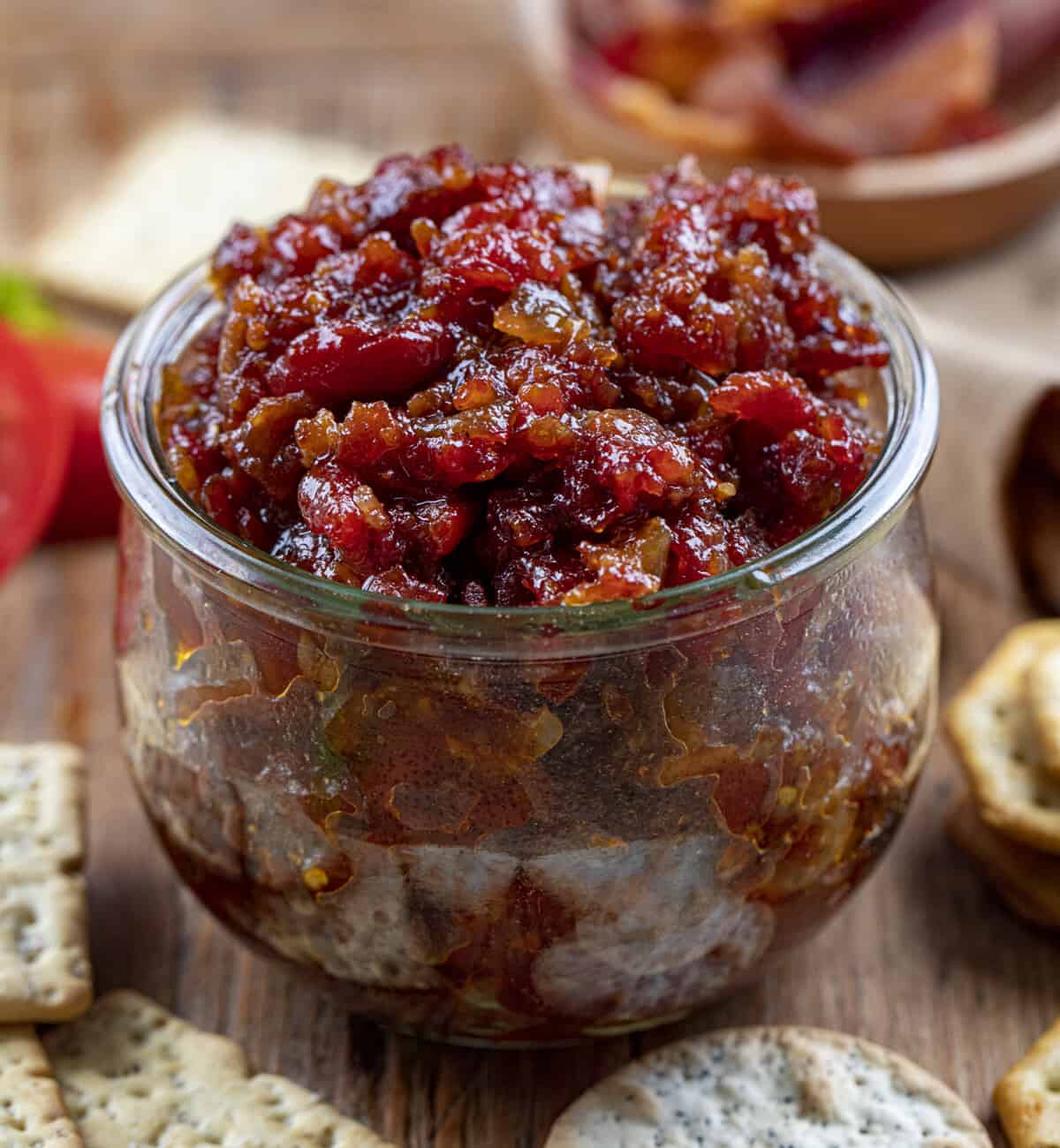 Tomato Bacon Jam
Yes, this is a jam (or marmalade) and yes, it is made with bacon and tomatoes. Not all jams need to be super sweet and fruity to be delicious and versatile. The brown sugar gives the jam its sweetness, while the tomatoes bring in both sweet and savory flavors. And then the bacon gives it a salty crunch. I will give you ways to serve the tomato bacon jam below.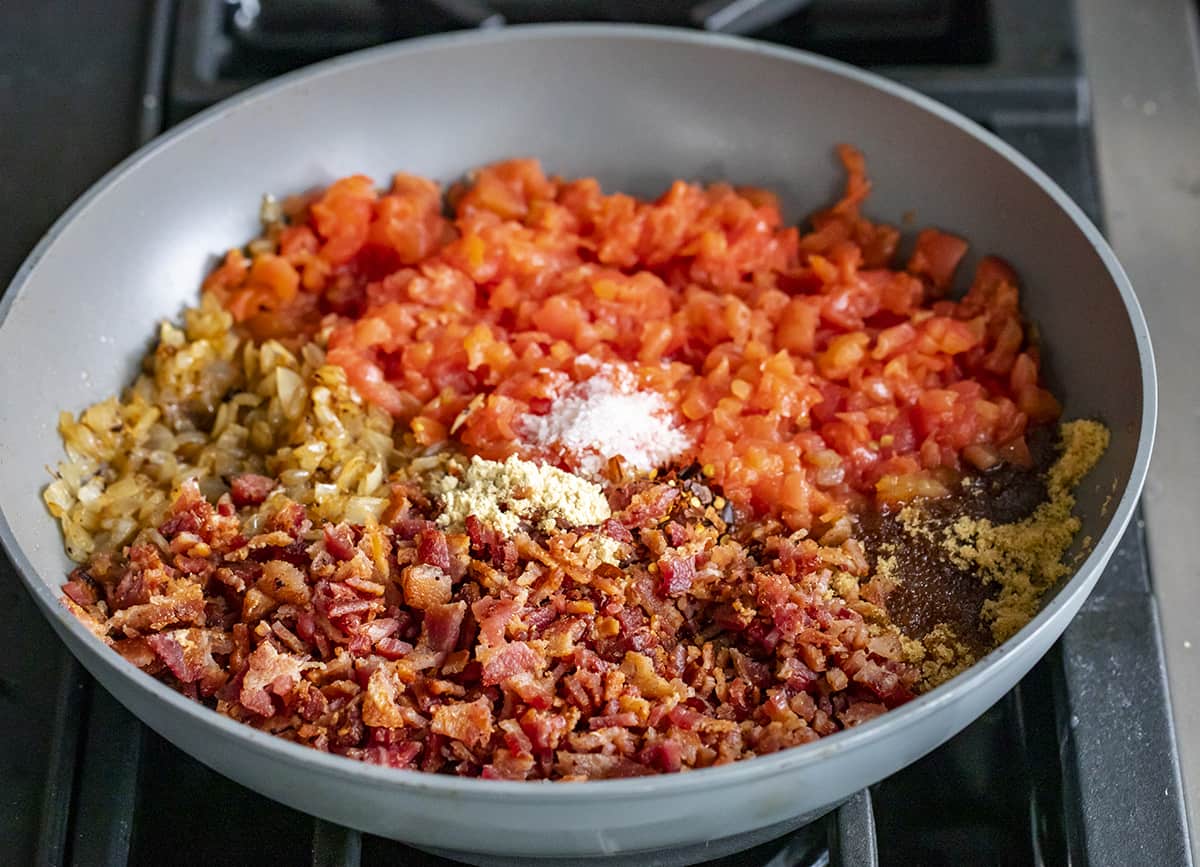 Ingredients & Substitutions
Tomatoes: Plum tomatoes like Roma are best for this tomato bacon jam recipe. You could use other kinds of tomatoes, but it will affect the final flavor. One thing to consider is the water content in the kind of tomatoes you use; that will affect the amount of jam made. This recipe made about 2 cups.
Bacon: I love thick-cut bacon, but you could use regular bacon if that is all you have on hand. Or, try the jam with maple bacon for added sweetness.
Red Pepper Flakes: I added 1/2 teaspoon red pepper flakes for a little bite to the jam. However, you could leave those out if preferred. Or, add more if you want more heat to each bite.
Sugar: Brown sugar brings plenty of sweetness to the jam. You could lessen the amount of sugar if you don't want it quite as sweet. The consistency of the jam will be a little drier with less sugar, but still, be super tasty.
Vinegar: Apple cider vinegar adds some tang to the jam.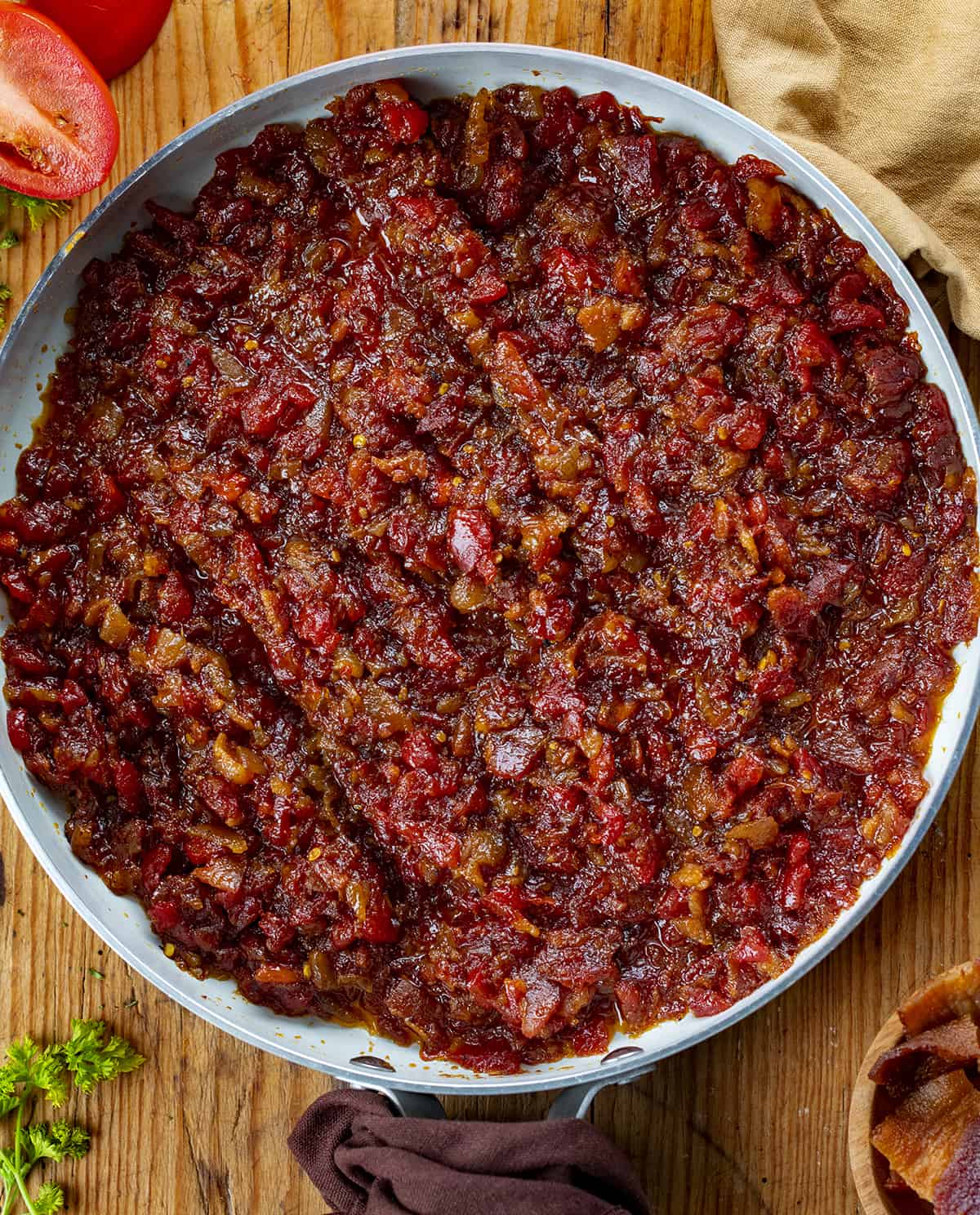 What Kind of Tomatoes is Best?
As I stated above, any plum tomatoes should be fine. Some examples of plum tomatoes are Roma, San Marzano, Amish Paste, Big Mama, or Supremo, just to name a few. In fact, you could use most red tomatoes in this recipe; just be sure to have two pounds of the tomatoes.
Can I Use Cherry Tomatoes?
If you are going to use smaller tomatoes like cherry tomatoes, there is no need to blanch them. Just be sure to wash them well, remove the stems, and pat them dry before using. Add the cherry tomatoes when you would add the diced tomatoes and mash them down with a spoon.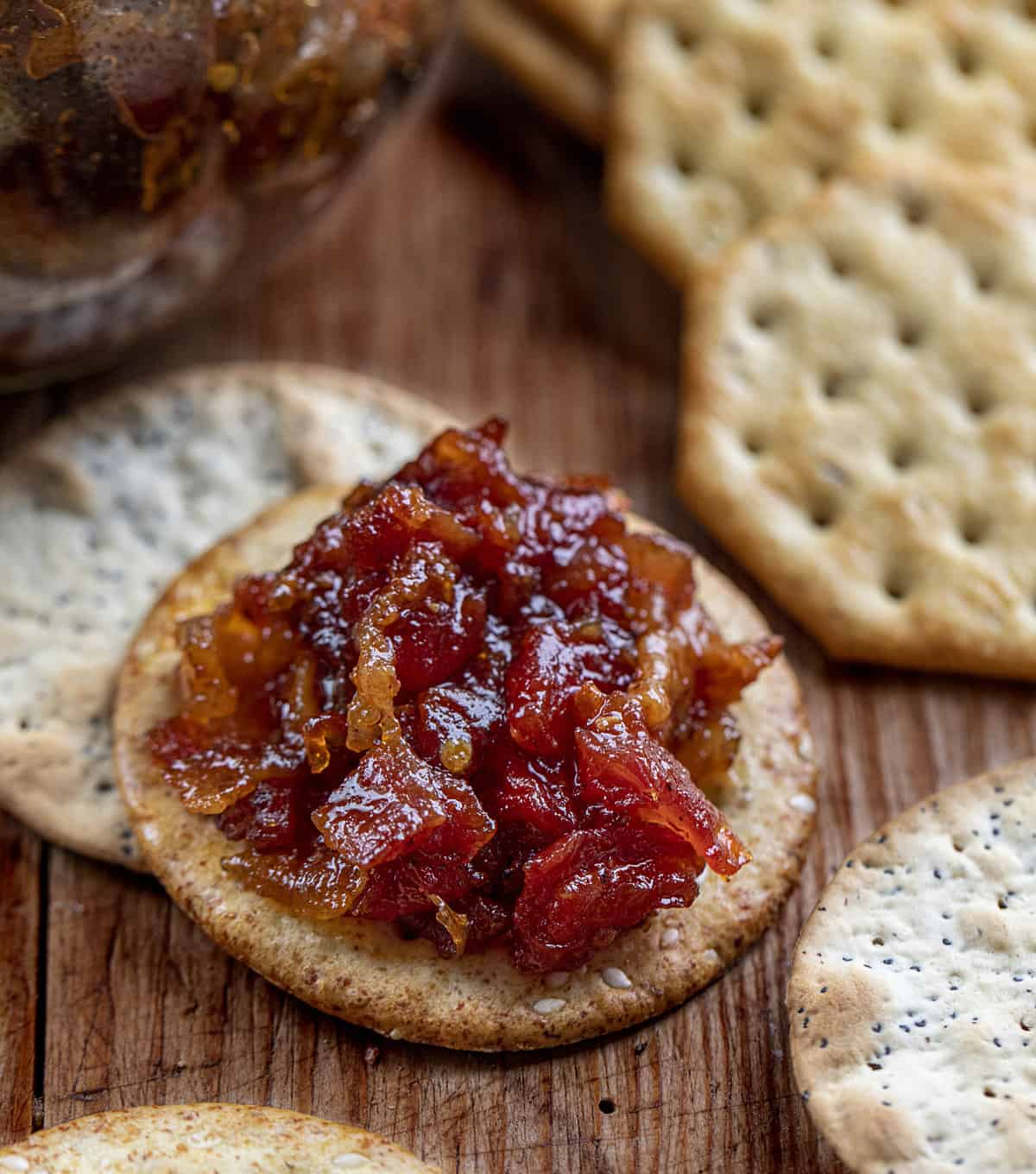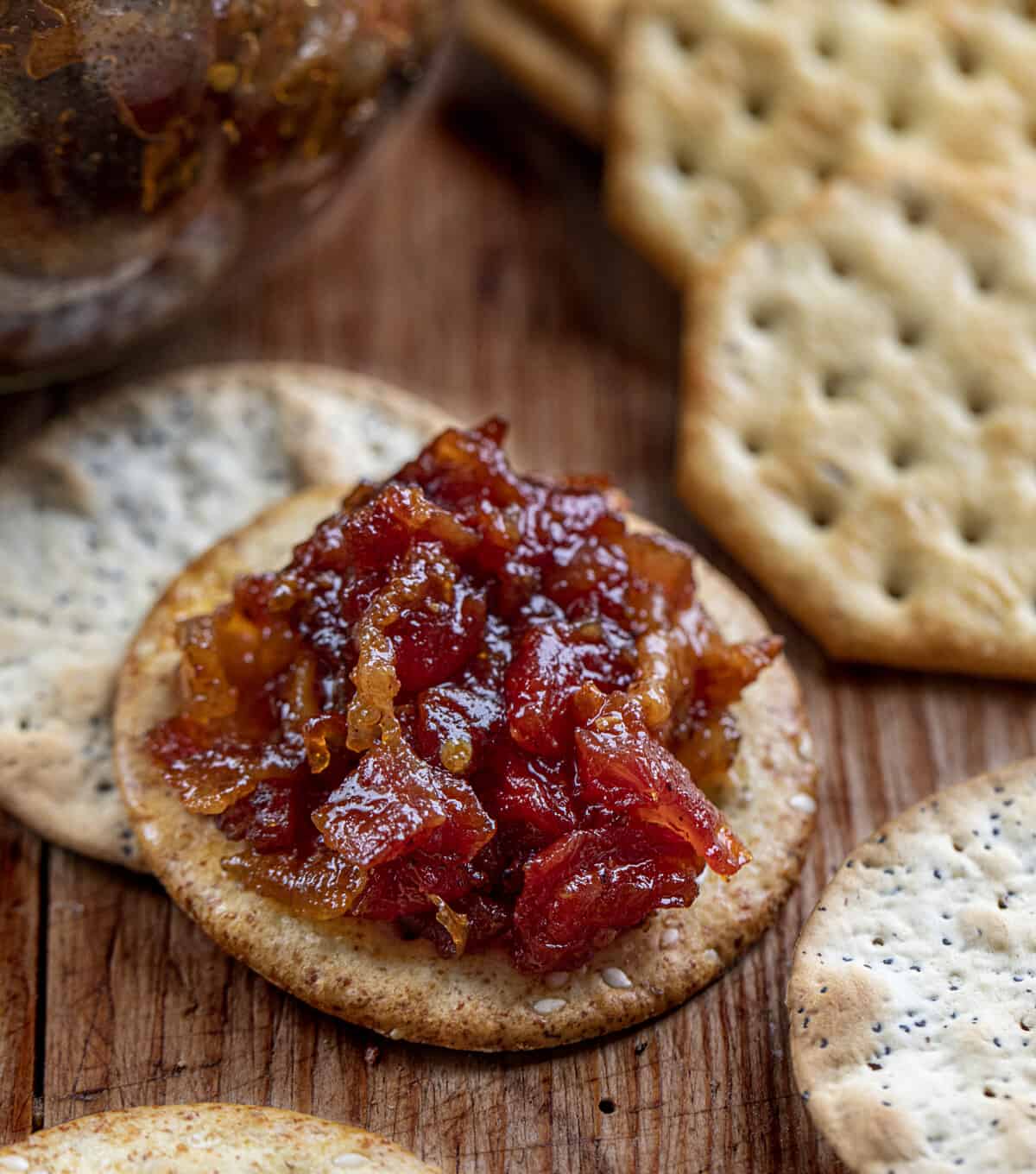 Can I Use Canned Tomatoes?
Definitely! Using canned tomatoes will give you the same great flavors in this jam, but without any blanching or peeling of tomatoes. It will save you time, but won't affect the final result. If using canned tomatoes, you will need 2 cans (14.5 ounces each) of diced tomatoes, drained.
How to Serve Tomato Bacon Jam
Tomato Bacon Jam is more versatile than you may have thought it could be. Try it with some cream cheese on top of crackers. Or, spread some on a toasted baguette or buttermilk biscuit. But, don't stop there. Add some to a cheeseburger, on a grilled cheese sandwich, or use it as a dip for pretzel bites or a slice of pizza!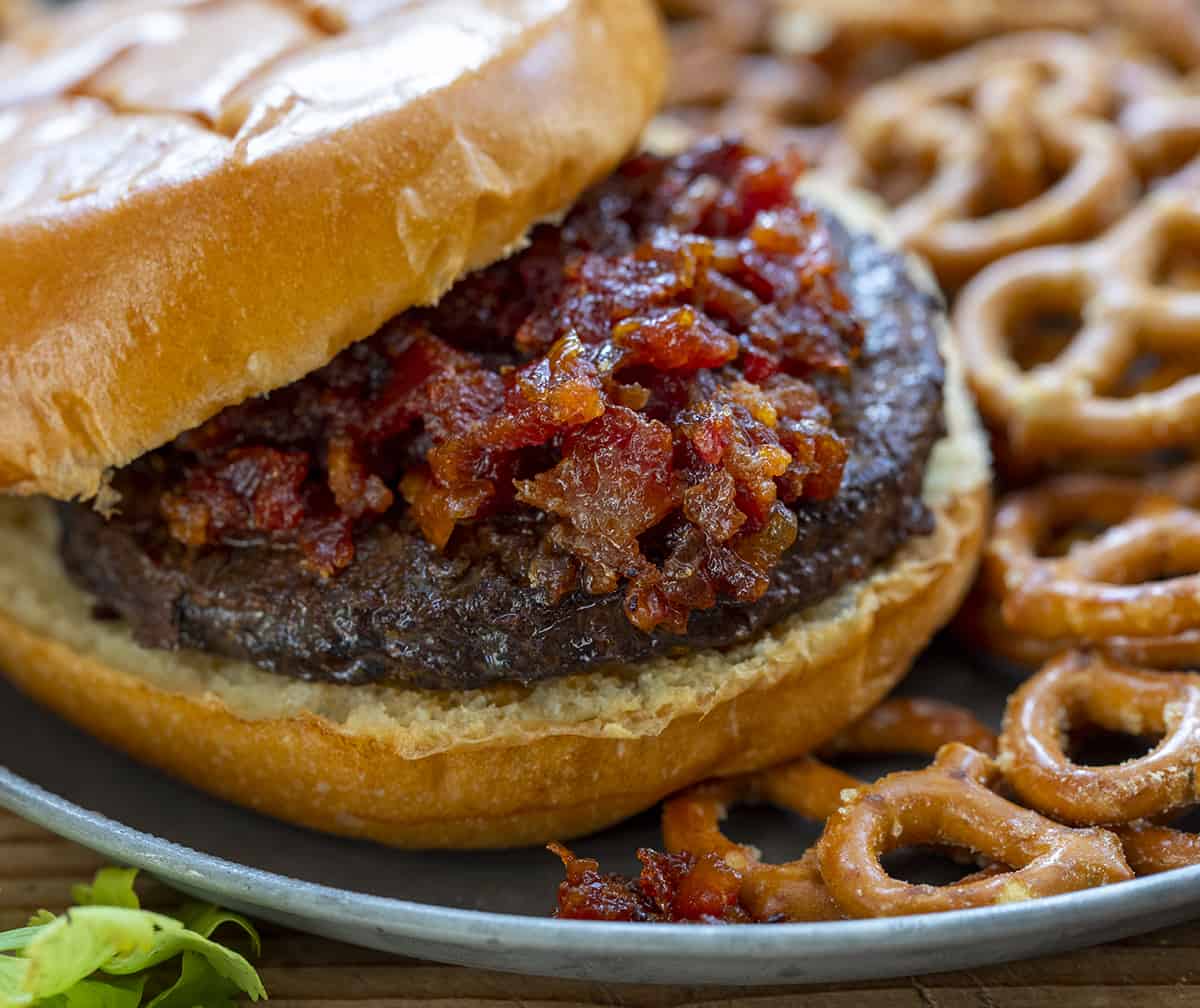 How to Store Tomato Bacon Jam
Store the jam in an airtight container, in the refrigerator, for up to 2 weeks. You could also freeze the jam for up to 3 months. Before storing, make sure the jam has cooled to room temperature.
Should Bacon Tomato Jam be Canned?
Nope. There is no safe way to can this jam, as bacon is an ingredient.
Tomato Bacon Jam
Tomato Bacon Jam is a sweet and savory spread made with fresh tomatoes, bacon, onions, sugar, spices, and red pepper flakes for a slight kick.
Ingredients
2

pounds

Roma tomatoes*,

about 10 tomatoes

1

pound

thick-cut bacon,

about 10 slices, cut into pieces

1

yellow

onion,

diced (about 1 cup)

½

teaspoon

red pepper flakes

1

cup

light brown sugar,

packed

1

teaspoon

kosher salt

1

teaspoon

ground mustard

1

tablespoon

apple cider vinegar
Instructions
Blanching Tomatoes
Bring a pot of water to a boil. To a large bowl, add cold water and plenty of ice for an ice bath.

Thoroughly wash your tomatoes. Remove the core from the tops of the tomatoes and use a very sharp knife to cut a shallow "x" at the bottom of each tomato.

Blanch the tomatoes in the boiling water for 30-60 seconds. Then, immediately place them in the prepared ice water for about a minute.

After the tomatoes are cool enough to handle, transfer them to a cutting board. Peel the skins using either your hands or a paring knife.

Seed and dice the tomatoes. You will have about 3 cups of diced tomatoes.
Tomato Bacon Jam
In a large skillet over medium-high heat, fry the bacon pieces for 6-8 minutes, or until crispy. Once the bacon is crispy, remove from heat and place on a paper towel-lined plate to drain.

Drain all but 2 tablespoons of the bacon grease. To the bacon grease, add the chopped onion and cook for 6-8 minutes, or until softened.

Once the onion is cooked, add the crumbled bacon, tomatoes, red pepper flakes, brown sugar, salt, ground mustard, and apple cider vinegar.

Mix together and bring to a gentle boil.

Continue to boil for 45-60 minutes, stirring occasionally until the mixture thickens with very little liquid remaining.

Remove from heat and serve warm or cold.
Notes
*If you are using canned tomatoes, skip the Blanching section of the instructions. 
Did you make this recipe?
You can tag me at @iamhomesteader.