Spicy Tomato Jam is a sweet and spicy jam, or marmalade, made with fresh tomatoes, sugar, and spices with added red pepper flakes for a little kick. If you don't care for spicy, I have a Tomato Bacon Jam as well!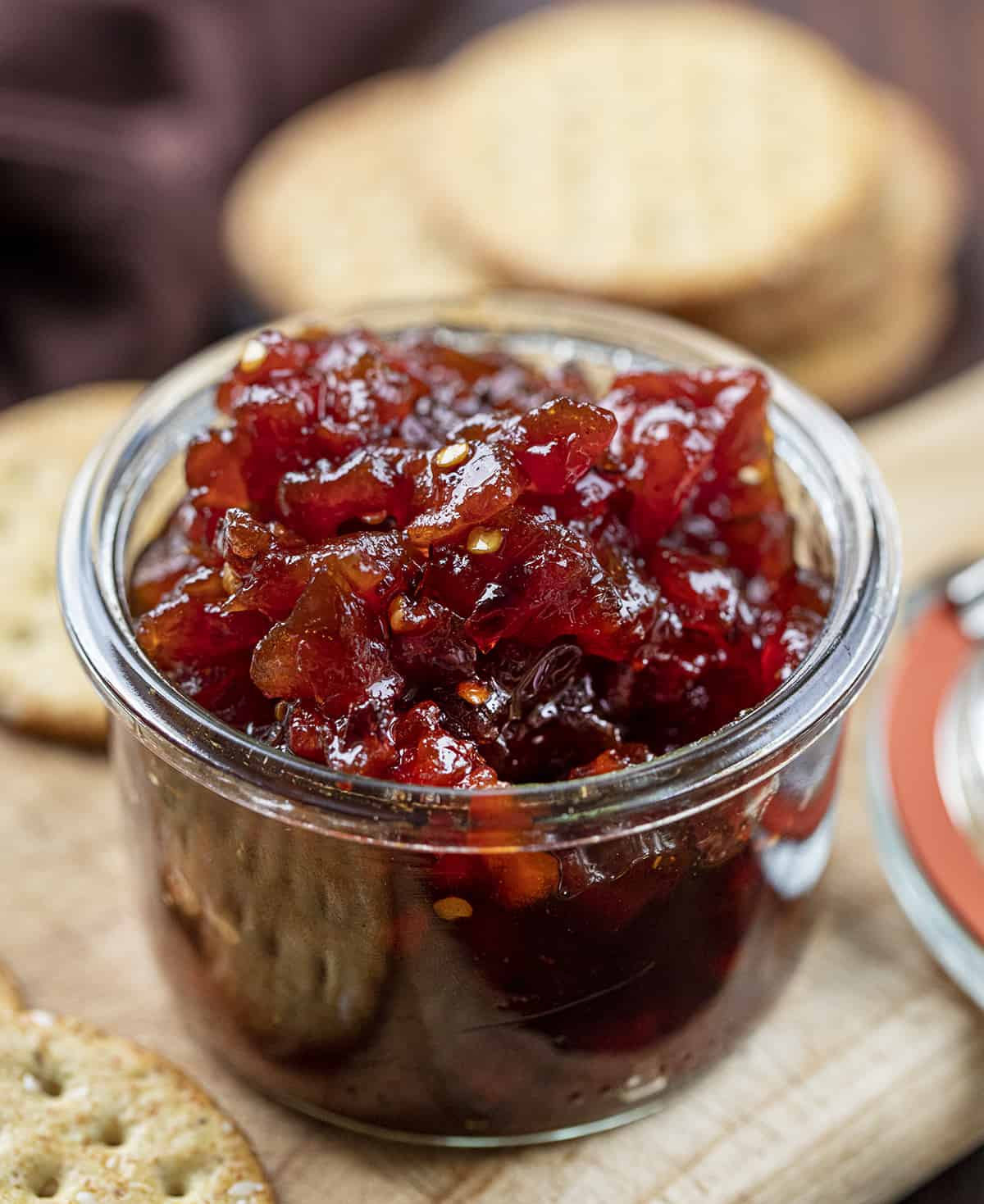 Spicy Tomato Jam
Jellies and jams don't have to always be made with berries. This jam (or marmalade) gives you a hint of sweetness. Then, it's followed by some heat from the red pepper flakes for a sweet and savory spread. Once you have the tomatoes blanched, peeled, and diced, it's just a matter of time, literally, for you to enjoy the spread. (It does need to simmer for almost 2 hours.) A jar of spicy tomato jam is not only flavorful, but it also makes a wonderful gift!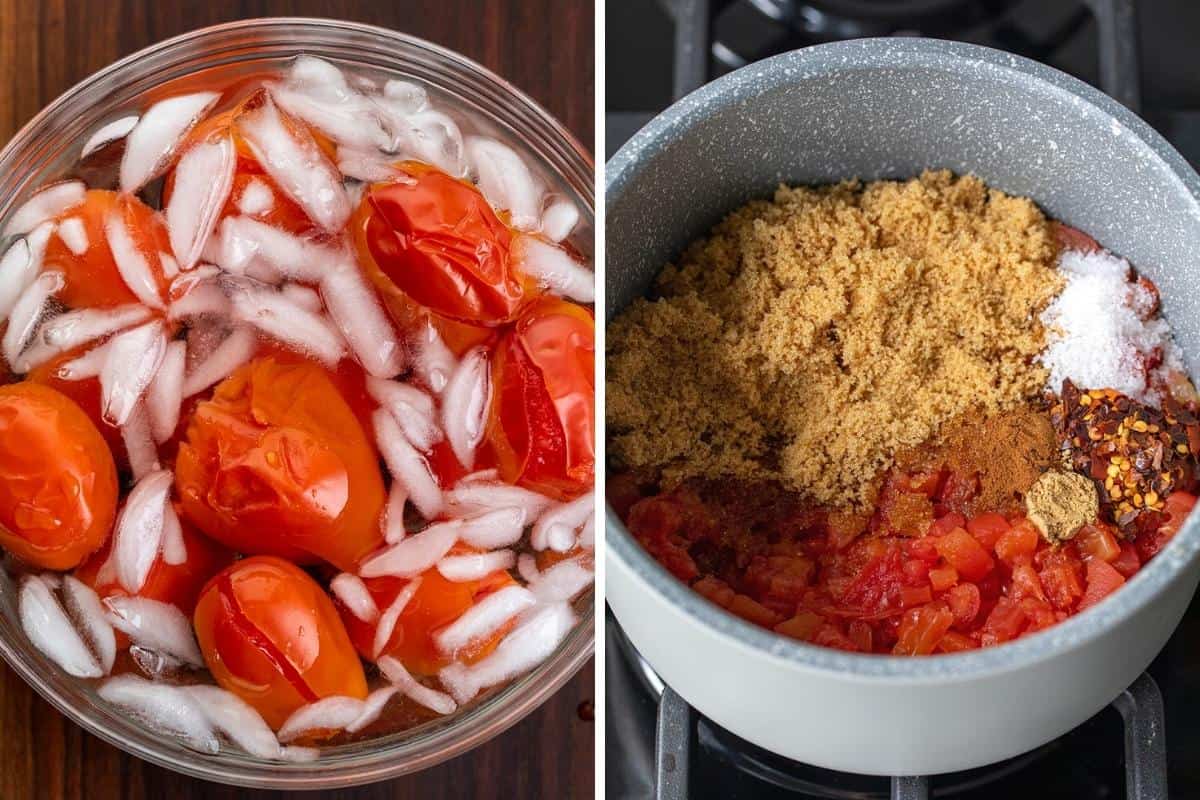 Ingredients & Substitutions
Tomatoes: Plum tomatoes like Roma are best for this recipe. You could use other kinds of tomatoes, but it will affect the flavor. In addition, the amount of water content in the tomatoes can result in a different amount of jam. My recipe yields about one cup.
Sugar: Brown sugar brings some sweetness to the jam.
Vinegar: Apple cider vinegar adds some tang to the jam.
Red Pepper Flakes: There is a reason this is called spicy tomato jam. You will definitely get some heat from each bite with the red pepper flakes. You could leave these out or use a lesser amount if preferred.
Ginger: The ground ginger can be tasted in each spoonful of jam. You could also use 1 tablespoon of freshly grated ginger in place of ground ginger if that is what you have on hand.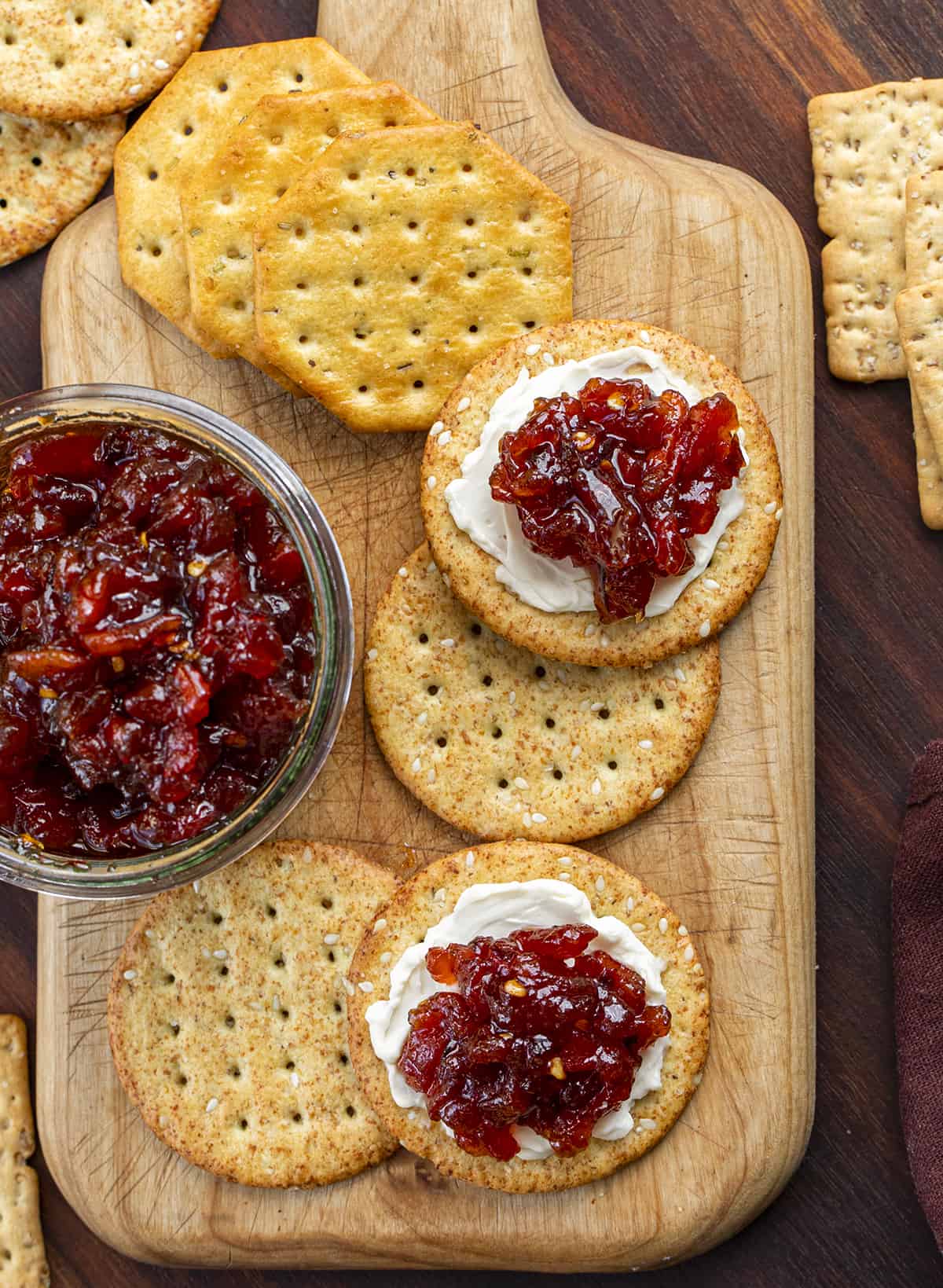 What Kind of Tomatoes is Best?
As I stated above, any plum tomatoes should be fine. Some examples of plum tomatoes are Roma, San Marzano, Amish Paste, Big Mama, or Supremo, just to name a few. In fact, you could use most red tomatoes in this recipe; just be sure to have two pounds of the tomatoes.
Can I Use Cherry Tomatoes?
If you are going to use smaller tomatoes like cherry tomatoes, there is no need to blanch them. Just be sure to wash them well, remove the stems, and pat them dry before using. Add the cherry tomatoes when you would add the diced tomatoes and mash them down with a spoon.
Can I Use Canned Tomatoes?
Sure! The tomato jam will taste great, too, and there is no blanching or peeling of tomatoes involved. If using canned tomatoes, you will need 2 cans (14.5 ounces each) of diced tomatoes, drained.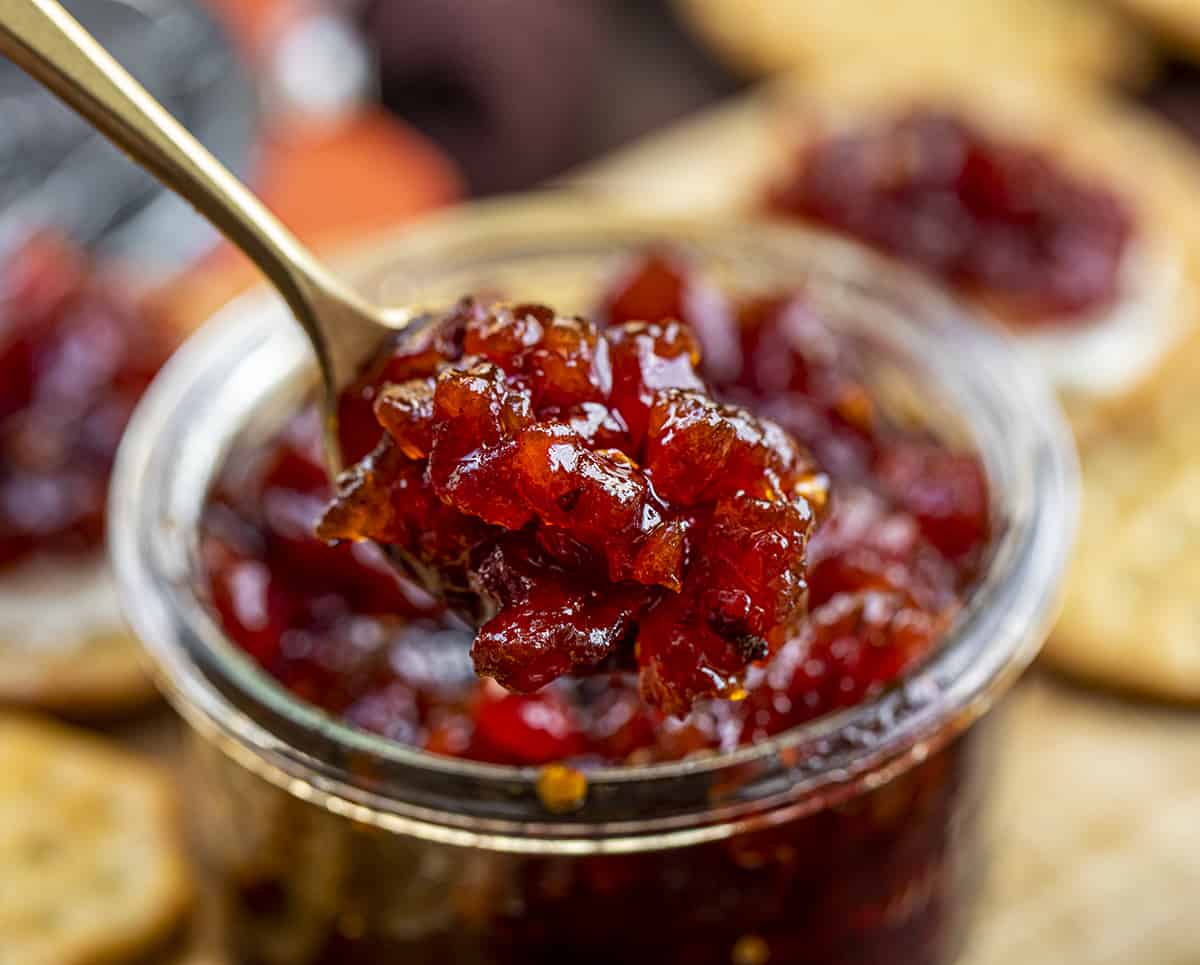 What Does Tomato Jam Taste Like?
Unlike sweet berry jams that you may be used to, tomato jam is a little bit sweet, but more on the savory side. It is full of flavors from tomatoes to ginger that you will taste on your palate. It has a robust flavor that is perfect for transitioning from summer to fall. Once you taste it and see how many ways you can use the jam, you will be hooked!
How to Serve Spicy Tomato Jam
Use this jam just like other jams, from toast to crackers to biscuits. Add some on top of cheese or in your next grilled cheese sandwich. In addition, tomato jam would be great with some scrambled eggs or in place of the tomato on a burger or a BLT.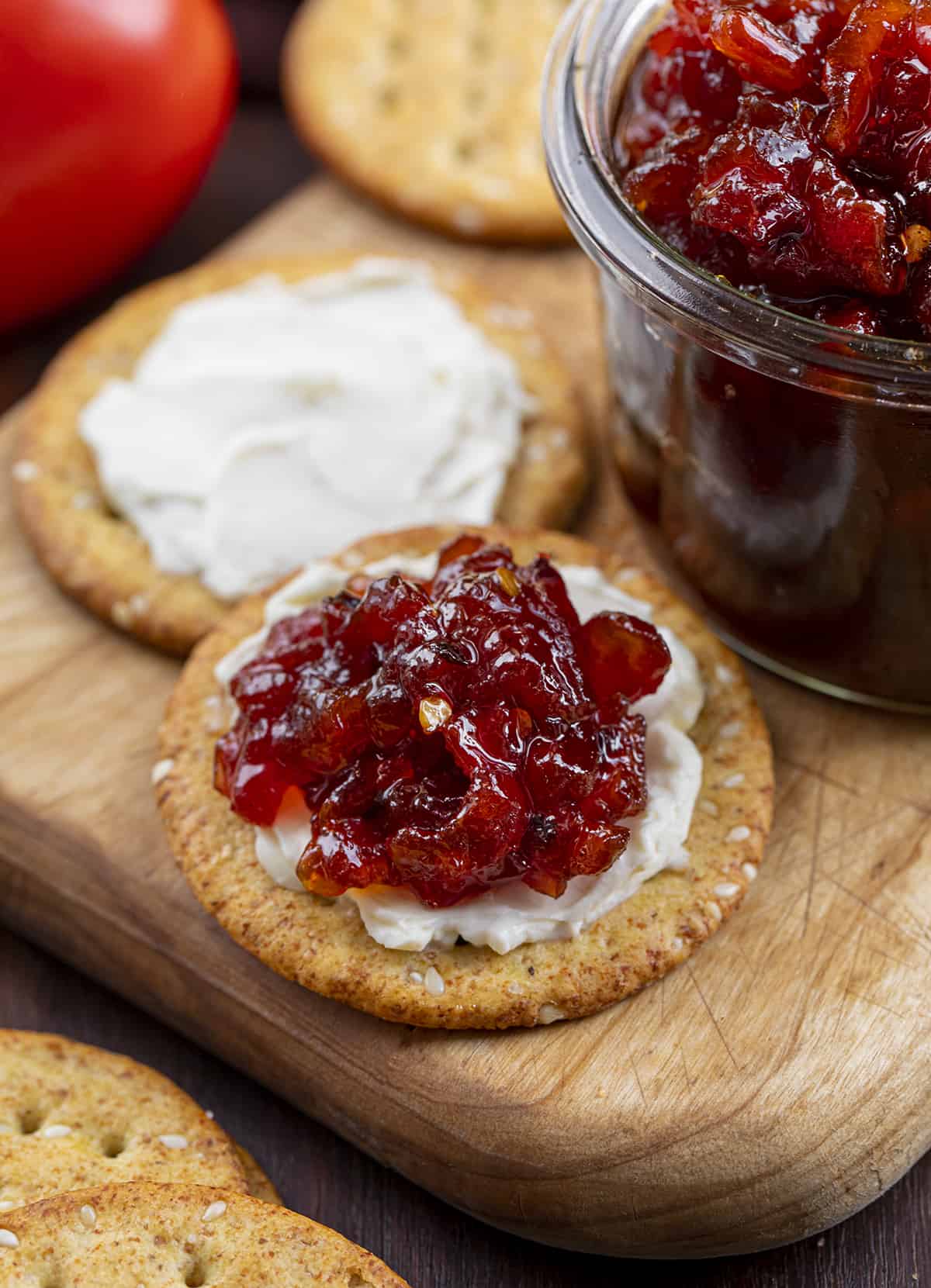 How to Store
Spicy Tomato Jam can be stored in an airtight container for up to 2 weeks in the refrigerator. Make sure the jam cools completely before storing. You can also freeze the jam for up to 3 months. Thaw it in the refrigerator overnight when ready to serve.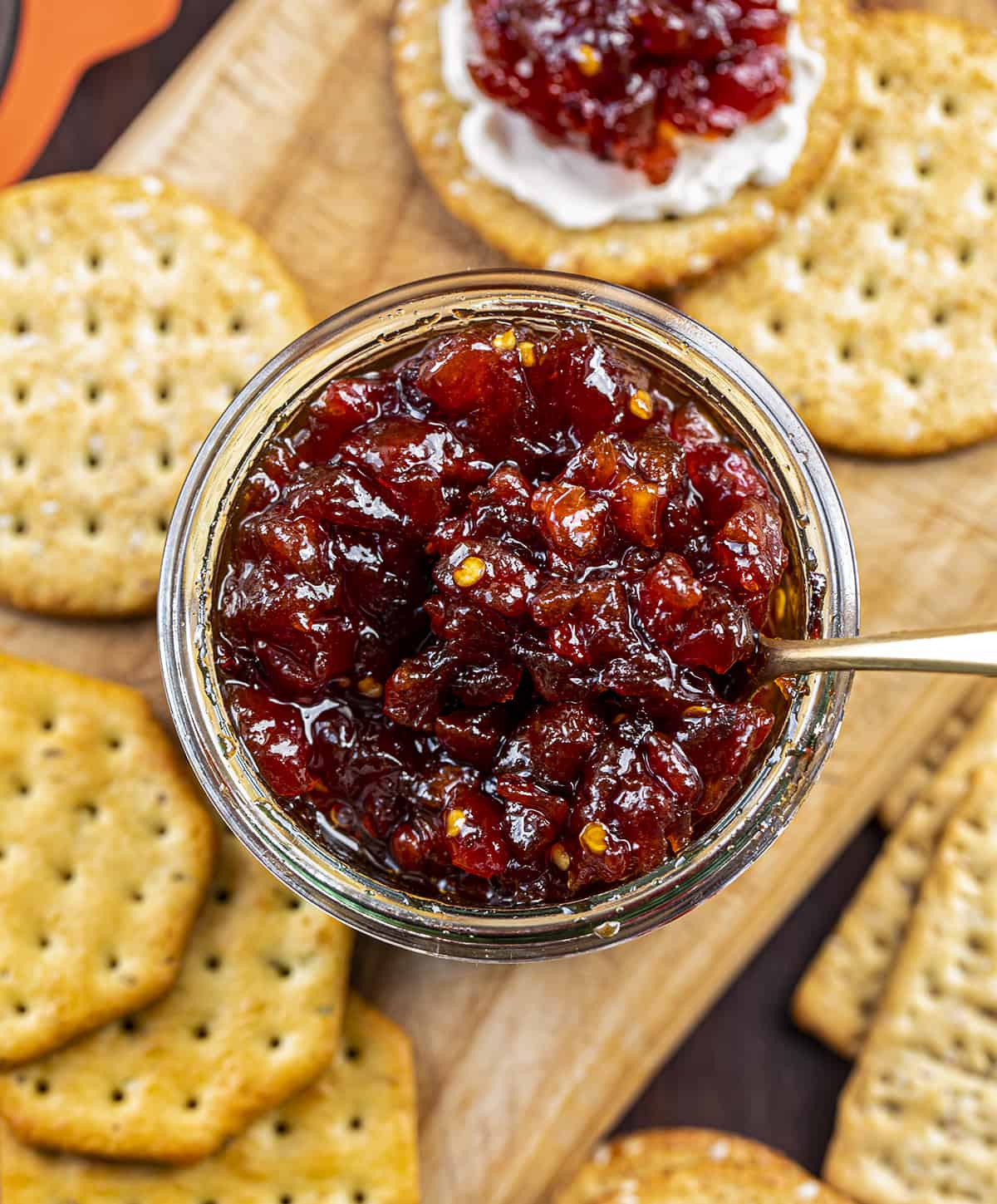 Can the Jam Be Canned?
Yes! For longer shelf life, go ahead and can the jam. To can tomato jam, you will need the following equipment:
Water Bath Canner (or a large pot with a lid) and a canning rack
Canning jars, lids, and rims (like mason jars)
Jar lifter–This will securely grab a jar out of the canner.
Canning funnel
Stir stick, or anything that you can slide into the jar to get rid of any bubbles
Time–Don't start canning if you are rushed; it will be too stressful and not as much fun!
Towels to clean up and wipe down jars
To can the jam, fill the canner with water and bring it to a boil. (You can get the water boiling at the end of the final minutes of simmering the jam.) Use the funnel to fill a canning jar, leaving about 1/4-inch headspace (distance between the underside of the lid and the jam).
Once the jar (or jars) have been filled, place them in the canning rack and lower them into the boiling water. Make sure about an inch of water is covering the tops of the jars. Boil for about 10 minutes. Then, turn off the heat, leaving the jars in the water for another 5 minutes.
Use the jar remover to remove each jar from the canner. Place each on some towels to cool for about 12 hours. Once cooled, check that each jar is sealed. If a jar did not seal, simply store that one in the refrigerator for up to 2 weeks. The canned tomato jam will last about a year to a year and a half.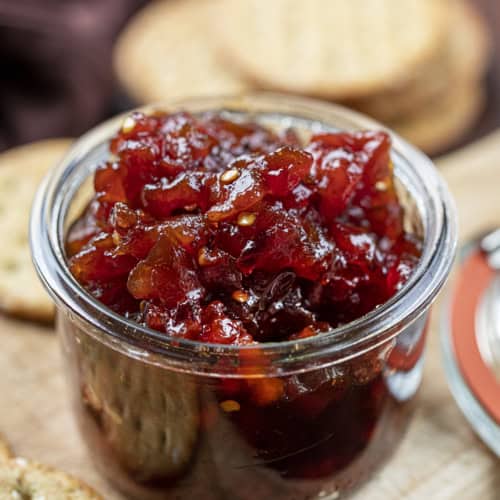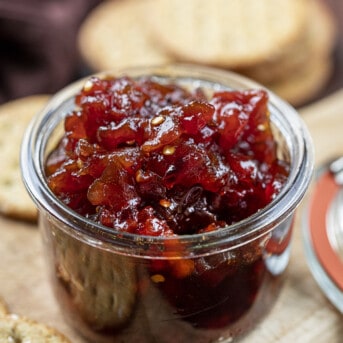 Spicy Tomato Jam
Spicy Tomato Jam is a sweet and spicy jam made with fresh tomatoes, sugar, and spices with added red pepper flakes for a little kick.
Ingredients
2

pounds

Roma tomatoes,

about 10 tomatoes

1

cup

light brown sugar*,

packed

2

tablespoons

apple cider vinegar

1

teaspoon

kosher salt

1

teaspoon

red pepper flakes

¼

teaspoon

ground ginger

¼

teaspoon

ground cinnamon
Instructions
Bring a pot of water to a boil. To a large bowl, add cold water and plenty of ice for an ice bath.

Thoroughly wash your tomatoes. Remove the core from the tops of the tomatoes and use a very sharp knife to cut a shallow "x" at the bottom of each tomato.

Blanch the tomatoes in the boiling water for 30-60 seconds. Then, immediately place them in the prepared ice water for about a minute.

After the tomatoes are cool enough to handle, transfer them to a cutting board. Peel the skins using either your hands or a paring knife.

Seed and dice the tomatoes. You will have about 2 ½-3 cups of diced tomatoes.

To a large saucepan over medium heat, add diced tomatoes, brown sugar, apple cider vinegar, salt, red pepper flakes, ginger, and cinnamon. Stir to combine and bring the mixture to a boil, stirring frequently. This will take about 10 minutes.

Reduce the heat to low. Simmer, stirring occasionally, until thickened (45-60 minutes).

Remove from heat and let cool to room temperature before serving.
Notes
*If desired, you can decrease the sugar up to 1/2 cup. 
Did you make this recipe?
You can tag me at @iamhomesteader.