Waffle Fry Nachos take your regular nachos and give them a little more substance by using waffle fries in place of chips. Waffle fries are smothered with cheese sauce and topped with bacon, sour cream, onions, tomatoes, and jalapeno peppers. If you are looking for other great appetizers, try my Chili Cheese Nachos or Pulled Pork Nachos.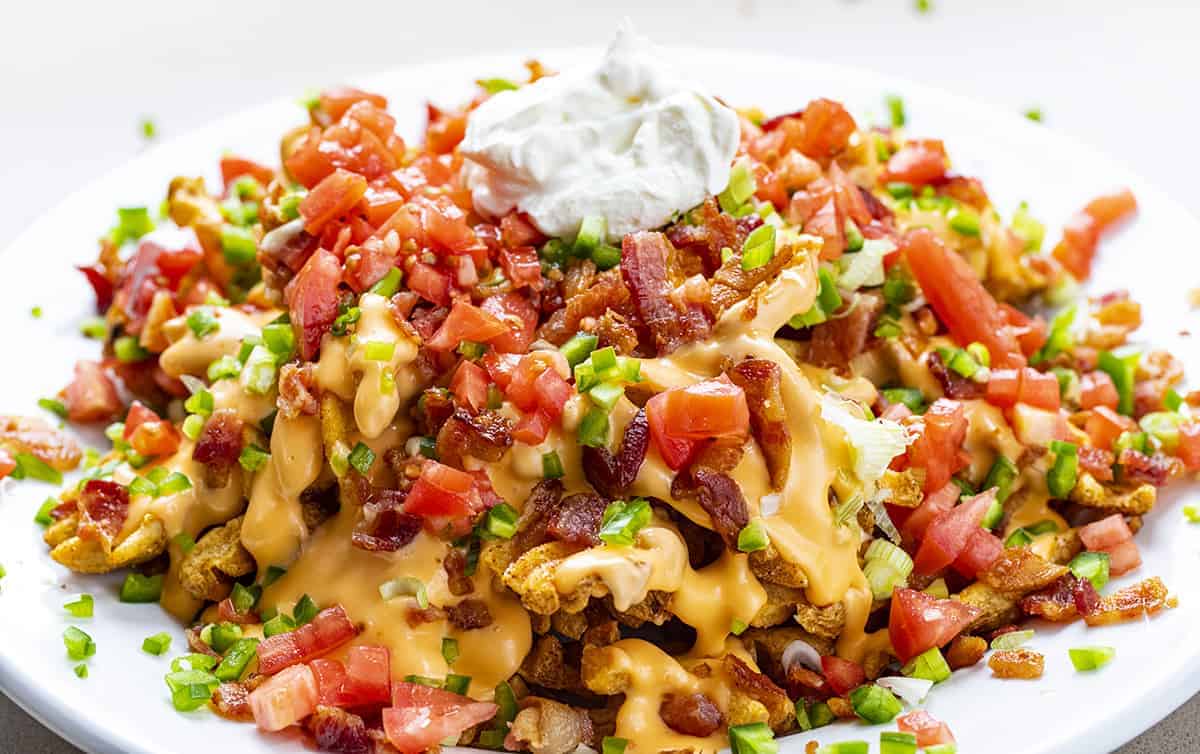 Waffle Fry Nachos
Nachos have definitely evolved throughout the years, and there really are no 'wrong' ingredients to use on your next nacho creation. Take it from me–I even have a Banana Split Nachos recipe. But sometimes, I just feel like having more of a traditional snack that fills me up and is satisfying! When chips and cheese just aren't enough, replace the chips with some waffle fries! They are easy to throw in the oven and can be topped with all your favorite nacho toppings!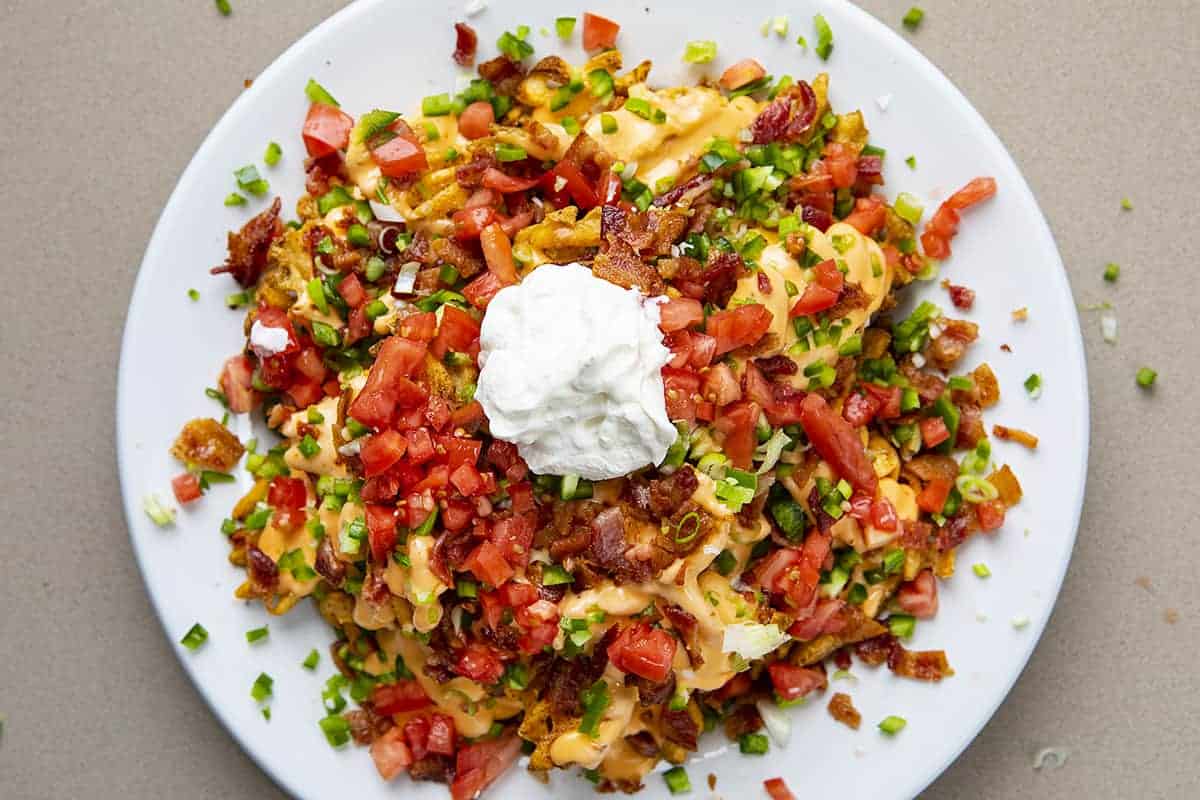 Waffle Fry Nachos Recipe
For this recipe, I thought to myself, why not use a potato that is a bit more substantial and could handle the weight of all the wonderful ingredients I want to get on every bite? Well, that is where the waffle fries come in. I love waffle fries on their own, but with all the toppings, they are even better (of course). Plus, they are easy to make!
There are three main parts to this recipe–the waffle fries, the cheese sauce, and the toppings. So, get your bag of frozen waffle fries and make sure you have the rest of the ingredients on hand.
How to Make Waffle Fry Nachos
Waffle Fry Nachos are simple to make with just a little prep work. Bake the bacon ahead of time and get your vegetables seeded and chopped so they are ready to go on top of the waffle fries. Then, all you have to do when you are ready to serve the nachos is to bake the nachos and prepare the cheese sauce.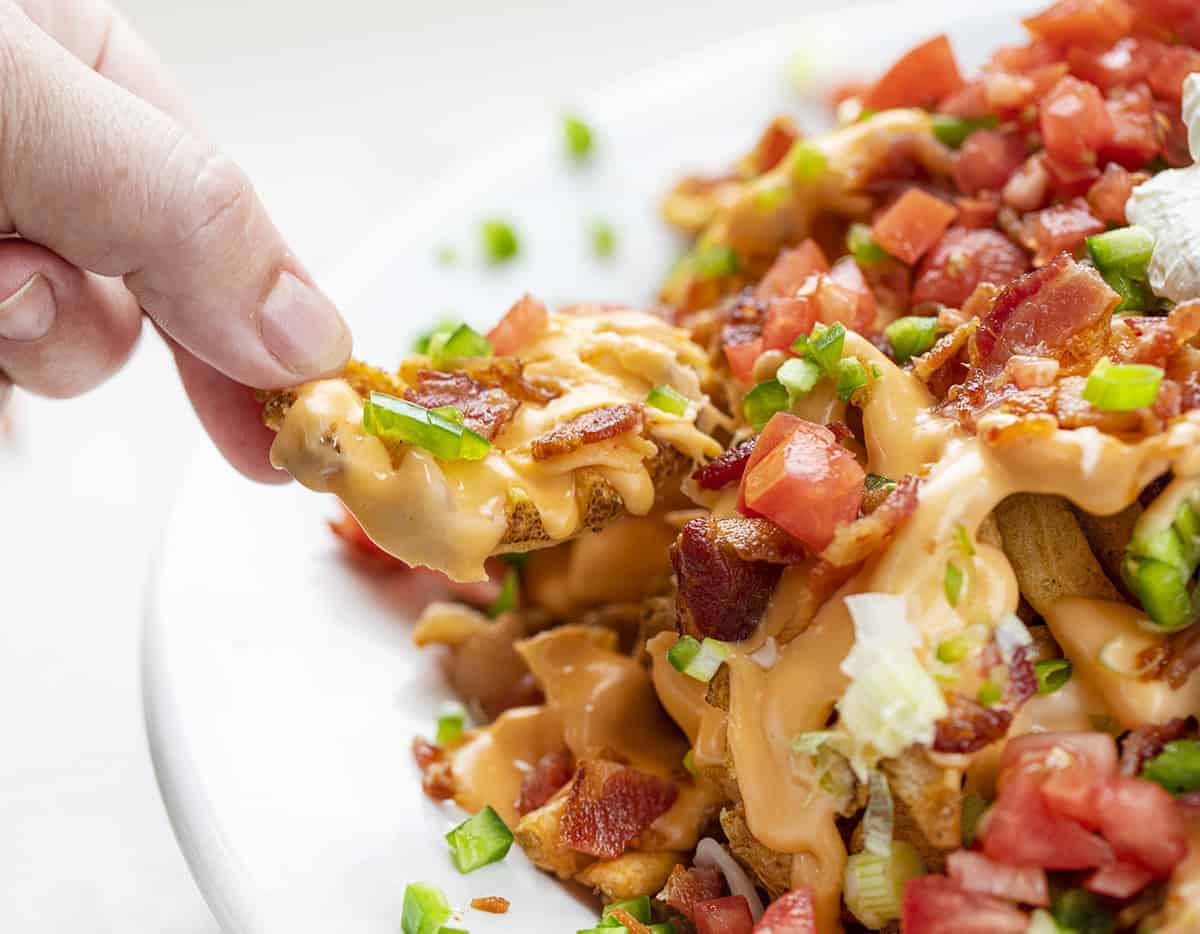 Baking Bacon
When I cook bacon, I do it in the oven. I set the temperature to 415°F and while it is preheating, I lay out the individual slices of bacon on a foil-lined rimmed baking sheet. (Yes, right on the pan! No rack needed.) They are perfectly crispy in 18-20 minutes. No flipping and easy cleanup! Then, crumble the strips of bacon into little pieces. Use this trick for other recipes calling for bacon like my Cheesy Bacon Chicken Pinwheels.
How to Cut and Seed a Jalapeno Pepper
Jalapeno peppers are hot peppers, so be careful when you cut them! If you have any cuts on your hands, I would suggest to wear food-safe gloves, or be prepared to feel some pain if some oil gets in those cuts! If you don't have gloves, just be sure to wash your hands with white vinegar and cold water when you are done with the jalapenos.
Anyway, there are a couple of ways you can cut and seed a jalapeno. One way is to simply slice the jalapeno down the middle, vertically, and carefully remove the seeds with a spoon. Another way to remove the seeds is to hold the jalapeno up by the stem–you can always cut across the bottom of the pepper so it can stand a little flatter– and slice along the sides of the pepper, hopefully leaving the seeds attached to the core.
Then, simply stack the pepper strips and chop them into pieces, throwing away the core and seeds, of course. Remember, the capsaicin (what makes the pepper hot) will be on your hands, so don't touch your fingers to your mouth or eyes until you wash your hands.

How to Make the Cheese Sauce
To make the cheese sauce that will smother the waffle fries, combine the milk, cream cheese, butter, and garlic powder in a saucepan and mix the ingredients over medium heat. Reduce the heat to low and add the shredded cheese, just 1/4 cup at a time until the cheese is fully melted. You could also use my Cheddar Cheese Sauce recipe for these nachos.
Assembling the Nachos
Once everything is prepped, it's time to get those waffle fries loaded. Place the waffle fries on a plate or platter and pour the cheese sauce over the top of the plate of fries. But, don't stop there! Add the bacon, sour cream, scallions, tomato, and jalapeno pepper to finish it all off. Of course, you can add as many toppings as you are craving!
Another fun way to serve nachos is as a nacho buffet. Keep the cheese sauce warm in a slow cooker and divide all the toppings up in separate bowls. Let your family and friends decide what they want on their individual plate of nachos. Enjoy!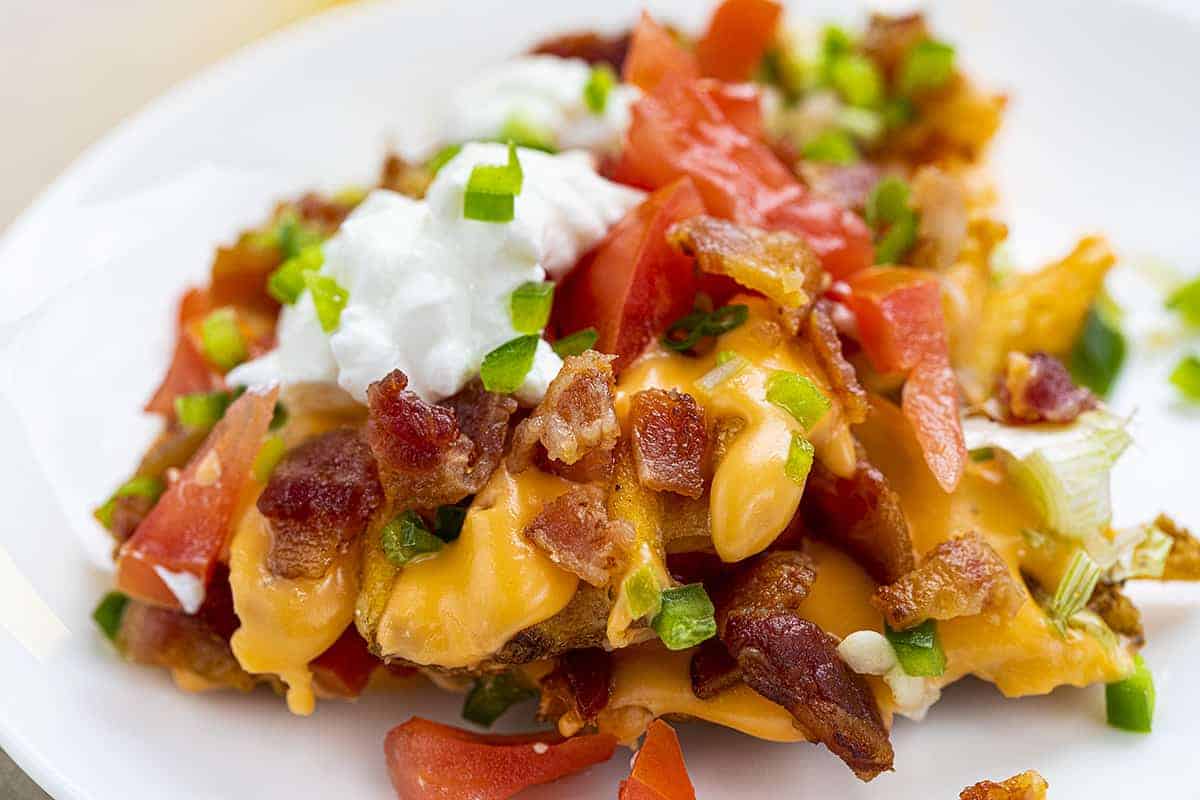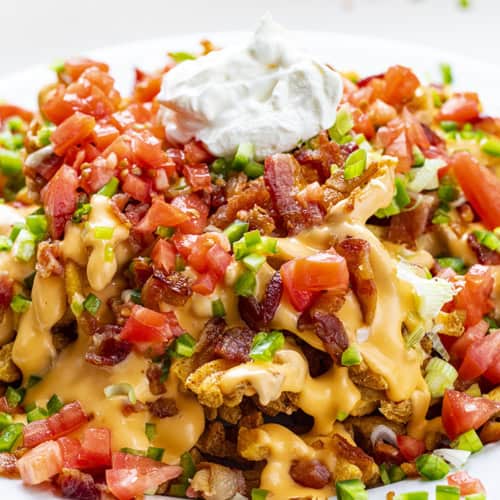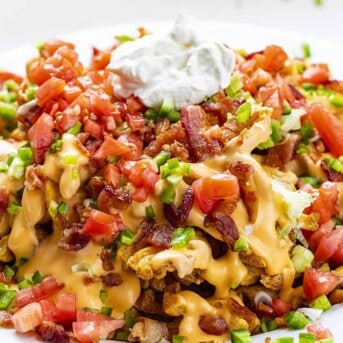 Waffle Fry Nachos
Thick-cut waffle fries are smothered with cheese sauce and topped with bacon, sour cream, onions, tomato, and jalapeno peppers.
Ingredients
1

bag

(28 ounces) frozen waffle fries,

baked per package instructions
Cheese Sauce
½

cup

whole milk

4

ounces

cream cheese

2

tablespoons

butter

¼

teaspoon

garlic powder

2

cups

cheddar cheese,

shredded
Toppings
5

slices

thick cut bacon,

crooked and crumbled

¼

cup

sour cream

2

tablespoons

scallions,

chopped

1

small

tomato,

diced

1

small

jalapeno pepper,

seeded and diced
Instructions
Cook the waffle fries according to package directions. Remove from oven and set aside to keep warm.
Cheese Sauce
In a saucepan over medium heat, add milk, cream cheese, butter, and garlic powder.

Reduce heat to low and add cheese, 1/4 cup at a time, until fully melted.
Assembling the Nachos
Place the waffle fries on a large plate or platter.

Top the cooked waffle fries with cheese sauce, bacon, sour cream, scallions, tomato, and jalapeno.
Did you make this recipe?
You can tag me at @iamhomesteader.