These Pulled Pork Nachos are an appetizer favorite around here that are packed with flavor and can be put together in minutes! I also have Sloppy Joe Nachos you will love!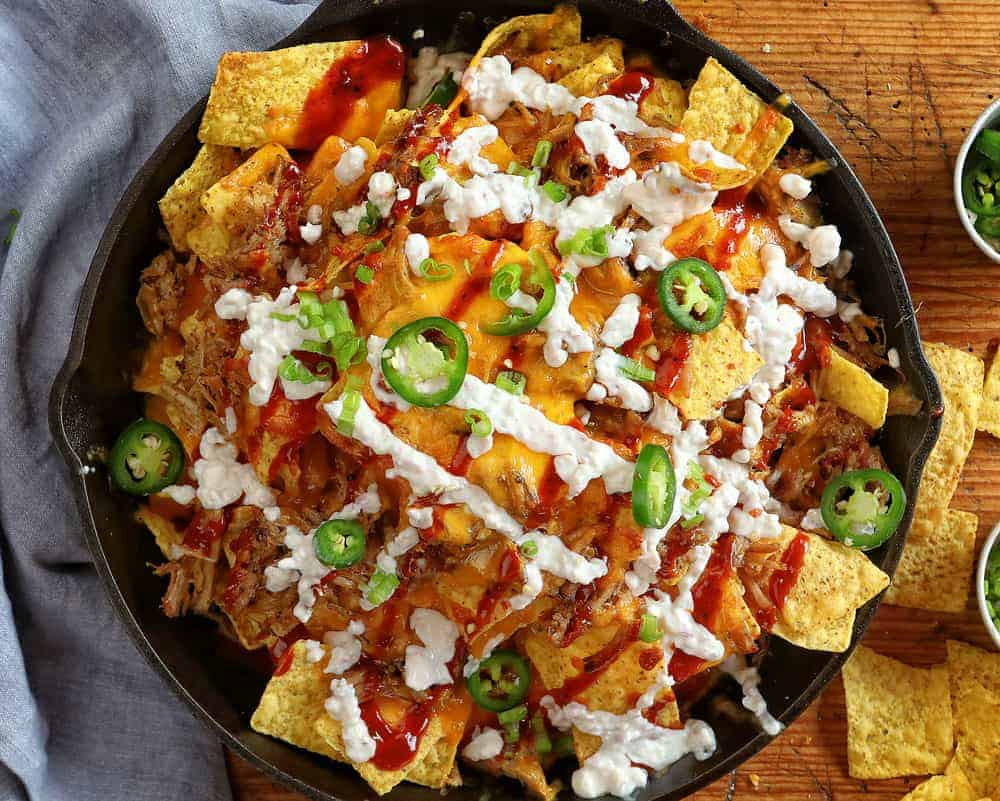 Pulled Pork Nachos
Pulled Pork Nachos are a family favorite around here. We like to slow-cook pulled pork and serve it when we have guests. We generally overdo it in the pulled pork cooking category and therefore, have quite a bit left over. What do we do with it all? The great news for us is that we love the stuff and we have found several ways to cook the leftovers. We freeze the rest and space it out. One of our favorites is BBQ Pulled Pork Nachos. This is one of those recipes that has evolved after having a heaping pile of leftover pulled pork.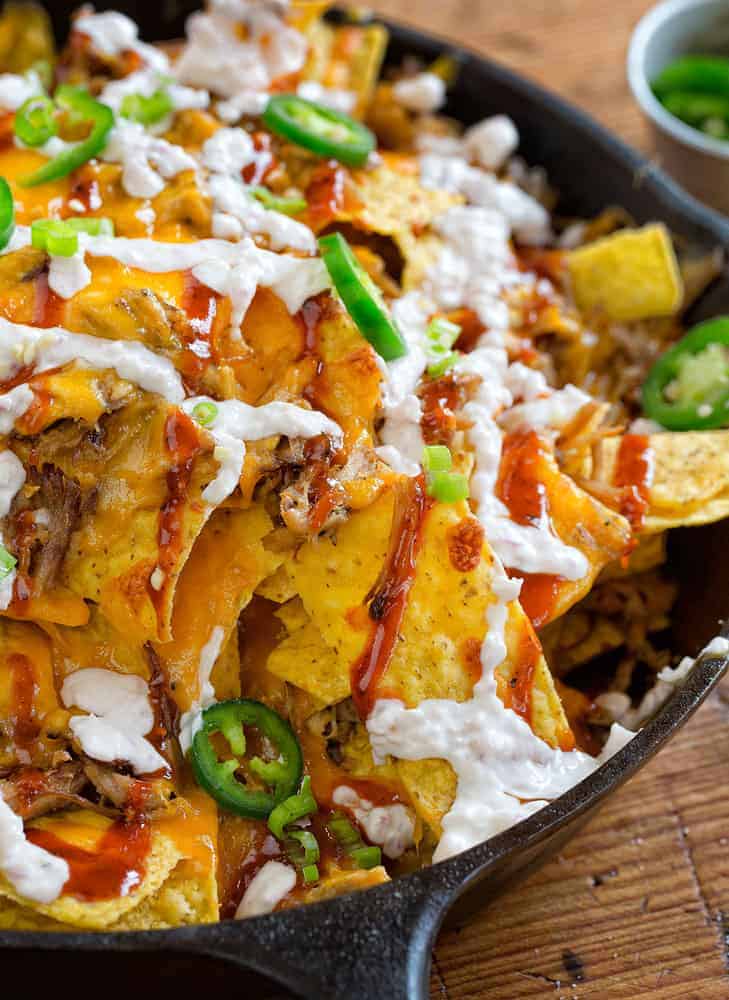 Ingredients & Substitutions
Pulled Pork: If you don't have leftover pulled pork at the ready, check out our favorite Oven Roasted Pulled Pork for an easy and delicious recipe. Or, you can buy it at the store already pulled. Want to make these Nachos but don't have any pulled pork on hand? You can use steak bites or ground beef! Either way, you are going to love this unique spin on regular nachos! You could also add pulled pork to my Irish Nachos.
Barbecue Sauce: Our favorite BBQ sauce has a good mix of spicy and tangy, but you can choose your favorite BBQ Sauce for this recipe.
White Sauce: The thing that really drives this pulled pork nacho recipe home for me is our white sauce. Plus, once you make it, you can use it on pulled pork sandwiches, over a hot dog, or in potato salad, because, why not? It adds a bit of a zing to any dish!
Cheese: For this BBQ pulled pork nacho recipe, we used cheddar cheese, but you could swap that out with pepper jack or Monterey, or all three! Alternatively, you could add mozzarella or Colby cheese. You will want to stay away from cheese that doesn't melt well.
More Toppings: Add jalapeno, cilantro, corn, black beans, tomatoes, red or green pepper, and red onion. I just love a heaping tray of loaded nachos, so naturally, I think you will too!

What Kind Of Pan Is Best for Nachos?
The most important tool you will need for this recipe is an oven-safe skillet. I like to use the biggest one I have which is a 12-inch cast iron skillet but you can get them even bigger. If you don't have one that large, a smaller skillet will work similarly but make sure to set your oven racks low enough so that the entire dish will fit.
It's All About the Layers
Layering is the most important tactic in creating the perfect nacho platter. For this recipe, you will bake the nachos in a skillet and work on perfecting uniform cheese and pulled pork placement. Repeat after me, chips, cheese, pulled pork, chips, cheese, pulled pork. You get the idea right? Once you have used up all of your chips, throw a heaping pile of cheese and pulled pork on top and pop the entire skillet into the oven.
After the dish has cooked through, the magic happens. The most essential ingredients go on top, BBQ Sauce and our White Sauce. No dollops, that is how selfish chip grabbers get away with it. If you have one, use a piping bag (or a ziplock bag with the tip cut off) to make a criss-cross or zig-zag pattern on top, that way everyone gets a bit of the good stuff.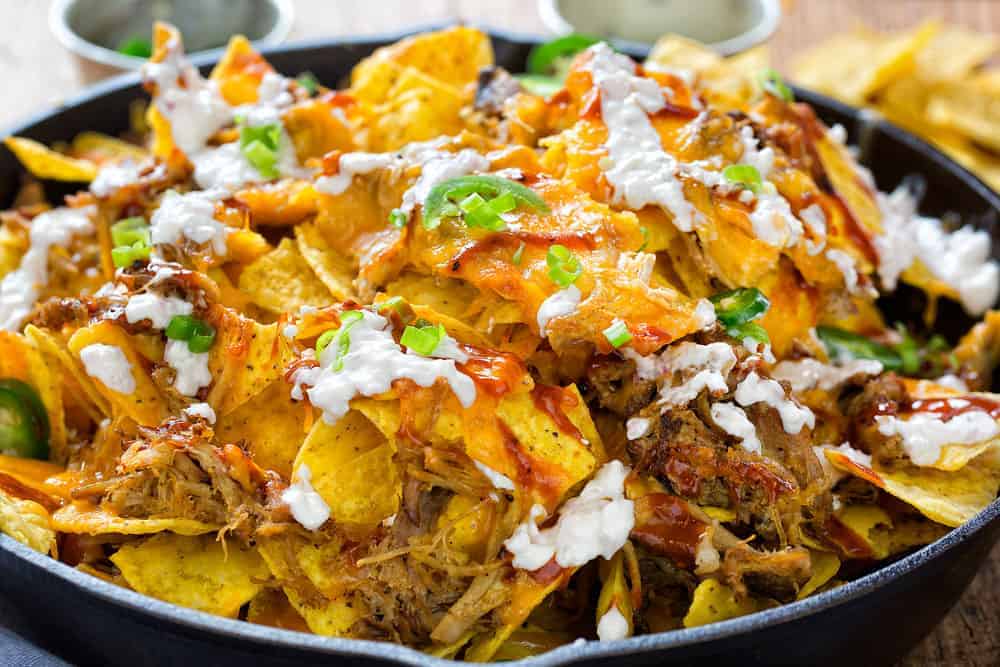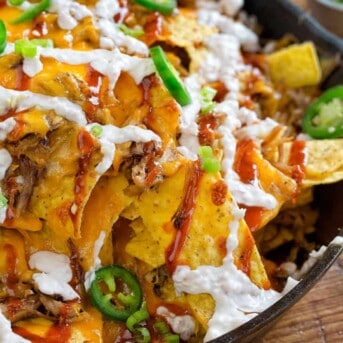 Pulled Pork Nachos
These Pulled Pork Nachos are an appetizer favorite around here, besides that they are packed with flavor and pull together in minutes!
Ingredients
White Sauce
¼

cup

mayonnaise

½

cup

sour cream

½

cup

red onion,

minced

1

teaspoon

garlic,

minced
Nachos
1

bag

tortilla chips

2

cups

pulled pork,

divided

1

pound

cheddar cheese,

shredded, divided

1

cup

barbecue sauce

1

medium

jalapeno,

chopped, for garnish
Instructions
White Sauce
In a small bowl, combine all ingredients. Store in the refrigerator until ready to use.
Nachos
In a large, oven-safe skillet, place a thin layer of tortilla chips. Top with ¼ of the cheese and ¼ of the pork.

Repeat the layers 3 more times.

Bake for 15 minutes, or until cheese is melted and bubbly.

Drizzle with BBQ sauce and white sauce.

Garnish with jalapenos. Serve immediately.
Video
[brid autoplay="true" video="385575″ player="16519″ title="Pulled Pork Nachos"]
Did you make this recipe?
You can tag me at @iamhomesteader.