Accessorize your Deviled Eggs with bacon and jalapenos to add some color and kick to this popular appetizer. Bacon Deviled Eggs will be a tasty addition to your snacks and hors d'oeuvres. Spice things up with my Jalapeno Popper Dip for another flavorful party favorite.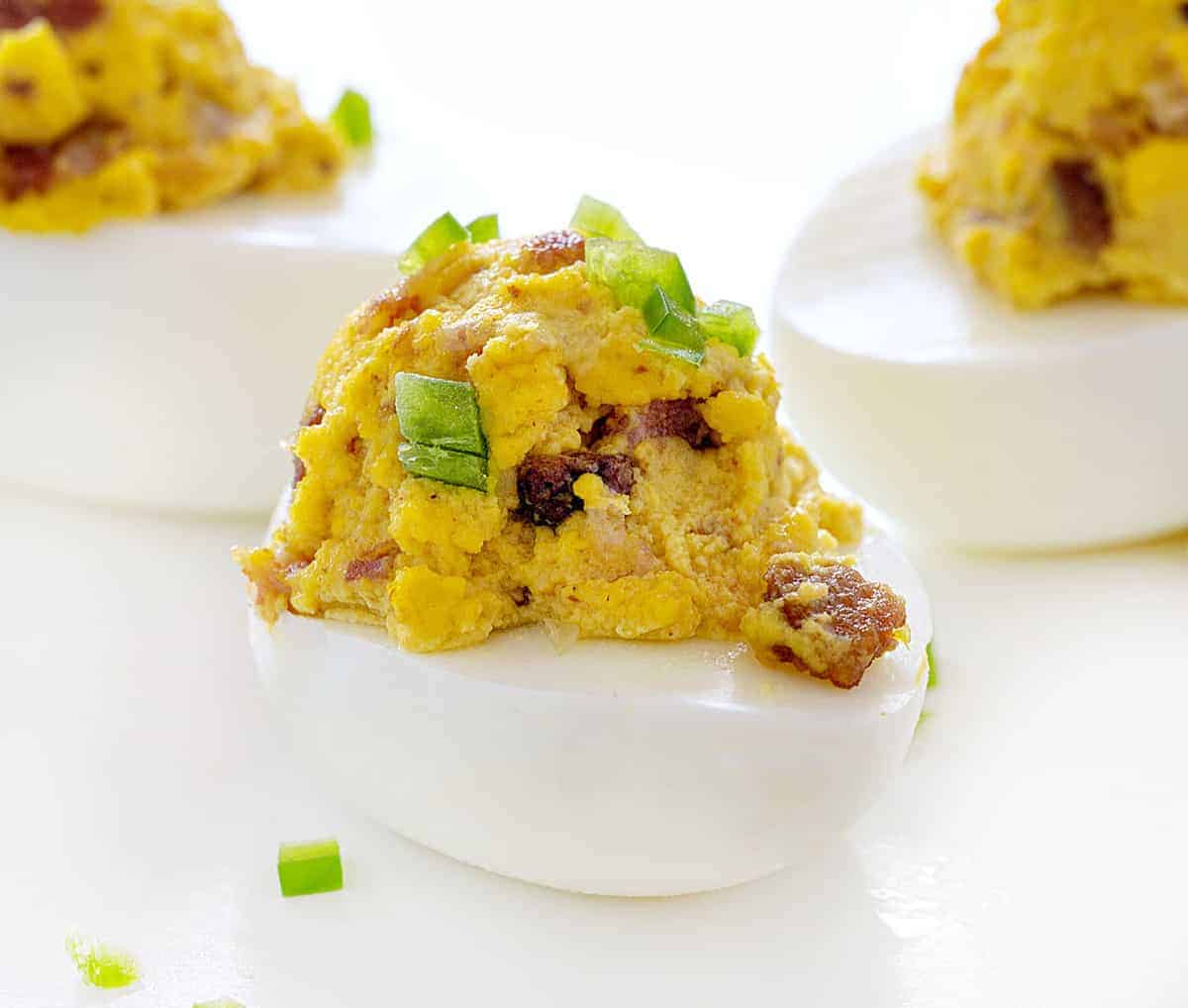 Bacon Deviled Eggs
I have a love-hate relationship with deviled eggs. When I see deviled eggs at a potluck or party, I immediately grab for one. Here is where it gets a bit tricky…no deviled eggs taste 'eggs'actly the same😉, and either I am wanting to finish the plate of the eggs or I have a hard time swallowing one bite. Why is there such inconsistency with this appetizer? I have to say that the deviled eggs we made are just right. Of course, I would say that, but it's true! After many trials, we have the right combination for our egg filling. Adding bacon and jalapenos made the Bacon Deviled Eggs even more flavorful!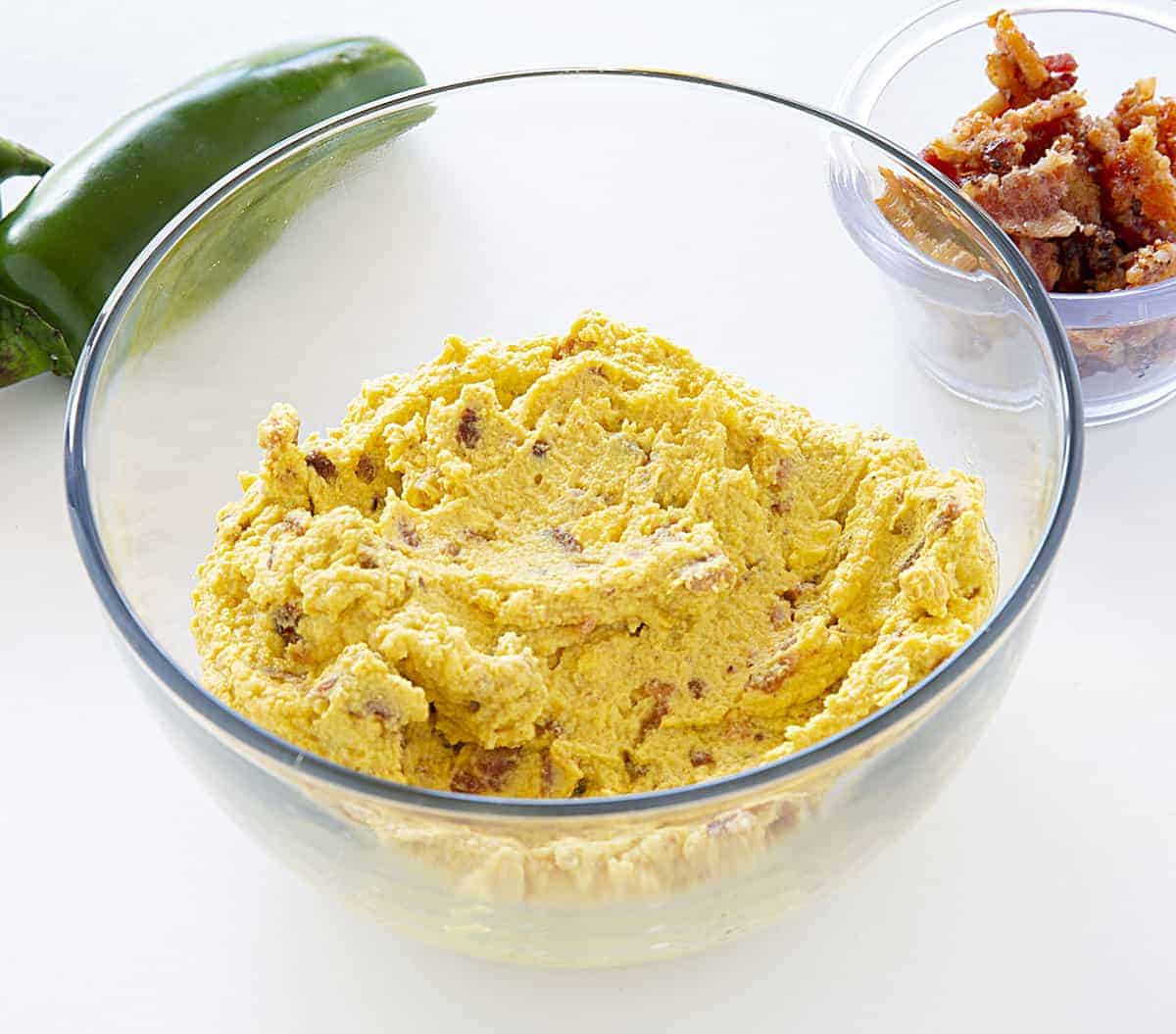 The Perfect Boiled Egg
Love deviled eggs, but hate the process of getting the eggs ready? For easy-to-peel hard-boiled eggs, cover the eggs with cold water (there should be about a half an inch of water on top of the eggshells), bring the water to a boil, stirring occasionally to balance the egg yolks, cover and then remove it from the heat. Let the eggs sit in the hot water for 14 minutes. Pull the eggs out and immediately shock them with an ice bath for about 5 minutes. Voila! Lovely, crater-free eggs. To help with removing the shells, one idea is to place the eggs under cool water while peeling.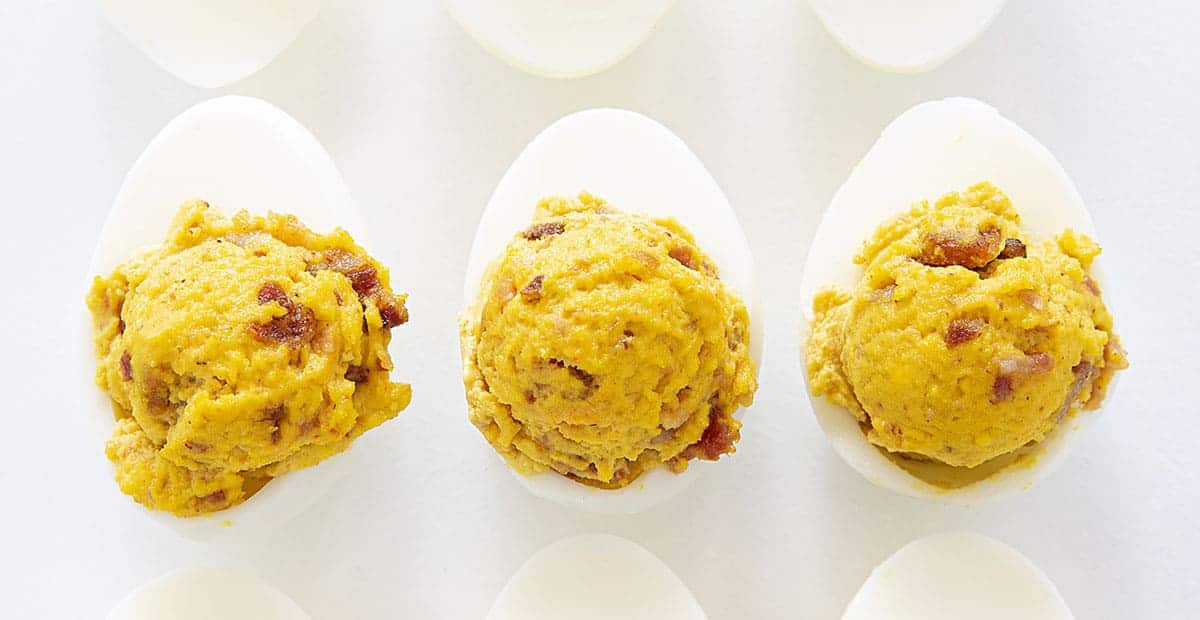 How to Make Bacon Deviled Eggs
Using a sharp knife, halve the boiled eggs and gently remove the cooked yolks to a medium bowl using a small spoon. Set the egg whites aside. Mash the yolks with a fork and add the bacon pieces. Be sure to leave some of the bacon to garnish the tops of the Bacon Deviled Eggs. Add the mayonnaise, mustard, apple cider vinegar, and salt to the yolks and bacon. Whisk everything together until it is smooth. It's now time to fill the egg whites with the bacon deviled egg mixture. I prefer to use a small scoop (holds about 2 teaspoons of filling) to get the filling onto each egg.
Top off each egg with the remaining bacon pieces and jalapeno.
How to Bake Bacon
When I cook bacon, I do it in the oven. I set the temperature to 415°F and while it is preheating, I lay out the individual slices of bacon on a foil-lined rimmed baking sheet. (Yes, right on the pan! No rack needed.) They are perfectly crispy in 18-20 minutes. No flipping and easy cleanup! Then, crumble the strips of bacon into little pieces. Use this trick for other recipes calling for bacon like my Bacon Corn Dip.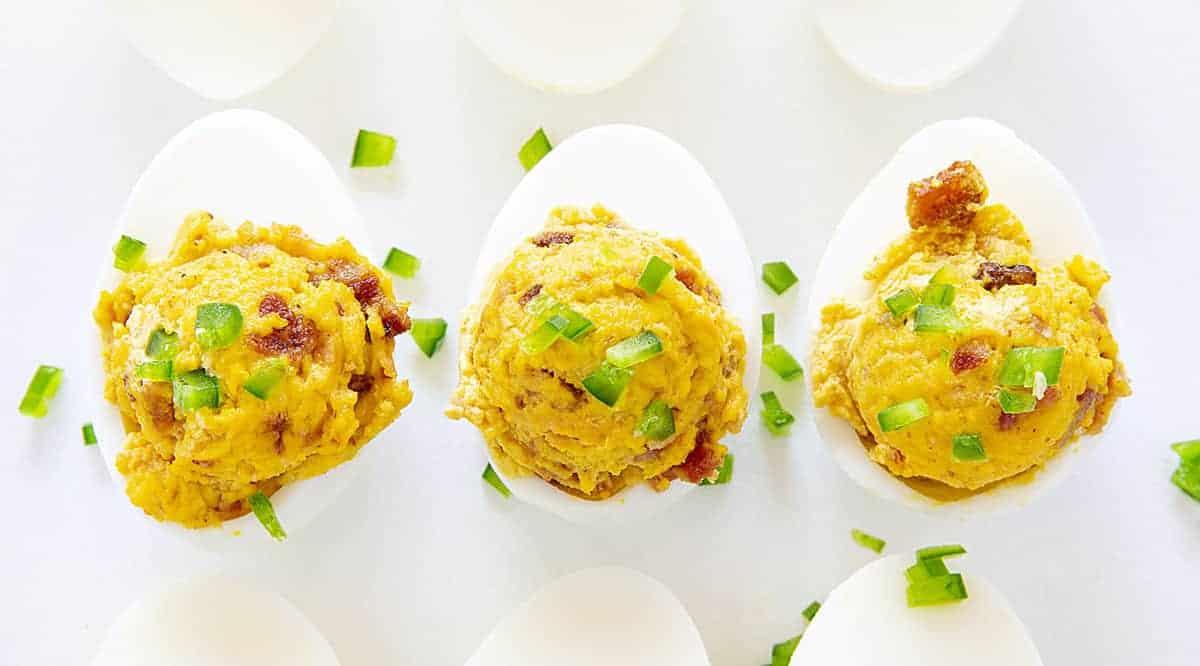 How to Cut and Seed a Jalapeno Pepper
I have been adding jalapeno peppers to a few recipes lately, using some garden fresh peppers and store-bought. They bring so much flavor to a dish, like my Jalapeno Ranch Dressing, so don't be afraid to chop up a few and try them!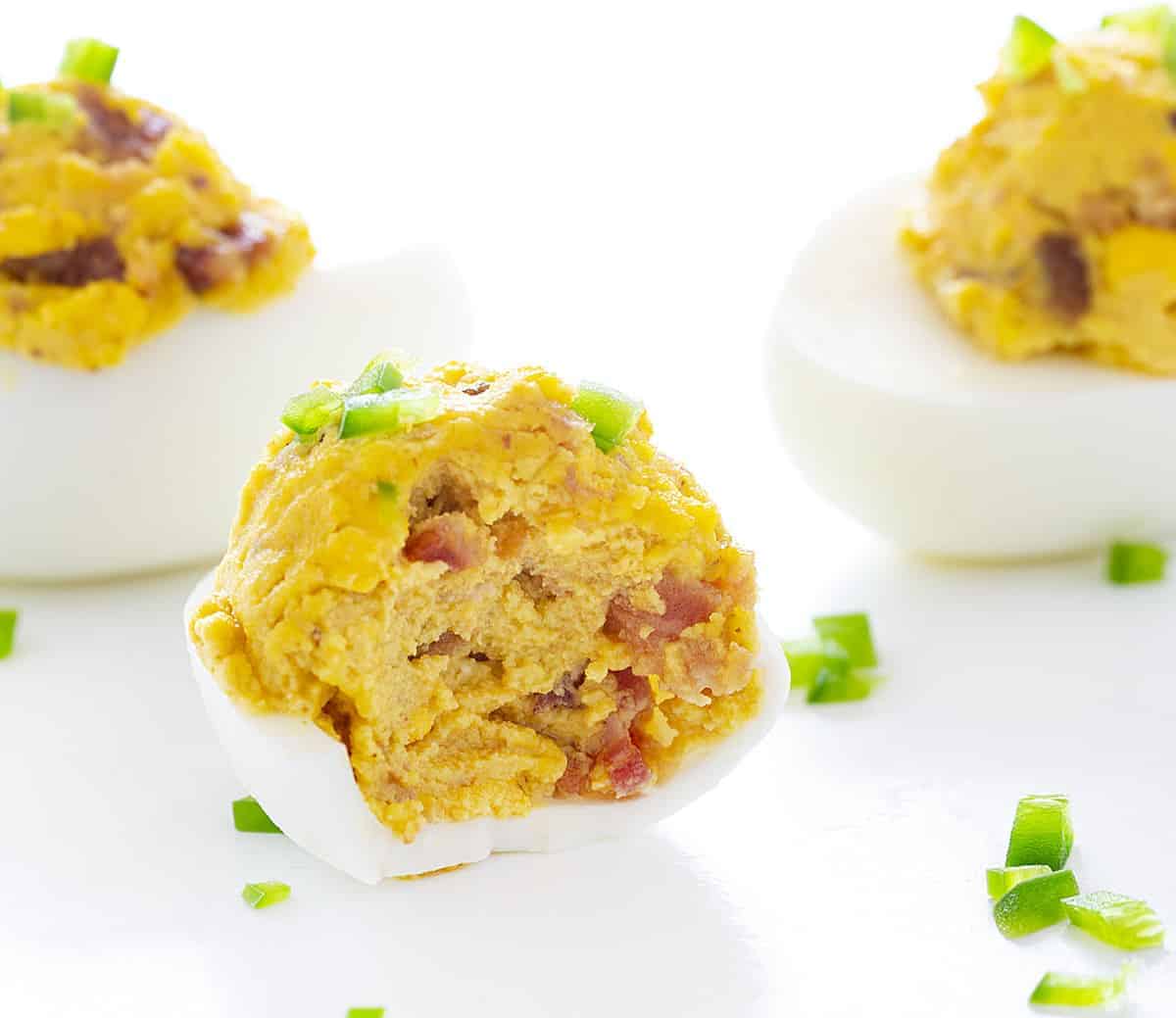 Are you Looking for More Appetizers?
Bacon Jalapeno Poppers Stuffed with Cream Cheese
Bacon Deviled Eggs
Ingredients
12

large eggs

aged

1

lb

thick cut bacon

cooked and crumbled (reserve some for garnish)

8

tablespoons

mayonnaise

2

teaspoons

yellow mustard

2

teaspoons

apple cider vinegar

½

teaspoon

kosher salt

Jalapeno

chopped for garnish
Instructions
In a large pot, arrange the eggs in one layer. Fill with cold water until it is about ½ above the top of the eggs.

Turn the heat to medium-high, stirring occasionally to balance the yolk (so it doesn't set in the middle of the egg)

Bring the pot to a boil, cover and shut off the heat. Let sit, undisturbed for 12 minutes.

Place the cooked eggs in an ice bath and let cool for about 5 minutes.

Under cool running water, gently peel the eggshell away from the egg. Set aside and repeat with remaining eggs.

Cut each egg in half lengthwise and gently remove and place each yolk in a medium-sized bowl.

Mash the yolks with a fork and then add bacon (reserve some for garnish), mayonnaise, mustard, apple cider vinegar, and salt.

Using a wire whisk blend the mixture together.

Spoon or pipe the yolk mixture into each egg white well.

Sprinkle with jalapeno and reserved bacon and serve or refrigerate.
Did you make this recipe?
You can tag me at @iamhomesteader.