Scrumptious, melt-in-your-mouth Beef Short Ribs & Gravy take some time, but everything that's worthwhile takes a little time 🙂
The ribs cook slowly in the oven to yield some of the most tender meat you will ever taste. The gravy is made from the meat's drippings, producing an incredibly savory, smooth, and thick sauce that you will basically be drinking. No kidding, you will want to lick the plate. Go for it, no judgment here!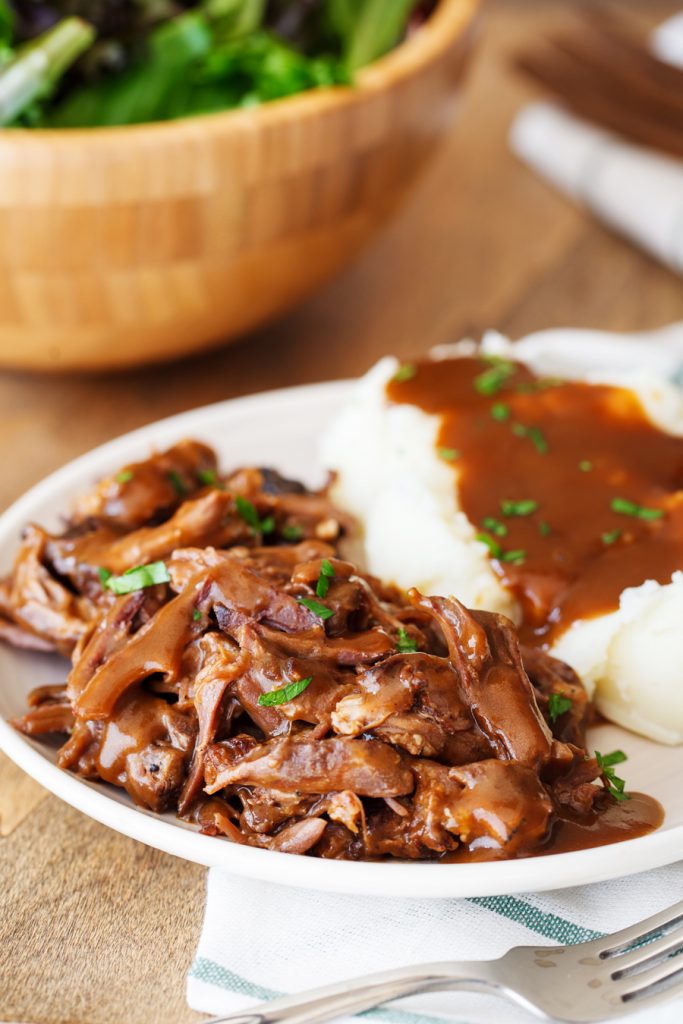 Beef Short Ribs
I was first introduced to this recipe by a homesteading friend who did the long and slow version. She butchered her own meat, grew her own herbs, even made her own tomato paste! Her family has lived on their homestead for 30 plus years and has mostly lived off the land. I want to be like her someday! She said that this recipe brought in neighbors from miles and miles away and the best memories were made when sharing this dish.
We've enjoyed these beef short ribs and gravy with mashed potatoes, rice, and even sandwiched between rolls!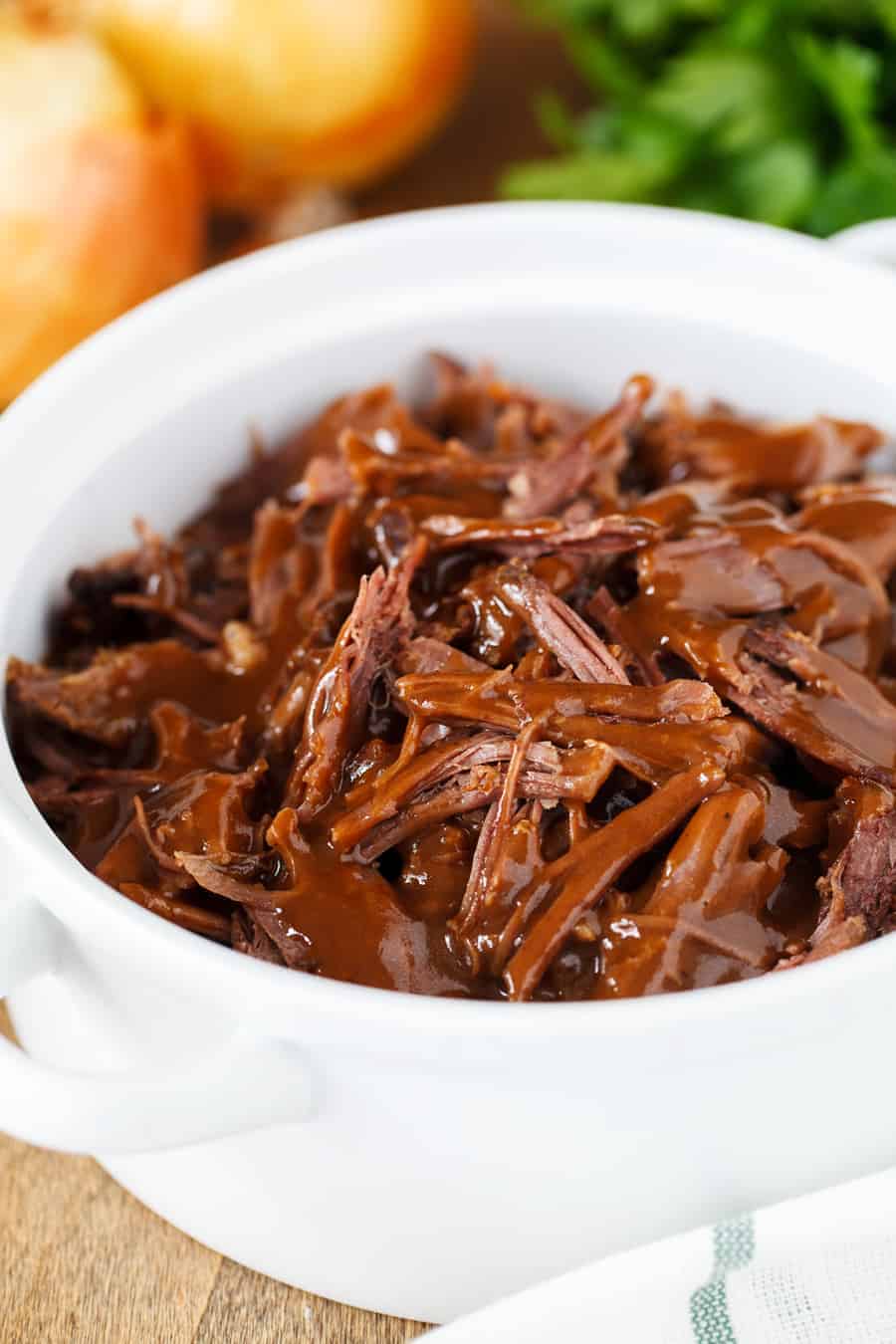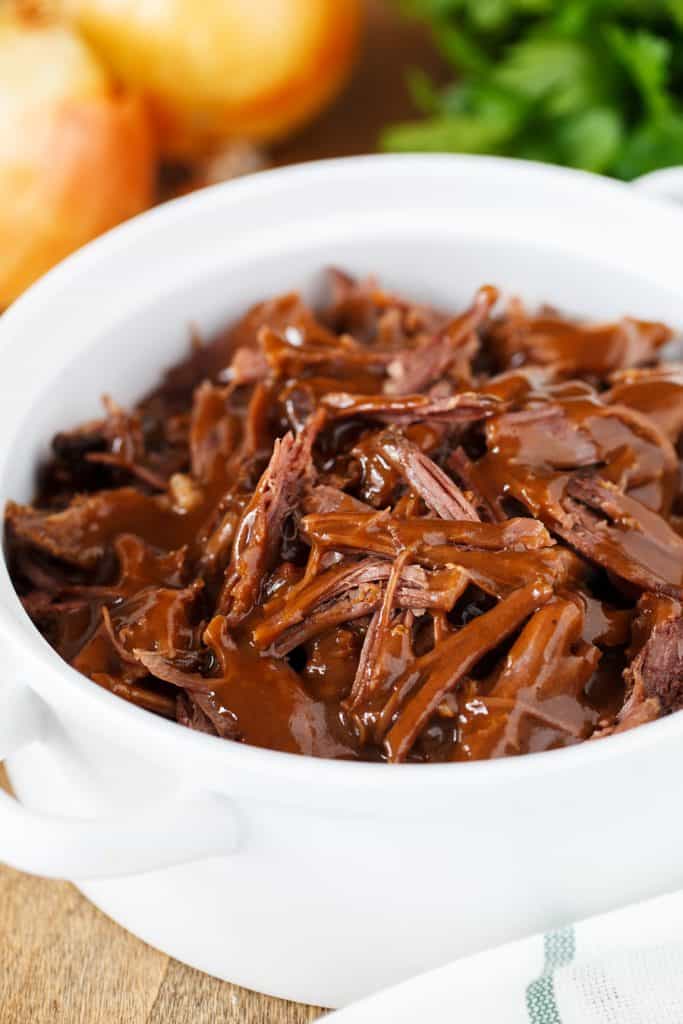 Braised Short Ribs
The trick to making this short ribs recipe amazing is that we braise the meat to perfection. The true beauty behind this process is that it takes a less-tender cut of meat (short ribs in this case) and turns it into a fork-tender dish. The key is to brown the beef short ribs to a perfect golden brown and then slow cook them in liquid over low heat for several hours. I know you will be tempted, but don't lift the lid while the meat is cooking. This releases precious heat and moisture and can elongate the cooking process.
Slow Cooker Short Ribs
A lot of people ask if this can be made in the slow cooker. The answer is yes, slow cooker beef ribs are cooked in nearly the same process. You can actually let it sit even longer in a slow cooker. I prefer the stovetop method, but that is just me.
Looking for more Dinner Recipes?
Check out some of my favorite dinner recipes!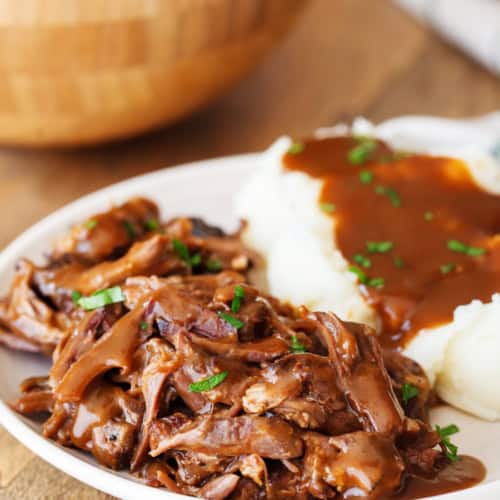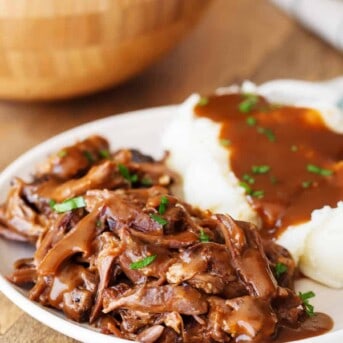 Beef Short Ribs
Scrumptious, melt-in-your-mouth Beef Short Ribs & Gravy take some time, but everything that's worthwhile takes a little time
Ingredients
3

tablespoons

olive oil

8

meaty beef short ribs

3

cups

semi-circle slices of onions

1/4-inch thick

4

tablespoons

tomato paste

10

ounces

dark ale or stout beer

3

sprigs fresh thyme

left on the stem

3

sprigs flat leaf parsley

left on the stems

1 1/2

quarts

vegetable stock

1

tablespoon

Worcestershire sauce

1/4

cup

1/2 stick unsalted butter

1/4

cup

plus 2 tablespoons all-purpose flour

Salt and pepper to taste
Instructions
Preheat oven to 375°F.

In an oven-safe Dutch oven, heat the olive oil over medium heat. Once shimmering, sear each side of the ribs, working in batches if necessary. Place the seared ribs on a clean plate and set aside.

To the now empty Dutch oven, cook the onions, until softened. Stir in the tomato paste until evenly distributed. Pour in the ale or beer, scraping up any crusty bits that may have formed. Allow it to boil until half the liquid has evaporated.

Stir in the thyme, parsley, stock, and Worcestershire sauce. Add back in the ribs. Top the Dutch oven with the lid, leaving slightly ajar.

Cook in the oven for 90 minutes to 2 hours, until the meat is cooked through, turning the meat about halfway through cooking.

Remove the ribs to a clean plate and let rest. Discard any of the thyme or parsley stems. Pour the liquid into a large, glass bowl and skim off the fat that floats to the top. Set aside.

The ribs should now be cool enough to handle. Remove the meat from the bones, fat, gristle, and sinew. Shred the meat using two forks. Set aside.

To the now empty Dutch oven, heat the butter over medium heat until melted. Whisk in the flour until no lumps remain.

Slowly add the liquid, ladle by ladle, and bring to a simmer. Let simmer until thickened. Season with salt and pepper to taste.

Stir in the shredded meat. Serve hot with mashed potatoes.
Video
Did you make this recipe?
You can tag me at @iamhomesteader.
Did you make Beef Short Ribs and Gravy?
I want to hear about it! Take a picture and tag me on Instagram or on Facebook. I would love to see your finished product! Make sure to tag me @iamhomesteader or hashtag #iamhomesteader, or both!
Photography by The PKP Way.