100 Clove Garlic Bread Bowl Soup is a creamy soup made with oven-roasted garlic, russet potatoes, and onions served in a bread bowl. Try my Roasted Garlic Ravioli for another flavorful roasted garlic dish.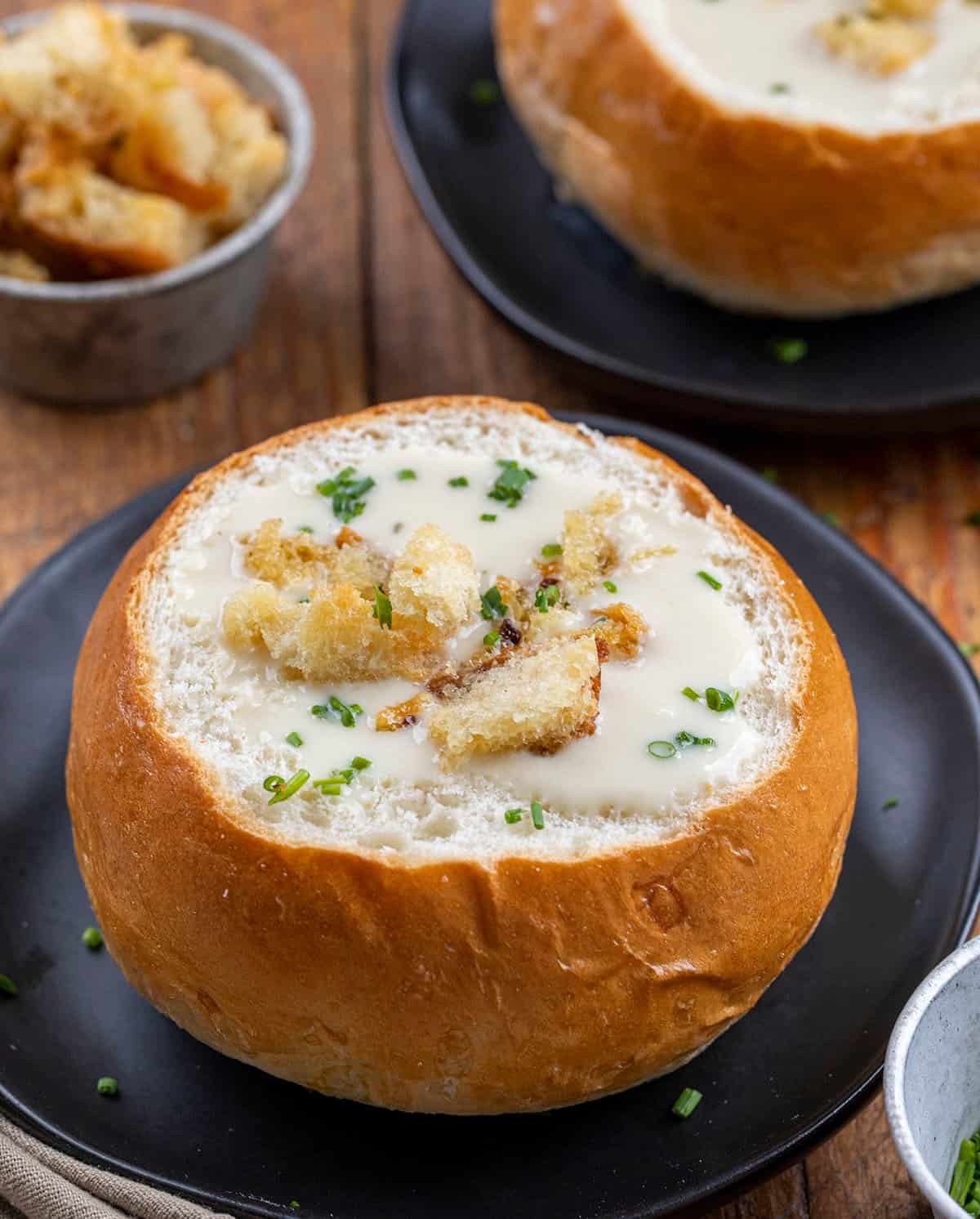 100 Clove Garlic Bread Bowl Soup
Yes, there are 100 cloves of garlic in this soup (or close to it), which is about 10 heads of garlic! And, as a bonus, the garlic is roasted in the oven to bring out a nutty and sweet garlic flavor in every spoonful. Potatoes and onions are added to the soup and it is served in a soft, chewy bread bowl. And, don't forget to top the soup with some homemade croutons.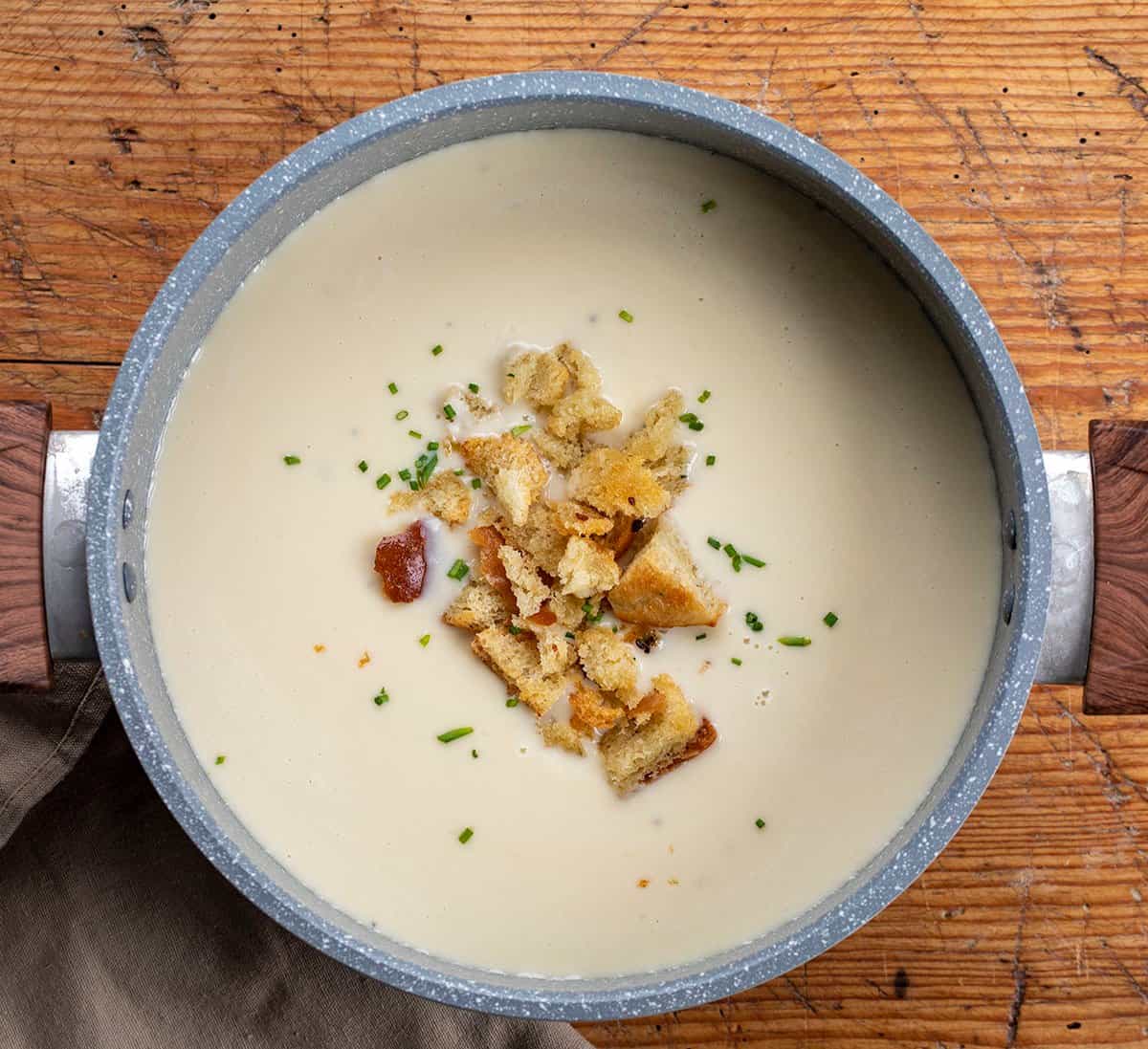 Soup Ingredients
Garlic: I used ten heads of garlic that were about 2 inches across per head. Generally, each head of garlic contains 10-12 cloves. The heads will be roasted in the oven.
Potatoes: Russet potatoes are great for soups. They will absorb moisture, leaving the soup nice and thick.
Chicken Stock: Chicken stock gives the soup a full, rich flavor. And, you can make your own chicken stock!
Bread Bowls: Make your own homemade bread bowls for this soup and other favorite soups and salads. Of course, you can still enjoy this soup in an inedible bowl, too!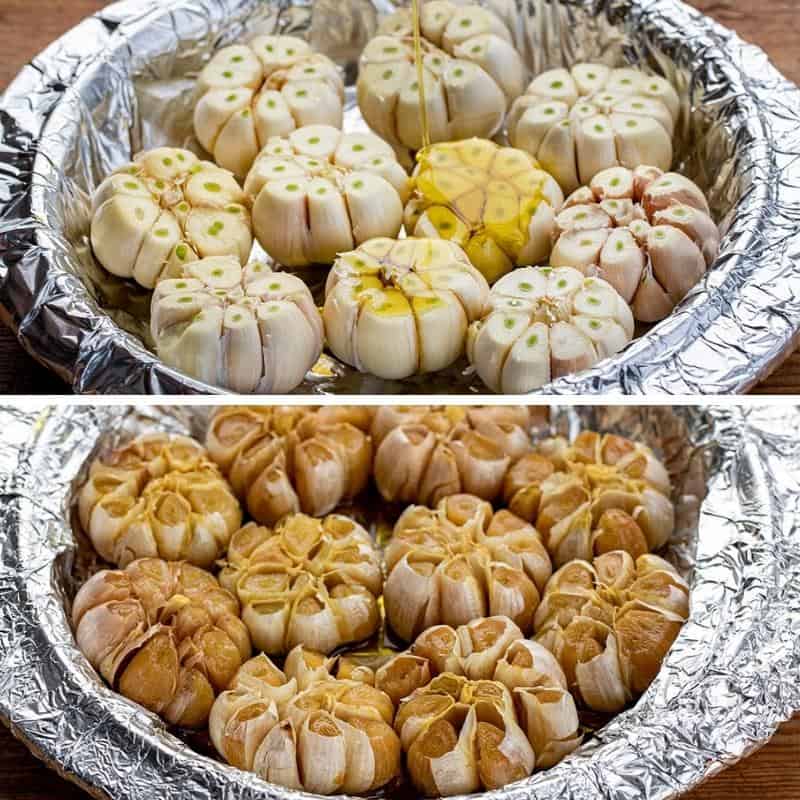 How to Roast Garlic
Roasting garlic adds depths of flavor, which is what you want when the recipe is centered around the garlic. To roast garlic, just follow these steps:
First, line a pie pan with aluminum foil and preheat the oven to 400°F.
Next, peel off the outer papery layers of each head of garlic.
Then, cut the tops off each head of garlic, about 1/4 to 1/2-inch, so the cloves are exposed.
Place the heads of garlic, cut-side-up, into the lined pie pan.
Drizzle olive oil over the garlic, letting it saturate the cloves.
Top with another sheet of aluminum foil, sealing the edges.
Finally, bake for 50-55 minutes.*
*Note: Cooking time will depend on the age of the garlic. Garlic is done cooking when the center clove is soft. Once slightly cooled, the cloves should be tender and should easily pop out of the paper.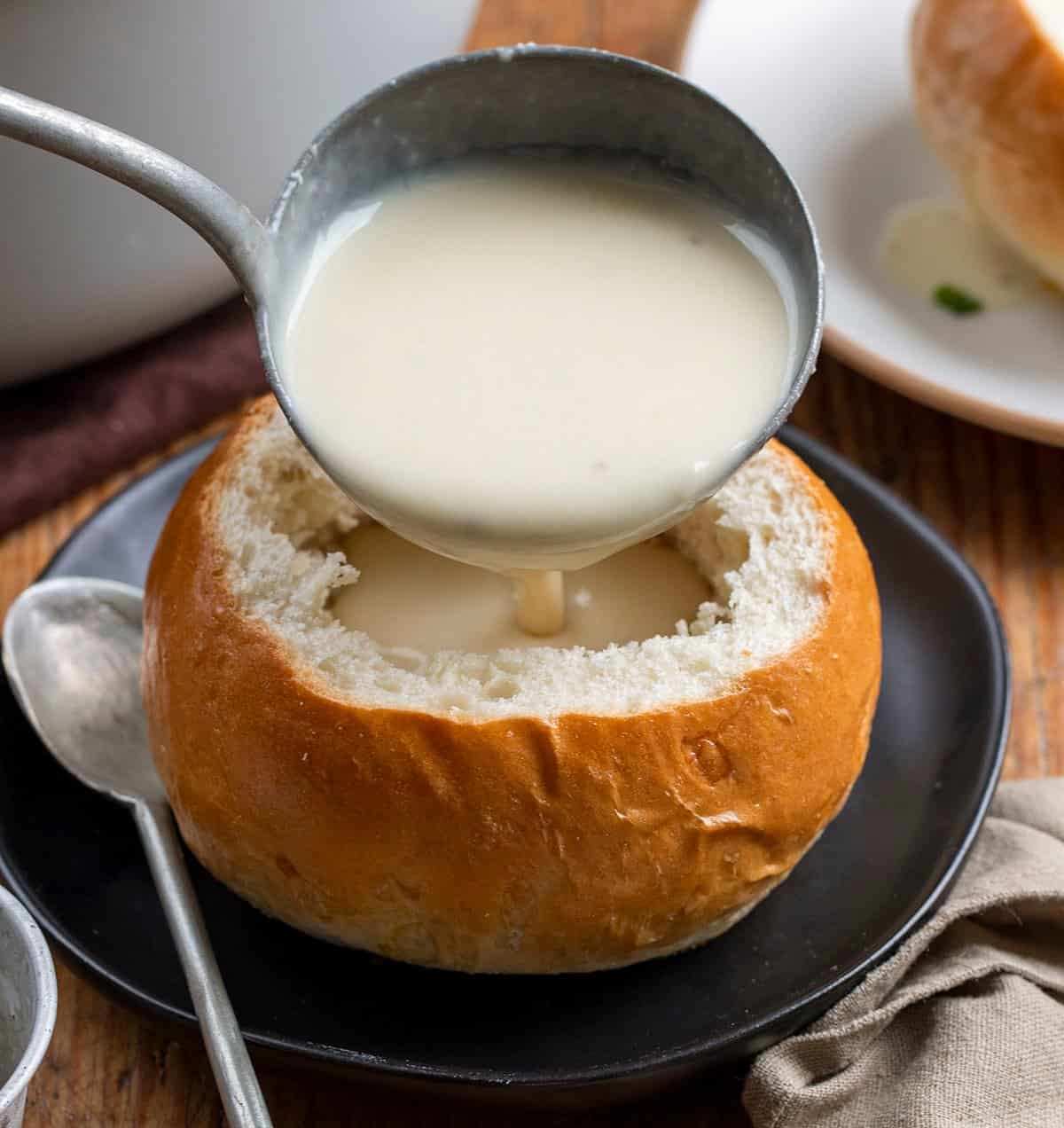 Can I Make 100 Clove Garlic Soup with an Immersion Blender?
Yes! If you don't have a blender to pulse the ingredients together, you could use an immersion blender. An immersion blender, also known as a stick blender, lets you blend things without transferring them to another container. Very convenient!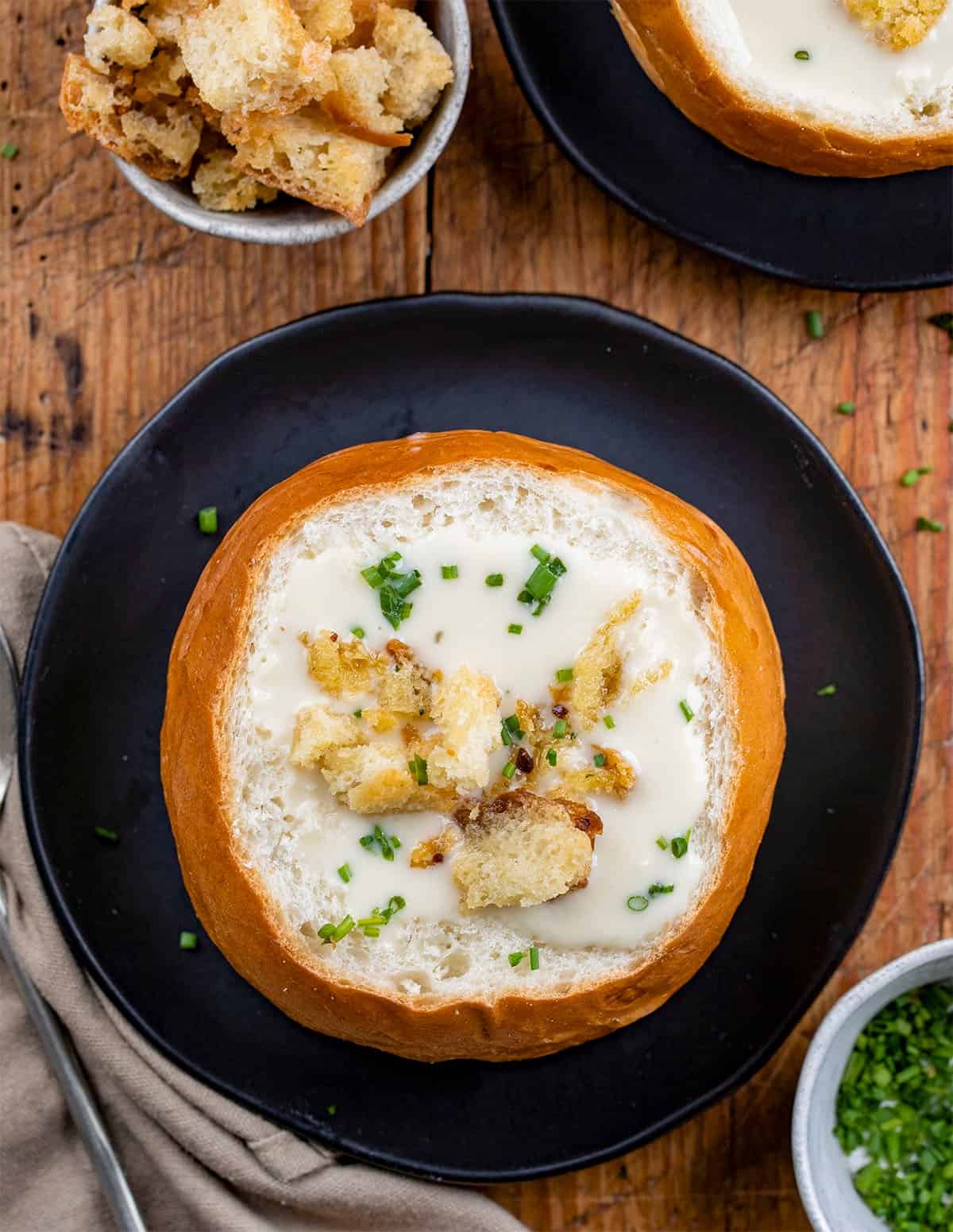 Are 100 Cloves of Garlic Too Much Garlic?
Actually, the soup is not as garlicky as you may think it would be. Roasting the garlic does dull the pungent, super-strong garlic flavor. Instead, it leaves the garlic with a milder, sweeter flavor that is not overpowering. And, garlic has many health benefits, including those to help beat that pesky cold!
How to Store Bread Bowl Garlic Soup
Store the soup in a sealed container in the refrigerator for up to 3 days. I would not recommend freezing this soup because it is made with cream; it will separate and ruin the creamy texture.
100 Clove Garlic Bread Bowl Soup
100 Clove Garlic Bread Bowl Soup is a creamy soup made with oven-roasted garlic, russet potatoes, and onions served in a bread bowl.
Ingredients
10

heads

garlic,

about 2 inches per head

2

russet

potatoes,

rinsed, peeled, diced into 1-inch cubes (about 3 cups)

½

yellow

onion,

finely diced (about ½ cup)

1

cup

(238 g) heavy cream

32

ounces

(4 cups / 960 g) chicken stock

½

cup

(50 g) shredded parmesan cheese

½

teaspoon

kosher salt

¼

teaspoon

black pepper

1

tablespoon

unsalted butter

6

bread

bowls,

for serving

chives,

chopped for garnish

croutons,

for garnish
Instructions
Preheat the oven to 400°F and line a pie pan with aluminum foil.

Peel and discard the papery outer layer of the heads of garlic. Keep the heads intact. (Do not detach the individual cloves.) Cut the tops of the garlic heads off, just enough to expose the tops of the cloves (about ½-inch). Place the garlic heads cut side up in the prepared pan. Drizzle with the oil, letting the oil soak in around the cloves. Top with another sheet of aluminum foil and seal the edges of the pan.

Bake 50-55 minutes, or until the garlic cloves are soft and deep golden brown. Set aside to cool.

Meanwhile, heat a large pot filled with salted water over medium-high heat. Add potatoes and boil until fork tender (about 8-10 minutes). Drain water.

Add potatoes and onions to the bowl of a blender. Squeeze all of the garlic cloves into the bowl and pulse until mixed. Add heavy cream, ¼ cup at a time, until the mixture is fully combined.

Add the garlic mixture back to the pot and set it over medium-low heat. (You don't want it to burn the cream.)

Whisk in chicken stock, parmesan, salt, pepper, and butter. Heat until everything is heated through, about 15-20 minutes, stirring occasionally.

To serve, cut a circle into the top of the bread bowl loaf and use your hands to scoop out the inside bread. Ladle your soup inside the bread bowl. Garnish with chives and croutons.
Did you make this recipe?
You can tag me at @iamhomesteader.