Cheeseburger Stuffed Shells give you all the flavor of your favorite cheeseburger tucked inside a jumbo pasta shell. Top them off with all your favorite cheeseburger toppings for a delicious and filling meal. If you love stuffed shells, try my Buffalo Chicken Stuffed Shells and Three Cheese Stuffed Shells.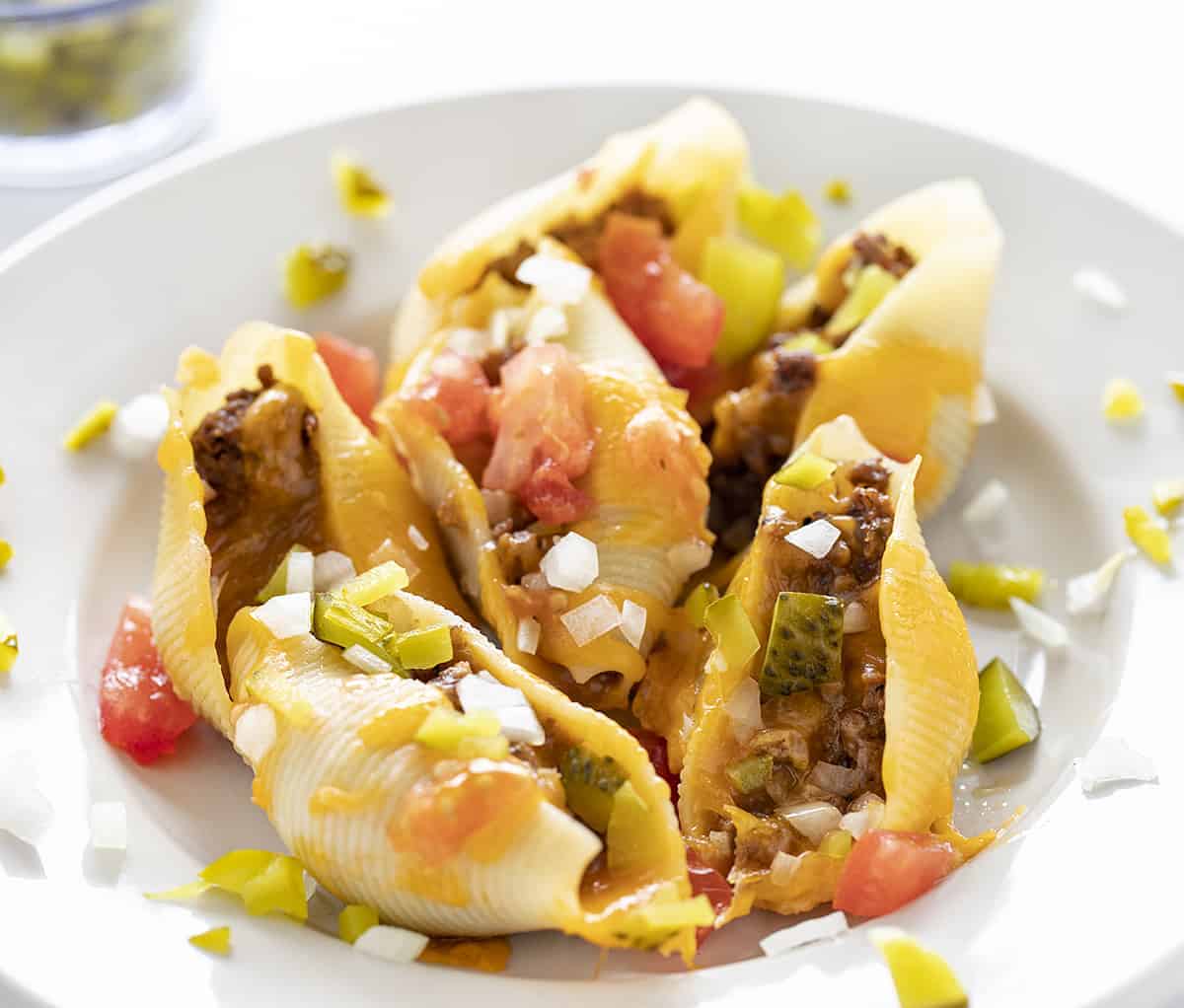 Cheeseburger Stuffed Shells
I love a good cheeseburger. In fact, I have been known to swing through the local fast-food drive-thru to order a classic cheeseburger to satisfy my craving. I also love pasta. So, taking my love of pasta and love of cheeseburgers to make these Cheeseburger Stuffed Shells made total sense. Plus, it's definitely a kid-friendly meal so you won't have any complaints at the dinner table (about the food, anyway😉).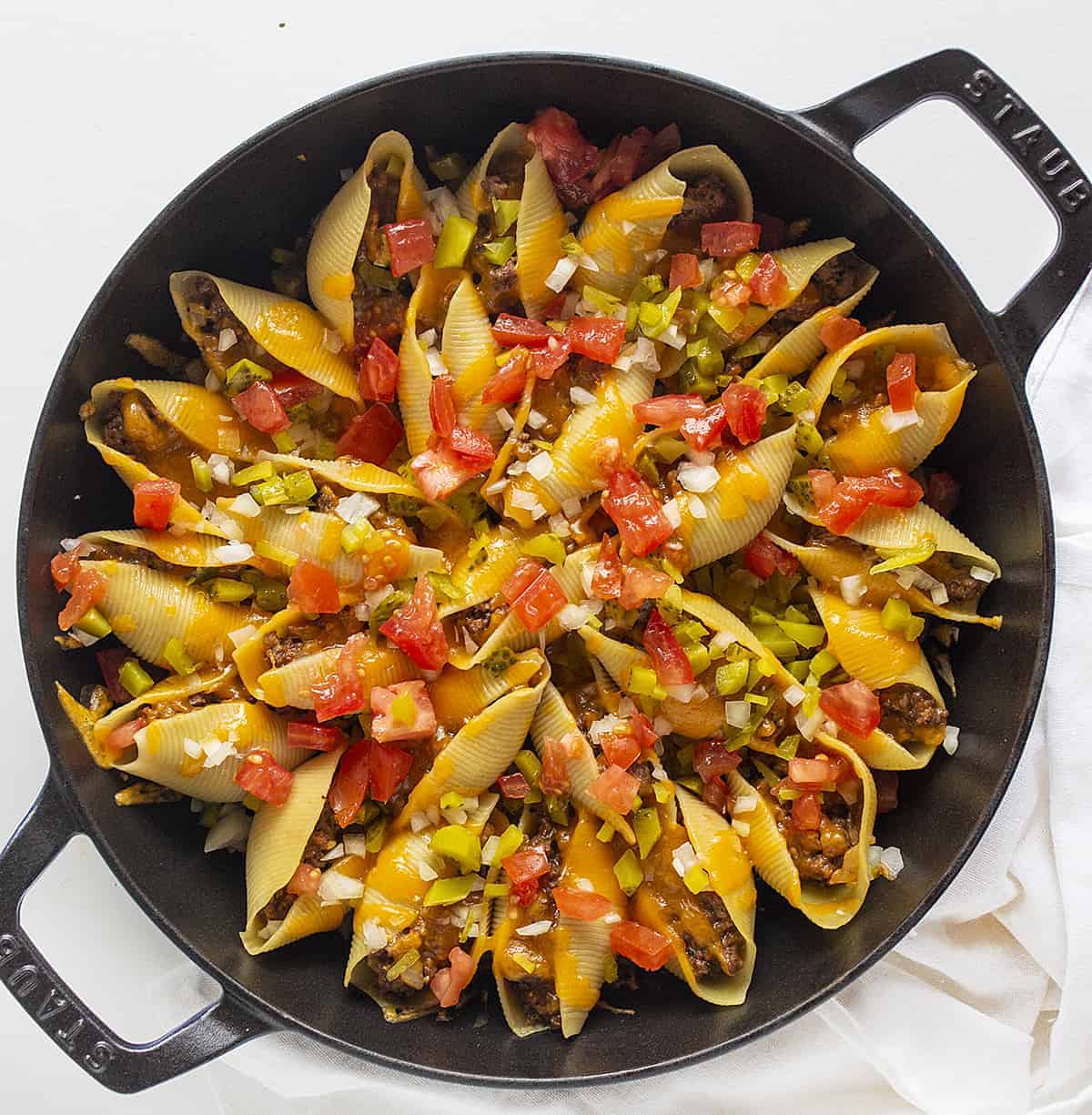 Cheeseburger Stuffed Shells Recipe
Cheeseburger Stuffed Shells should definitely be on your dinner menu rotation. It's easy to make, and you really don't need a whole lot of ingredients. In fact, you probably have most ingredients on hand. Plus, you can add as many or as few extra toppings as you like! You could even make your own hamburger seasoning to use in this recipe.

How to Make Cheeseburger Stuffed Shells
It's all about the seasoned beef and perfectly cooked shells for Cheeseburger Stuffed Shells. Make sure the shells are cooked al dente. You don't want the pasta to be too limp to hold all of the cheeseburger goodness! You will also want to let the shells cool a bit before you fill them.
To make the beef mixture, start by mixing the seasoned salt, hamburger seasoning, salt, and pepper in a small bowl. Then, in a skillet, cook half the onion and the garlic and add the ground beef. Break apart the beef and add the Worcestershire sauce and seasoning mixture. Cook the beef for 8-10 minutes, or until it is browned. Remove the beef from the heat and stir in 1 cup of the cheddar cheese and the ketchup. Mix it up well and stuff each shell with this mixture. Sprinkle the other cup of shredded cheddar cheese over the top of the shells and cook for 15-20 minutes, or until bubbly, at 350°F.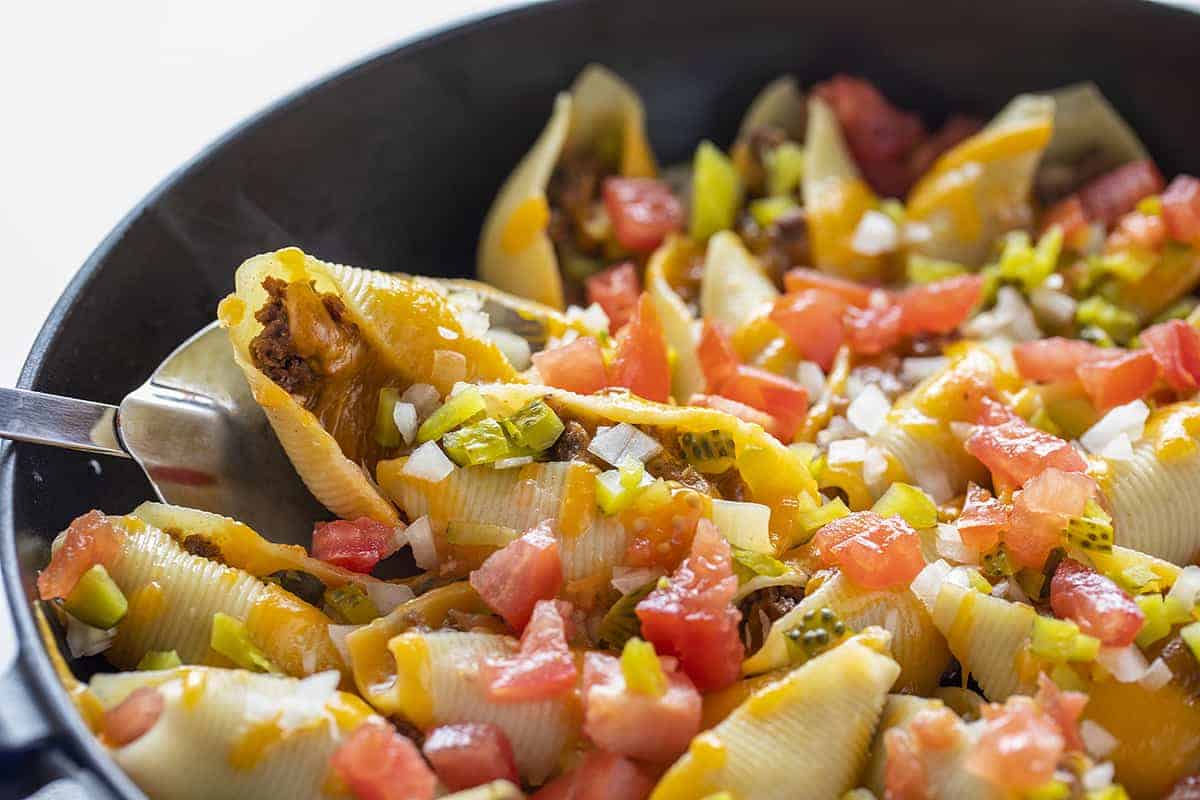 How to Serve Cheeseburger Stuffed Shells
Once the shells have been baked, it's time to dig in! Just like ordering a cheeseburger at a restaurant, it's all about what you want on your cheeseburger. Just ketchup works for me, but there are lots of people who pile on as many extra toppings as they can! You may have noticed that I divided the onion in the recipe. I saved half the onion to use as a topping. I used a yellow onion, so adding that to the shells wasn't too overpowering. It added some crunch to each bite. If you want something a little milder, a shallot would work just as well. I also added tomatoes and dill pickles to these Cheeseburger Stuffed Shells. If you want to add even more toppings, here are some other ideas:
Lettuce
Bacon
Avocado
Mushrooms
Chiles
Mayonnaise
Can I Freeze Cheeseburger Stuffed Shells?
The answer is YES! Isn't it great when you can prepare a meal ahead of time and just take it out of the freezer when you are ready to make it? I feel so accomplished when I have at least one meal prepped for the week! To freeze Cheeseburger Stuffed Shells, simply prepare the meal following the instructions, but don't bake it. The only difference is to place the stuffed shells in a 9×13 inch aluminum pan. Cover it with aluminum foil and don't forget to write the name of the dish and the instructions, along with the date. When you are ready to bake it, take it out of the freezer to let it thaw for about a half an hour before you cook them.

More Stuffed Shells Recipes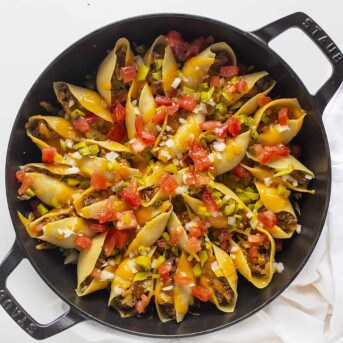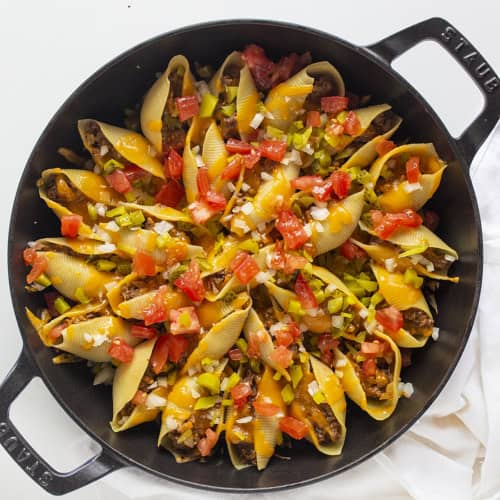 Cheeseburger Stuffed Shells
Get all the taste of a cheeseburger tucked inside jumbo shells in Cheeseburger Stuffed Shells!
Ingredients
25-30

jumbo

shells,

cooked al dente and drained

½

teaspoon

seasoned salt

1

tablespoon

hamburger seasoning

½

teaspoon

salt

¼

teaspoon

pepper

1

tablespoon

canola oil

1

small

yellow onion,

finely chopped and divided

1

clove

garlic,

minced

1

pound

ground beef

½

teaspoon

Worcestershire sauce

2

cups

shredded cheddar cheese,

divided

1

tablespoon

ketchup

1

small

tomato,

diced for topping

⅓

cup

dill pickle slices,

diced for topping
Instructions
Preheat oven to 350°F.

In a small bowl, mix together the seasoned salt, hamburger seasoning, salt, and pepper.

Add oil to a non-stick pan and add half of the onions and all of the garlic. Cook about 1-2 minutes.

Add the ground beef to the pan. Break up the meat with a wooden spoon. Add the Worcestershire sauce. Sprinkle with seasoning mixture.

Cook for about 8-10 minutes, or until no pink remains in the meat. Remove from heat.

Stir in 1 cup of the shredded cheddar cheese, and 1 tablespoon ketchup. Mix well.

Spoon mixture into cooked shells.

Place filled shells in a greased 9×13 pan.

Top with remaining 1 cup shredded cheddar.

Bake 15-20 minutes, or until bubbly.

Top with diced pickles, tomatoes, and onions (optional).
Did you make this recipe?
You can tag me at @iamhomesteader.