If you love a cobb salad and a hearty sandwich, look no further than this Cobb Salad Sandwich! It has all the taste and ingredients of a cobb salad but in sandwich form. Piled high (like, really high) with all the ingredients you love in the salad, you better be hungry for this one! Try my Southwest Cobb Salad Dip for another take on the popular salad.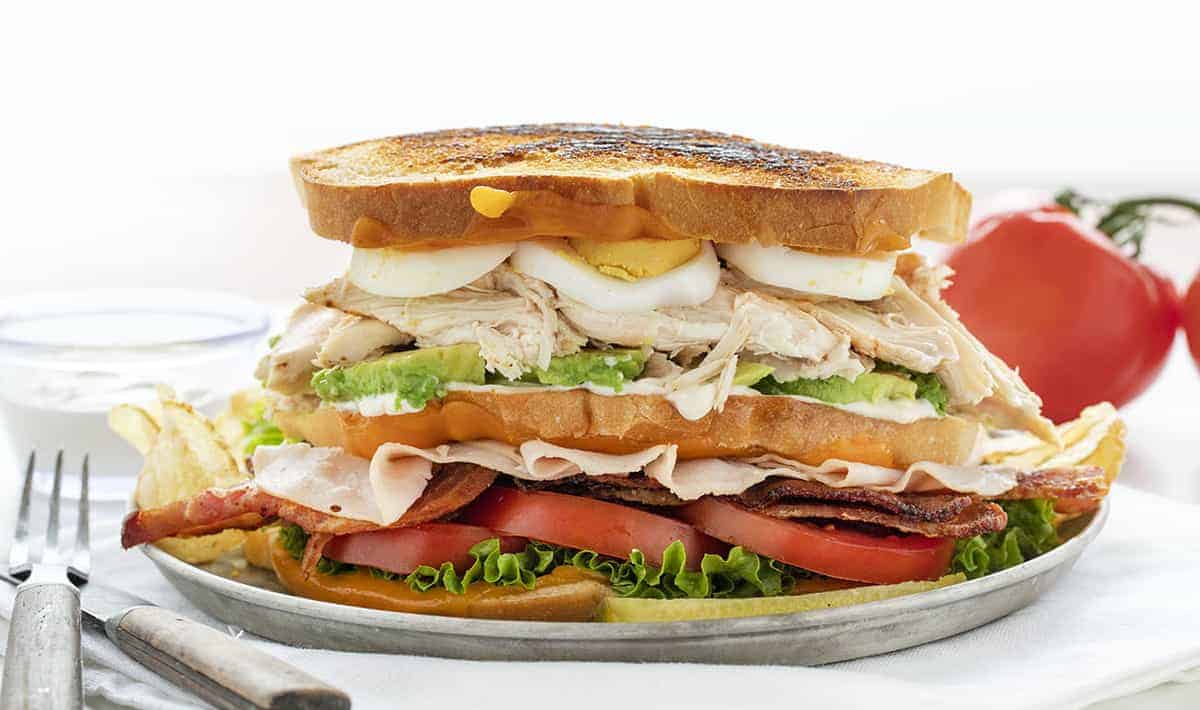 Giant Cobb Salad Sandwich
I love a cobb salad; in fact, I like a lot of salads, but I seem to always want some bread to go with it! Well, after making my Cobb Salad Sandwich, I may never order just the salad again! I really didn't think I would get all the ingredients of a cobb salad onto the sandwich, but I did! And I cheered! I even added turkey, (which is not an authentic cobb salad meat). And then, I wondered how in the world was I going to eat this massively layered sandwich. I am happy to say that I managed to eat it! (Over the course of two meals 😂) This sandwich might be best shared with a loved one!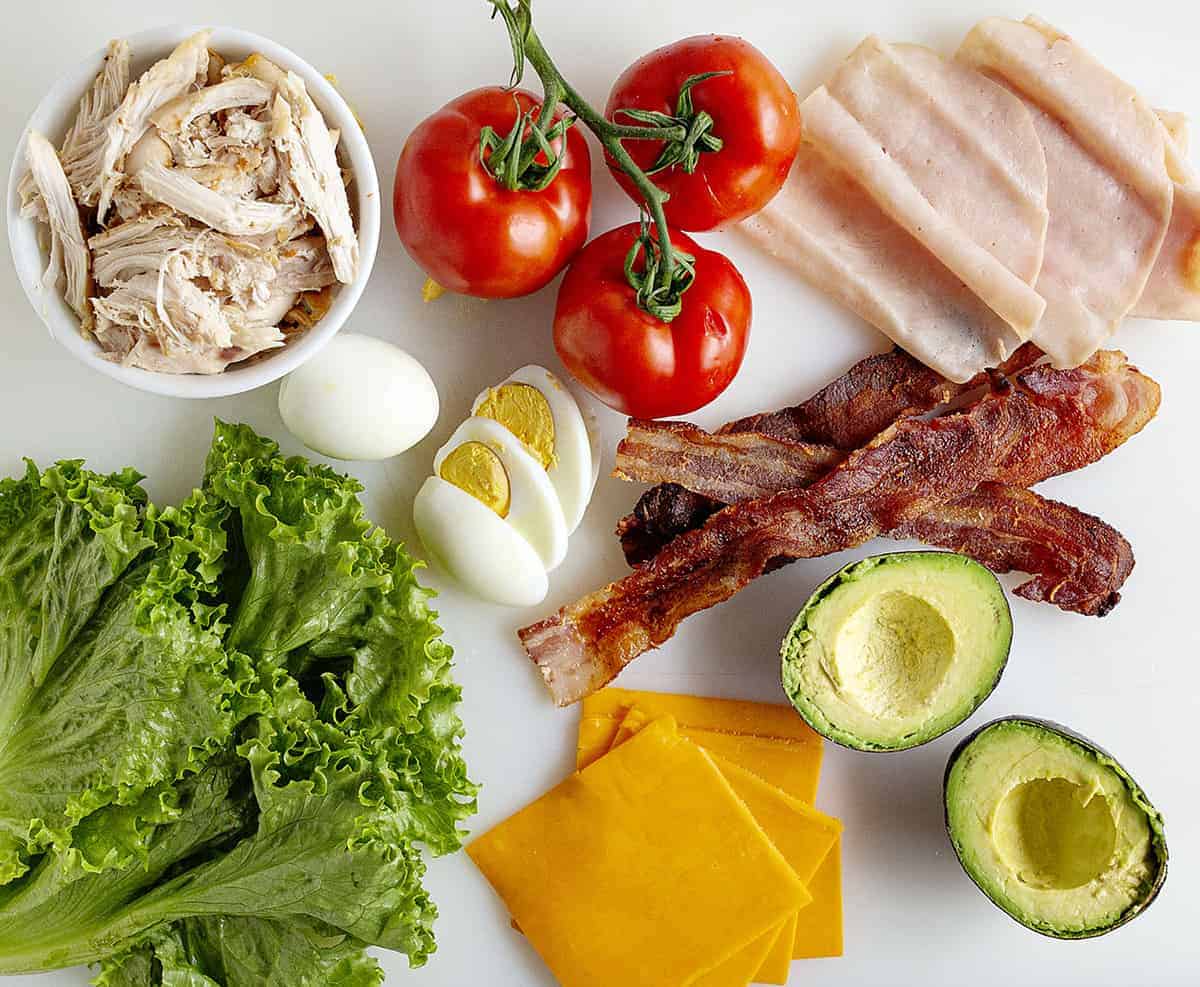 Cobb Salad Sandwich Recipe
I stuck with the traditional cobb salad ingredients to make this sandwich, and as if that were not enough, I added some deli turkey slices to the mix! Your building skills may be tested when you start stacking all the goodness onto this sandwich.  If you are pretty good at it, I would say you should get out your Jenga game and show off!
Bread–I used sourdough bread, but I think these would be great on rye bread or any other bread you like.
Lettuce–If you want to be truly authentic, you could bring in the four lettuces from the salad–iceberg lettuce, watercress, endives, and romaine lettuce. But, I just used large leaves of lettuce.
Bacon–When I cook bacon, I do it in the oven.  I set the temperature to 415°F and while it is preheating, I lay out the individual slices of bacon on a foil-lined rimmed baking sheet.  (Yes, right on the pan! No rack needed.) They are perfectly crispy in 18-20 minutes.  No flipping and easy cleanup!
Mayonnaise— Storebought or homemade mayonnaise will work great in this recipe!
Rotisserie Chicken–You can buy a chicken from the store, but I have a seasoned-just-right, juicy rotisserie chicken that would fit right on this sandwich!.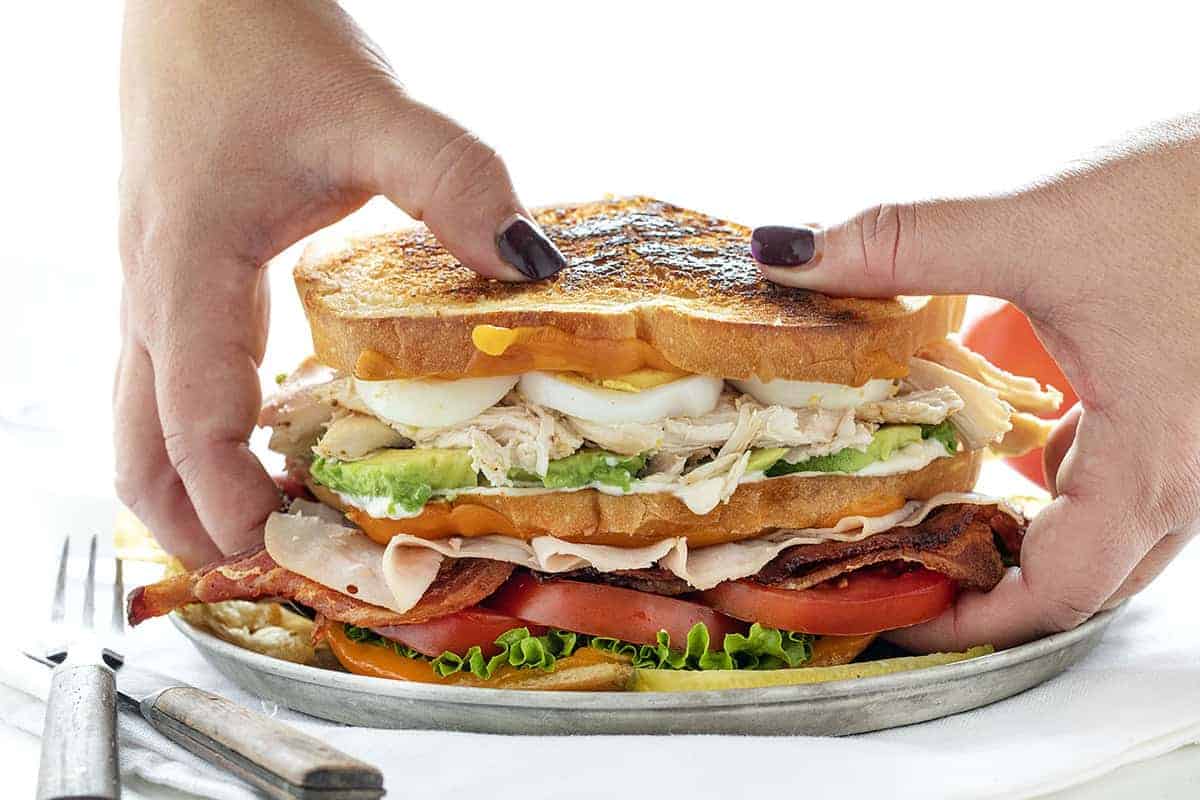 How to Make a Cobb Salad Sandwich
Have you warmed up for this stacking experience? I hope so because this is all about skill! Just kidding. Don't let me talk you out of making this Cobb Salad Sandwich. It will be amazing no matter how you stack it! Start by buttering one side of each bread, putting a slice of cheese on the other side, and cook the buttered side over medium heat until golden brown. You will use three pieces of the cheese-covered bread for each sandwich. Place one piece of toast, cheese side up, onto a plate. Next, add lettuce, tomato, bacon, and turkey. Then, top with another slice of bread, cheese side down. Don't stop there! Spread mayo on top of the dry side of the bread. Top with avocado, chicken, and a hard-boiled egg. Finally, top with the third piece of bread, cheese side down. Whew! How did you do? You have three more times to practice as you finish all the sandwiches.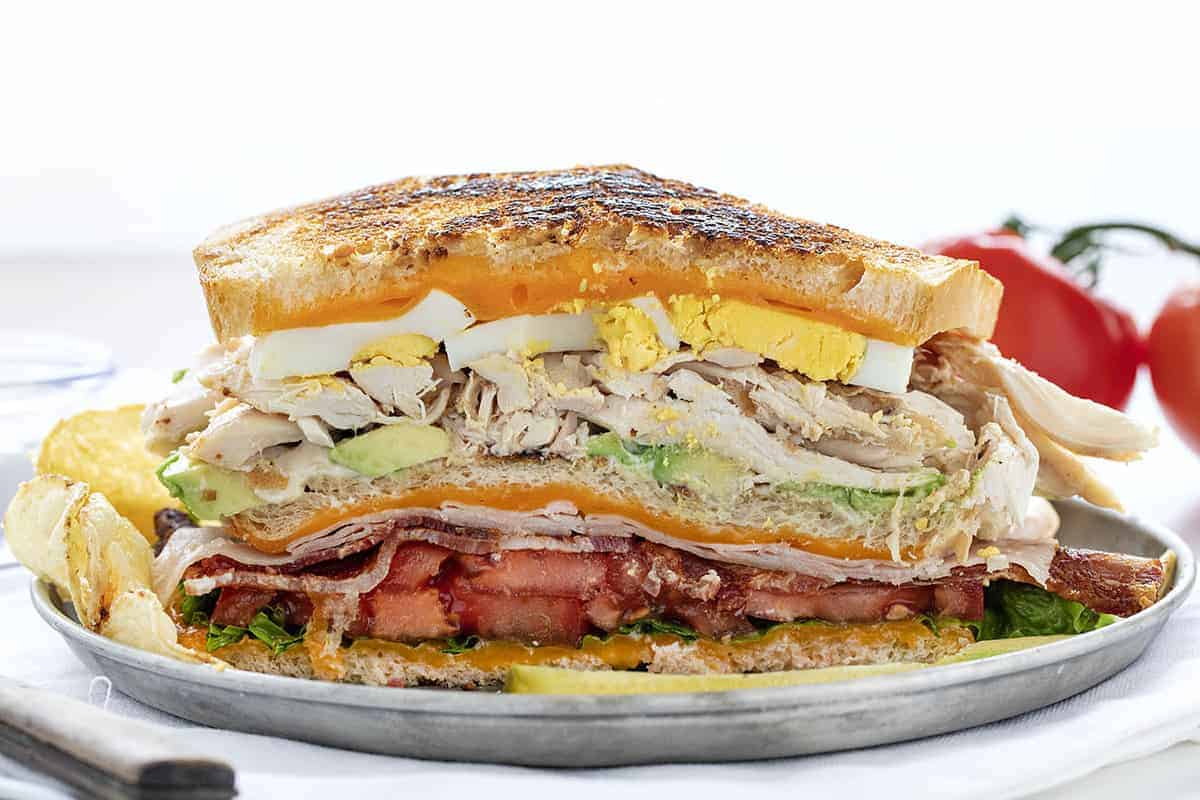 More Delicious Sandwiches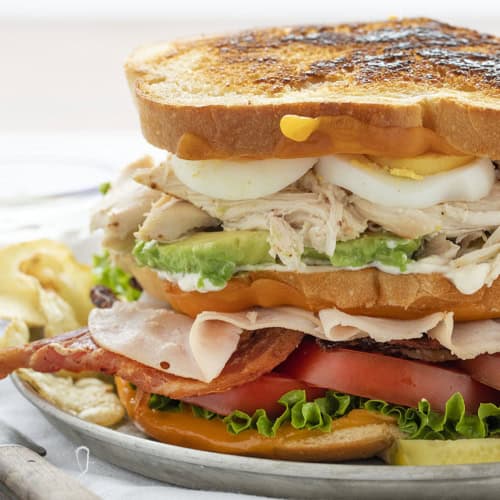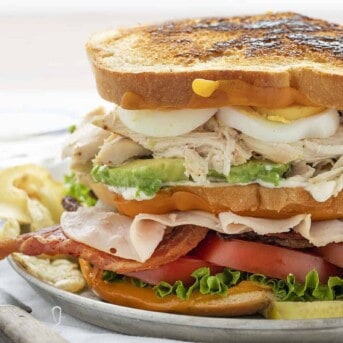 Cobb Salad Sandwich
Get all the flavor of cobb salad in a sandwich for a tasty and hearty lunch!
Ingredients
1

stick of butter,

softened

12

slices

sourdough bread

12

slices

cheddar cheese

8

pieces

leaf lettuce

1

large tomato,

sliced

12

bacon strips,

cooked

1

pound

slices deli turkey breast

1

avocado,

peeled and sliced

½

cup

mayonnaise

2

cups

rotisserie chicken

4

hard-boiled eggs,

sliced
Instructions
Spread butter over one side of each piece of bread. In a large skillet over medium heat, place the bread buttered side down in the pan. Work in batches of 3 or 4.

Top the dry side of each piece of bread with 1 slice of cheese. Cook until the toasted side is golden brown. Remove the bread from the pan. Repeat with remaining bread.

Working one sandwich at a time, place one piece of toast, cheese side up, add lettuce, tomato, bacon, and turkey.

Top with another slice of toasted bread, cheese side down.

On the dry side, spread mayonnaise.

Top with chicken, avocado, and hard-boiled egg. Place another piece of toast on top, cheese side down.

Repeat with remaining sandwiches.
Did you make this recipe?
You can tag me at @iamhomesteader.