So it turns out that I am a big fan of dip, especially southwest cobb salad dip. I pretty much like to eat dip at all time, for all occasions. It doesn't need to be a holiday or special gathering or anything. 1:12pm on a Tuesday seems like a great time.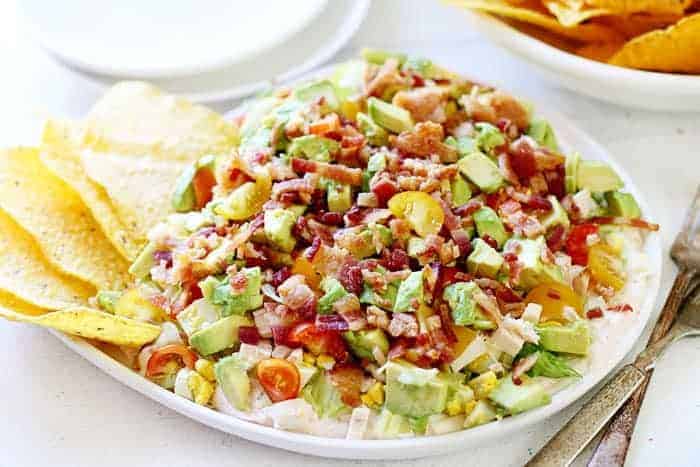 Southwest Cobb Salad Dip
And I have been this way from the moment I stepped foot out of the shelter and security of my parents home.
Living on your own is not easy, but making southwest cobb salad dip is. It's an easy way to feel rich while sitting on a hand-me-down couch and ignoring the stack of bills on top of empty pizza boxes listening to the AOL dial into the internets.
Dialed into the internet. I am old OK?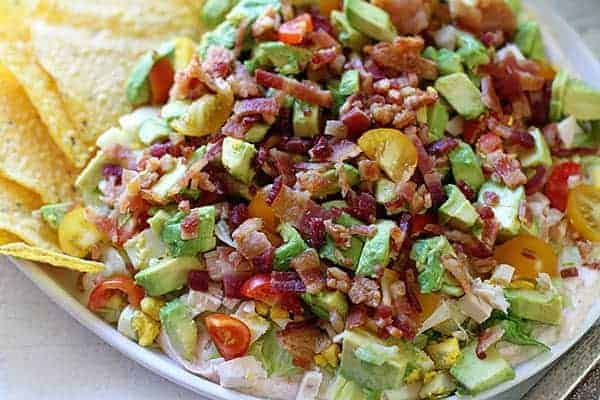 Ok! So this southwest cobb salad dip recipe is a variation of one that I made when I first met my husband many, many many years ago.
I would buy a container of sour cream. Add a packet of taco mix. Then spread it on a plate. Add store-bought shredded cheese, one tomato cut up and a can of olives. It was cheap and good, but this recipe is just a little better.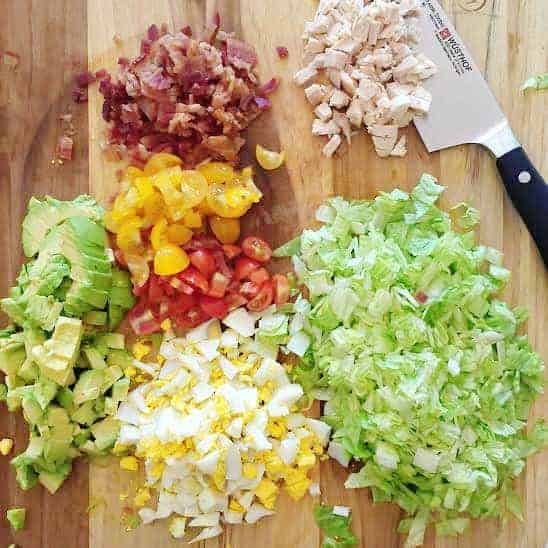 Tips, Tricks and Variations
You can mix the seasoning right in the sour cream container but just work slowly. If you don't mind a dirty dish, transfer sour cream to a bigger bowl, add a packet of seasoning and then spread on your serving platter.
I did not add cheese to this recipe, but you certainly can! Some crumbled Bleu Cheese or Roquefort would be lovely! (just a bit tangy for my tastes). I also like this recipe with a finely grated sharp cheddar.
To save time you can use rotisserie chicken, deli meat, or even left-over chicken from last night's dinner.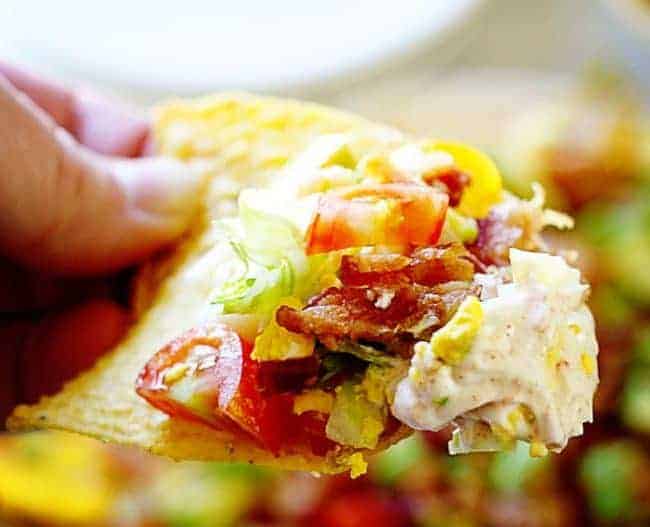 I used a handful of red and yellow plum tomatoes. You can also use one medium tomato chopped up, but do try to remove all the seeds.
I made a pound of bacon for this recipe, chopped it all up (except for a few pieces for my belly!) and served it next to the dish. People love this! (Who can make 4 pieces a bacon at a time. Not me!!)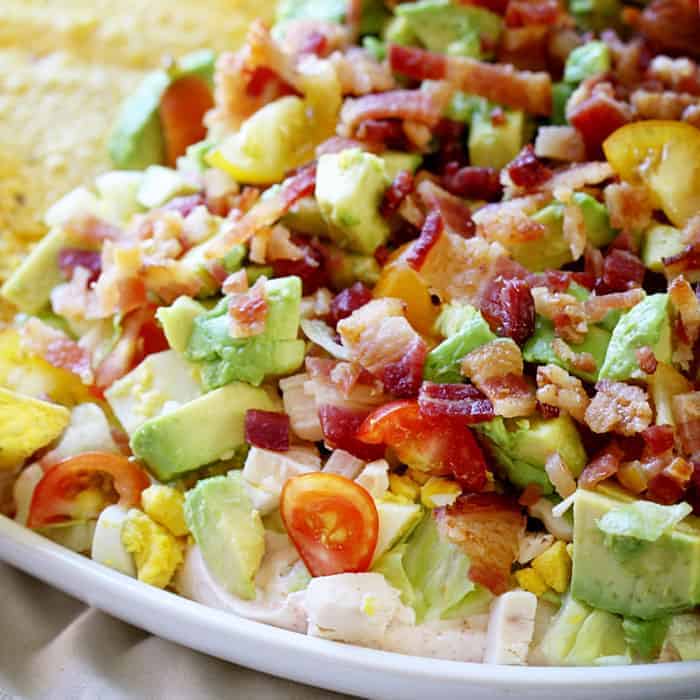 Chip Dip
Use a sturdy chip for this sturdy dip.
This southwest cobb salad dip recipe can easily be doubled and tripled.
You can add whatever ingredients you prefer! Try refried beans for the bottom layer or black olives, jalapenos, bell peppers on top.  If you feel like eliminating some of the store-bought elements, consider my homemade taco seasoning.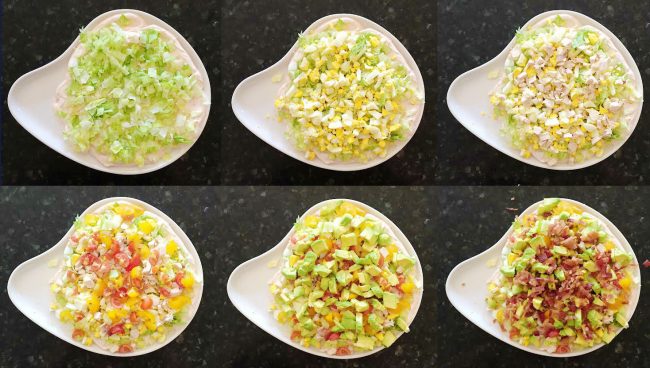 There is really not much that is easier than plopping some perfectly selected ingredients on top of a layer of seasoned sour cream and dipping salty chips into it.
It was easy 20 years ago and is just as easy today.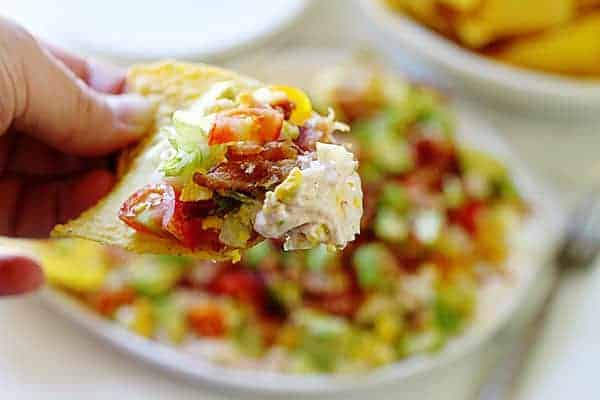 So do it already! You won't be sorry. Well, you may be sorry you have not eaten this until now, but you won't be sorry you made it. I mean, you may be sorry that you made it with friends and family around so you didn't get to eat much, but you won't be sorry when people are begging you for the recipe and demanding that you get your own show on Food Network. It could happen.
It could happen.
If you like this recipe then be sure to check out my taco dip and my white bean chili cheese dip as well as the SAVORY section of my blog! Lots more lip-smackin goodness!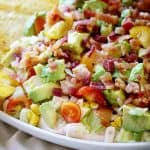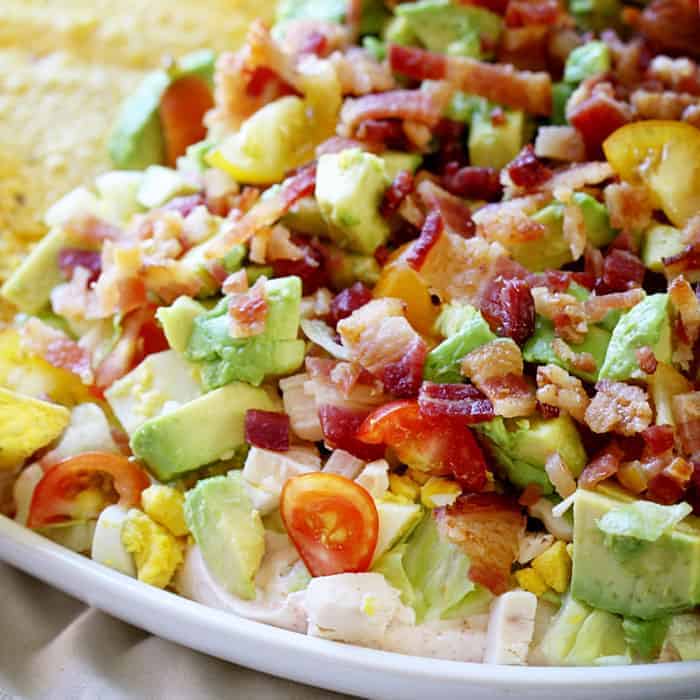 Southwest Cobb Salad Dip
Cobb Salad in dip form, you don't know what you've been missing!
Ingredients
16

ounces

sour cream

1

packet Hidden Valley Dips Fiesta Ranch

1

cup

chopped lettuce

1/2

cup

chopped chicken

2

hard-cooked eggs

finely chopped

12

small plum

cherry or Roma tomatoes, finely chopped (I used red and yellow)

1

avocado

chopped

4

slices

cooked bacon

crumbled or chopped

tortilla chips
Instructions
Mix sour cream and seasoning (Fiesta Ranch Dip or Taco Seasoning) and spread on serving platter.

Cover with lettuce, then add the egg, chicken, tomato, avocado, and bacon.

Serve with tortilla chips.

Serve immediately. (Avocados will brown so I do not recommend making this too far in advance)
Recipe Video
[brid autoplay="true" video="385502" player="16519" title="Cobb Salad Dip "]
DID YOU MAKE Southwest Cobb Salad Dip?
I want to hear about it!  Take a picture and tag me on Instagram or on Facebook.  I would love to see your finished product!  Make sure to tag me @iamhomesteader or hashtag #iamhomesteader, or both!