Crab Rangoon Nachos are crispy wonton wrapper chips topped with a rich and savory cream cheese sauce, imitation crab, sweet chili sauce, and garlic chili oil. It's an appetizer or snack based on the popular deep-fried appetizer, Crab Rangoon. Once you start munching on these nachos, you will not be able to get enough of them!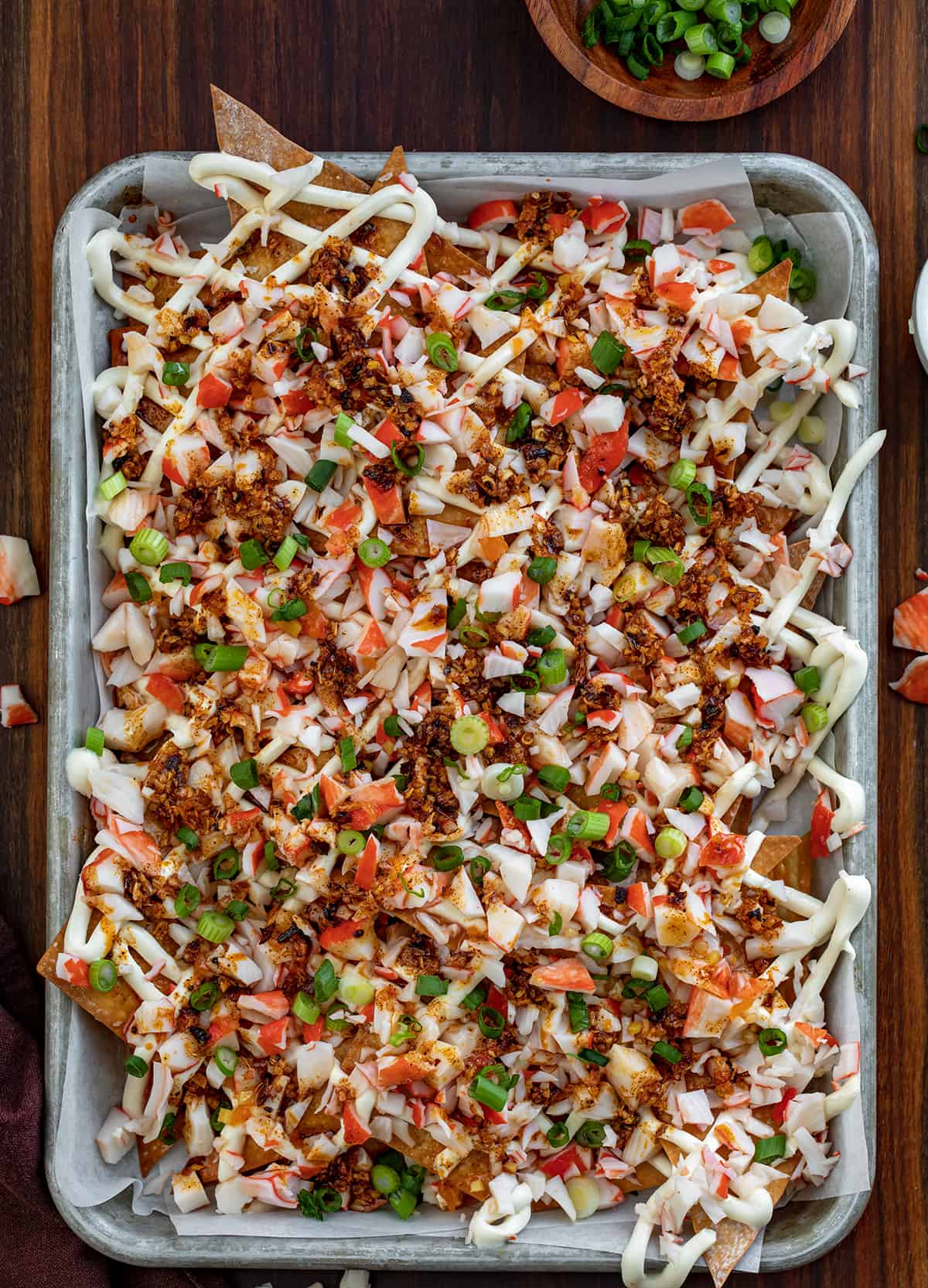 Ingredients & Substitutions
Wonton Wrappers: You can buy wonton wrappers at the store, or make your own homemade wrappers. The wrappers should be cut into triangles, or wedges, similar to the shape of tortilla chips. I baked the wonton wrappers in the oven, but if preferred, you could also use fried wonton strips (cut a little larger or in wedges). You could also serve these nachos with tortilla chips.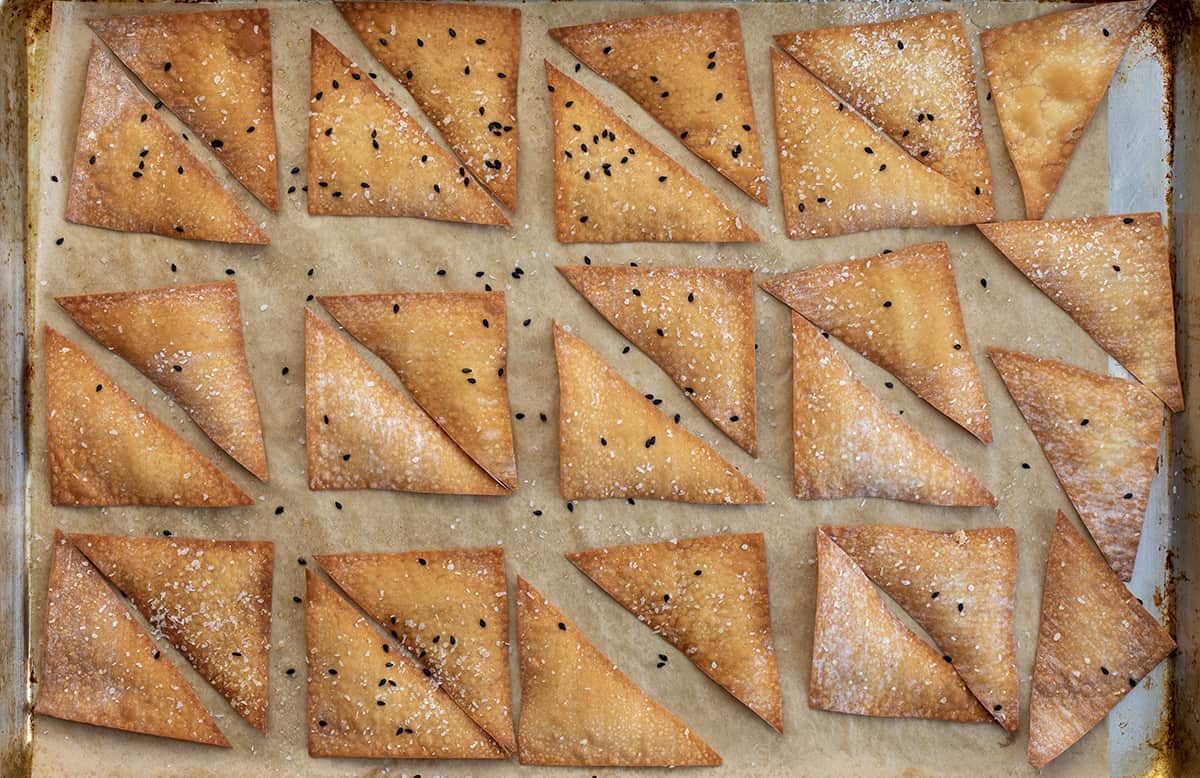 Black Sesame Seeds: Although optional to add to the wonton chips, black sesame seeds add a nutty, slightly sweet flavor. They also give even more of a crunch. Save some for garnish, too.
Cream Cheese Sauce: The cream cheese-based sauce has a savory profile with a hint of sweetness and a subtle nutty undertone from the sesame oil. The Worcestershire sauce and soy sauce add depths of flavor.
Imitation Crab: Imitation crab is not really crab meat at all, but a combination of whitefish paste and fillers, called 'surimi'. It is still technically seafood, but it has a lot more added salt and preservatives than fresh crab. You could also use real precooked crab meat.
Sweet Chili Sauce: Sweet Chili Sauce, also known as Thai Chili Sauce or nam chim kai, is a versatile condiment that adds a sweet, sour, and spicy flavor to various dishes. Besides this recipe, use it for my Sweet Chili Chicken, Bang Bang Shrimp, and Chicken Wonton Tacos, just to name a few!
Garlic Chili Oil: Crunchy Garlic Chili Oil is another homemade condiment you will want to have on hand for more than these crab rangoon nachos. It adds a little bit of heat to dishes.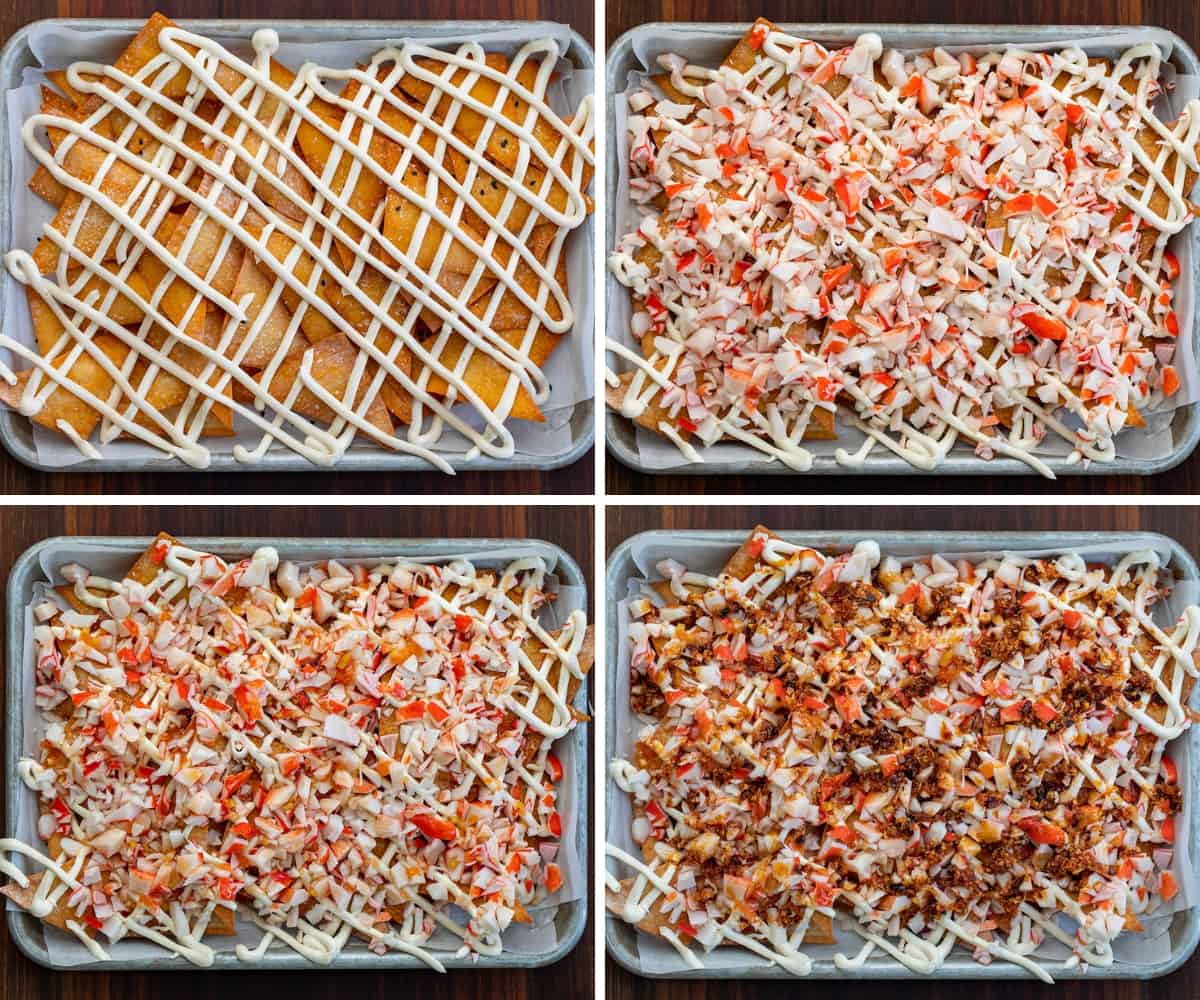 What is Crab Rangoon?
These nachos are based on the popular crab rangoon appetizer. Crab Rangoon are wonton wrappers usually filled with cream cheese, imitation crab, and seasonings. They are wrapped up and deep-fried in oil until crispy. Then, they are served with dipping sauces like sweet and sour sauce, duck sauce, soy sauce, or sweet chili sauce. These nachos give you all of the same flavors, but with baked wonton chips topped with the filling and dipping sauces you would get with the appetizer.
Can I Make These Nachos Ahead of Time?
You can certainly get most of the parts of these crab rangoon nachos made in advance. The wonton chips, although best served fresh, can be stored for up to 5-7 days in an airtight container. The cream cheese mixture can also be made up to 5 days in advance, stored in an airtight container in the refrigerator. And, both the sweet chili sauce and garlic chili oil can be made ahead of time. Store the sweet chili sauce for up to a week in the refrigerator. The garlic chili oil can last for up to 30 days in a jar at room temperature.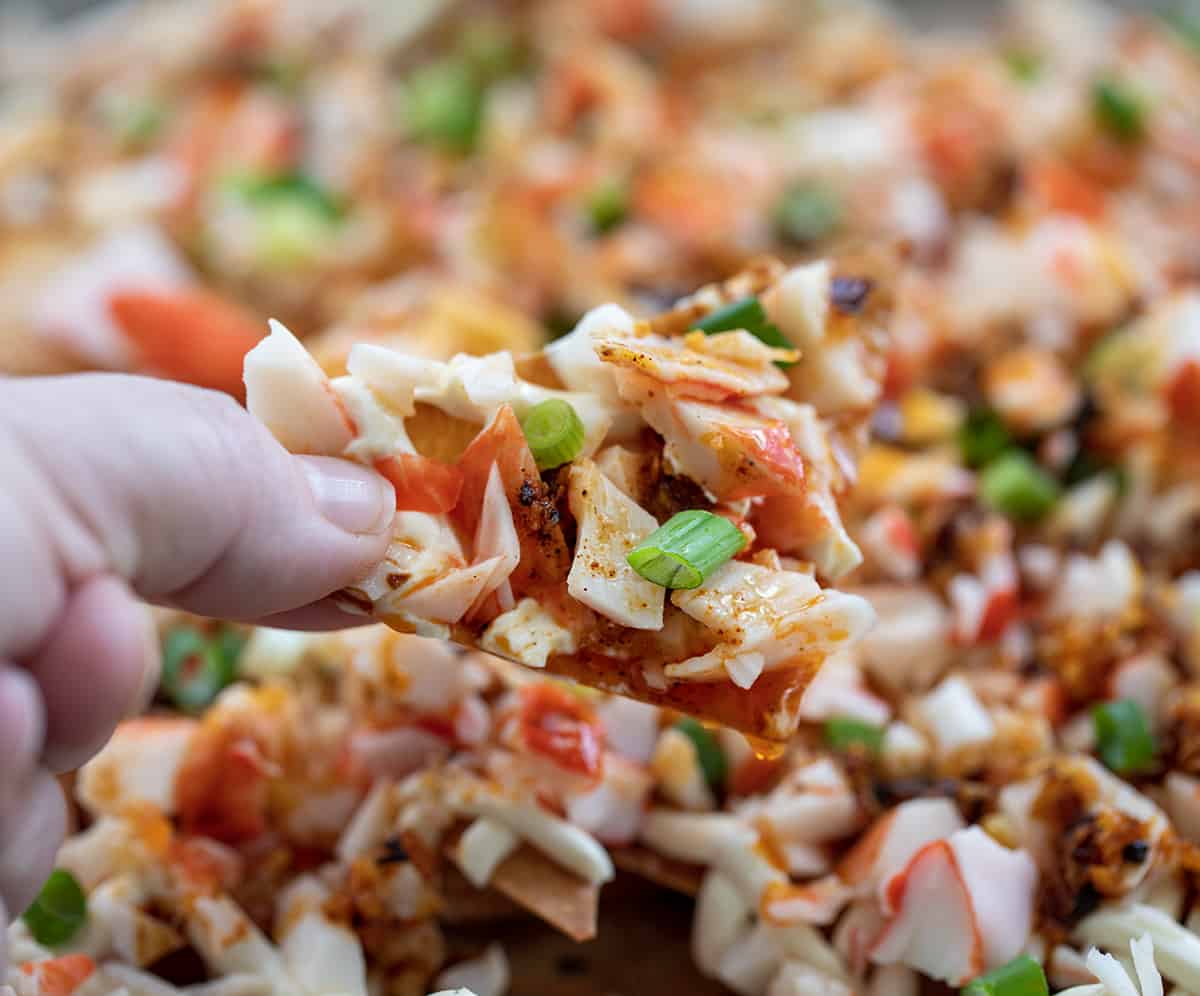 How to Store Crab Rangoon Nachos
Although best served fresh, you can store crab rangoon nachos for a few days. If storing, try to store each part of the nachos separately, assembling them when ready to serve.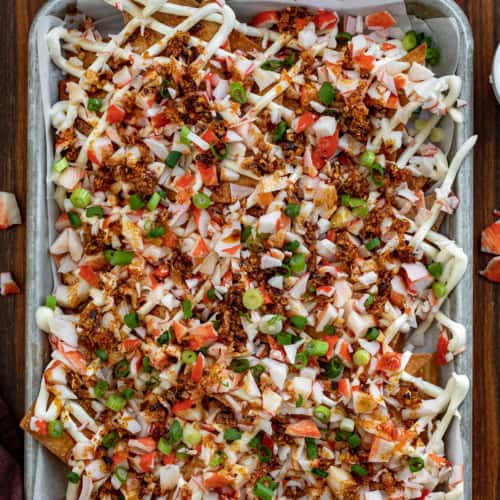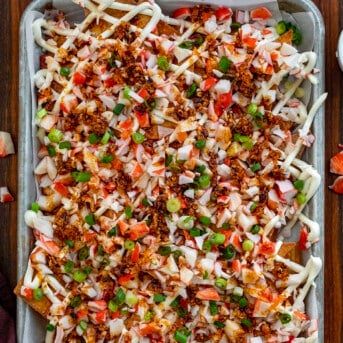 Crab Rangoon Nachos
Crab Rangoon Nachos are crispy wonton wrappers topped with a rich and savory cream cheese sauce, imitation crab, sweet chili sauce, and garlic chili oil.
Ingredients
Wonton Chips
30

wonton

wrappers,

sliced in half diagonally

½

teaspoon

kosher salt

½

teaspoon

black sesame seeds,

optional
Cream Cheese Sauce
4

ounces

cream cheese,

room temperature

¼

cup

(59.5 g) heavy cream

½

teaspoon

soy sauce

½

teaspoon

Worcestershire sauce

¼

teaspoon

sesame oil

¼

teaspoon

white granulated sugar

¼

teaspoon

garlic powder
Toppings
1 ½

cups

imitation crab,

chopped

3-4

tablespoons

sweet chili sauce

3-4

tablespoons

garlic chili oil

green onions,

for garnish

sesame seeds,

for garnish
Instructions
Wonton Chips
Preheat the oven to 400°F.* Line a large baking sheet with parchment paper and spray with nonstick cooking spray. (I used 2 baking sheets.)

Place wonton wrappers on the sheet pan(s) in an even layer. Spray with cooking spray and season evenly with salt and black sesame seeds, if using.

Bake for 6 to 8 minutes, or until golden brown and crispy.

Remove from oven and place on a large serving tray.
Cream Cheese Sauce
In a medium bowl, combine cream cheese, heavy cream, soy sauce, Worcestershire sauce, sesame oil, sugar, and garlic powder. Whisk together until creamy.
Assembly
Top wonton chips with cream cheese sauce, chopped crab, sweet chili sauce, and garlic chili oil. Garnish with green onions and sesame seeds. Enjoy!
Notes
*Air Fryer Instructions:
It is possible to make the wonton chips in the air fryer, but they are so light, they will blow around quite a bit. To make them, place the wonton pieces into the basket of the air fryer. Air fry at 350°F for 4-5 minutes.
Chili Sauce recipe.
Did you make this recipe?
You can tag me at @iamhomesteader.