Croutons are made with cubed sourdough bread coated in butter, garlic, and parsley, and baked to a crispy golden brown. Add them to your Beer Cheese Soup or Creamy Cheeseburger Soup.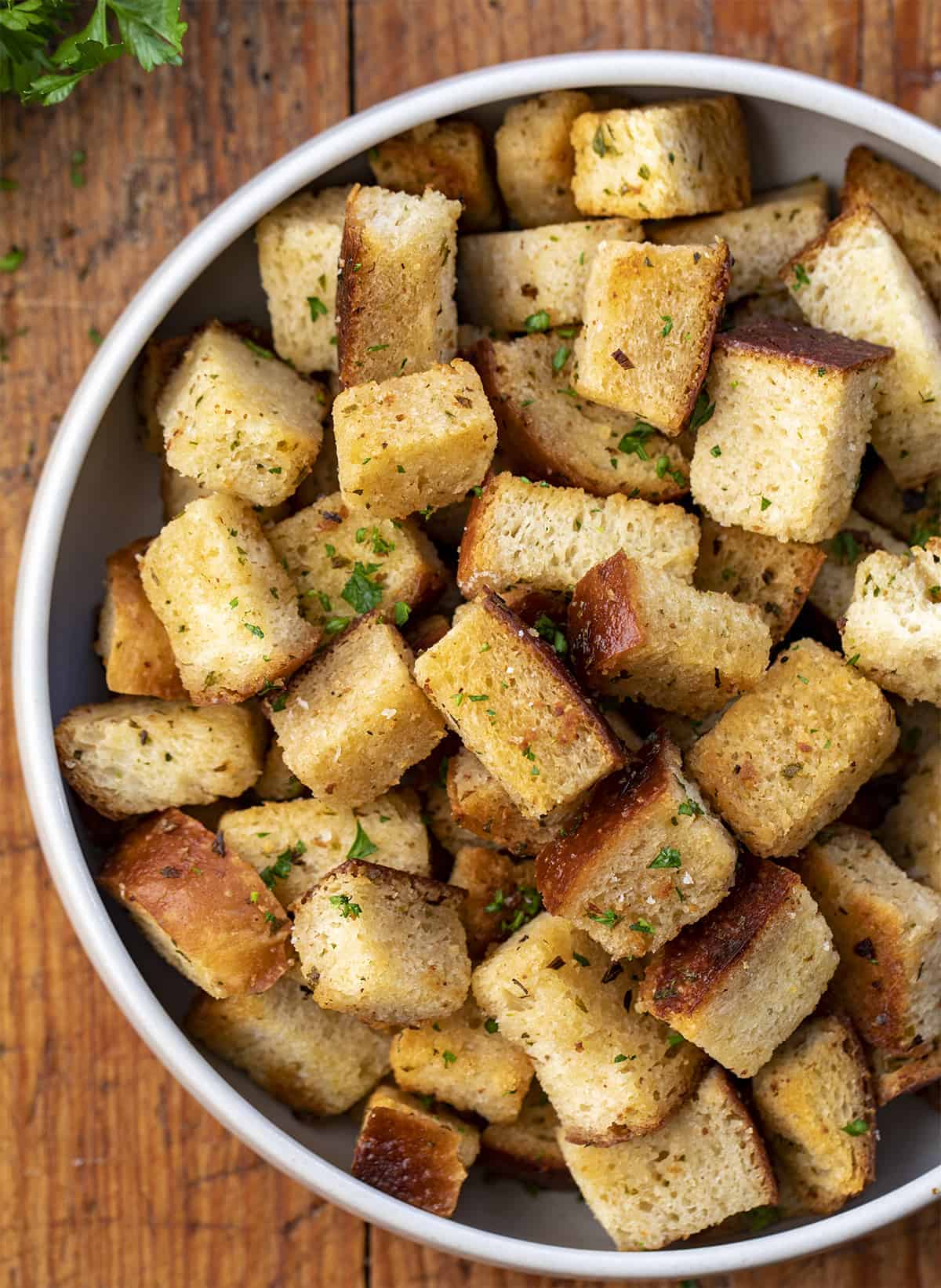 Sourdough Croutons
Trust me, once you taste these homemade croutons, you will never want to buy them from a store again. They are crispy on the outside and soft and chewy on the inside. The cubes of sourdough bread are coated in butter. But, don't worry about the amount of butter; these croutons don't have an overwhelming butter flavor. I could eat the entire batch before I even get a chance to add them to my Wedge Salad!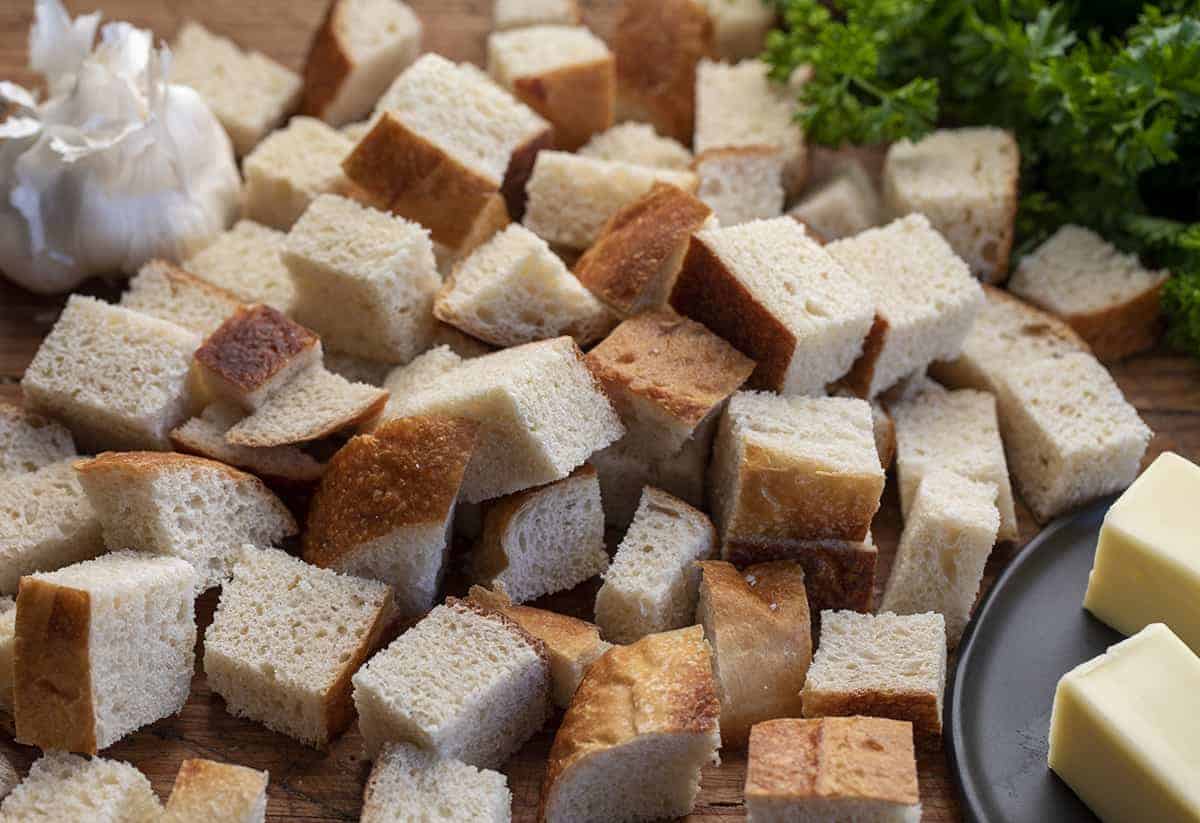 Croutons Ingredients
Bread: Sourdough bread was my bread of choice for this recipe. A French baguette, ciabatta bread, or any bread with a solid crust and minimal sugar would also be delicious. Or, use up some stale bread for a delicious batch.
Butter: I used salted butter to coat the cubes of bread. I actually compared butter to oil, and I will let you know the results later.
Garlic: The garlic gives just a hint of garlic to the croutons.
Parsley: I prefer fresh parsley, but you could get away with using dried parsley. Other fresh herb options are rosemary, oregano, and thyme.
How to Make Croutons
Start making your croutons by cutting the bread into slices and cubes. Size varies when you are making croutons, but the best rule to follow is to make sure you can fit it in your mouth in one bite. The round loaf of sourdough bread made about 5 cups cubed pieces.
Next, in a large OVEN SAFE skillet over medium heat, melt the butter. (You will be placing the skillet in the oven to finish crisping, so use a skillet that will accommodate this.) Stir in the garlic and cook for about a minute before adding the parsley. Add the bread cubes to the skillet and use a spatula to toss and coat each piece of bread in the butter sauce.
Bake at 350°F for 25-35 minutes, or until crispy and golden brown. Using sourdough bread did take longer to crisp up compared to my other homemade croutons recipe.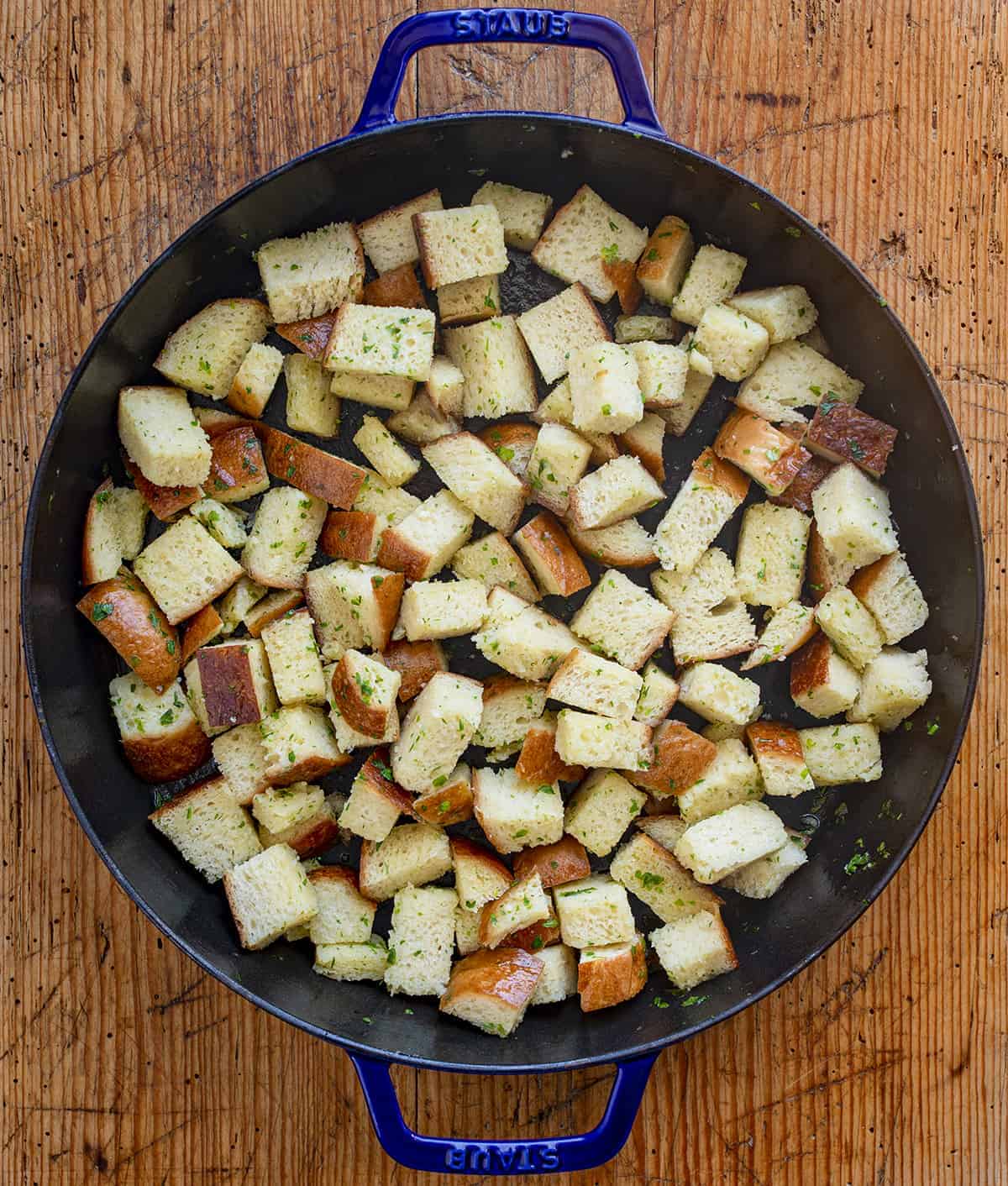 Butter vs. Oil
We actually tested this crouton recipe with both butter and oil. Butter was the hands-down winner here. But, you could also use oil (which made for some yummy croutons as well.) If you do use oil, simply substitute 1/2 cup of oil for the butter.
Can I Make these in an Air Fryer?
Yes! To make homemade croutons in an air fryer, follow the stovetop instructions to coat the cubes of bread. Then, instead of baking the croutons in the oven, set your air fryer to 350°F. Spray the basket of the air fryer with nonstick cooking spray and place the bread cubes in a single layer in the basket. Again, you may have to work in batches. Cook the croutons for 12 minutes, flipping them halfway through cooking (after 6 minutes.)
The croutons will have less of a butter flavor and will be the same texture as what you would buy from the grocery store.
How to Store Homemade Croutons
After the croutons have been baked, be sure to let them cool completely before storing them. Once cooled, store the croutons in an airtight container or jar in a cool, dry place. To soak up any excess moisture, you can add a paper towel to the bottom of the container.
Stored at room temperature, the homemade croutons will last up to 3 days. Storing them in the refrigerator will give you a couple of additional days, up to 5 days. If they lose a little crunch being in the refrigerator, simply put them in the oven for a few minutes to bring back the crispy crunch.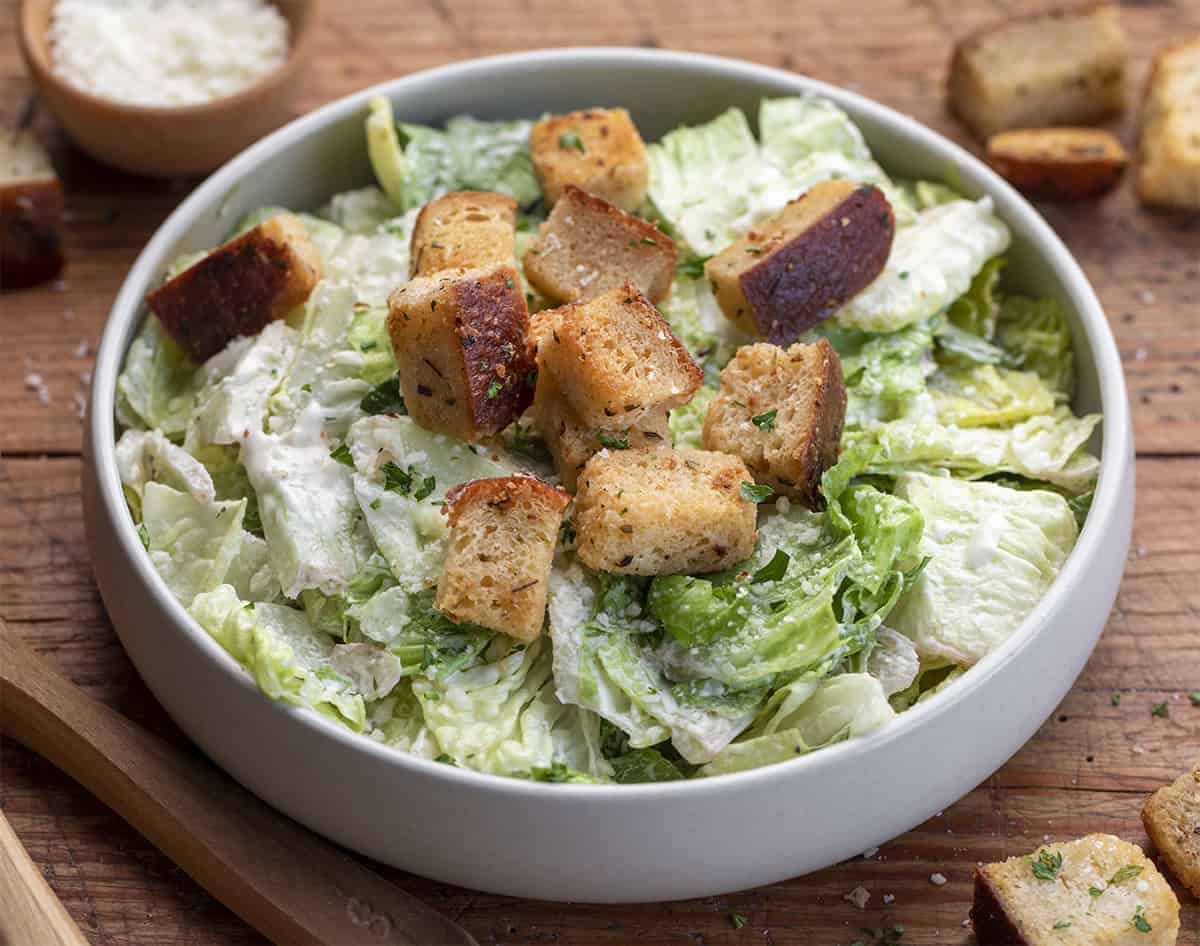 Try these Sourdough Croutons on a Homemade Caesar Salad!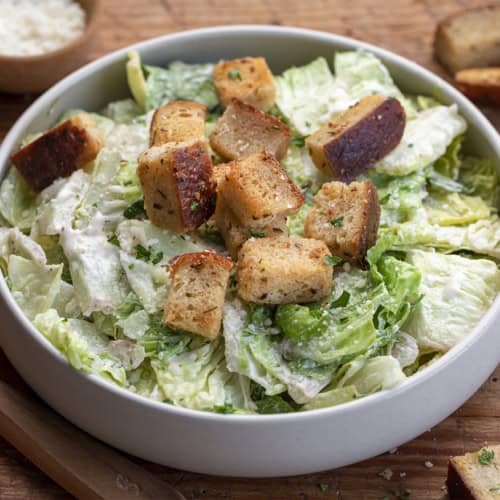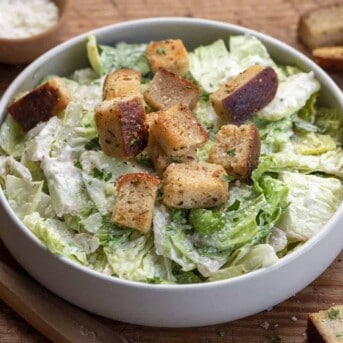 Croutons
Croutons are made with cubed sourdough bread coated in butter, garlic, and parsley, and baked to a crispy golden brown.
Ingredients
1

round

loaf sourdough bread,

cut into ½-inch cubes (about 5 cups)

12

tablespoons

salted butter

1

clove

garlic,

minced

2

tablespoons

fresh parsley

finely diced
Instructions
Preheat oven to 350°F.

In a large OVEN SAFE skillet, melt butter over medium heat.

When butter is mostly melted- stir in garlic and cook for about 1 minute, or until fragrant.

Stir in fresh parsley. Toss ingredients gently and make sure that bread cubes are coated in the butter and garlic mixture.

Place skillet into the oven. (Depending on the size of your skillet you may need to work in batches.)

Bake for 25-35 minutes, or until crisped to your liking. Keep an eye on them after 20 minutes as you don't want the croutons to burn. The cooking time will vary depending on how big your bread cubes are.
Did you make this recipe?
You can tag me at @iamhomesteader.