"Cakey" batter incorporated with juicy apples makes these apple fritters the ultimate homemade treat! The sweet glaze sends these fritters over the top and is reminiscent of a stuffed funnel cake. But better!  If you are looking for other sweet treats make sure to check out my recipe for crullers or my cinnamon biscuits with honey butter!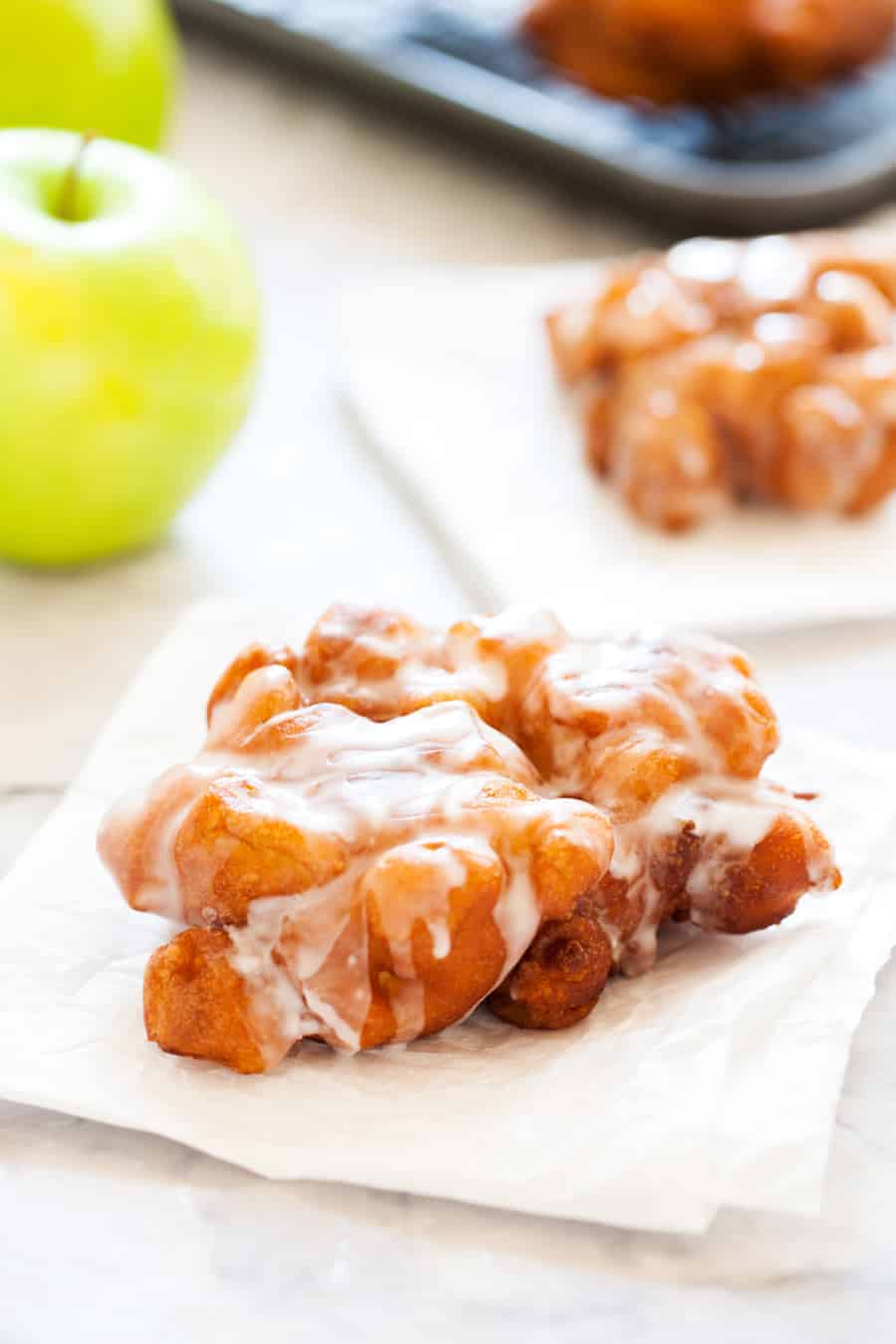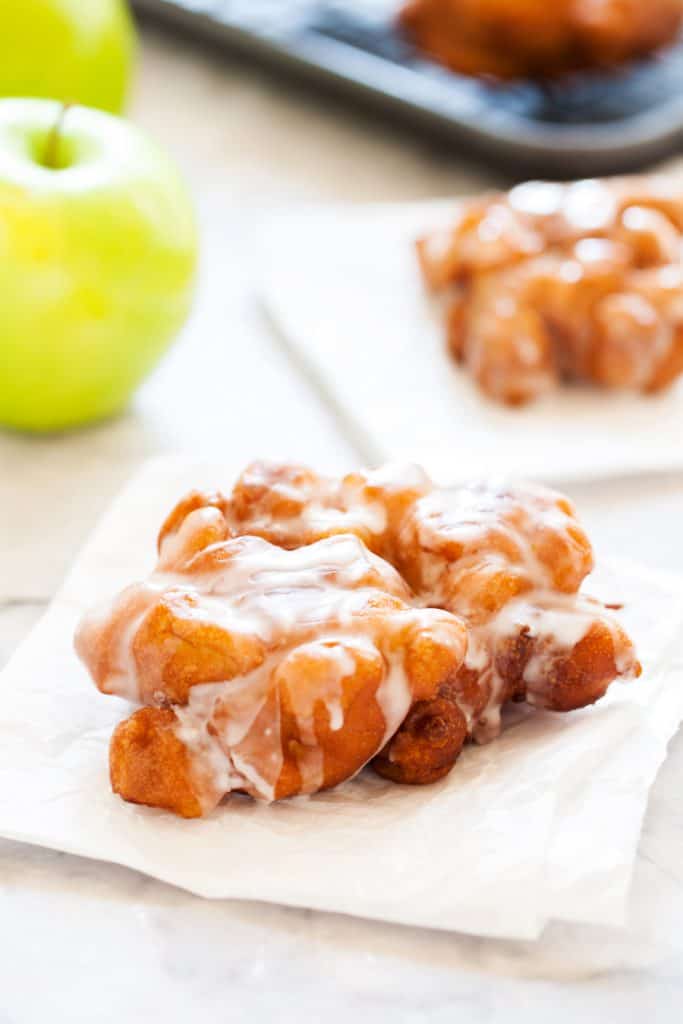 Apple Fritters
These Apple Fritters use a few basic ingredients and come together in under 30 minutes! Can you believe that you could have something so amazing so fast? They also happen to use fresh apples, so that's always a bonus when I am trying to justify donuts for breakfast. 😉
Tips for the Best Apple Fritters
In the instructions, I suggest starting to heat your oil after the batter has come together. The first few times I made these I would start the oil right away (trying to save time) and I would always forget and the oil would get too hot and burn the batter. Boo, hiss! Be sure to give yourself a few minutes to allow the oil to get to 375°F after the batter has come together. Try to also use a pan that is bigger than you would need, as there can be hot oil splattering and that is never a good thing. I like to use a thermometer at all times to monitor the oil heat. If it gets too cold you will have problems too.
The batter itself appears to be thin and you may wonder, how is this ever going to puff up into a beautiful fritter? But trust me, it will.
I prefer to use Granny Smith apples in this recipe as they hold up beautifully when baked or fried. We did try Honeycrisp apples and liked it, but when we tried Red Delicious apples, it wasn't our favorite. The texture of the apples was almost the same as the donut and there wasn't as strong of an apple flavor. When possible, opt for a Granny Smith!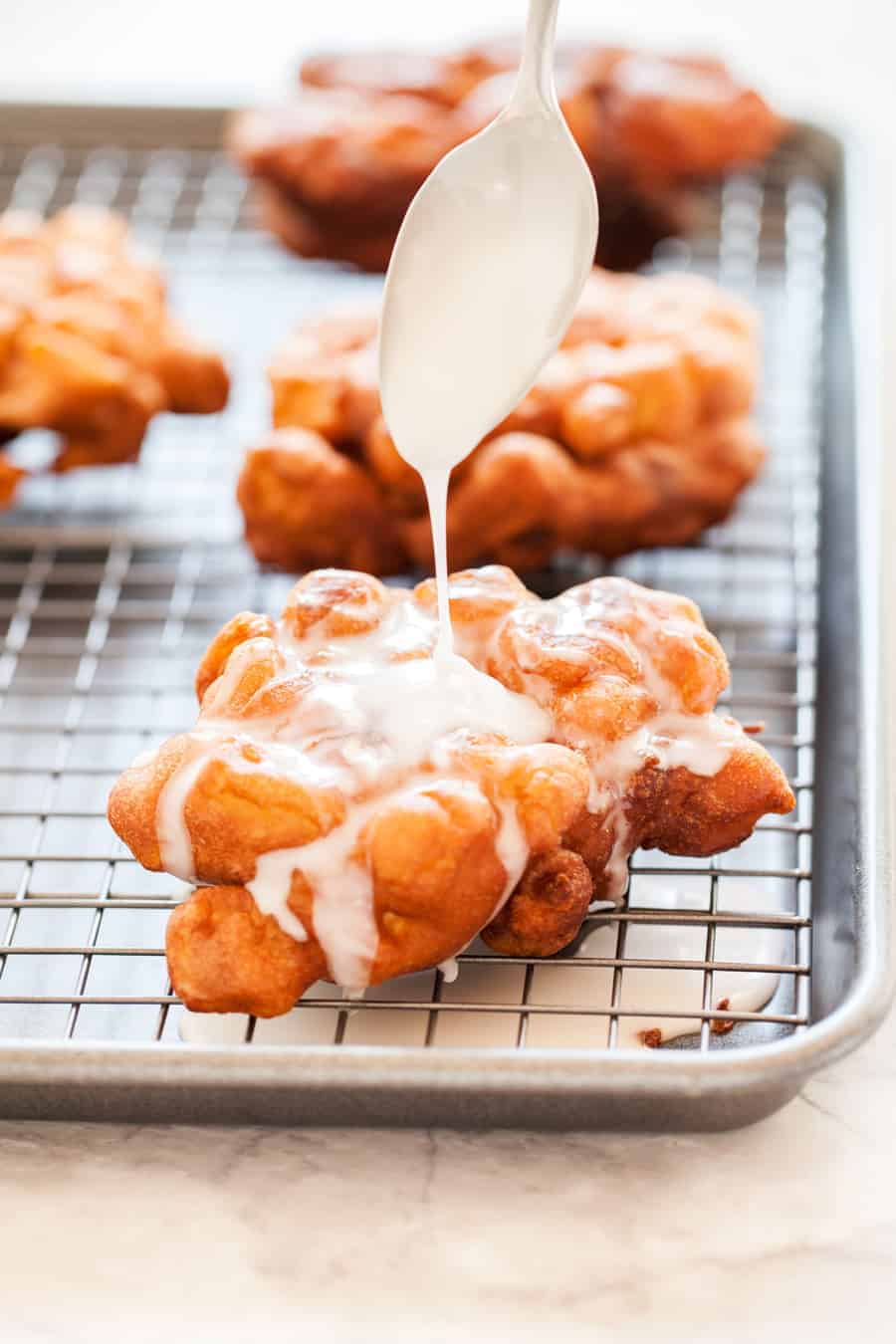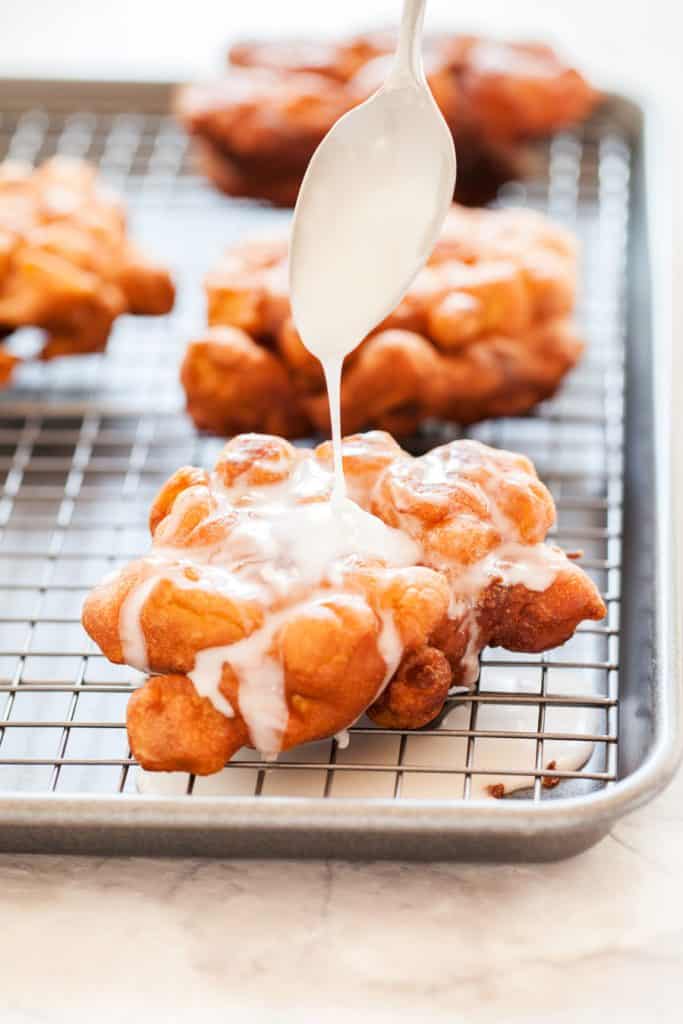 Can You Bake Apple Fritters?
You can but I don't recommend it with this specific recipe. I made a few attempts and the batter just doesn't rise up the way you want it to. This recipe is definitely not for baked apple fritters.
Homemade Donut Glaze
You may have noticed that I opted for water instead of cream or milk in the glaze recipe. When coating these apple fritters you want the glaze a little thinner than you would use for cakes or cookies.
If you are looking to lighten these up a bit, another option is to sprinkle them with cinnamon sugar when cooled. It's just 1/4 cup granulated sugar and 1 tablespoon cinnamon. You could also dust them with confectioner's sugar. Or simply enjoy plain!
Each batch only yields about 5 fritters, so double it if you have a large family. They are best eaten within 24 hours so if you can eat them all, maybe drop some off for a neighbor or teacher. I tried freezing once and didn't like how they turned out when thawed, so it might be easier to just whip up a new batch when you get a craving. 🙂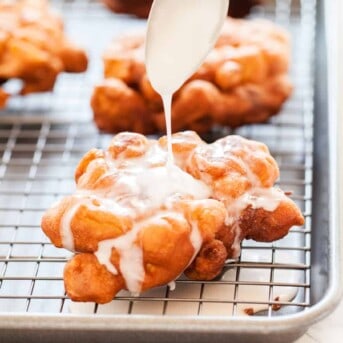 Apple Fritters
"Cakey" batter incorporated with juicy apples make these apple fritters the ultimate homemade treat! The sweet glaze sends these fritters over the top and reminiscent of a stuffed funnel cake. But better!
Ingredients
Fritters
1

cup

all-purpose flour

2

teaspoons

baking powder

½

teaspoon

cinnamon

½

teaspoon

kosher salt

2

teaspoons

fresh lemon juice

2-3

cups

Granny Smith apples

peeled, cored, and diced into bite-size pieces (about 2-3 apples)

2

tablespoons

granulated sugar

2

large

eggs,

room temperature

¼

cup

whole milk

vegetable oil
Glaze
1 ¼

cups

confectioners' sugar

¼

teaspoon

vanilla extract

3-6

teaspoons

water
Instructions
Fritters
In a medium bowl, whisk together the flour, baking powder, cinnamon, and salt. Set aside.

In a separate bowl, combine the lemon juice and apples. Set aside.

In the bowl of a stand mixer fitted with the paddle attachment, mix together the sugar and eggs on medium speed until fully combined. Reduce the speed to low and add the flour mixture in two additions. Mix until just combined.

Pour in the milk and continue to stir until incorporated.

Fold in the apples.

Fill a frying pan halfway with oil. Heat over medium heat until the oil reaches 375°F with a candy thermometer.

Drop ¼ cup of batter into the oil and let fry until golden brown. Flip and fry until the opposite side is golden brown. To test for doneness, insert a small knife into the center. If there's still uncooked batter in the center, fry for a bit longer.

Transfer to a paper towel lined cooling rack and let cool. Repeat with the remaining batter.
Glaze
When ready, make the glaze by combining the sugar, vanilla, and 3 teaspoons of water. Add more water, 1 teaspoon at a time, until a pourable consistency is reached.

Drizzle the glaze over the cooled fritters and let dry.
Did you make this recipe?
You can tag me at @iamhomesteader.
Photography by The PKP Way.