Hot Girl Summer Salad is a refreshing salad made with cucumbers, peppers, red onion, eggs, and sunflower seeds, topped with Italian dressing. Try my Strawberry Chicken Salad for another salad perfect for the summertime!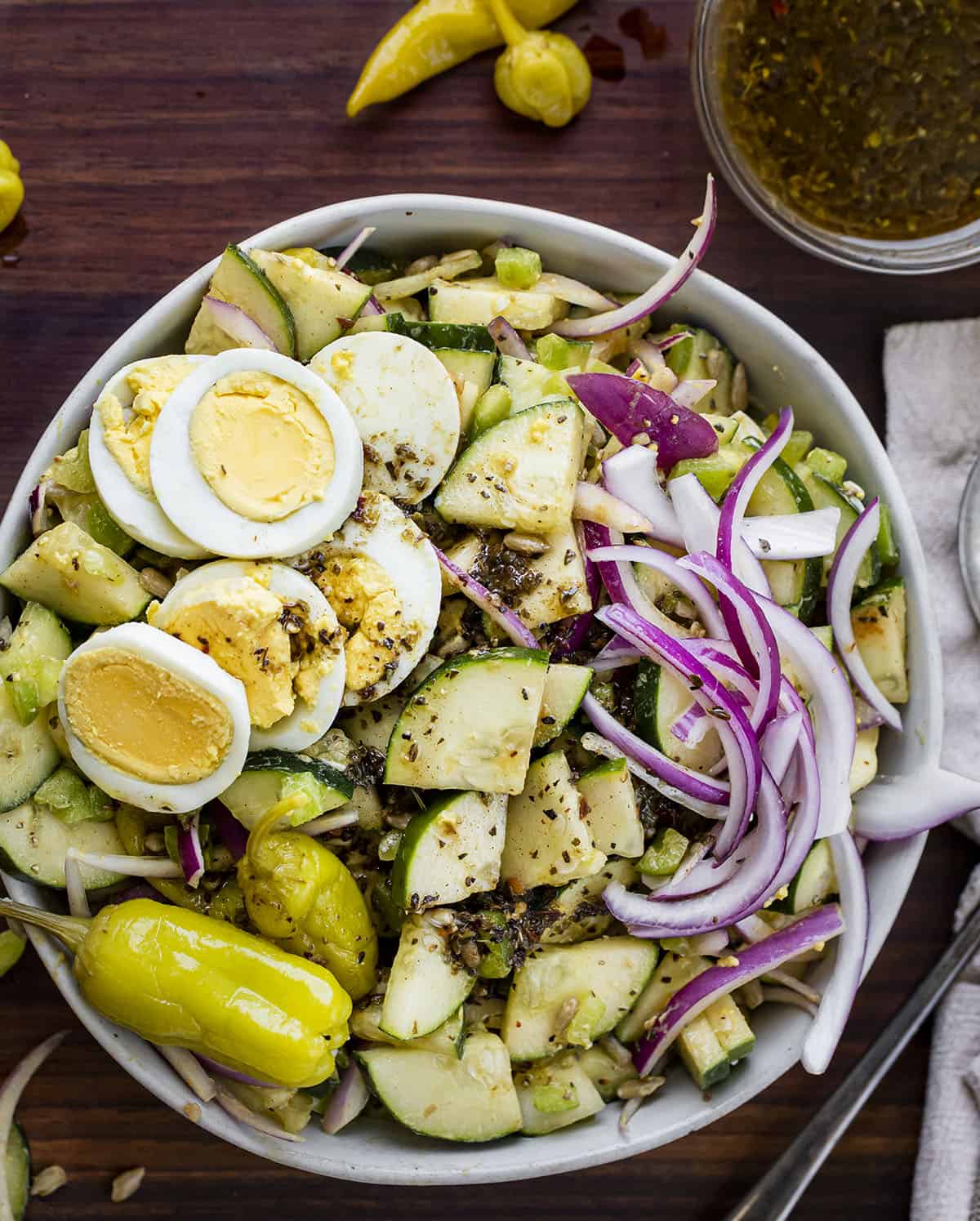 Hot Girl Summer Salad
This recipe has gone viral on TikTok from @herdresscode. However, you don't have to be a girl or on a diet to enjoy this salad! But, summertime is usually fewer layers of clothes, so this salad is a refreshing light lunch or side dish that helps perfect your bikini bod. Or in my case, an oversized t-shirt and shorts bod. 😉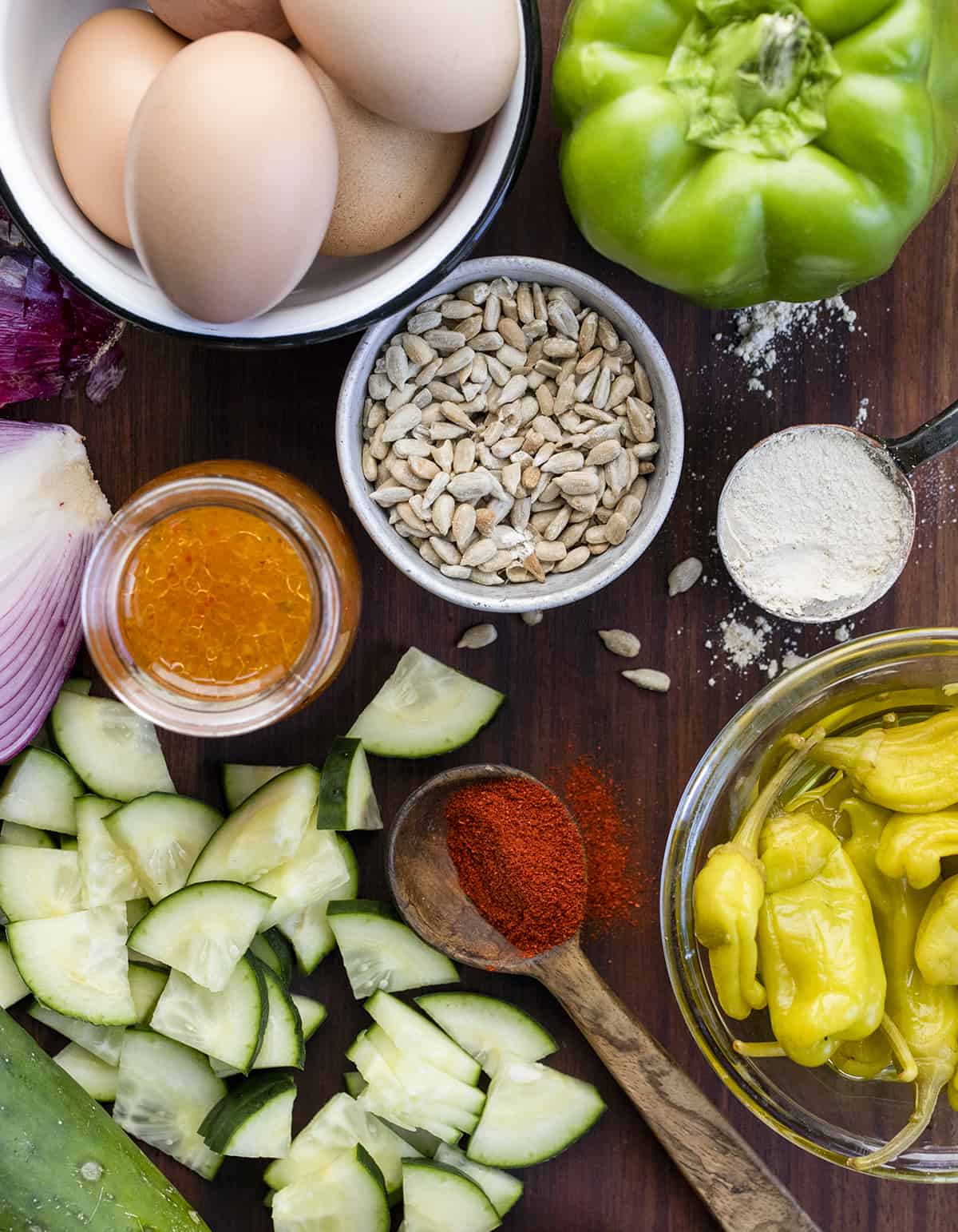 Salad Ingredients
Cucumbers: Cucumbers are one of the stars of this salad. Cucumbers are low in calories, but they do pack a punch in nutrients.
Bell Pepper: I prefer a green bell pepper in the salad, but you could use any variety of bell pepper you have on hand.
Pepperoncini: Pepperoncini is a type of chili pepper that is a little sweet. They are milder than most chili peppers, so don't worry about them being too hot or spicy. I used the jarred pepperoncini peppers.
Sunflower Seeds: Adding sunflower seeds gives the salad some extra crunch.
Dressing: Homemade Italian Dressing is the way to go! You can certainly use store-bought or a different dressing if you prefer.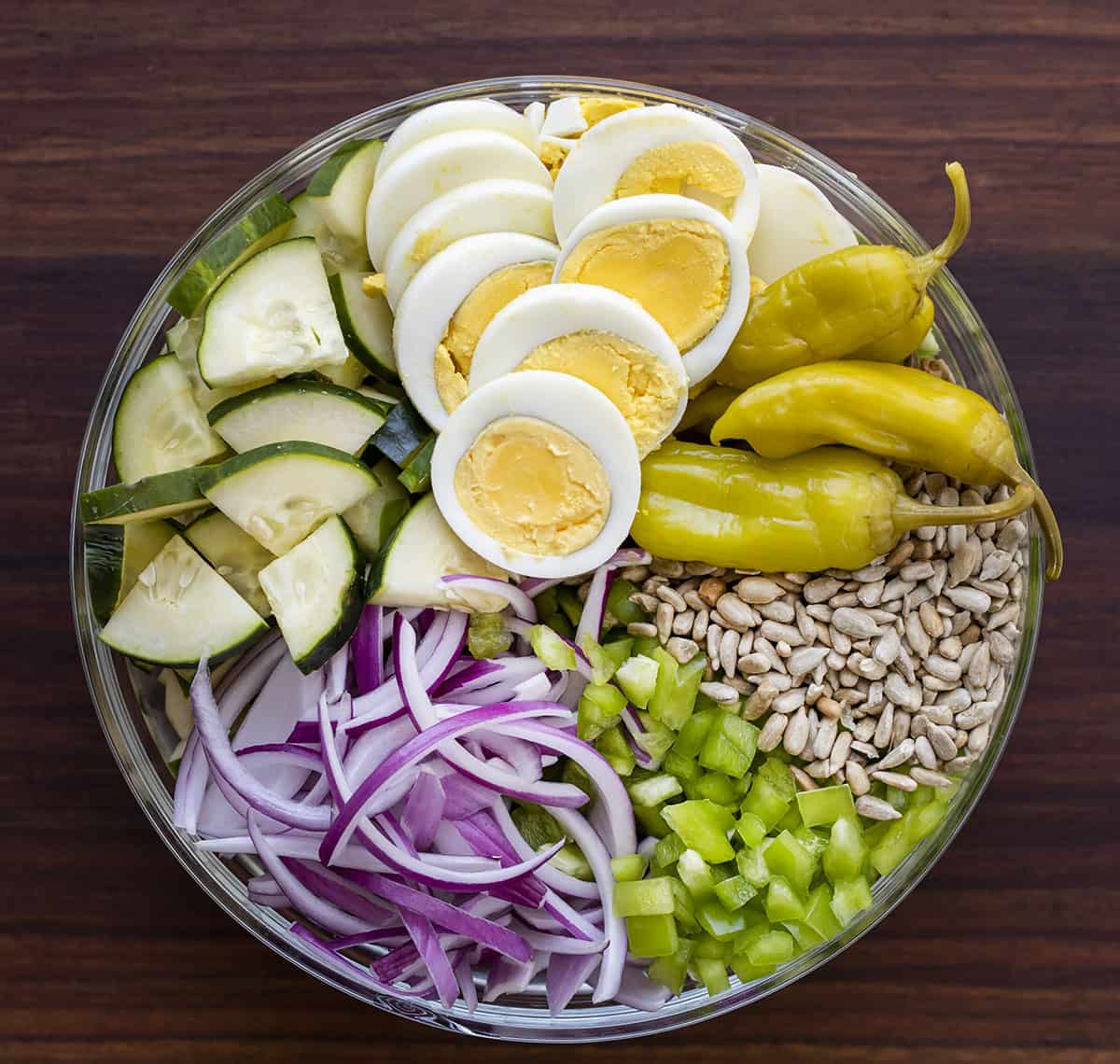 How to Store Hot Girl Summer Salad
After the ingredients have all been combined, store the salad in a container with a tight-fitting lid. It will last in the refrigerator for about 3 days.
Can I Peel the Cucumbers?
Yes! I didn't peel the cucumbers, but you certainly could if you want a different texture.
Are Pepperoncini Spicy?
No. If you look at the Scoville Scale, the scale that ranks the heat of peppers, pepperoncini are one of the lowest-ranked peppers when it comes to heat. They rank from 100-500 Scoville Heat Units. Putting that into perspective, jalapeno peppers range between 2,500-8,000 SHU. So, the 'hot' in Hot Girl Summer Salad does not refer to the peppers!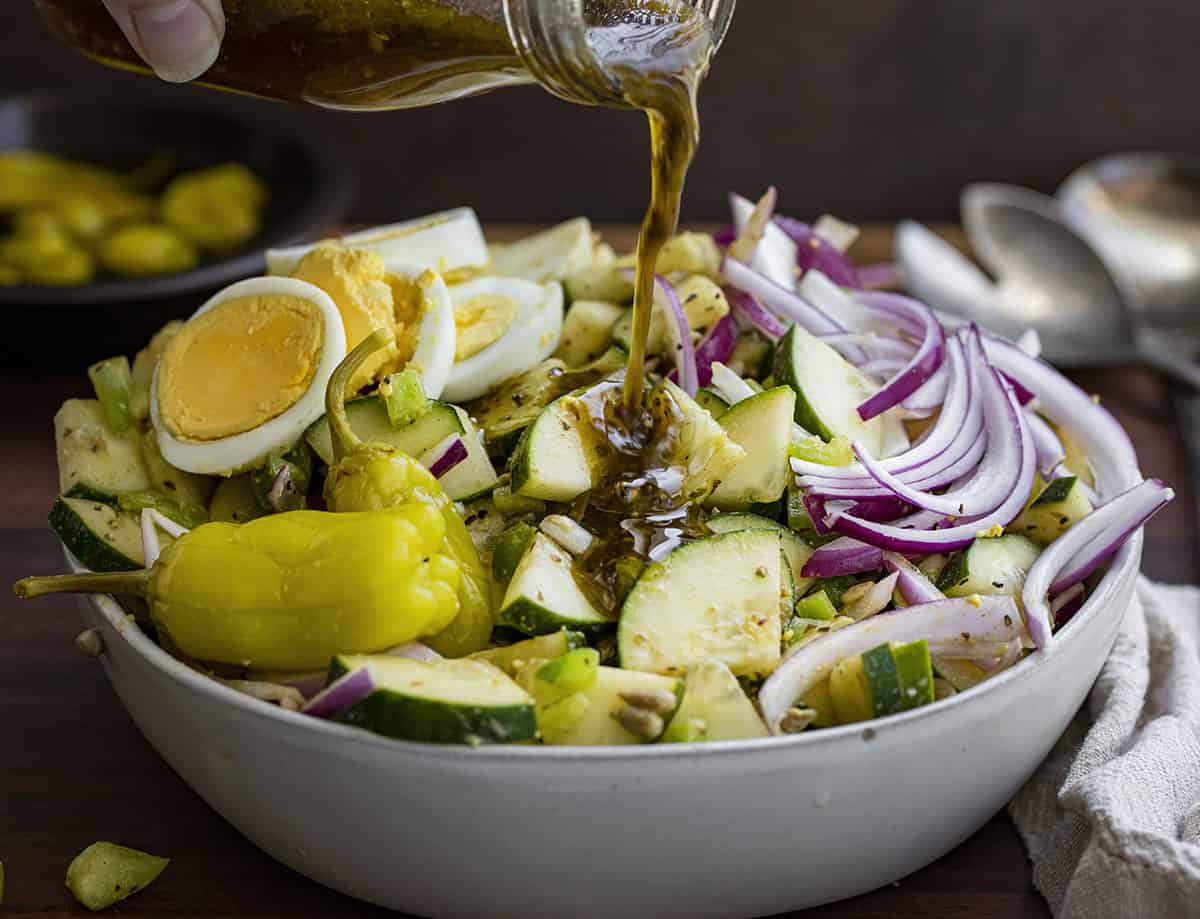 What is Hot Girl Summer?
If you are going to have a 'hot girl summer', it means you are going to have lots of fun in the sun! It is a phrase that was made popular by Megan Thee Stallion. It works for both guys and girls, giving permission to just live your best life and be authentically you. Now, I can't guarantee that this salad will make your summer the best ever, but why not give it a shot?
Can I Add Meat to the Salad?
If you want more protein added to the salad, I would recommend trying it with grilled chicken breasts. Yum!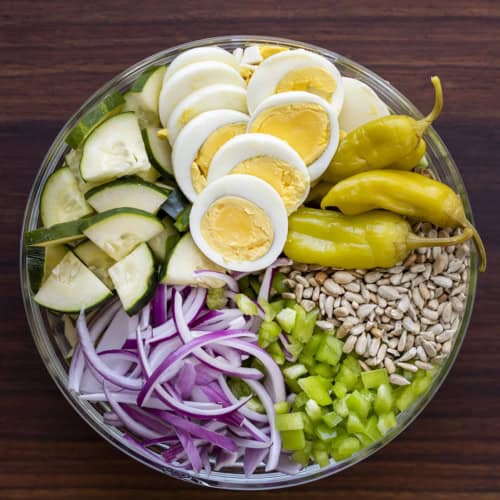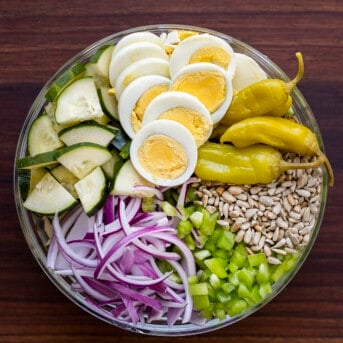 Hot Girl Summer Salad
Hot Girl Summer Salad is a refreshing salad made with cucumbers, peppers, red onion, eggs, and sunflower seeds, topped with Italian dressing.
Ingredients
2

medium

cucumbers,

sliced, quartered (about 4 cups)

1

small

green bell pepper,

seeded, diced (about 1 cup)

1

small

red onion,

quartered, sliced (about 1½ cups)

3

large

eggs,

hard-boiled, peeled, sliced into rounds

½

cup

(6-8) pepperocinis

¼

cup

(16 g) sunflower seeds

½

teaspoon

garlic powder

½

teaspoon

black pepper

¼

teaspoon

paprika

¼

cup

(56 g) Italian dressing,

more or less to taste (Recipe in Notes)
Instructions
In a large mixing bowl add cucumbers, peppers, onions, eggs, pepperocinis, sunflower seeds, garlic powder, pepper, paprika, and dressing. Toss to combine.

Store in the refrigerator for up to 3 days.
Did you make this recipe?
You can tag me at @iamhomesteader.