Lemon Garlic Chicken Bites are pieces of seasoned chicken breasts pan-fried with butter and garlic, drizzled with freshly squeezed lemon juice. It's a super easy and flavorful meal! If you love chicken bites as I do, I also have Oven-Baked Chicken Bites.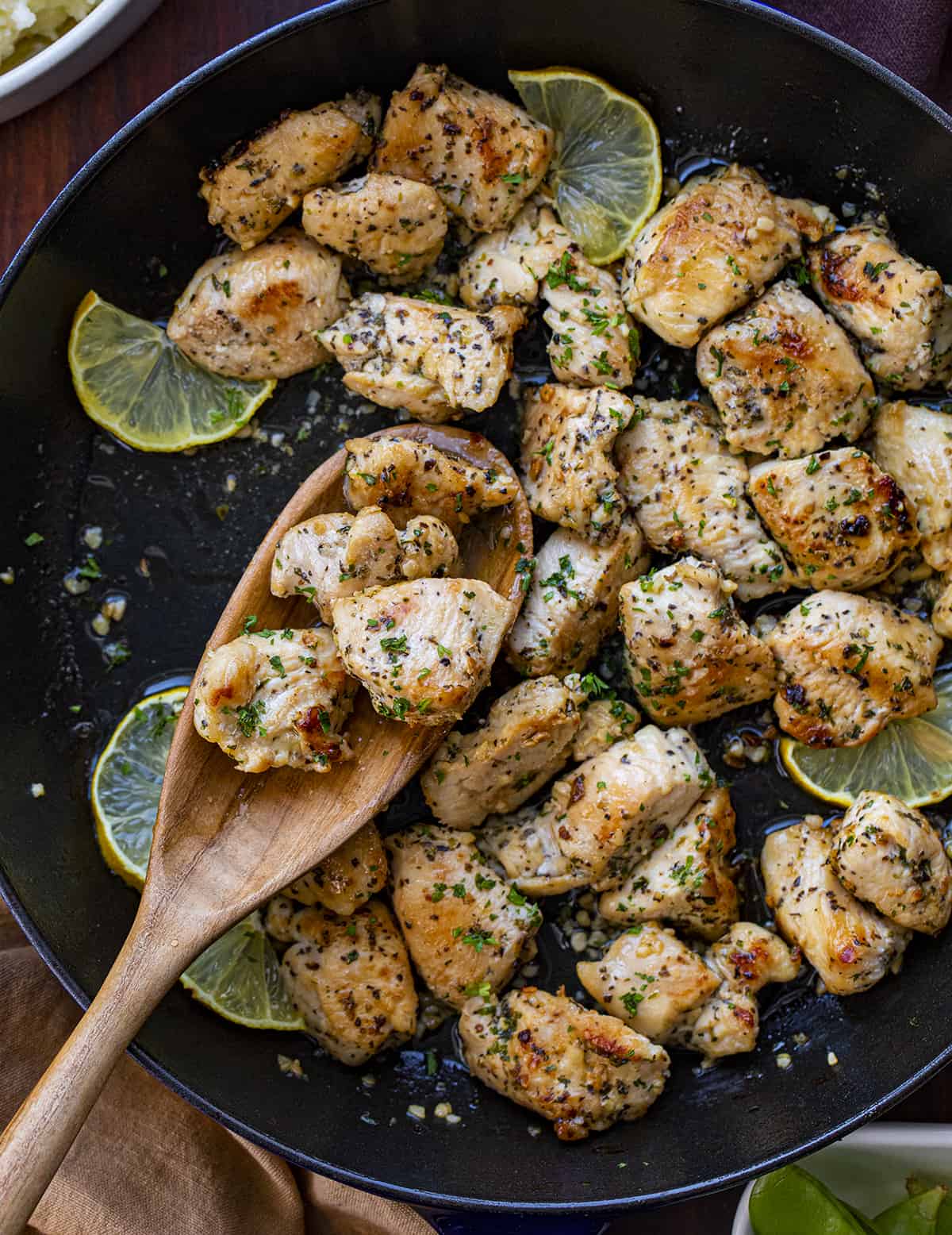 Lemon Garlic Chicken Bites
I love chicken bites because they are easy to make, but yet so flavorful! It's a great way to serve chicken in a way the entire family will love. With just a few herbs and spices, the chicken pieces are pan-fried in butter before adding garlic and topping with lemon juice. Each bite is bursting with garlic and lemon flavor! I also have Sweet Chili Chicken for another flavorful way to serve chicken!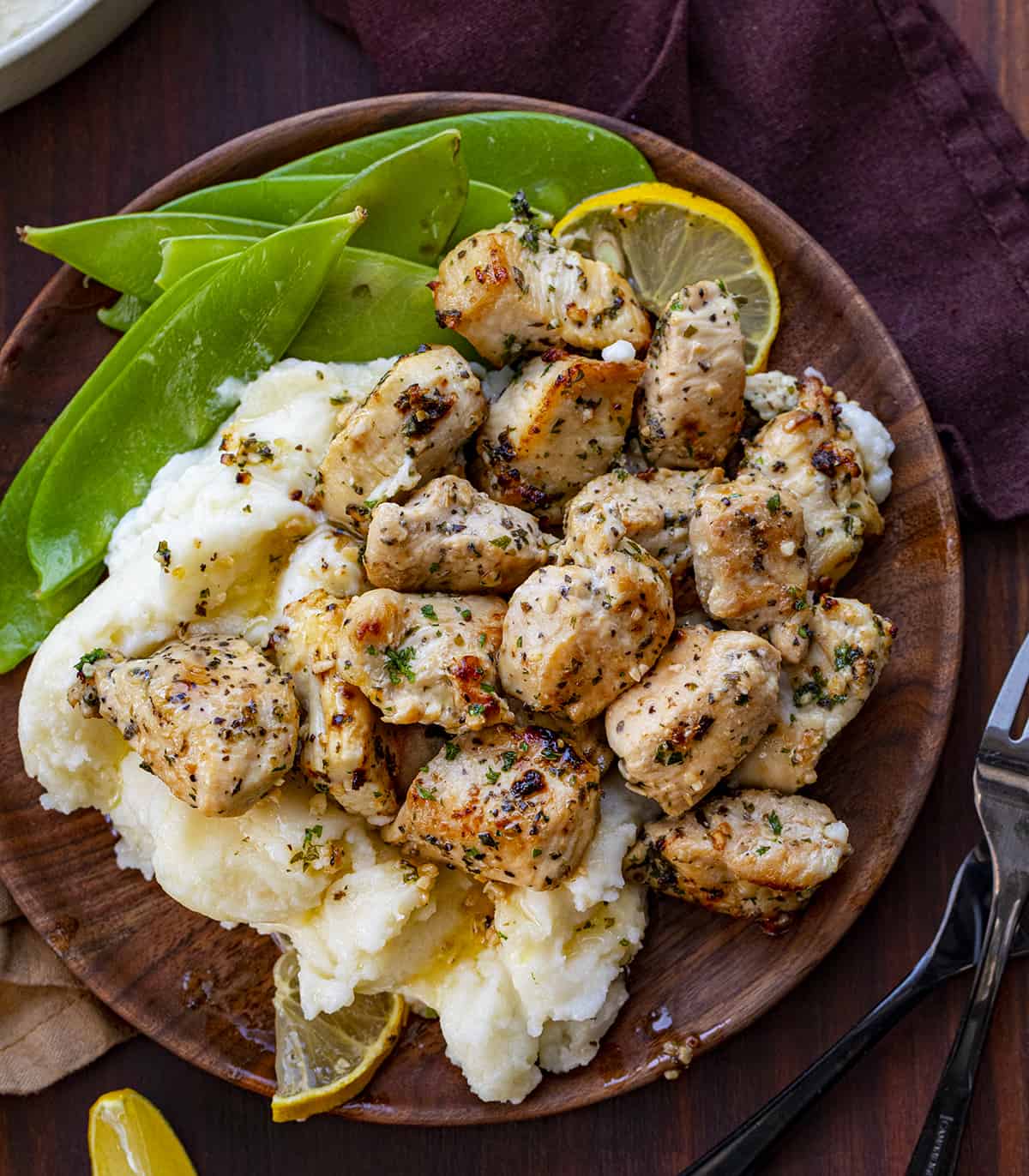 Ingredients & Substitutions
Chicken: I used boneless, skinless chicken breasts in this recipe. Pat the chicken dry before cutting it into bite-sized pieces.
Herbs & Spices: You will need oregano, basil, parsley, salt, and pepper for seasoning the chicken. I used dried oregano and dried basil. If using fresh, you will need about 1 1/2 teaspoons of each. On the other hand, I used fresh parsley; if using dried, you will need about 2 teaspoons of dried parsley.
Garlic: Yes, you read that amount correctly–2 tablespoons of minced garlic is added to the chicken. With garlic in the name, it has to stand out!
Lemon: Freshly squeezed lemon juice is preferred, but you could always add a little lemon juice concentrate if that is all you have on hand.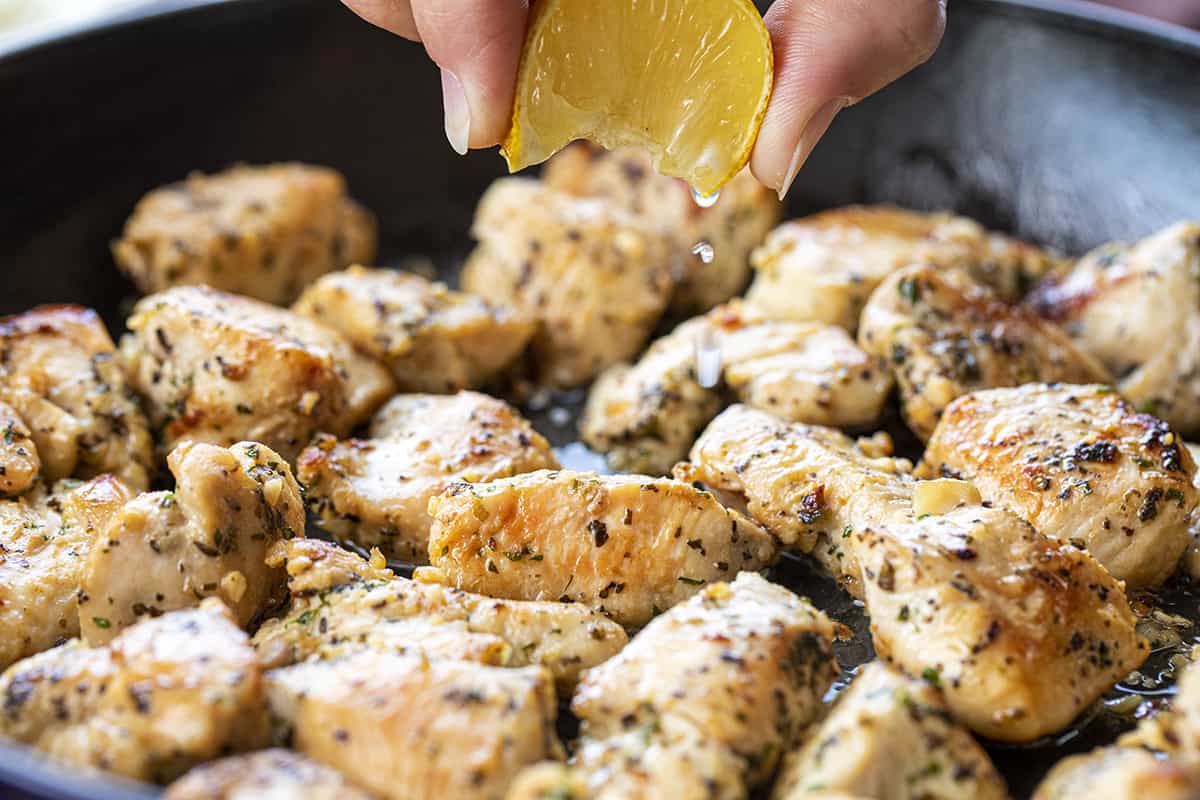 What to Serve with Lemon Garlic Chicken Bites
It's easy to turn this into a meal. Serve the chicken bites with a side of mashed potatoes (I even have cauliflower mashed potatoes, if preferred) or rice. And don't forget some vegetables like green beans or roasted asparagus and a basket of breadsticks to really make the meal complete.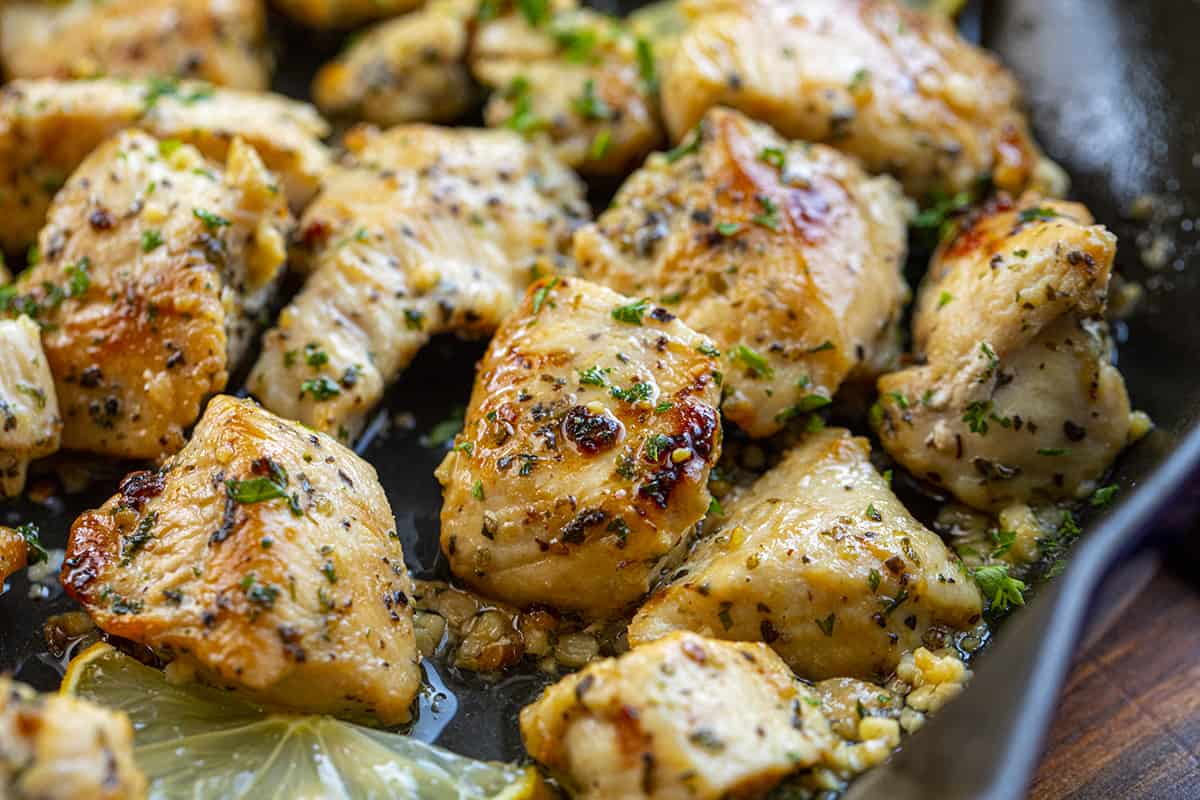 How to Make Lemon Garlic Chicken Bites in the Air Fryer
I love it when there is an option to make my favorite recipes in an air fryer. And, to be honest, this one is just as good, if not a little better, when made in the air fryer.
Melt all of the butter.
Stir in the oregano, basil, parsley, salt, pepper, and garlic into the butter.
Toss the chicken bites in the seasoned butter.
Place the coated chicken in a single layer in the basket of your air fryer and air fry for 7-8 minutes at 375°F, flipping halfway through.
Don't forget to drizzle the lemon juice over the chicken bites before serving.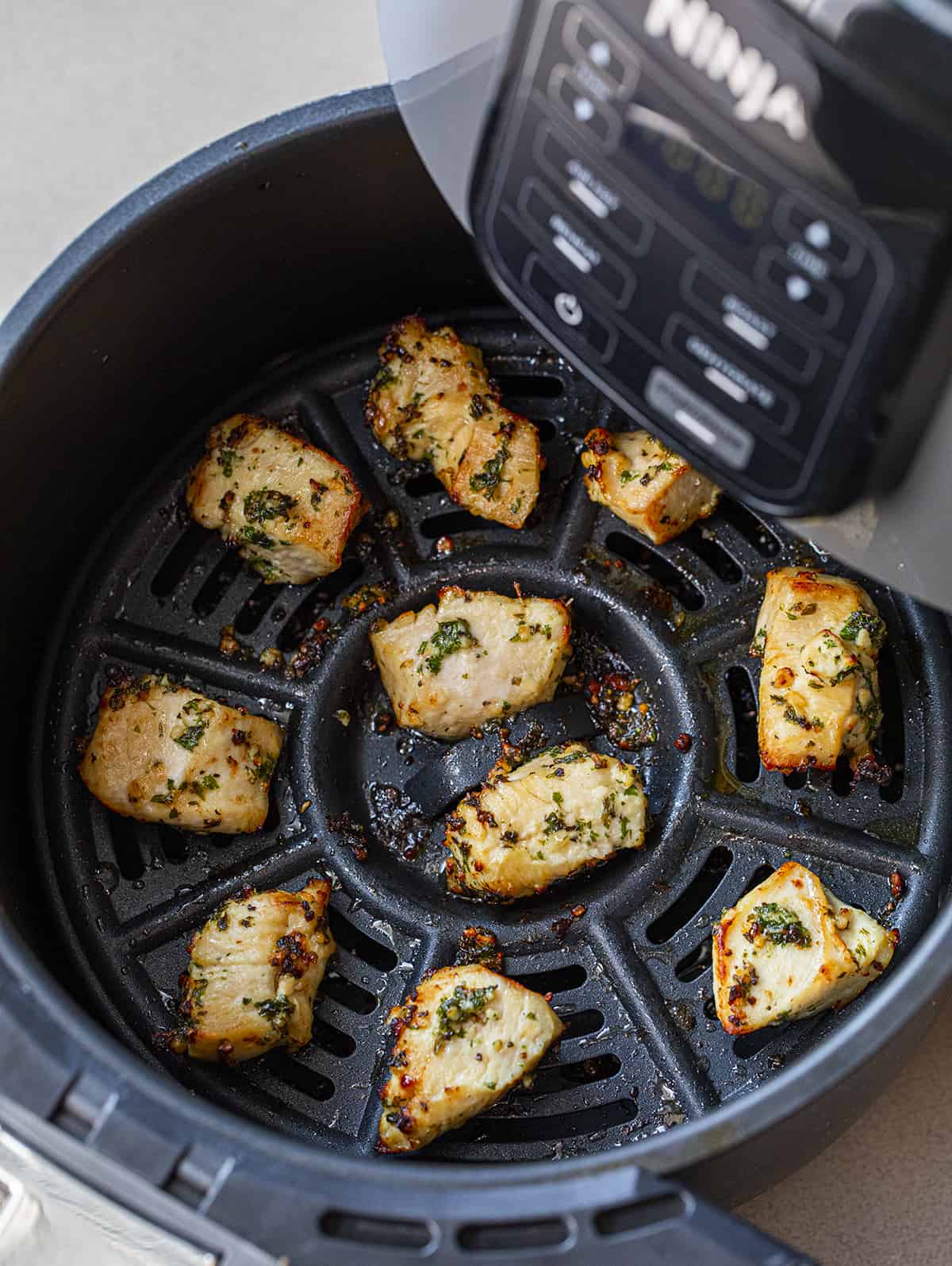 How to Store Lemon Garlic Chicken Bites
If you have any leftover chicken bites, store them in the refrigerator for up to 2 days. (The bites would be delicious on top of a lettuce salad for some added protein.) If you are not going to eat the leftovers within a couple of days, freeze the cooked chicken for up to 4 months.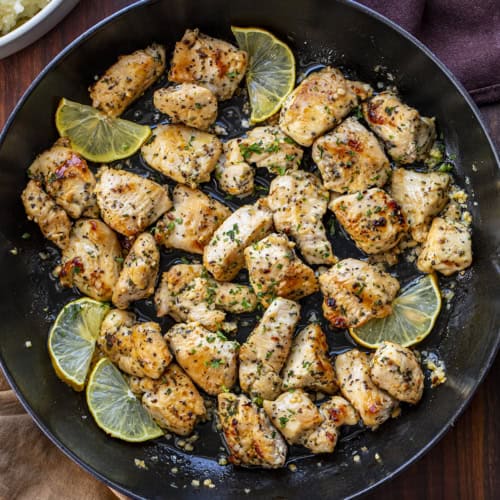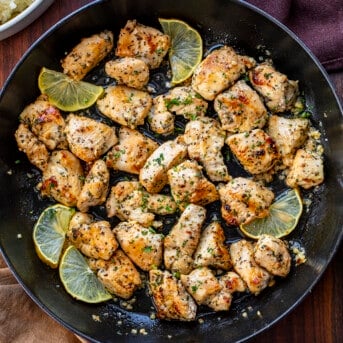 Lemon Garlic Chicken Bites
Ingredients
1

pound

boneless, skinless chicken breasts,

pat dry with paper towel, cut into 1-inch pieces

½

teaspoon

dried oregano

½

teaspoon

dried basil

2

tablespoons

finely chopped fresh parsley

½

teaspoon

kosher salt

¼

teaspoon

black pepper

4

tablespoons

unsalted butter,

divided

2

tablespoons

minced garlic

½

medium

lemon,

juiced (about 2 tablespoons)
Instructions
In a small bowl, combine oregano, basil, parsley, salt, and pepper. Sprinkle evenly over all sides of the chicken pieces. Toss to evenly coat.

In a 12-inch skillet over medium heat, melt 2 tablespoons of the butter. Tilt the pan slightly to coat the base of the pan.

Once melted, add chicken to the pan in an even layer to ensure even cooking. (Do not overcrowd the pan.) Cook 8-10 minutes, flipping halfway through, or until all sides are golden brown and the chicken is mostly cooked through.

Add the remaining butter. Once melted, add garlic and cook one more minute, or until fragrant, and the chicken is cooked through to an internal temperature of 165°F.

Drizzle lemon juice over chicken and stir to combine. Serve immediately.
Notes
*See post for Air Fryer instructions as it is slightly different. 
Did you make this recipe?
You can tag me at @iamhomesteader.