This Pulled Pork Quesadilla recipe is the perfect sweet and savory appetizer. Filled to the brim with juicy and flavorful pulled pork, sweet caramelized onions, and topped with tangy BBQ sauce.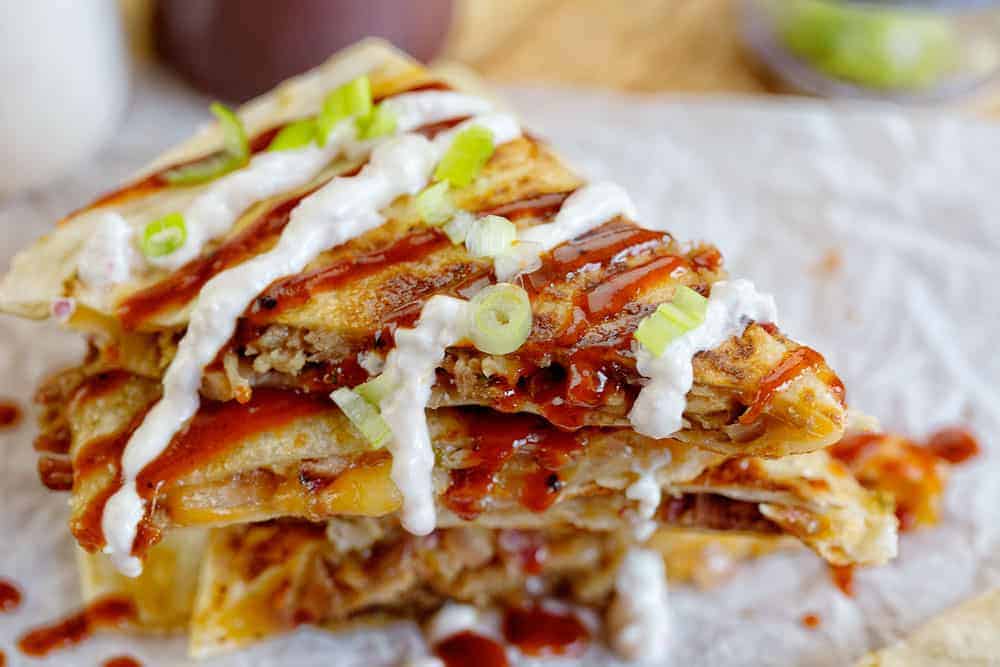 Pulled Pork Quesadilla
We recently had a party and my husband smoked 80 pounds of pork. (Here is that awesome Pulled Pork Recipe.) While it was a big hit at the party, we did have some left over. I have been coming up with new recipes to incorporate the pulled pork leftovers into our meals and it has it been fun not to mention delicious! I had no idea how versatile pulled pork was and am thrilled to be able to use it up in such mouth-watering ways. We have made Pulled Pork Hash, Pulled Pork Nachos, and Pulled Pork Shepherds Pie and they were all fantastic!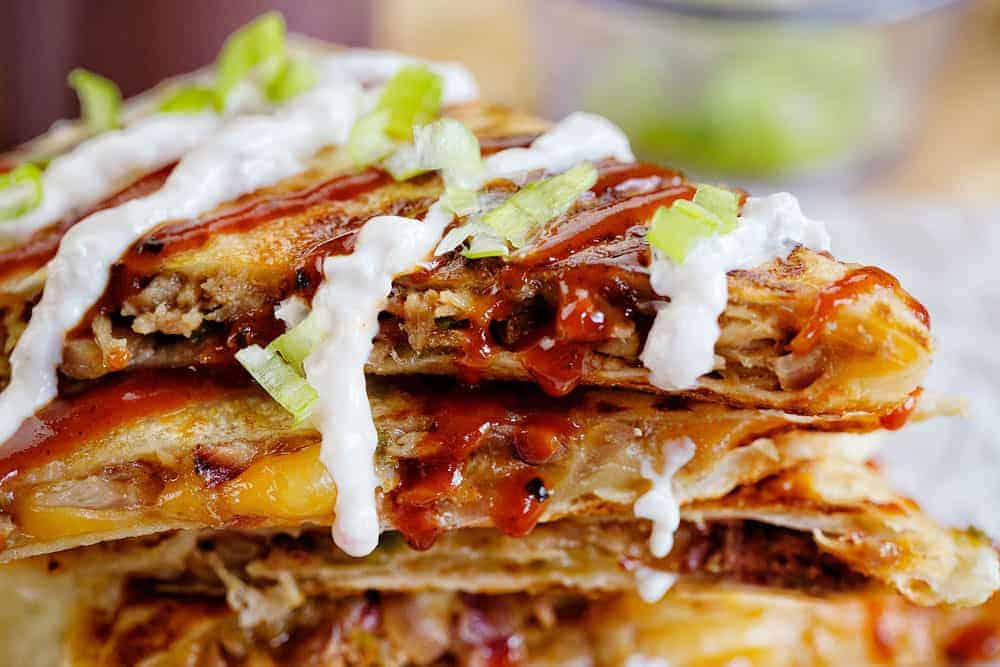 Tips for the Perfect Pulled Pork Quesadillas
The number one thing to remember is that a higher temp will burn the tortilla and not melt the cheese. No thanks. These beauties need time to melt together and to crisp. Set the burner to Medium (or even medium-low) and grab your patience. You will regret it if you try to cook it too fast.
While we are discussing cooking methods, another thing to mention is the method for folding and flipping the quesadilla while in the pan. Put your filling on half of the tortilla (just trust me here). Using a spatula, fold the dry half on top. Press down, the cheese will stick it all together. When it comes time to flip, slide your spatula under the OPEN side and flip. If you feel like you are going to make a mess, you can use a second spatula to guide the quesadilla into place.
I have a few tips about ingredients as well. The tortillas in this pulled pork quesadilla recipe need to be flour tortillas. Corn tortillas are great but for this recipe, you need the foundation to be a bit more flexible. Trust me, flipping a corn tortilla is a nightmare. Also, let's talk oil. Too much oil will soak into the tortilla and make your quesadilla taste strange. I would evenly coat and add more oil as needed. Each time you put a new tortilla down it will soak it in, so you might want to add it in batches.
The last thing I will say on this matter is about cooking time. So, the nature of these quesadillas is that you can only cook one at a time and you need to serve them right away. That means that depending on how many people you are serving, you could have a line of people waiting to grab the latest cut. Picture the sample line at Costco. If you have a pancake griddle, now is the time to brush the dust off and use it. You can cook three or four at a time and keep everyone happy!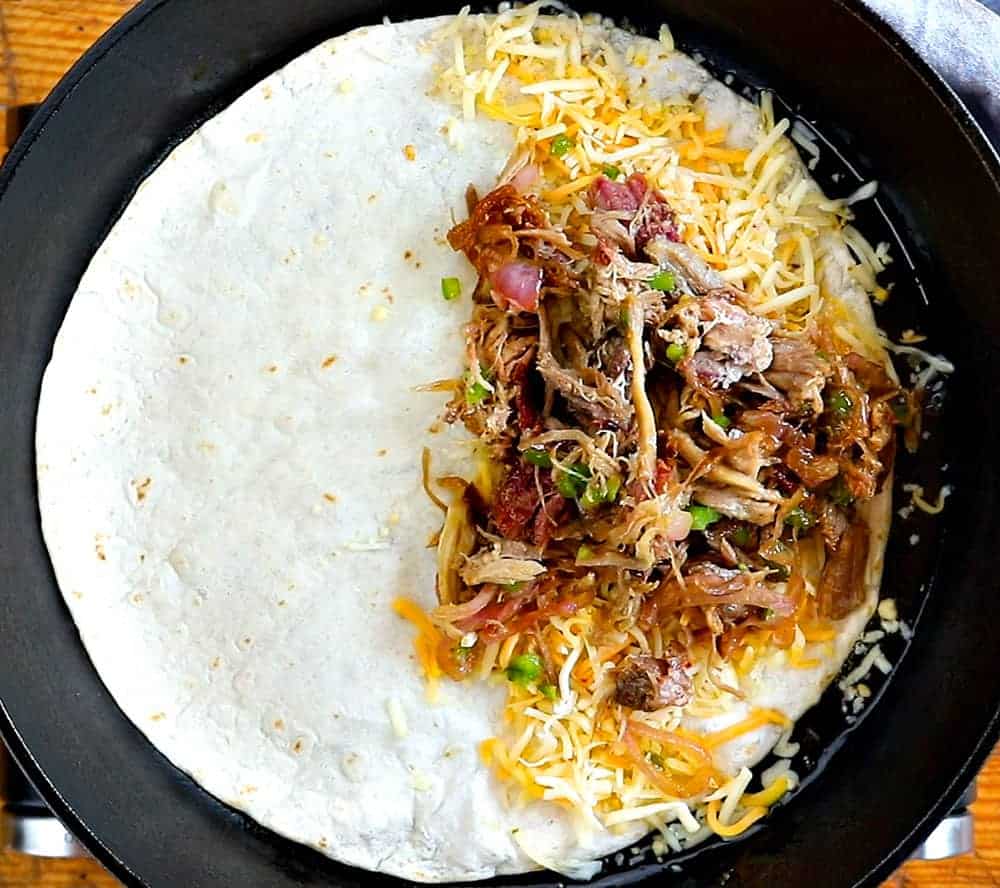 BBQ Pulled Pork
We used a tangy BBQ sauce in this recipe but you can certainly use your favorite kind. The trick is to pick your favorite BBQ sauce. I used one that is a bit sweet, but my husband prefers when I used a spicy BBQ sauce. I have tried many variations and they are all delicious! In addition, we topped this one off with our house famous "white sauce". It is a mixture of sour cream, mayonnaise, red onion, and garlic.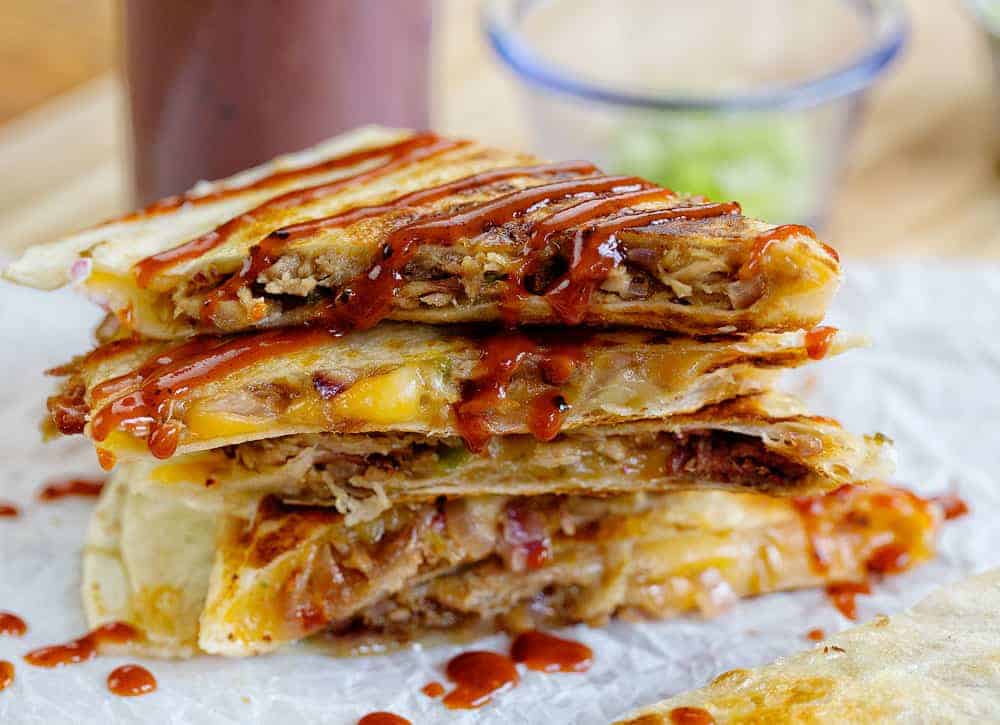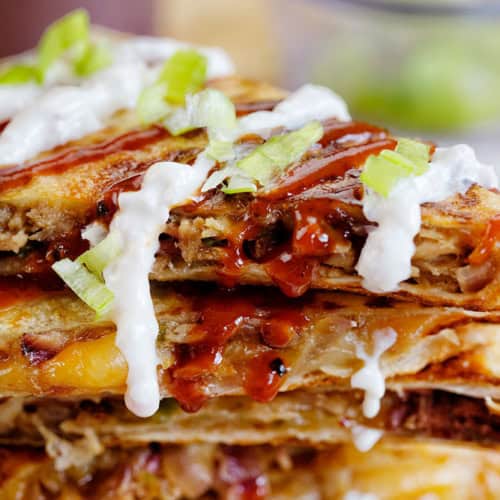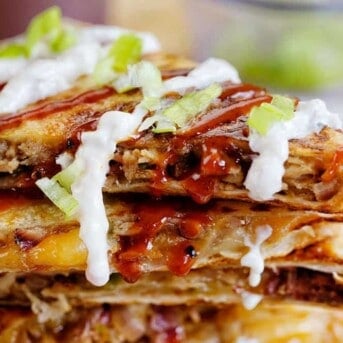 Pulled Pork Quesadilla
This Pulled Pork Quesadilla recipe is the perfect sweet and savory appetizer. Filled to the brim with juicy and flavorful pulled pork, sweet caramelized onions and topped with tangy BBQ sauce.
Ingredients
1½

cups

pulled pork

1½

cups

shredded cheese,

(mozzarella or cheddar)

8

flour

tortillas

¼

cup

green pepper,

finely chopped

1

tablespoon

olive oil

⅛

teaspoon

kosher salt

⅛

teaspoon

pepper

2

tablespoon

butter

1

red

onion,

halved and finely sliced

2

tablespoon

brown sugar

1

tablespoon

balsamic vinegar
Instructions
In a large skillet, melt butter over medium heat.

Add the onion and stir to coat. Spread the onions out evenly over the pan and let cook, stirring occasionally. (approximately 7 minutes).  Depending on your oven's temperature, you may need to reduce the heat to prevent burning.

Add brown sugar and balsamic vinegar and cook for an additional 5 minutes until "sticky".

Add pulled pork and green peppers, and cook for an additional 3 – 5 minutes, or until the meat is cooked through.  Empty contents of skillet into a bowl and set aside.

Using the same skillet, wipe clean with a wet cloth.  Add olive oil and heat until shimmering.

Lay tortilla flat and sprinkle with ⅛ of cheese and ⅛ pulled pork mixture.

Fold tortilla in half and cook 1-2 minutes on each side.
Did you make this recipe?
You can tag me at @iamhomesteader.