A classic dish gets a fun twist by adding pulled pork to this Pulled Pork Shepherd's Pie! It's the perfect way to use up any extra pulled pork you have. If you don't happen to have excessive amounts of pulled pork as I do, feel free to make traditional Shephard's Pie (also known as Cottage Pie because it uses ground beef).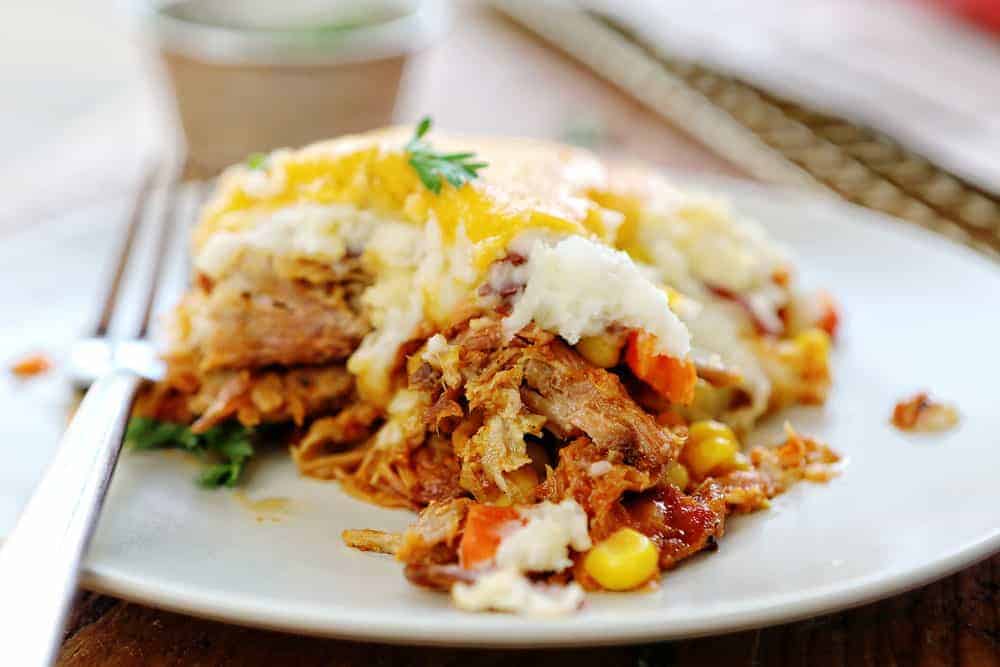 Pulled Pork Shepherds Pie
If I am being honest, I will tell you that this one threw me. Could it taste good? Or would it be some weird food mash-up that just should not ever happen again? Wow were we pleasantly surprised by how great this tasted!
We recently had a party and my husband smoked 80 pounds of pork. (Here is that awesome Pulled Pork Recipe.) While it was a big hit at the party, we did have some left over. I have been coming up with new recipes to incorporate the pulled pork leftovers into our meals and it has it been fun not to mention delicious! I had no idea how versatile pulled pork was and am thrilled to be able to use it up in such mouth-watering ways. We have made Pulled Pork Hash and Pulled Pork Nachos and both were fantastic!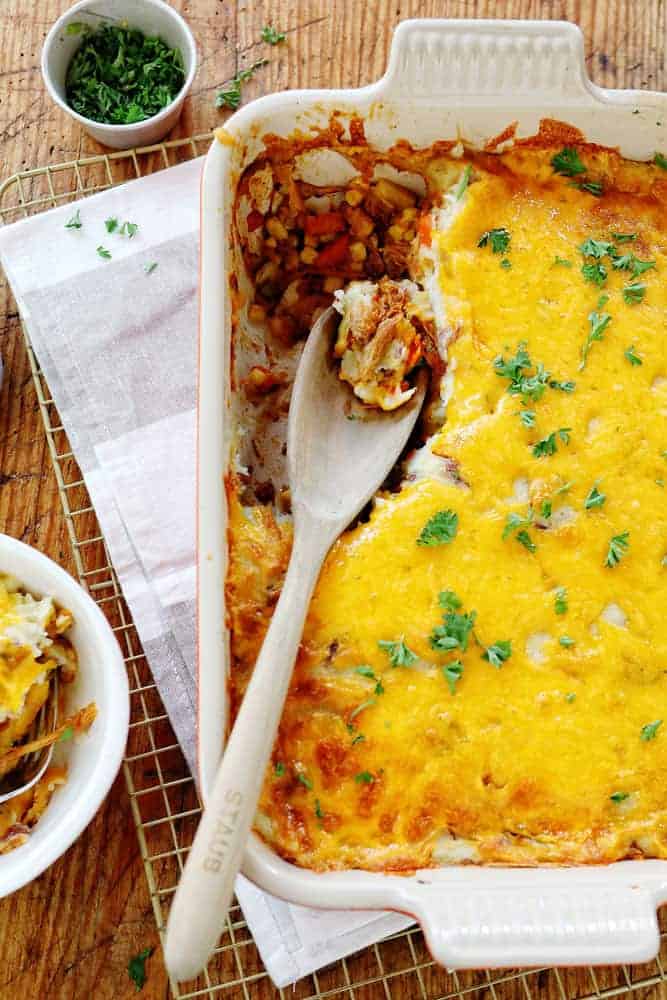 What is Shepherd's Pie?
Simply put, Shepherd's Pie or Cottage Pie is a meat pie with a topping using potatoes, usually mashed. The recipe has lots of variations, but the main ingredient in a Shepherd's Pie is usually lamb. In a cottage pie, it is beef. There is a gravy sauce added to the meat (like tomato sauce) as well as onions and other vegetables. It is topped with mashed potatoes and usually, a grated cheese melted on top.
This recipe should be called Pulled Pork Cottage Pie, but I worried folks wouldn't recognize that name. So technically speaking, I named this incorrectly. 😂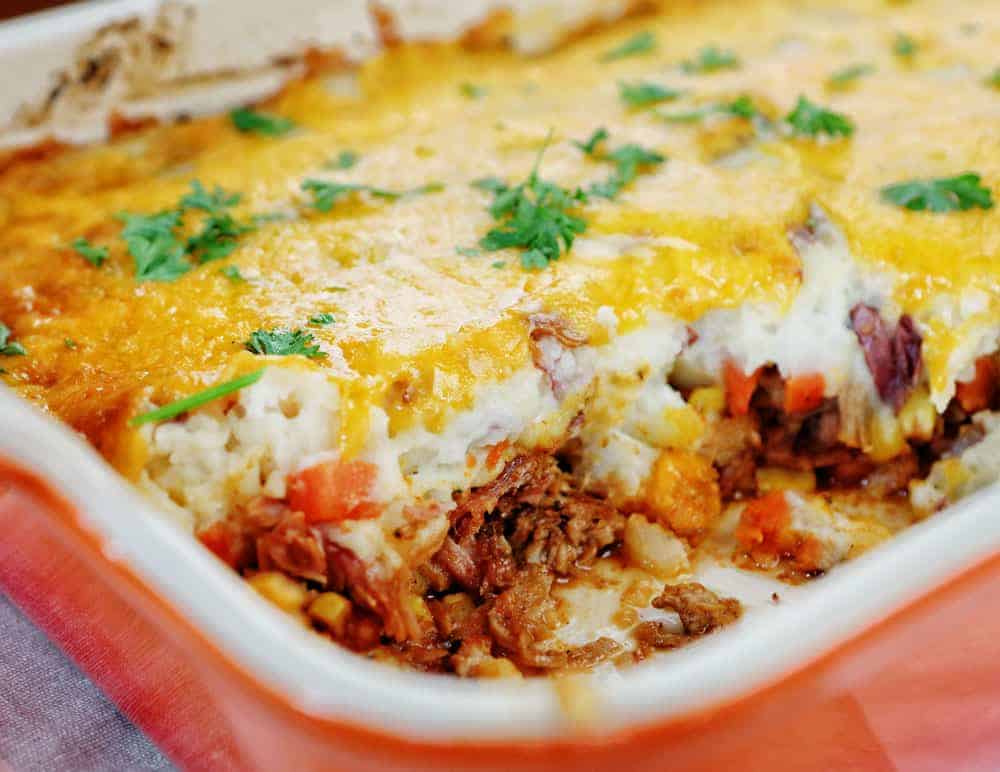 Mashed Potatoes in Shepherd's Pie
Skins-on Mashed Potatoes! Skins-on Mashed Potatoes! Skins-on Mashed Potatoes! I feel like if I say it enough times people will get used to the idea and at least try them. It is the only way our family makes mashed potatoes anymore and they are the best. The recipe is here, and definitely one to consider the next time you make Shepherd's Pie!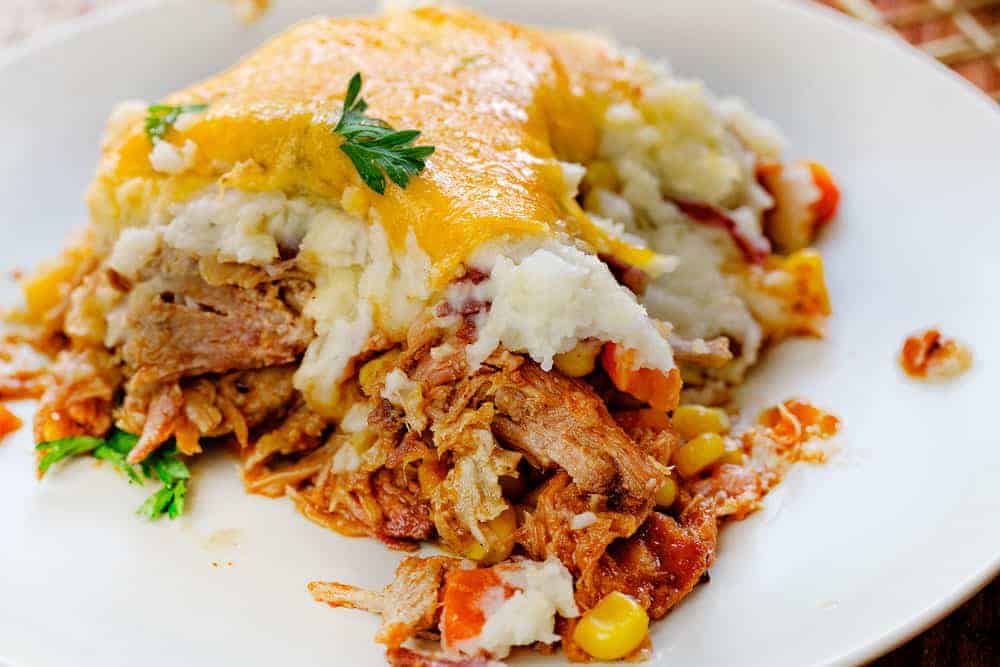 Can I use fresh vegetables instead of canned?
Yes, you can. However, you will want to cook them first, anywhere from 8-10 minutes in a skillet over medium heat. You can also use frozen vegetables, you will want to thaw and cook those before adding to the dish as well. Want another fun variation? Try using Beef Stew as the base! Just pour it into your pan and spread mashed potatoes over top. Dreamy!
BBQ Sauce vs Tomato Sauce
We used BBQ sauce in this recipe but you can certainly use a tomato sauce or ketchup. The trick is to pick your favorite BBQ sauce. I used one that is a bit sweet, but my husband prefers when I used a spicy BBQ sauce. I have tried many variations and they are all delicious!
Looking for other Dinner Recipes?
Browned Butter Pork Chops with Mushrooms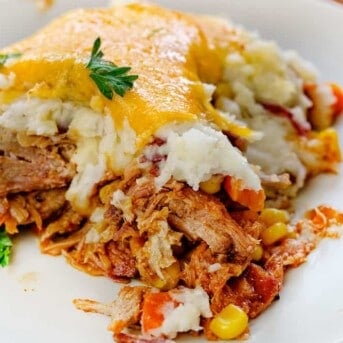 Pulled Pork Shepherd's Pie
A classic dish gets a fun twist by adding pulled pork to this Pulled Pork Shephard's Pie! It's the perfect way to use up any extra pulled pork you have
Ingredients
4

cups

pulled pork

1

cup

BBQ sauce

1

can

15.25 ounces mixed veggies

1

can

15.25 ounce corn, drained

4 -5

cups

mashed potatoes

1

cup

shredded cheese

we like cheddar

salt to taste

pepper to taste

parsley for garnish
Instructions
Preheat oven to 375°F.

In a large bowl mix together pulled pork, BBQ sauce, mixed vegetables, and corn.

Pour mixture into a 9x13 baking dish that has been buttered or sprayed with pan-release.

Spread mashed potatoes over top of mixture, smoothing out as needed.

Bake for 20 minutes at 375°F.

Carefully remove from oven and sprinkle shredded cheese over top.

Return to oven and bake for 5-10 minutes more, or until cheese is fully melted.

Serve immediately.
Video
Did you make this recipe?
You can tag me at @iamhomesteader.
DID YOU MAKE PULLED PORK SHEPHERD'S PIE?
I want to hear about it!  Take a picture and tag me on Instagram or on Facebook.  I would love to see your finished product!  Make sure to tag me @iamhomesteader or hashtag #iamhomesteader, or both!