Impress everyone with this Spaghetti with Meatballs recipe by making your own marinara sauce and homemade meatballs. This classic dish is always a winner! I also have Chicken Meatballs and Spaghetti you could try!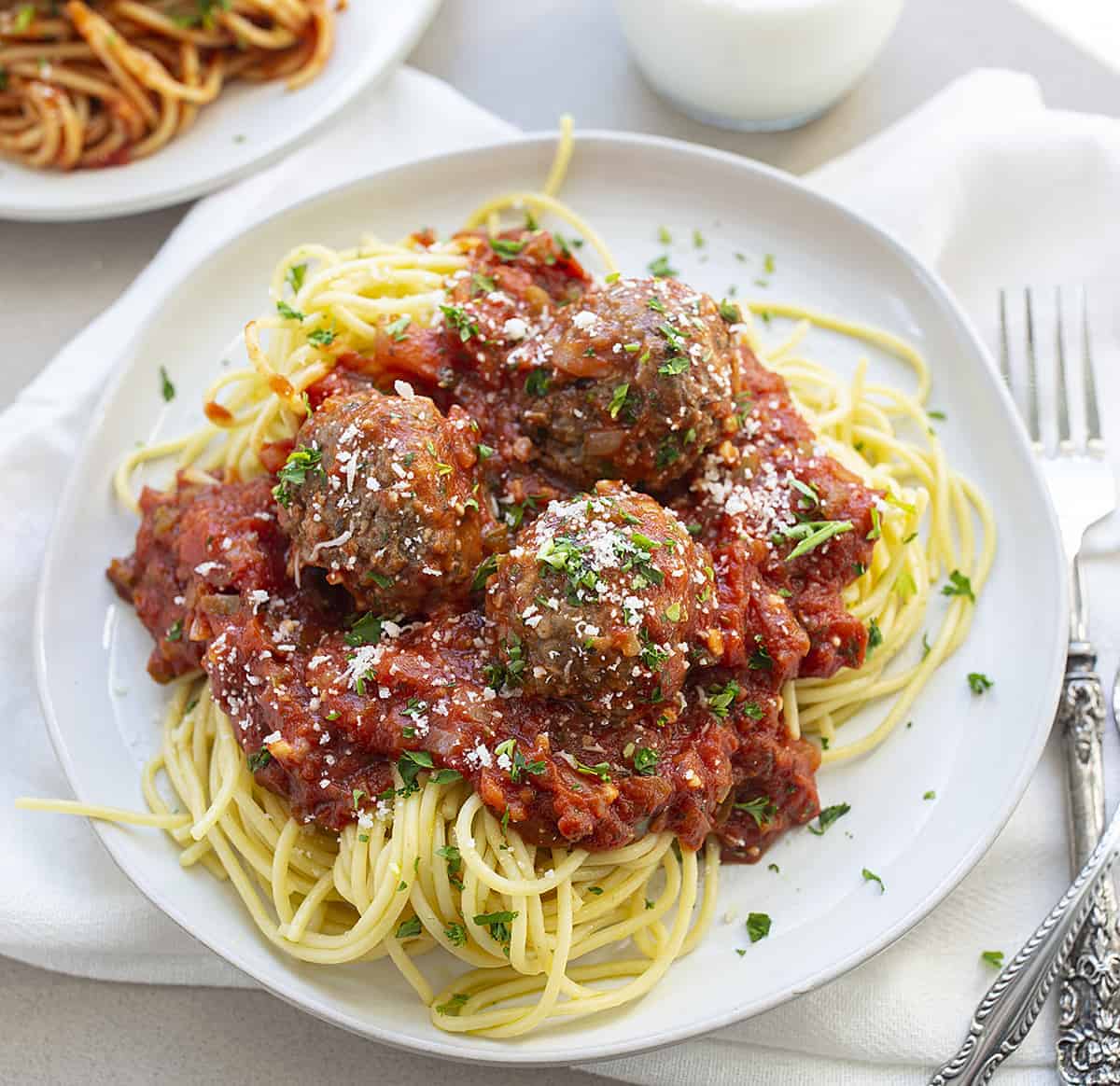 Spaghetti with Meatballs
Spaghetti with Meatballs is a classic recipe that is still one of the most popular pasta dishes. It is so simple, yet so delicious! Making your own meatballs and sauce is pretty impressive, but it is easier than you might think! A bonus would be if everyone starts singing the 'On Top of Spaghetti' to really get in the mood. (Although I hope nobody loses the meatballs that are on top of the spaghetti!)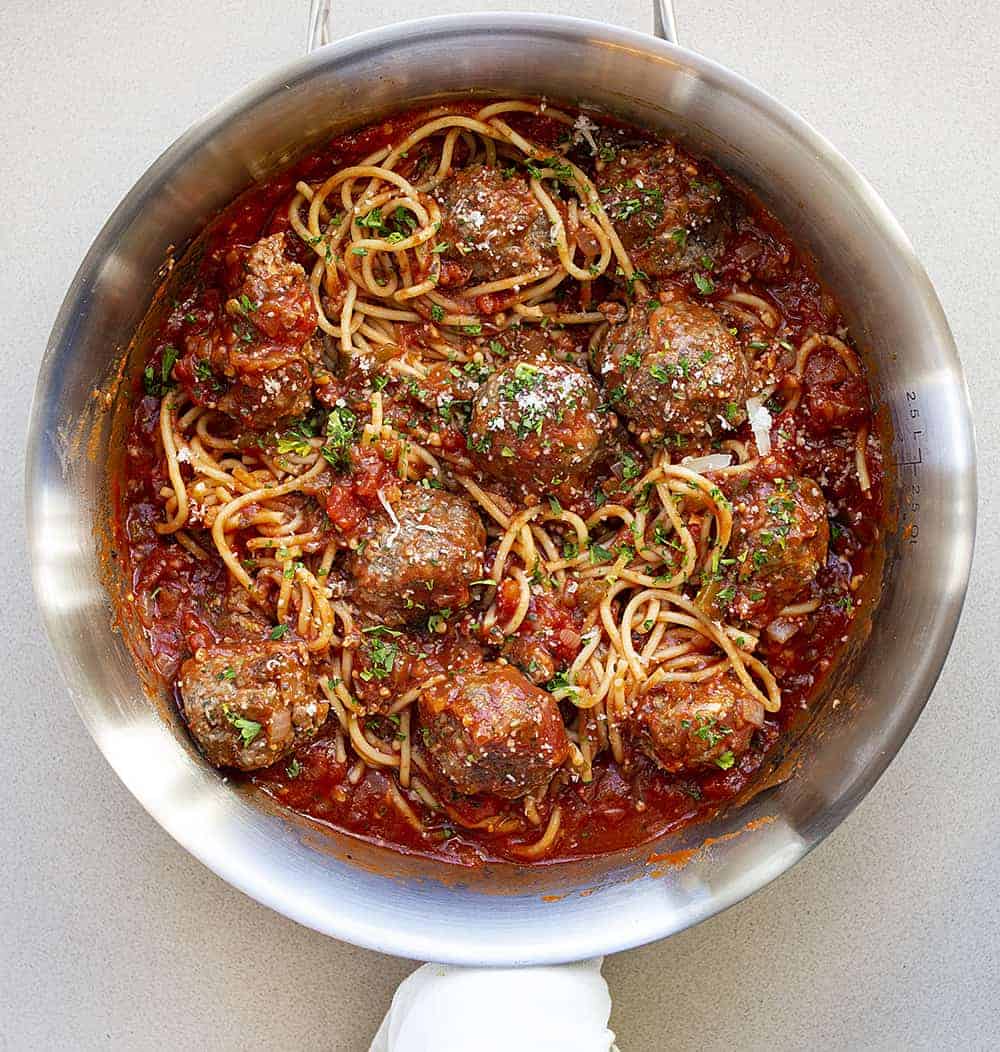 Ingredients
There are three parts to this recipe–the noodles, the tomato sauce, and the meatballs. The timing works out pretty well so it can all come together for a lovely dinner.
Pasta: Of course, with spaghetti in the title, it makes sense to use spaghetti noodles. However, you could always make your own pasta to use or pasta you have on hand!
Marinara Sauce: I have included a recipe for the sauce. I also have a homemade marinara sauce made with San Marzano tomatoes that would be delicious!
Meatballs: This recipe highlights an all-beef meatball, but you could always use my turkey meatballs or pork and beef meatball recipe.

Can I Make Spaghetti With Meatballs Ahead of Time?
Yes! You can actually prepare both the sauce and the meatballs in advance. Made fresh, the sauce can stay in the refrigerator for about 3-4 days. If you are going to freeze it, make sure it cools completely. I put mine in a freezer-safe ziplock bag and try as hard as I can to get rid of any air in the bag. Make sure to label the bag with a date since the sauce will need to be used in 3-4 months.  The meatballs can be cooked, cooled completely, and also stored in the refrigerator for 3-4 days, and frozen for up to 3 months.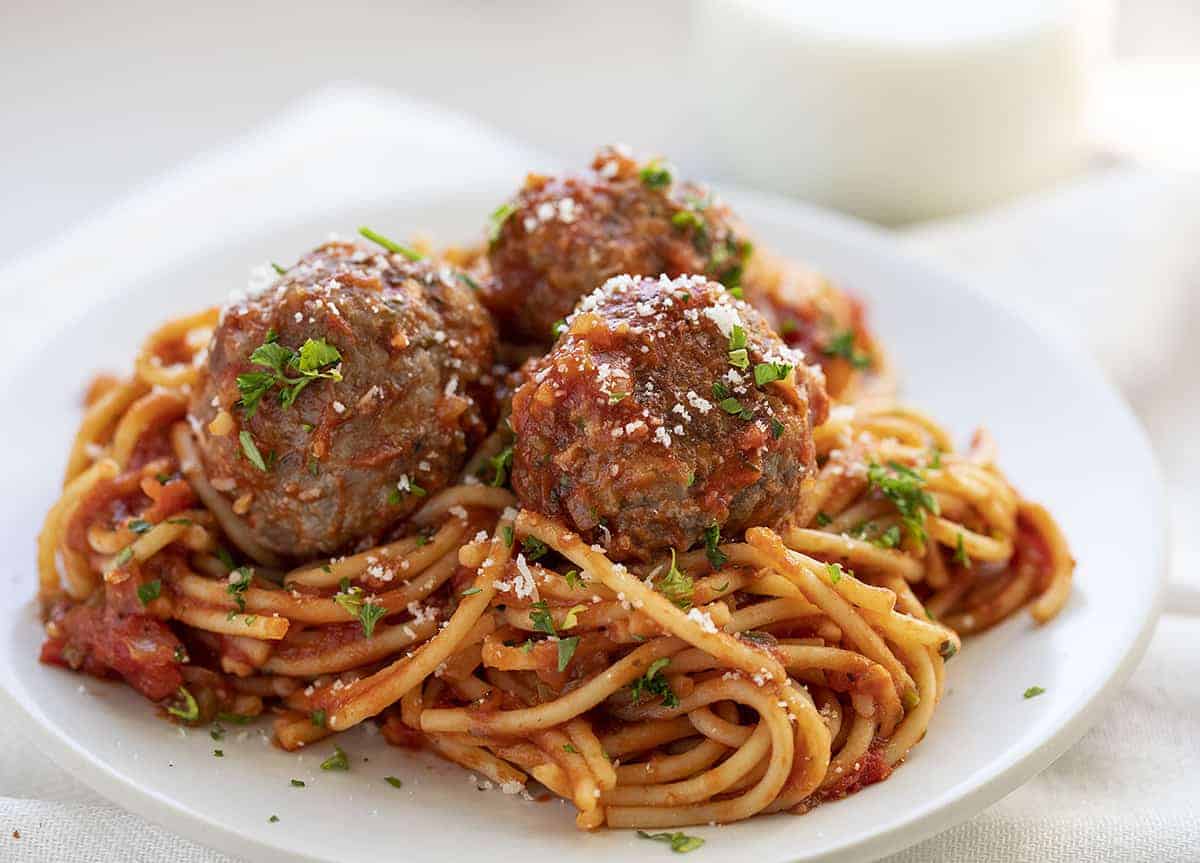 How to Store Leftovers
I actually love leftover spaghetti. Store the spaghetti with meatballs mixed all together in either the refrigerator or freezer. In the refrigerator, it will last up to 4 days. If you freeze it, store it in a freezer-safe container or bag (then you won't stain a container with marinara sauce) for up to 6 months. You can reheat it in the oven or in a pot on the stovetop.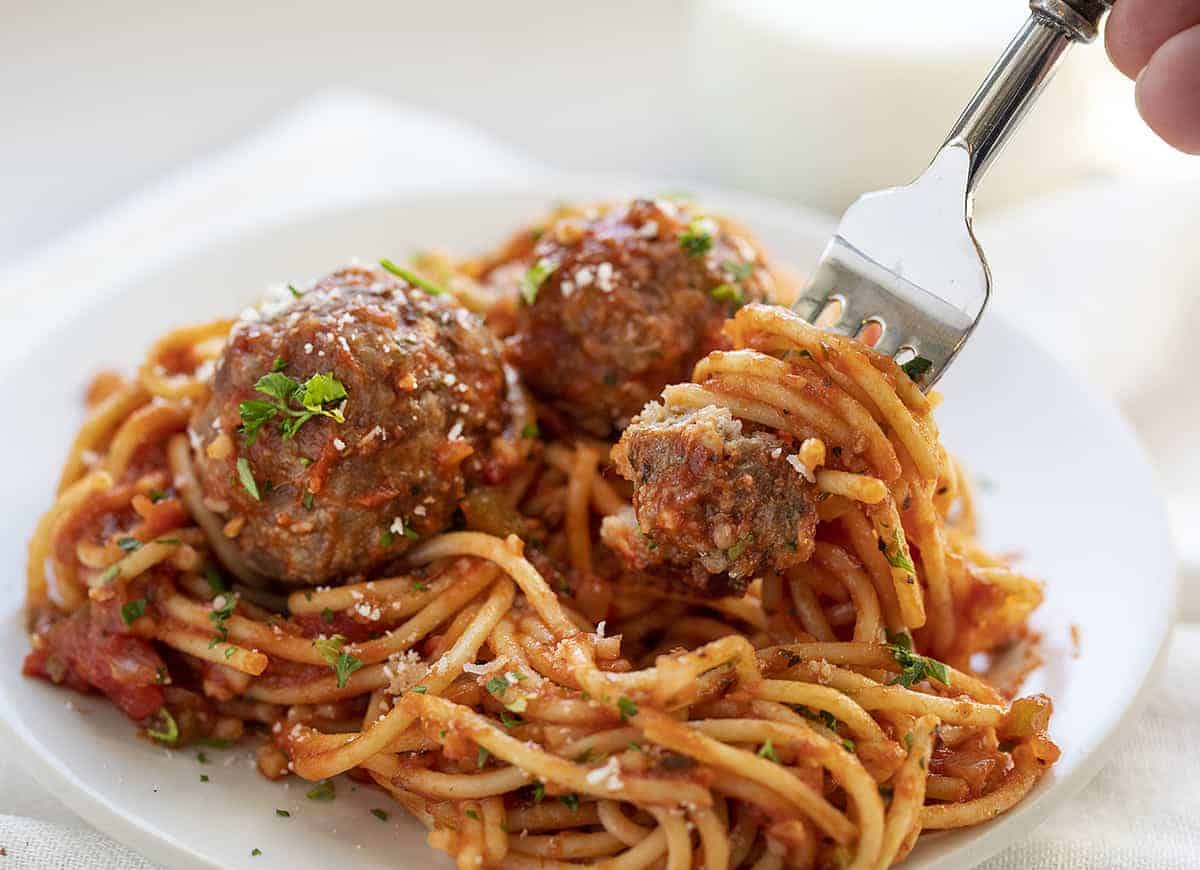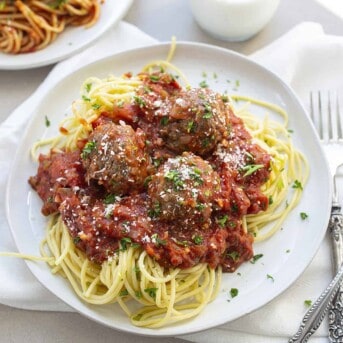 Spaghetti with Meatballs
Topped with homemade tomato sauce and meatballs, Spaghetti with Meatballs is a traditional pasta dish that doesn't disappoint.
Ingredients
Spaghetti
1 

box

(16 ounces) spaghetti noodles,

cooked per package instructions

1 

medium

onion,

 chopped (about 1 cup)

4 

cloves 

garlic,

 minced

1 

small

green bell pepper,

 diced

1 

can

(28 ounces) diced tomatoes 

1 

can

(16 ounces) tomato sauce

1 

can

(6 ounces) tomato paste 

2 

teaspoons 

dried oregano

2 

teaspoons 

dried basil

1 

teaspoon 

kosher salt

½ 

teaspoon 

black pepper
Meatballs
1

pound

ground beef

1

large

egg,

beaten

¼

cup

grated parmesan cheese

1

tablespoon

flat-leaf parsley,

chopped

1

teaspoon

kosher salt

¼

teaspoon

black pepper

¼

cup

(61 g) milk

¼

cup

(27 g) fine dry breadcrumbs

½

teaspoon

garlic,

minced

⅛

cup

onion,

finely chopped
Instructions
Preheat the oven to 350°F.
Spaghetti
In a large saucepan, heat oil over medium-high heat, and add the onion and green pepper. Cook until the onion is translucent (about 5-10 minutes).

Add garlic and cook for 1 more minute.

Stir in diced tomatoes, tomato sauce, and tomato paste into the pan. Season with oregano, basil, salt, and pepper. Simmer spaghetti sauce for 20 minutes to 1 hour, stirring occasionally.
Meatballs
While sauce is simmering, cook the meatballs.

In a large bowl, combine the ground beef, beaten egg, parmesan cheese, parsley, salt, and pepper. Mix together until just combined.

In a medium bowl, combine the milk, breadcrumbs, garlic, and onion.

Add milk mixture to the meat mixture being careful not to overwork ingredients.

Form into 1-inch meatballs, greasing hands before starting to keep the meat from sticking, and place on a parchment-lined baking sheet.

Place in preheated oven and roast until the outsides are browned and they read 165°F on a meat thermometer (about 25 minutes).

Add baked meatballs to the spaghetti sauce. Toss to coat.

Serve over cooked noodles.
Did you make this recipe?
You can tag me at @iamhomesteader.