BLT with Bacon Tomato Jam will be your new way to enjoy a BLT with all of the traditional fixings PLUS a layer of homemade bacon tomato jam! If you love Bacon, Lettuce, and Tomato sandwiches, you might also want to try my Fried Egg BLT.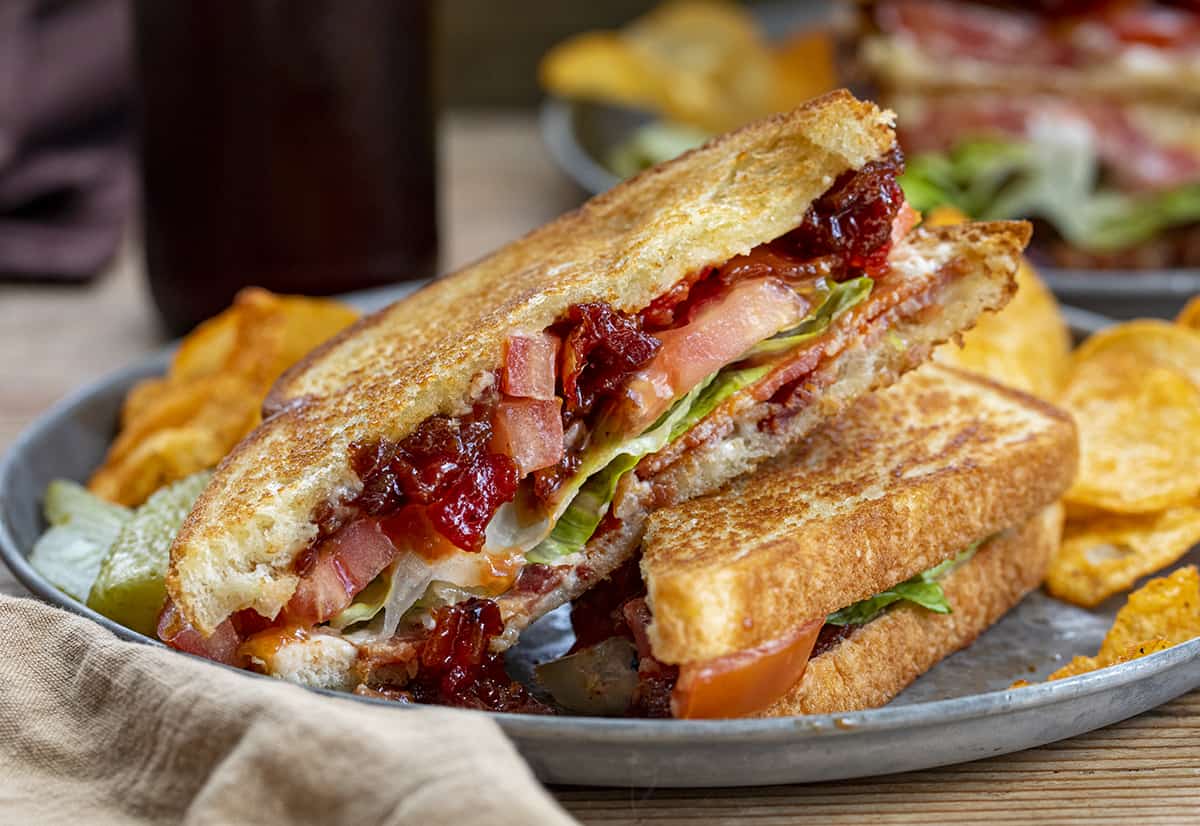 BLT with Bacon Tomato Jam
This BLT recipe is a step up from the basic sandwich you might already know and love. But, I encourage you to add a little sweet and savory tomato jam to the layers. It not only provides more tomato flavor to the sandwich, but it also has pieces of crispy bacon for more bacon! So really, it's like a B2LT2 sandwich!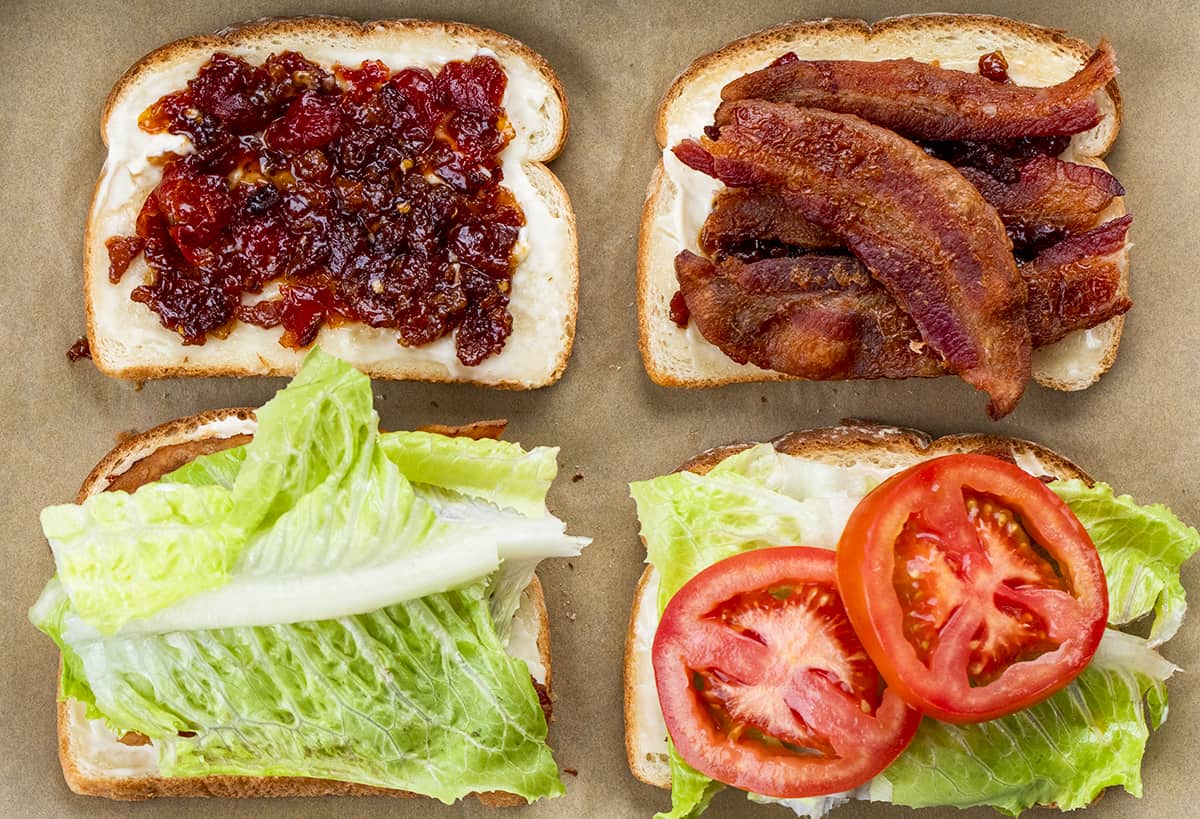 Ingredients & Substitutions
Bread: I used white bread for this sandwich, but of course, you can use any kind of bread you have on hand. And, I will let you know how to get buttery, toasted bread below.
Mayonnaise: Add a little creamy tanginess to the sandwich. If you don't have any mayo on hand, make your own!
Bacon: You will have crispy slices of bacon on the BLT, as well as bacon pieces in the jam. If that seems like too much bacon to you (what?!?!?), reduce some of the bacon slices.
Lettuce: For the best flavor and texture, I like Romaine lettuce on BLT sandwiches. However, iceberg lettuce or even spinach would also work.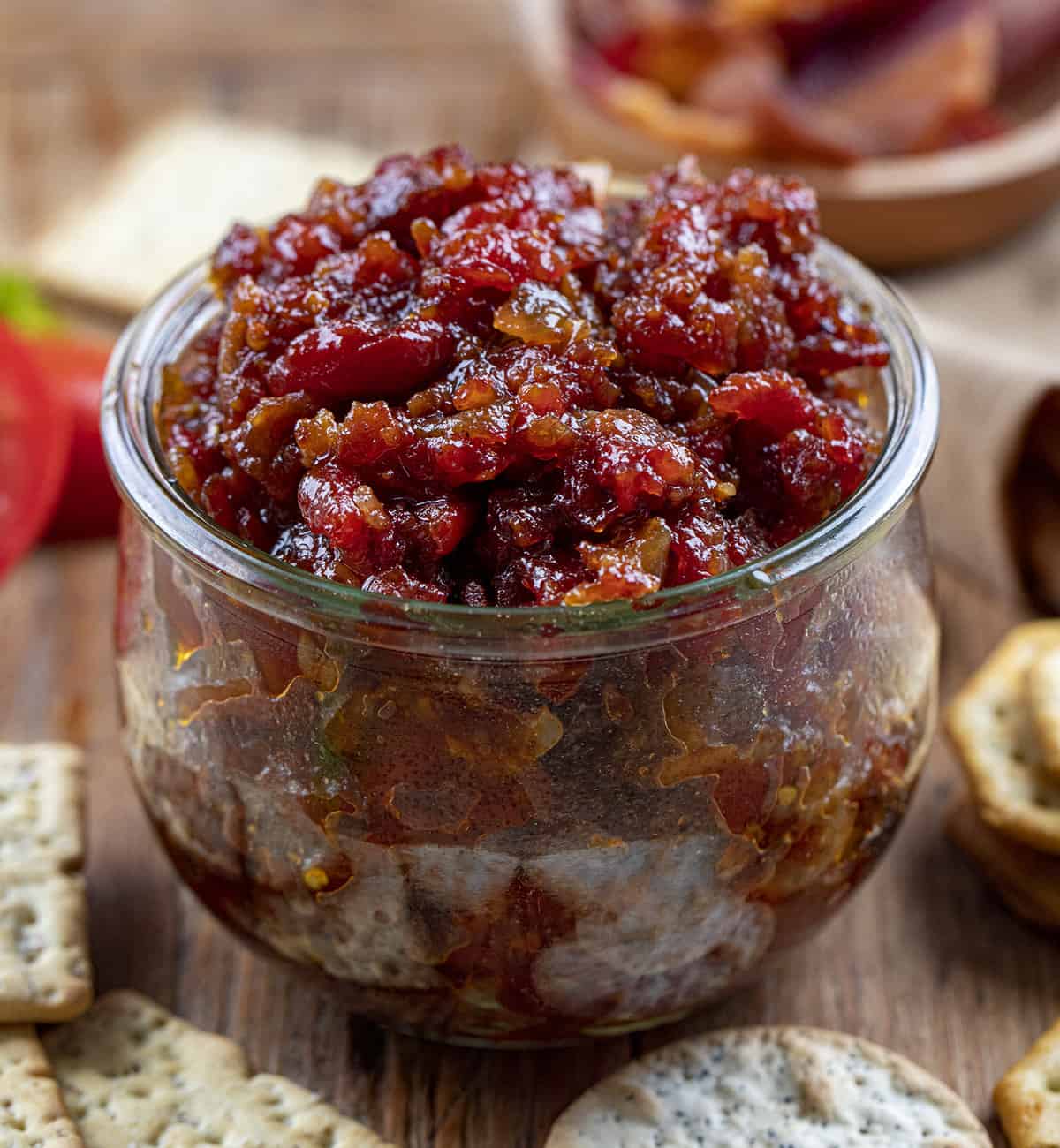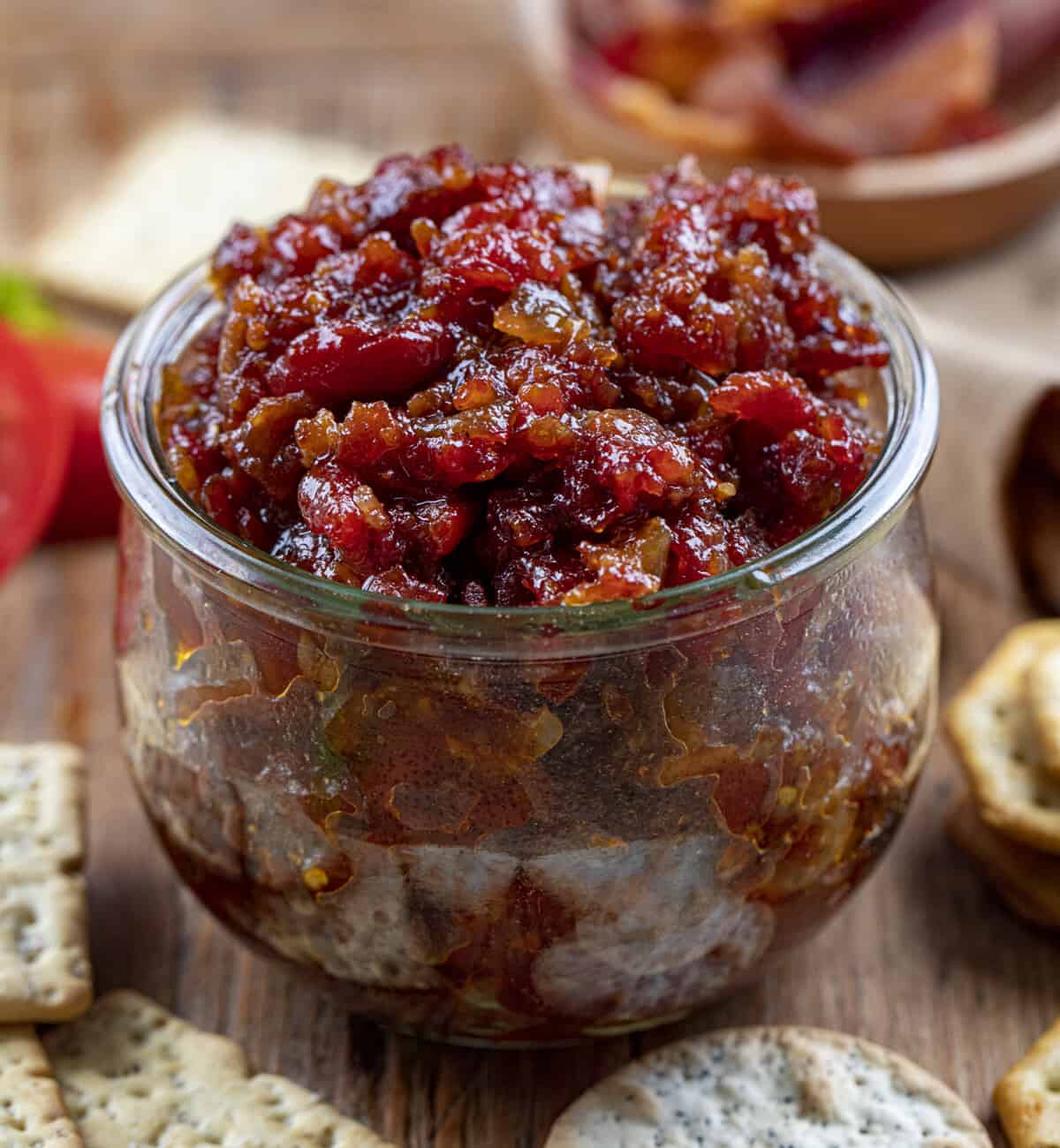 Tomato Bacon Jam: You will use about half of a cup of this sweet and savory homemade jam, which will leave you extra jam (the recipe yields close to 2 cups). That is good news! The homemade tomato bacon jam is much more than a sandwich spread. Add some to a toasted baguette or buttermilk biscuit. It is also delicious on a cheeseburger, on a grilled cheese sandwich, or to use as a dip for pretzel bites or a slice of pizza!
How to Get Perfectly Toasted Bread
Yes, you could simply put the slices of bread in a toaster for these BLT sandwiches. However, I like them crispy on the outside, just like a grilled cheese.
So, instead of using your toaster, use your air fryer or skillet. Generously butter both sides of each slice of bread. Then, working in batches, toast each slice in an air fryer for 3-4 at 400°F, flipping the slice(s) halfway through. Or, use a skillet over medium-low heat to toast the bread for 1-2 minutes per side. You will never just use boring toast again!
What Does This Sandwich Taste Like?
This sandwich is a classic Bacon, Lettuce, and Tomato sandwich with just a bit of an upgrade. You will still get the crunch and salt from the crispy bacon and the lettuce with a bit of sweetness from the tomato. It's a Deluxe BLT!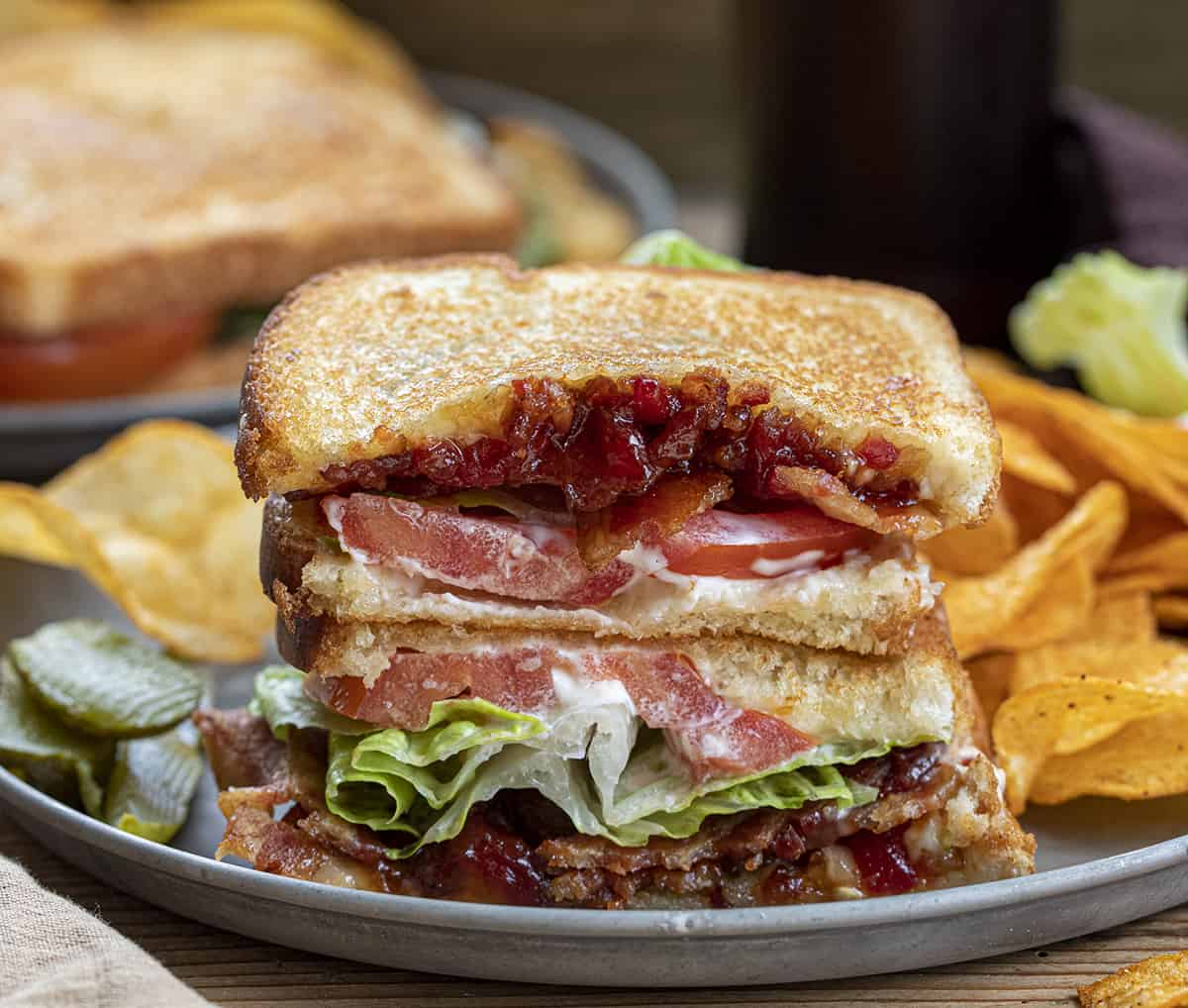 Can I Make This Sandwich Ahead of Time?
This BLT sandwich is perfect to make ahead of time, or at least all of the fixings. Bacon can be cooked ahead of time and will last in the refrigerator for 4-5 days. Lettuce will last for a week, and the tomato jam will last up to 2 weeks in the refrigerator. You can even get the tomato sliced ahead of time; they will last 2-3 days in the refrigerator. With all the delicious layers ready to go, it's easy to assemble a sandwich!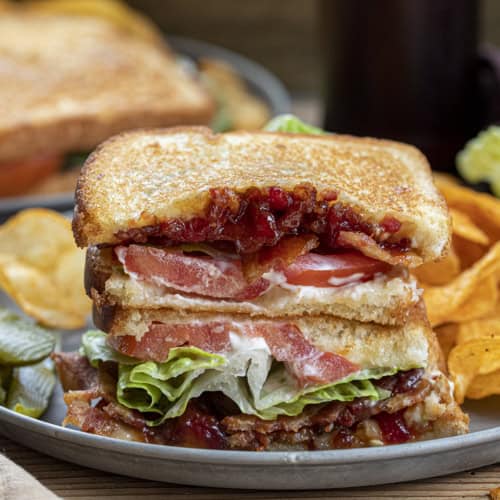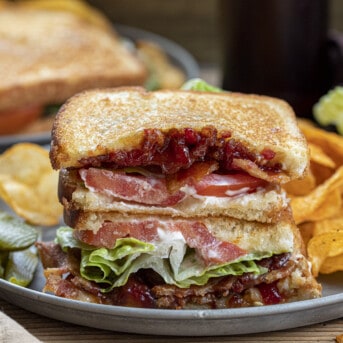 BLT with Bacon Tomato Jam
BLT with Bacon Tomato Jam is mayonnaise, homemade tomato bacon jam, crispy bacon, lettuce, and tomato in between two slices of toasted bread.
Ingredients
8

slices

white bread,

toasted

½

cup

mayonnaise,

divided

½

cup

tomato bacon jam*,

divided (recipe link in notes)

8

slices

bacon,

cooked crispy, divided

2

cups

Romaine lettuce,

divided

2

large

tomatoes,

sliced, divided
Instructions
On one side of each slice of toast, spread a tablespoon of mayonnaise.

To four of the slices of toast, add 2 tablespoons of tomato bacon jam on top of the mayonnaise.

Top the tomato bacon jam with 2 slices of bacon, a few leaves of Romaine lettuce, and 2-3 tomato slices.

Cover with a slice of the remaining four slices of toast, mayonnaise side down. Repeat to make the other three sandwiches.
Did you make this recipe?
You can tag me at @iamhomesteader.