White Bean Chili Cheese dip is the dip to end all dip debates. This is the winningest dip you will ever taste. This skillet dip takes home the trophy every time. Combining the most tender flavor filled chicken, sweet and juicy corn, fresh jalapeños, and creamy melty mozzarella cheese all baked up in a skillet. Don't miss my other great Appetizers!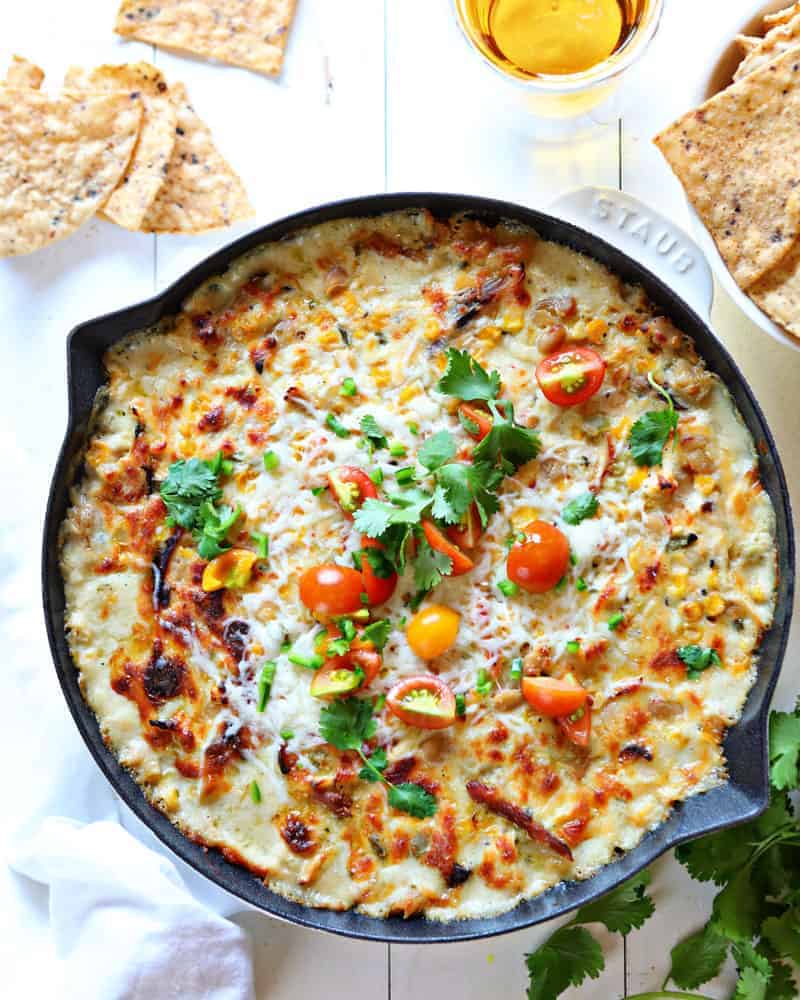 How to Make White Bean Chili Cheese Dip
Let me tell you, skillet dips are where it's at folks. Here is how it works. Take everything in the recipe, chop it all up, pour it into a skillet, mix it up, bake it, enjoy every savory delectable bite, and finally, skip supper because you won't need it. This skillet dip recipe is based on our white bean chicken chili. We adapted it for a dip because 1, we love dip 2, we love cheese and 3, did I mention we love dip?
Chili Cheese Dip
I don't know who invented Chili Cheese Dip, but I wish I did. It is August, which means the high school, college, and professional football teams have started to practice. That makes it officially football season, which means football parties, Sunday night's watching football and fall. If you know anything about any of those topics, you know that the common denominator is chili. From August to February, there is no excuse not to make at least one chili recipe. So, we have a few different variations that we like to throw around, to keep the palate happy. If you are looking for a different chili recipe you should definitely try White Bean Chicken Chili, Grandmas Homemade Chili, and Slow Cooker Turkey Chili and now White chicken Chili Cheese dip.
Tips Tricks and Variations
Can I make a meatless white bean chili cheese dip?
Yes, but why would you? Kidding of course. Chicken isn't even in the name of the recipe so you could for sure skip it. I love to add chicken to this dip though, it takes it up a notch in the protein department and I like to balance out all of the cheese:) Of course, you could skip the chicken and have a meatless chili cheese dip and be just as happy!
What kind of beans do you suggest for the white bean chili cheese dip recipe?
I highly suggest that you use Great Northern Beans. They have the smooth texture that you are looking for in a recipe like this. You could also substitute a navy bean or a Cannellini bean but the texture will be a little different, those beans are a little harder. I have heard people say that they sometimes have a hard time finding the great northern bean. I am not sure why even in my small town I am able to find it in the canned goods section.
Other Variations
Rotisserie Chicken is a great addition to this chili cheese dip recipe. You can buy it at the store and shred it at home and throw it in. Or if you are feeling it, you can make this slow cooker rotisserie chicken from the comfort of your home and with the aid of your trusty crockpot.
For a little extra spice, you could just add more jalapenos OR, you could swap out the mozzarella for some spicy pepper jack cheese! Pepperjack gives this dip a wonderful kick, you will not be disappointed (that is if you like spicy food!).
Another way to kick the spice up a notch would be to add some tabasco sauce or look for the spicy salsa verde at the store. Salsa verde is typically a pretty low heat salsa, but there are so zingers out there. You might want to try a couple to see which one you like best!
Use fresh or frozen sweet corn instead of canned corn. We usually freeze our corn crop and just use that instead of canned corn. Fresh just has a different taste than canned.
Serve this chili cheese dip with a few extra sides like some guacamole, fresh salsa, and sour cream for some additional flavor options!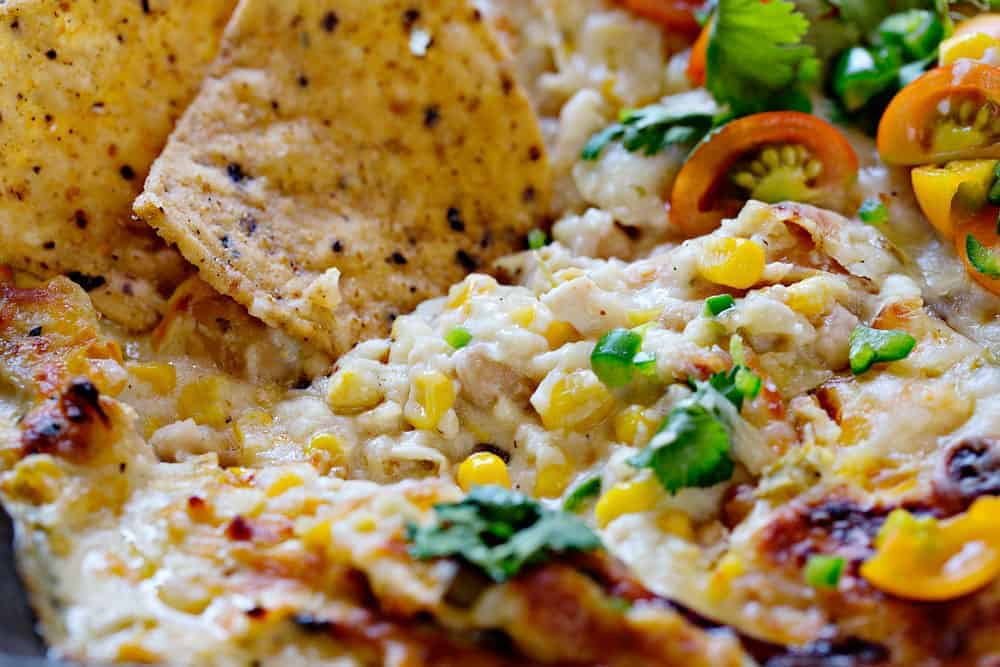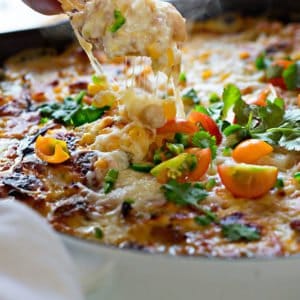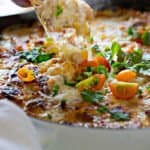 CHICKEN CHILI CHEESE DIP
White Bean Chili Cheese dip is the dip to end all dip debates. This is the winningest dip you will ever taste.
Ingredients
1

can

14.5 ounces white beans, drained

3

garlic cloves

minced

1

cup

sour cream

2

cups

mozzarella cheese

1

can corn

drained

2

cups

shredded chicken

1/2

cup

salsa verde

juice of 1 lime

diced jalapeno for garnish

cilantro for garnish

cherry tomatoes for garnish
Instructions
Add all ingredients (except garnish) to a bowl and stir by hand until incorporated.

Add to a seasoned skillet (if you skillet is not seasoned rub with 1 tablespoon butter) and bake for 20 minutes at 375°F.

Remove from oven and add garnish, serve immediately with crackers or bread
Recipe Video
[brid autoplay="true" video="385581" player="16520" title="White Bean Chili Cheese Dip"]
TOOLS USED IN MAKING WHITE BEAN CHILI Cheese Dip?
Every kitchen simply must have a good skillet! I love my Staub Skillet. They come with a lifetime warranty so they are worth the price tag in my opinion. Also, they are so easy to clean and care for.
DID YOU MAKE WHITE BEAN CHILI Cheese Dip?
I want to hear about it! Take a picture and tag me on Instagram or on Facebook. I would love to see your finished product! Make sure to tag me @iamhomesteader or hashtag #iamhomesteader, or both!