Chicken Tomato Salad is a vibrant and delicious salad with heaping piles of fresh veggies, eggs, and flavor-packed chicken. We love this salad with Homemade Ranch Dressing or even Jalapeno Ranch!
Chicken Tomato Salad
Beautiful and delicious salads don't have to consist of dozens of ingredients. By incorporating quality over quantity you can create a beautiful and mouth-watering Chicken Tomato Salad! As we approach the new year, most people start thinking about their waistlines too. The best part about eating a protein-packed salad like this is that it will fill you up, and make you feel good about your choices, without sacrificing any of the flavors that you love. This juicy chicken salad is a staple you can turn to when those holiday cravings start to creep up again!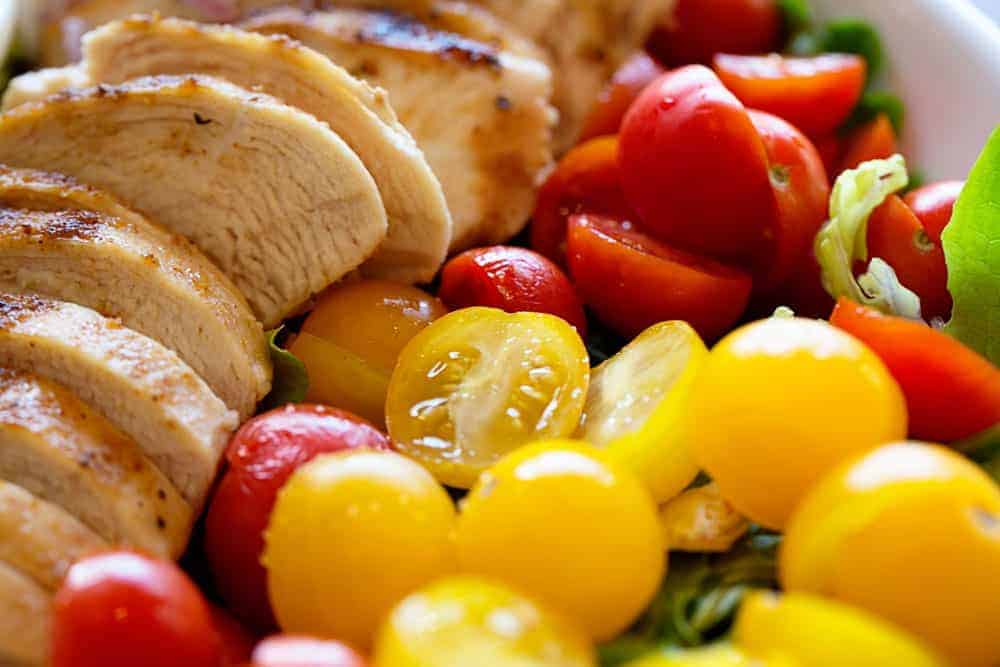 Chicken Salad from the Homestead
This salad holds a special place in my heart for one big reason… it was the first salad I was able to make with ingredients entirely from our homestead. We raised the chickens and butchered them ourselves, we grew the gorgeous cherry tomatoes, onion, and lettuce. There are even a few "weeds" in there! There is just something about food that you have cultivated on your own. It tastes better! I'm here to tell you that the eggs are fresher, the tomatoes are earthier and more flavorful, the lettuce is crisp and full of flavor. It makes so much difference when you know the soil and the land where your food is coming from.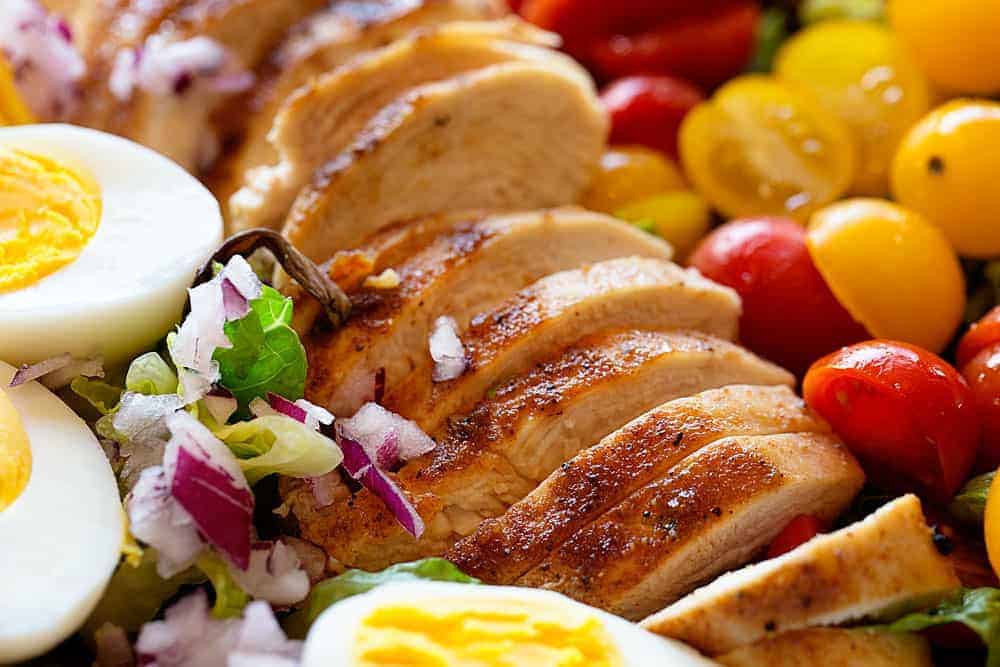 Being able to prepare beautiful food from the land and animals we have raised is quite a feeling of accomplishment. Sharing that experience (the work as well as the eating!) with my children is something that I hope makes an impact on how they view food.
Dressing to Serve with Chicken Salad
We like to keep things as light (and as homemade) as we can. We usually stick with a vinaigrette that we can whip up in just minutes.
1/2 cup balsamic vinegar
1/2 cup extra virgin olive oil
2 tbsp shallots (finely chopped)
2 cloves garlic (finely chopped)
2 teaspons honey
2 teaspoons water
1/4 teaspoon fresh thyme
1/4 teaspoon salt
1/4 teaspoon pepper
If you are short on the fresh herbs, here is my recipe for an easy vinaigrette. You can simply throw together the vinegar, olive oil, and some salt and pepper. Mix well and toss it into your salad bowl. I obviously prefer the fancy version, but sometimes you don't have any fresh thyme hanging out in your kitchen.
Other dressings that would work well with this chicken tomato salad recipe would be ranch, thousand island, French, blue cheese, or even Italian.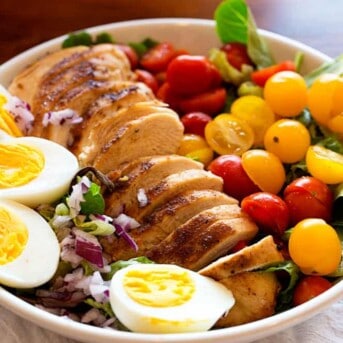 Chicken Tomato Salad
Chicken Tomato Salad is a vibrant and delicious salad with heaping piles of fresh veggies, eggs, and flavor-packed chicken.
Ingredients
4

6-ounch

skinless, boneless chicken breast halves

¼

teaspoon

kosher salt

¼

teaspoon

black pepper

5

cups

lettuce,

any mix will do

2

cups

multicolored cherry tomatoes,

halved

¼

cup

red onion,

finely chopped

12

large

hard boiled eggs,

halved
Instructions
Heat a large grill pan over medium heat. Sprinkle chicken with salt and pepper. Coat pan with cooking spray. Place chicken in pan; cook 5-6 minutes on each side or until done.

While chicken cooks lay lettuce in the bottom of a large dish. Place tomatoes around one edge and the halved eggs along the other. Nestle the chopped onion near the eggs.

When your chicken is done cooking and slightly cooled, slice it. Set the sliced chicken in the center of your eggs and tomatoes.

Serve with dressing of your choice
Did you make this recipe?
You can tag me at @iamhomesteader.