A Cuban Chopped Grinder Sandwich is a hearty and delicious sandwich that combines elements of Cuban flavors in a convenient submarine sandwich. It features a buttery and garlicky bread base, a combination of savory meats, the crunch of pickles, the creaminess of Swiss cheese, and the tang of mustard. This satisfying and mouthwatering sandwich is my take on the TikTok viral grinder sandwich, and it is as messy as it is AMAZING! For similar flavors in a Hawaiian roll, check out my Cuban Sliders, too!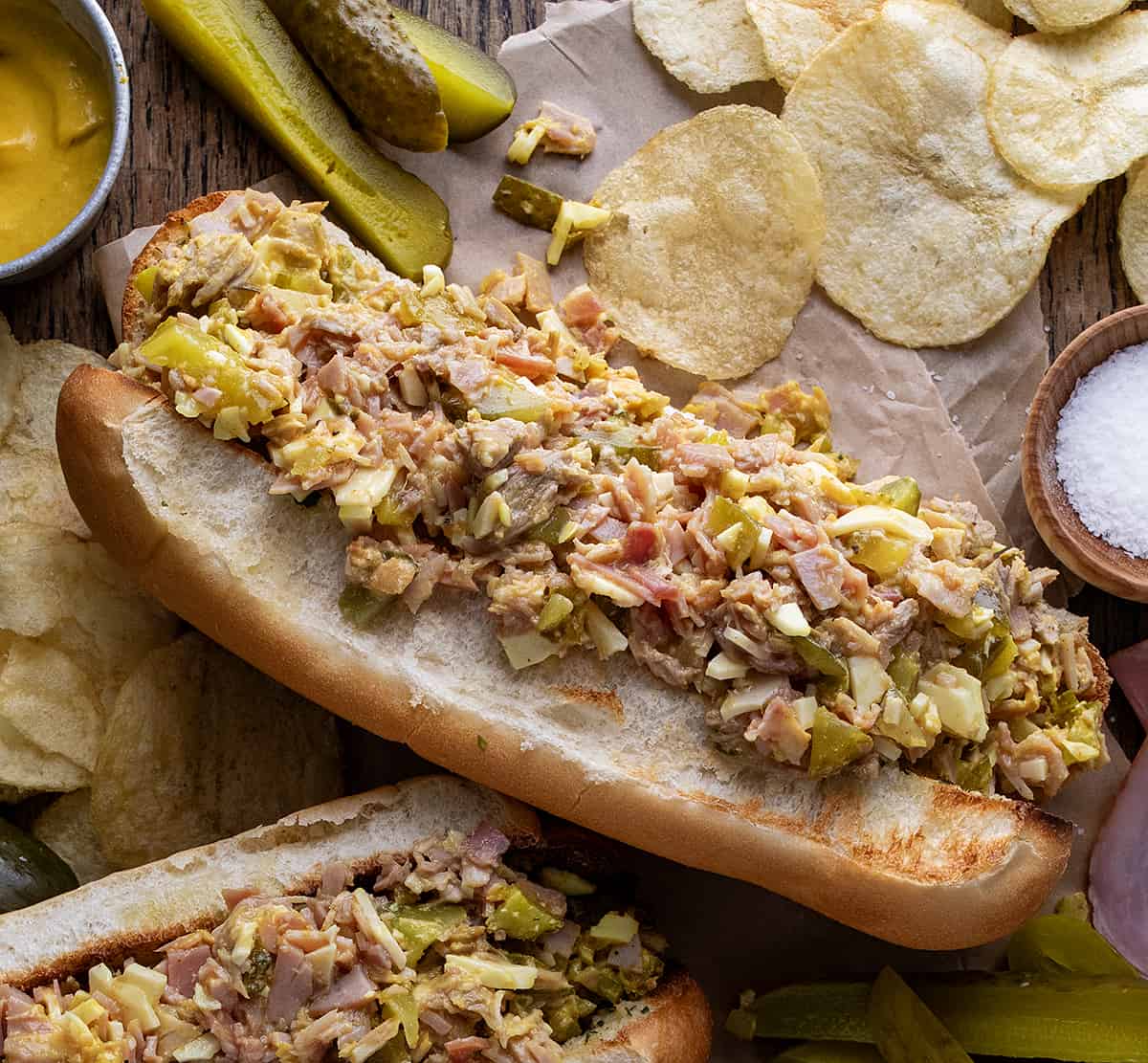 What Is A Grinder?
A grinder is a name given to a sandwich you might know as a sub sandwich, hoagie, or hero. It is a bunch of fixings from meats, cheeses, vegetables, and condiments served on a long roll. They are often served cold or hot, depending on the specific ingredients and regional variations. It's a flavor-packed sandwich that will have you reaching for a fork to enjoy all of the bits that fall out of this scrumptious roll!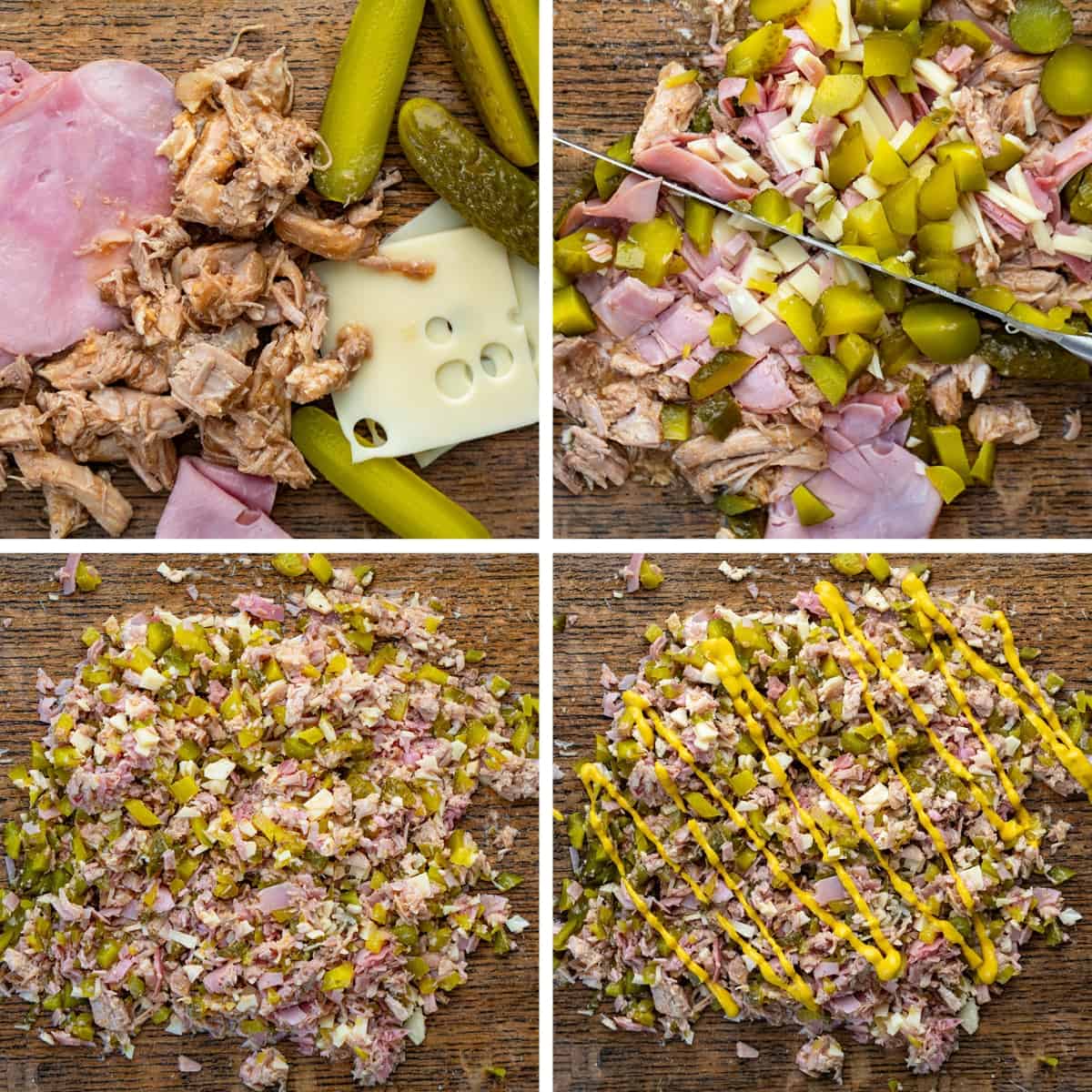 Ingredients & Substitutions
Rolls: I used 10-inch Italian submarine rolls for this recipe but I have also used 6-inch. You could certainly fill hoagies, a baguette, ciabatta bread, pita bread, or even English muffins, just to name a few. Depending on the bread you use, you may need to adjust the amounts in the filling. This recipe makes 4 cups, enough for a cup of filling in each of these sandwiches.
Garlic Butter: Melted unsalted butter is mixed with garlic, parsley, and salt and brushed on the rolls. If using salted butter, you may want to lessen the amount of salt added to the butter.
Pulled Pork: For the filling, you will need half of a pound of cooked pulled pork. I have a wonderful recipe you can try! Or, substitute shredded chicken, or turkey or try roast beef.
Ham: Look for half of a pound of sliced ham. This recipe is perfect for any leftover ham you may have!
Pickles: I like dill pickles. But, it's easy to leave them off if preferred. For a mild crunch, try the sandwich with sliced cucumber or zucchini. Or, add pickled jalapenos for a spicy kick! Bread and butter pickles will give you a little sweeter flavor.
Cheese: Besides Swiss cheese (which I used on the sandwiches), provolone cheese would also be a good choice. Or, try using your favorite kind of cheese.
Mustard: Yellow mustard adds a tangy, slightly spicy, and zesty flavor to the sandwich. You could substitute Dijon mustard for even more tang or try honey mustard for a sweeter flavor.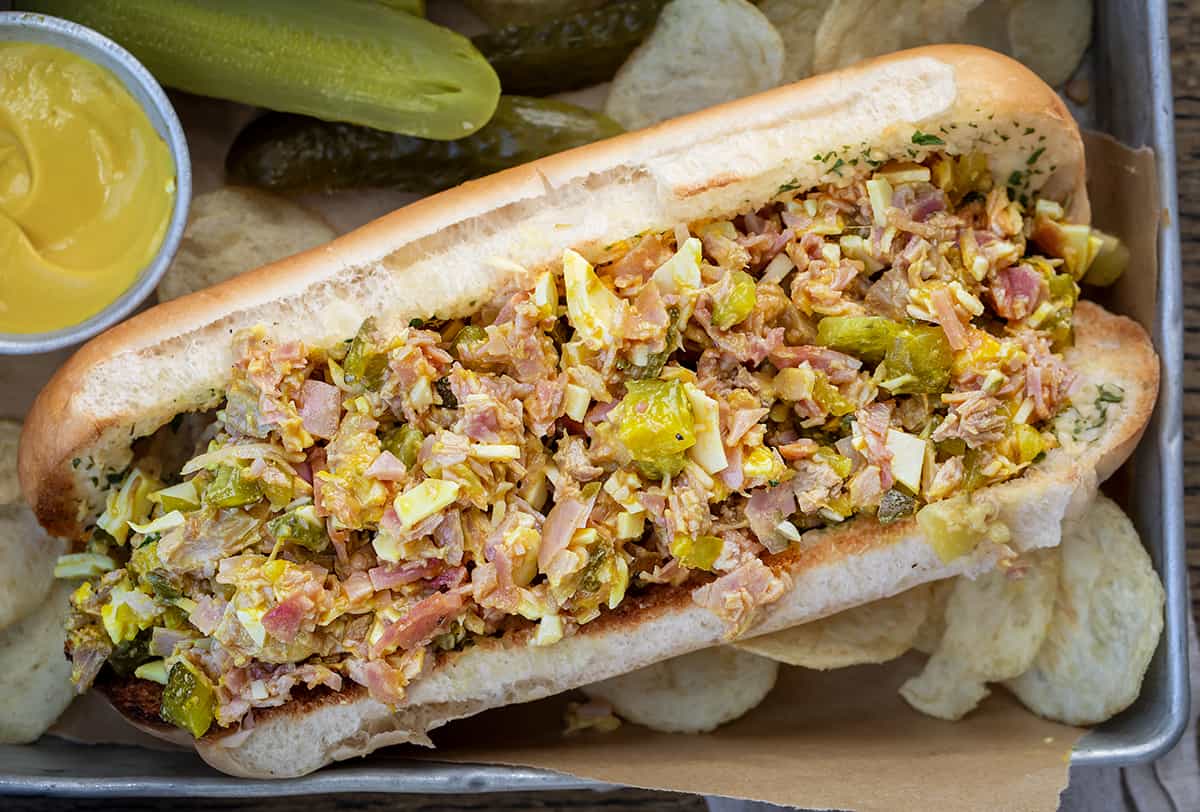 Making The Sandwich Ahead Of Time
You can prepare some or all of the filling ingredients for your Cuban chopped grinder sandwich ahead of time, depending on your convenience and meal planning needs. You can pre-cook and shred the pulled pork and slice the ham in advance. Store them separately in airtight containers in the refrigerator. You could also slice the dill pickles and store them in a container with a lid or a resealable bag in the refrigerator. The pickles should stay crisp and flavorful. In addition, you can prepare the melted garlic butter mixture and store it in an airtight container. Reheat it gently in the microwave or on the stove when you're ready to brush it onto the bread.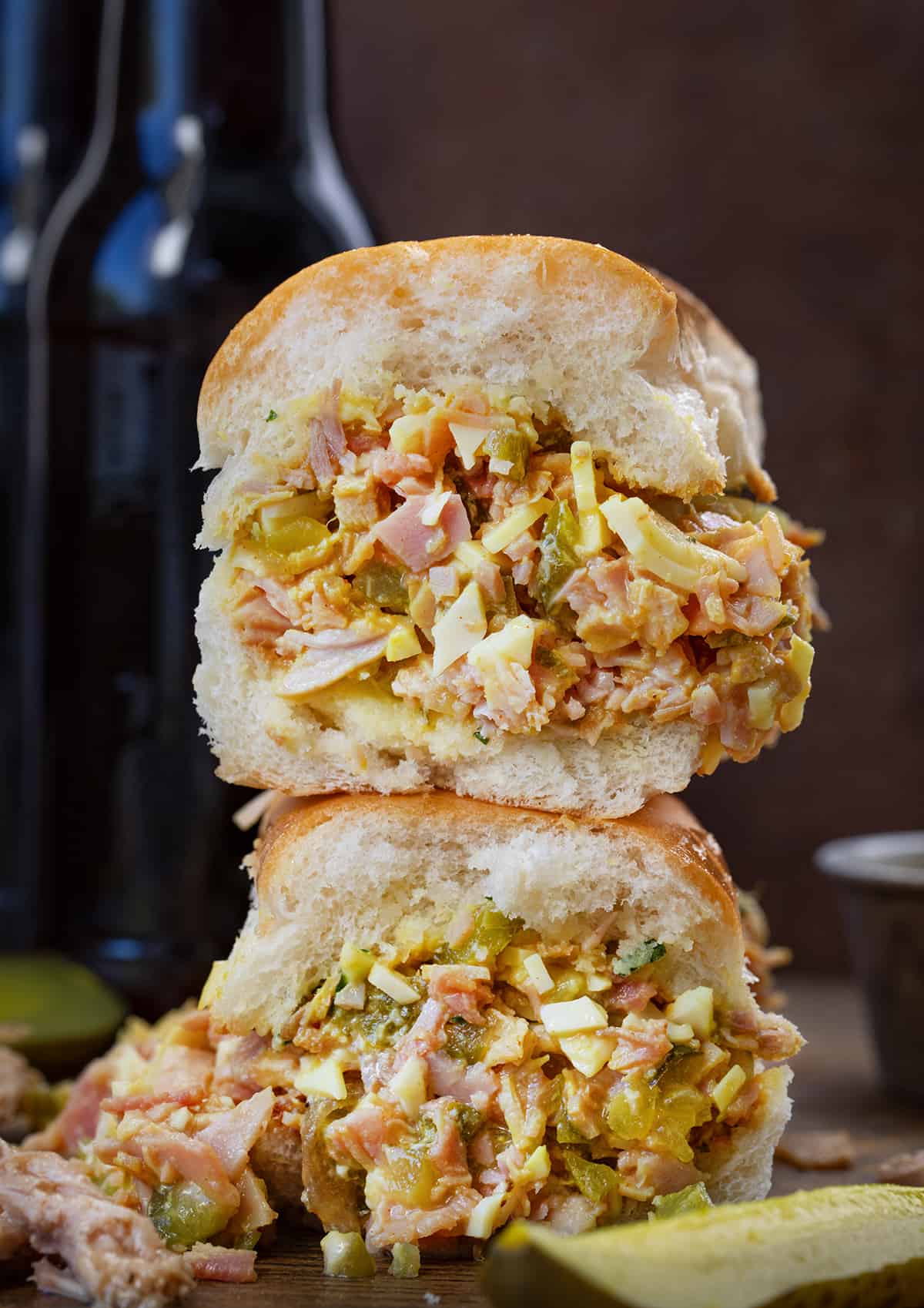 What To Serve With A Cuban Chopped Grinder Sandwich
When serving a Cuban chopped grinder sandwich, you have several delicious side dish options to complement the flavors of the sandwich. Here are some popular choices: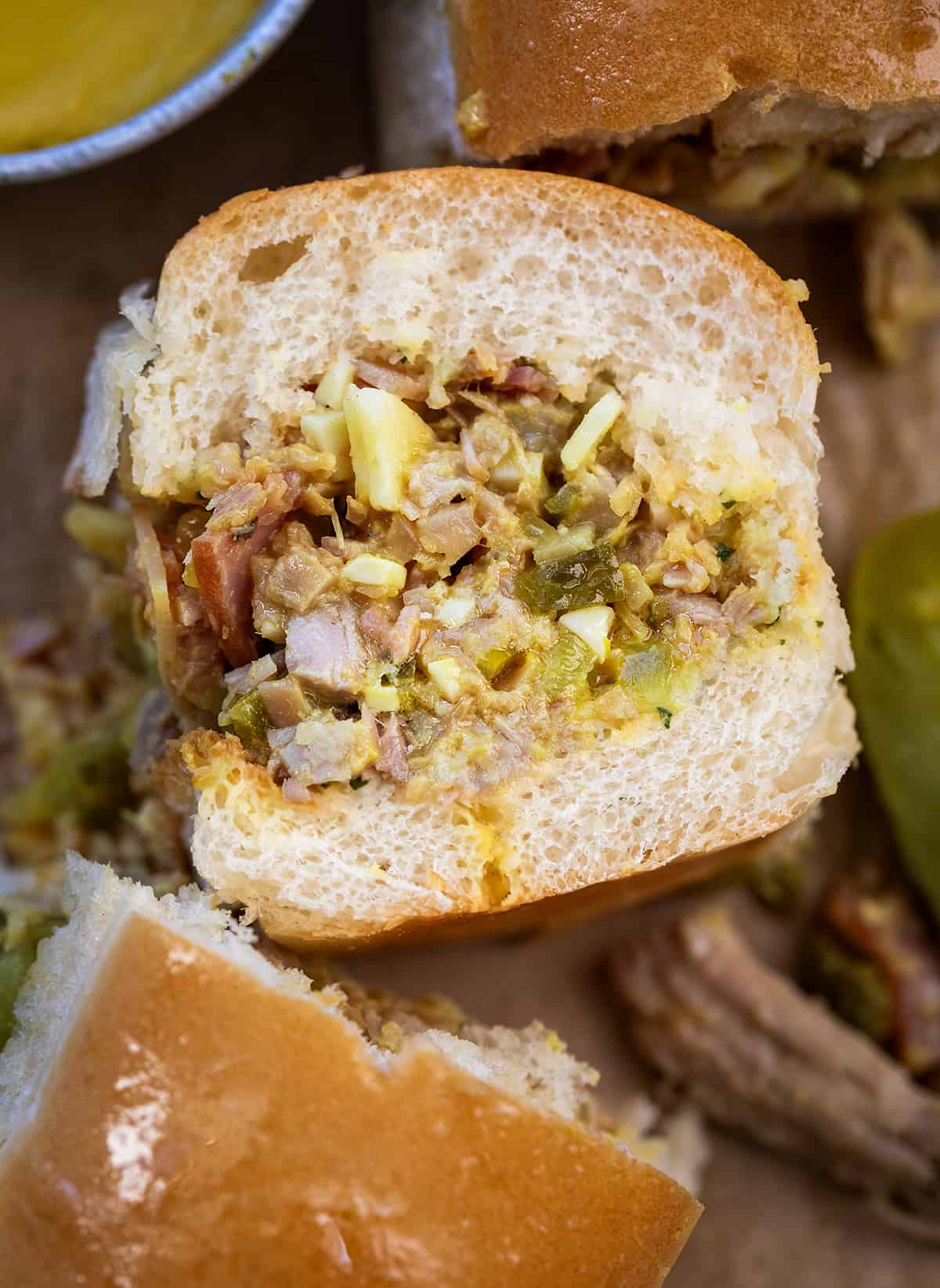 How To Store A Cuban Chopped Grinder Sandwich
Although best served freshly assembled, you could wrap an unfinished sandwich tightly in plastic wrap or aluminum foil. It will last up to 24 hours in the refrigerator. If possible, do not make the filling and assemble the sandwiches until ready to serve.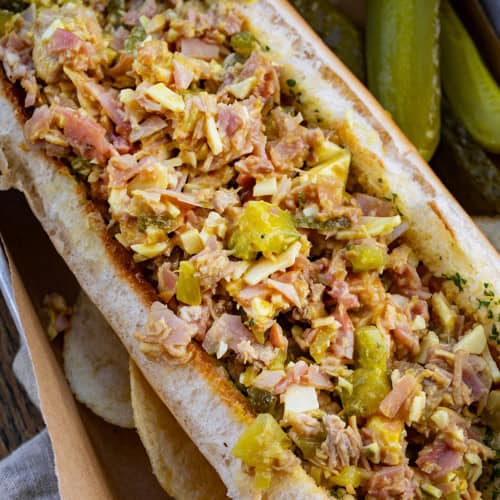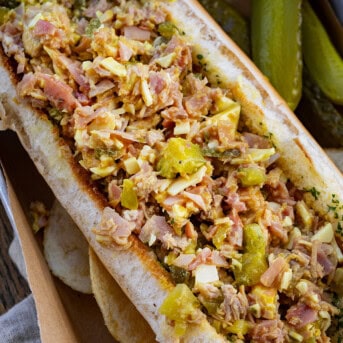 Cuban Chopped Grinder Sandwich
A Cuban Chopped Grinder Sandwich is a hearty and delicious sandwich that combines elements of Cuban flavors in a convenient submarine sandwich.
Ingredients
4

submarine rolls,

6-10 inches each, sliced in half lengthwise most of the way through. (Try to not slice all the way through.)
Butter Spread
½

cup

(1 stick / 113 g) unsalted butter,

melted

2

tablespoons

garlic,

minced

2

tablespoons

fresh parsley,

finely chopped

2

teaspoons

kosher salt
Instructions
Sandwich
Preheat the oven to low broil. Line a baking sheet with parchment paper.

Place the halved (but still attached) rolls onto the lined baking sheet, cut side up.
Butter Sauce
In a small bowl, combine melted butter, garlic, parsley, and salt. Brush the cut side of each of the halves of the rolls with an equal amount of the butter mixture. Toast in the preheated oven for 2-3 minutes, or until browned.
Cuban Sandwich Filling
Onto a large cutting board, add the pulled pork. Top with ham, pickles, and Swiss cheese. Using a large sharp knife, finely dice all of the ingredients. Add the mustard and use a spatula to stir everything together until fully mixed. You will have about 4 cups of the filling.

Scoop about 1 cup of the filling onto each sandwich.
Did you make this recipe?
You can tag me at @iamhomesteader.
What the Test Kitchen had to say about this recipe: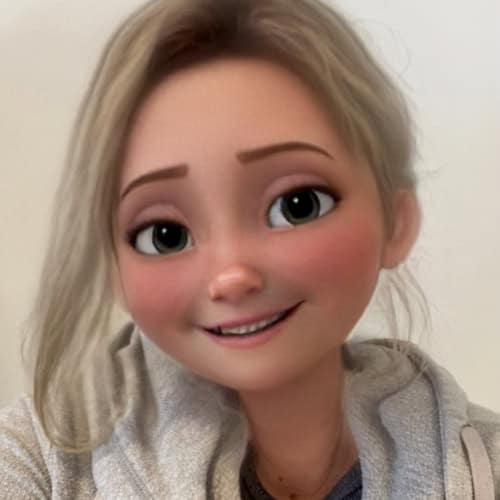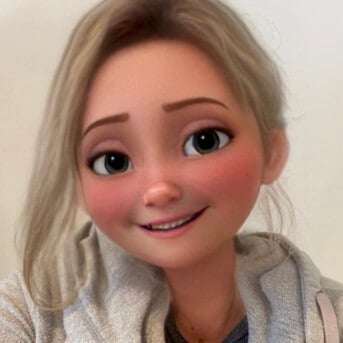 Autumn
I love our Cuban sliders so I was definitely excited for this recipe. This sandwich exceeded my expectations! You get all of the flavors of a Cuban in every single bite! The garlic butter on the bread was such a nice touch!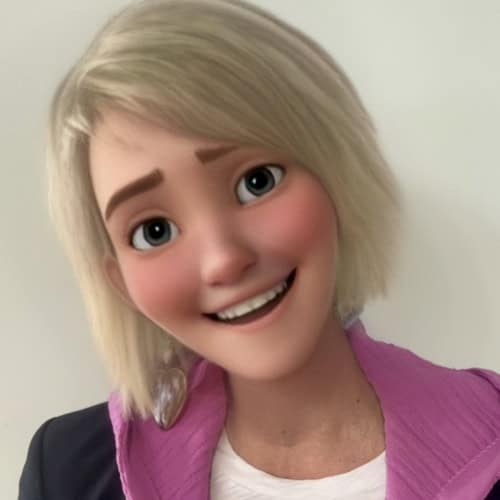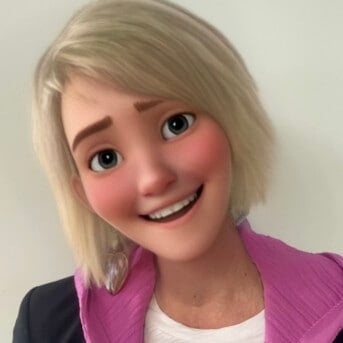 Elizabeth
I loved all of the flavors of this sandwich! I would make mine open-faced to pack on even more of the cheesy, meaty filling! If I serve this to guests, I will let them fill their rolls with the amount of filling they are craving.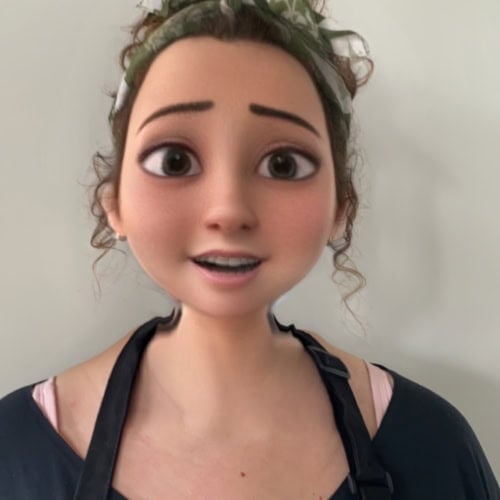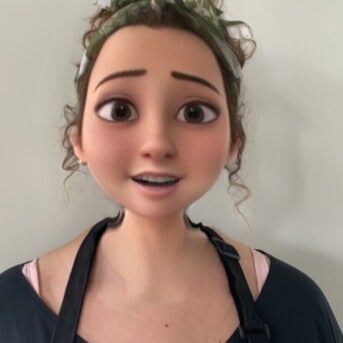 Rachael
SO delicious! I loved every bite of this sandwich! The pickles, mustard, pork, ham, and cheese just are a perfect bite. The way they are already combined almost marinates the meats with the pickle and mustard. Delicious!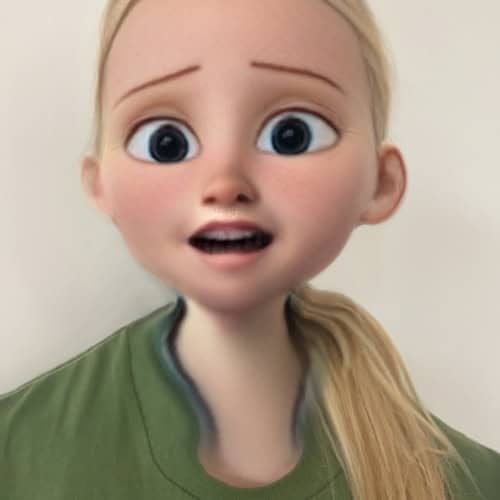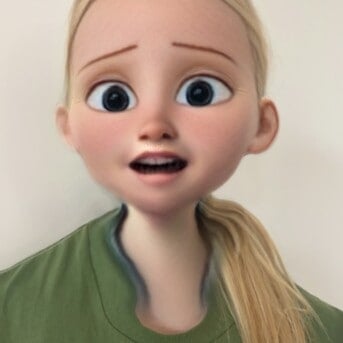 Annabelle
So good! The garlic butter is delicious, and the filling is such a good mix! You get all the flavors in every bite and you probably have most of the ingredients at home!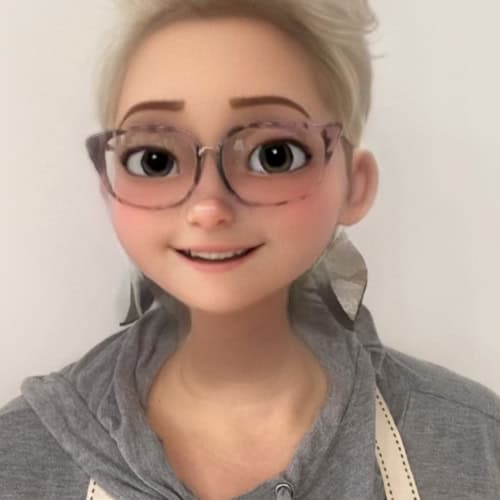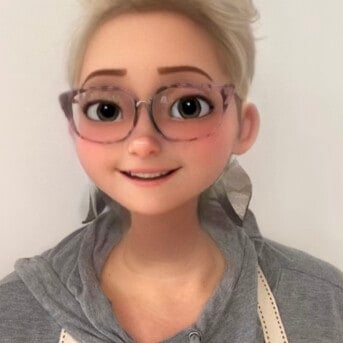 Selena
This is so good. Don't skip the garlic butter on the toasted bread. It really adds something. I really enjoyed this sandwich!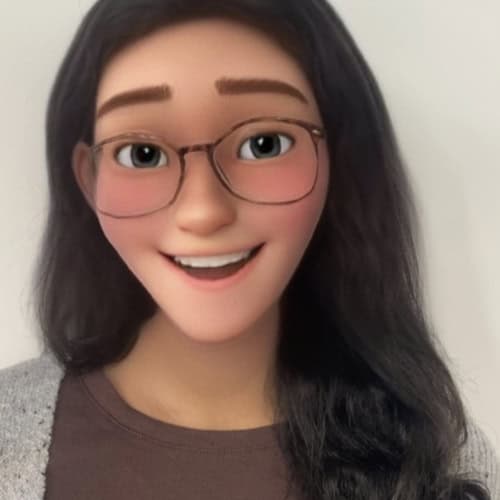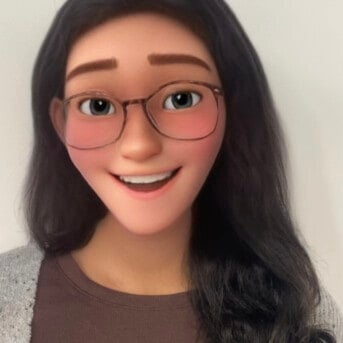 Bella
Yum! The classic flavors of a Cuban sandwich! Every ingredient shines through perfectly. The garlic butter on the bread is so simple yet it adds a pop of flavor!