Homemade Pumpkin Ravioli with Garlic Brown Butter is homemade ravioli stuffed with a pumpkin-flavored filling and topped with a brown butter sauce. For another pumpkin-flavored pasta, be sure to try my Pumpkin Macaroni and Cheese!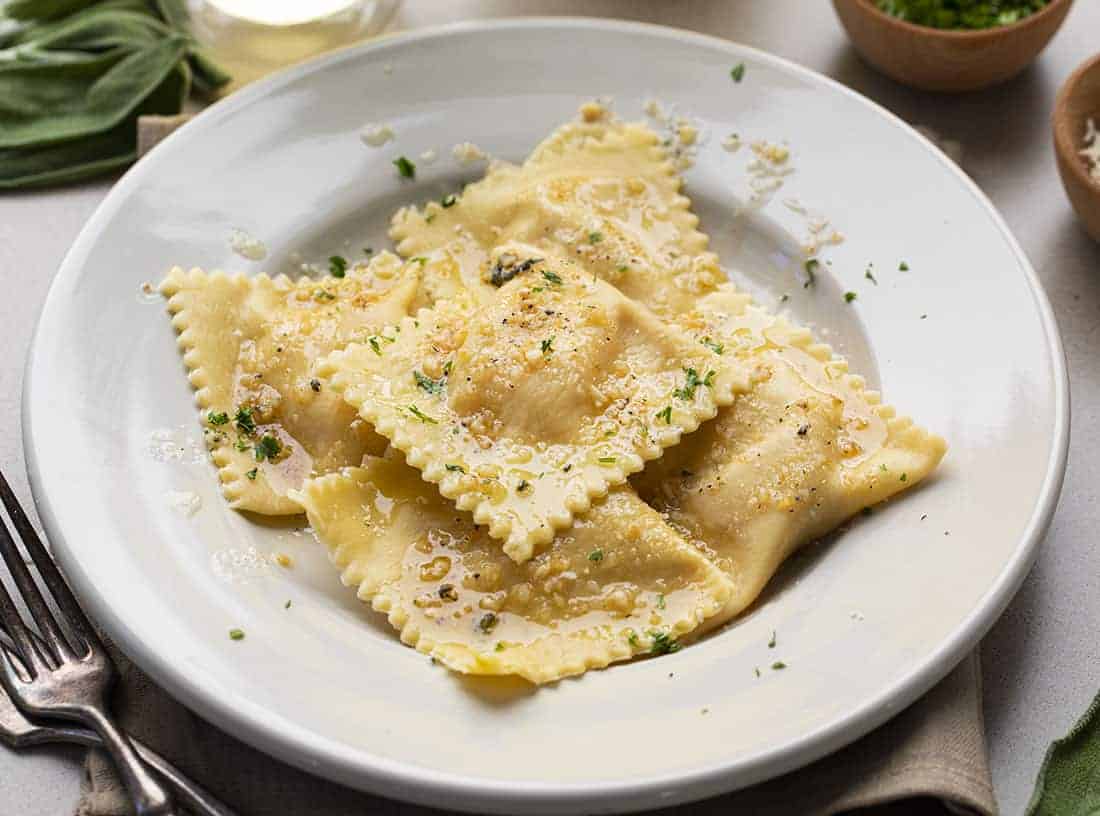 Homemade Pumpkin Ravioli
It all starts with homemade ravioli in this recipe, and yes, it's easier to make than you think! Then, it's all about the cheesy, pumpkin-flavored filling that gives you a hint of pumpkin and nutmeg flavor in every bite. To top it all off, literally, is a homemade brown butter sauce that is the perfect complement to the pumpkin ravioli.
Homemade Pumpkin Ravioli with Garlic Brown Butter Recipe
Don't be intimidated by the homemade ravioli in this recipe. I will give you step-by-step instructions on how to make the noodles. The filling and the garlic brown butter sauce come together easily to complete the dish.

How to Make Homemade Ravioli
First, the fun part! Don't be intimidated by the idea of making homemade pasta. It is SO MUCH fun and easy with a pasta roller attachment. (I will also give you tips on how to make the pasta without the attachment.) And, if you take a look at the ingredients needed for the ravioli, you should notice you don't need a lot of them!
Start by sifting the flour and salt onto your work surface (like a large board), making a well in the center. A well is simply making a circle of flour and salt, leaving a space in the middle for your eggs.
Crack one full egg into the well. Then, add the egg yolks and oil to the whole egg. Use a whisk or fork to mix the eggs and oil together as best you can (within the well). You can also lightly mix the eggs with a fork in a bowl and then slowly (in stages) add the eggs to the flour.
Begin to incorporate the flour into the egg mixture next. Eventually, you will have to get your hands in there to knead the dough for a few minutes. A bench scraper comes in really handy when dealing with dough. A bench scraper can help get off any dough that has stuck to your work surface. It is also great for cutting apart any dough you need to separate. Don't let the dough get too moist. It will moisten as it sits.
After kneading the dough, roll it into a ball, cover it, and let it sit for about 30 minutes.
Next, roll out the dough into a rectangle that is about 1/4 inch thick. It has to fit into the pasta roller attachment at its widest setting. Continue to lower the setting for each time you run the dough through the attachment. The final run-through of the dough should make the sheet of dough almost see-through. If the dough gets too long and fragile to deal with, just cut it in half before you put it back in the pasta roller.
Cut the thinned out dough lengthwise so you have a few 24-inch horizontal strips. Make sure they are wide enough that you can fold in the cheese filling (24×4 inches, approximately). Here in the midwest, we call this fold a 'hot-dog style' fold. I know, I know… Set those strips aside as you make the pumpkin filling.

How to Make the Pumpkin Filling and Garlic Brown Butter
To make the pumpkin filling and brown butter sauce, it's a matter of combining the ingredients together and setting them both aside. For the cheesy pumpkin mixture, combine all the ingredients together in a medium bowl. Be sure to take the time to grate your own cheese for the filling! Trust me, it makes a huge difference, and you may think twice about buying pre-shredded cheese ever again!
When you are making the brown butter sauce, be sure to NOT overcook the garlic. Finally, it's about filling the ravioli and serving them with brown butter.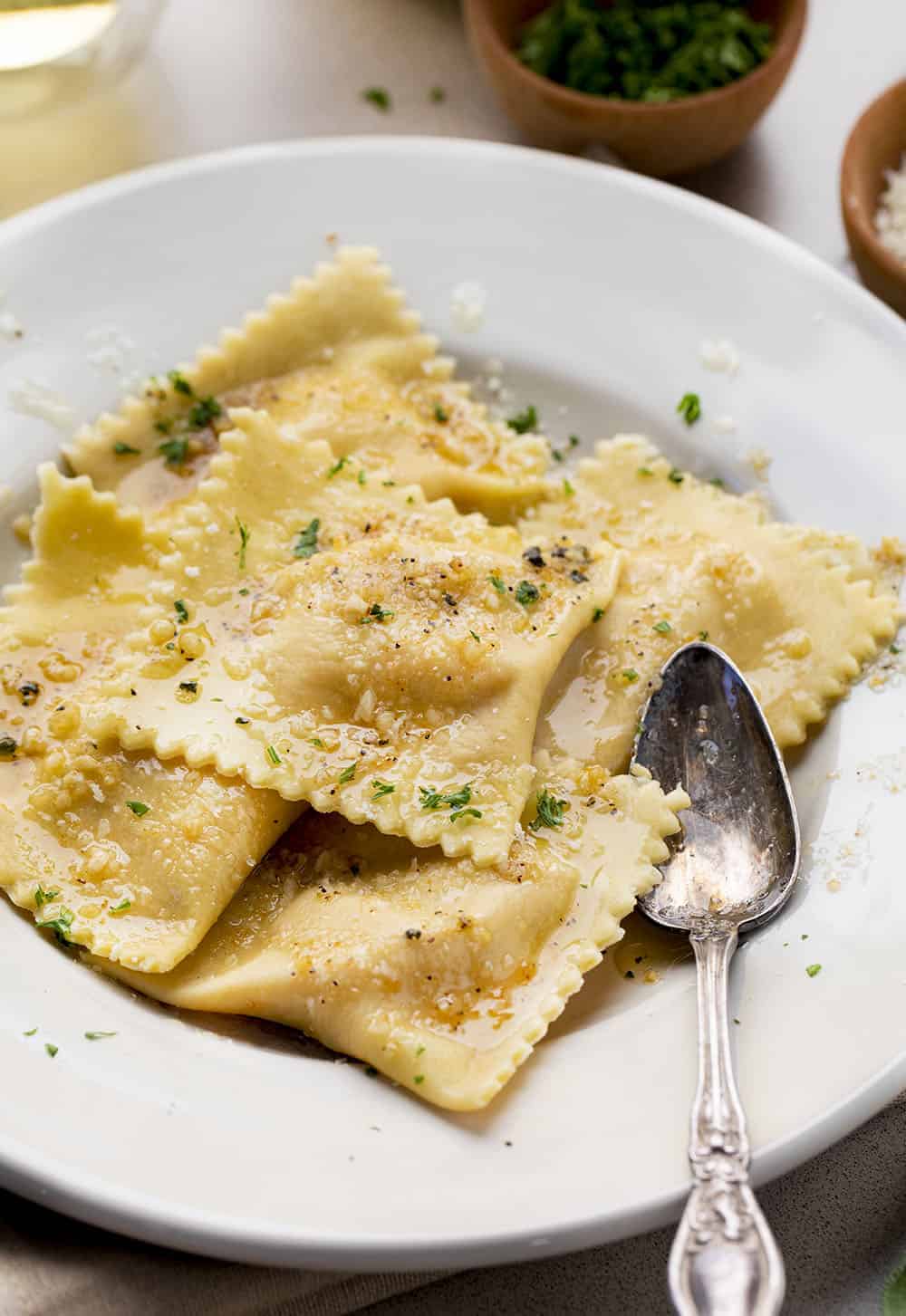 How to Make Ravioli with Garlic Brown Butter
With all the steps completed, it's time to put everything together!
Spray water on each of the 24-inch strips of dough. (This helps them seal.) Starting at the edge, spread out about 2 tablespoons of the cheese mixture onto the dough. Be sure to leave at least 1 inch between each cheese mixture, 2 inches is best.
Fold the dough over, and tightly seal the edges. Gently press down around the cheese, making sure to remove as much air as possible. To get that traditional ravioli look, use a fluted pastry wheel to go along the edges. (You can also just use a fork!)
Cut apart into squares and put into boiling water for 3-4 minutes. Transfer the cooked ravioli to a plate. Don't get the pot of water too crowded. They cook fast, so there is time to get them all done.
Finally, drizzle the brown butter sauce over the ravioli.
Before serving, add some freshly grated parmesan cheese and garnish with parsley. These are best served hot! Godere! (Said in my best Italian accent😊)

Can I Make Ravioli without a Pasta Roller Attachment?
Yes, you can! It takes a little elbow grease when rolling out the dough, but it's definitely doable. Follow the instructions for making the dough through the resting time of 30 minutes. After the dough has rested:
Work on a cold hard surface.
Work on a floured surface.
Have extra flour handy and don't be afraid to use it!
Start in the middle and work your way out evenly.
Maintain pressure on the rolling pin, but don't push!
Continue rolling until you have a thin (almost see-through) sheet of dough. Continue by cutting into 24-inch strips and back to the Homemade Pumpkin Ravioli with Garlic Brown Butter recipe.
Can I Make Ravioli Ahead of Time?
Yes, definitely! It is easy to make ravioli ahead of time and freeze them for up to six months! If you are not planning to boil the pasta right away, place the filled ravioli on a parchment-lined baking sheet and freeze them like this for about 30 minutes. Then, put them all in an airtight container to freeze until you are ready to cook them.
When ready to make, simply put the frozen ravioli into a pot of boiling water for about 3 minutes, and they are ready to go!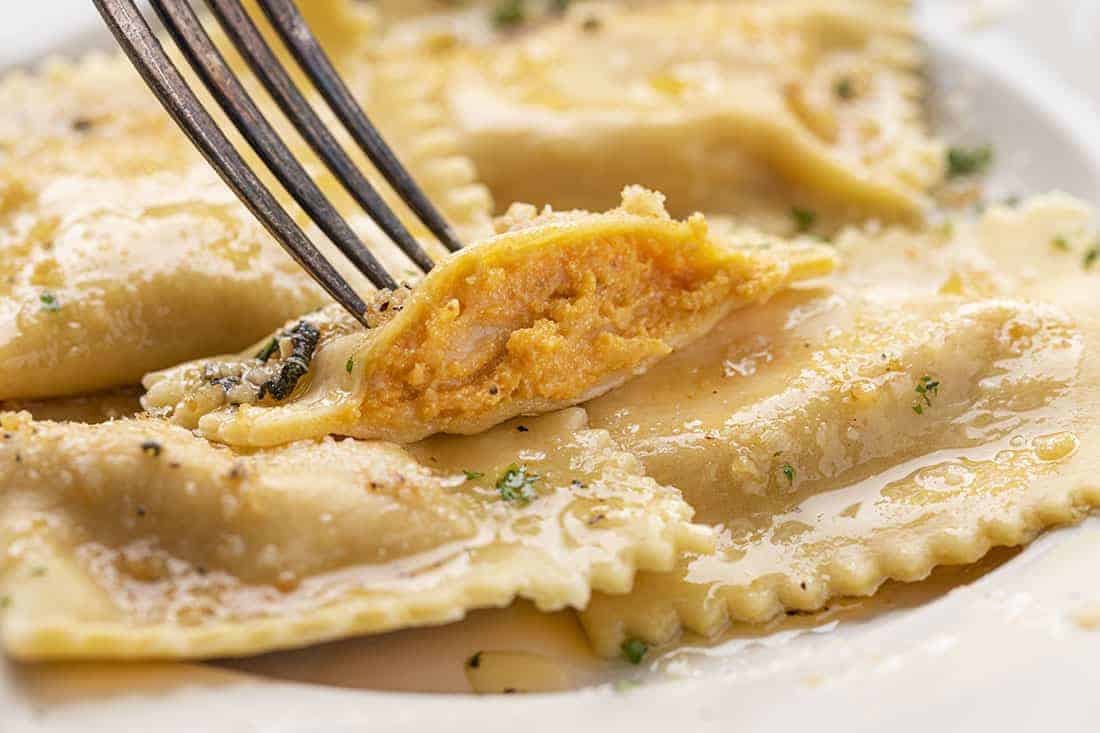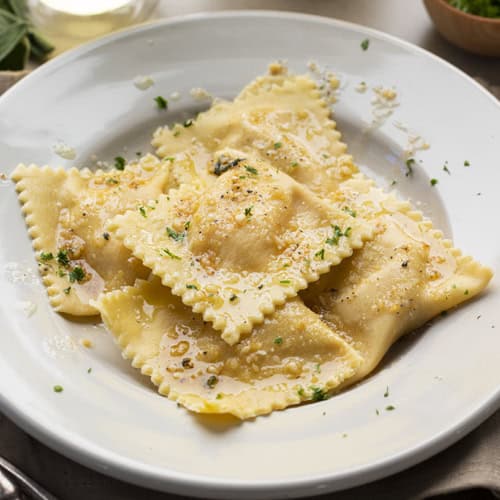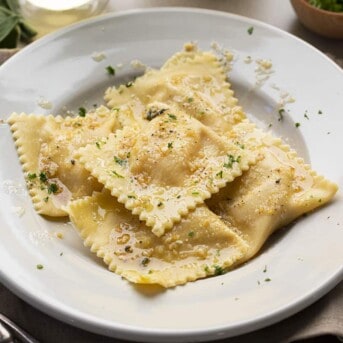 Homemade Pumpkin Ravioli with Garlic Brown Butter
Homemade Pumpkin Ravioli with Garlic Brown Butter is homemade ravioli stuffed with a pumpkin-flavored filling and topped with a brown butter sauce.
Ingredients
Noodles
1

cup

all-purpose flour

1

teaspoon

salt

1

large

egg

2

large

egg yolks

1/2

teaspoon

olive oil

1

bottle

water,

in a spray bottle
Filling
1/2

cup

ricotta cheese

1/4

cup

mozzarella cheese,

grated

1/4

cup

parmesan cheese,

grated

1

cup

pumpkin puree

2

cloves

garlic,

minced

1/2

teaspoon

salt

1/4

teaspoon

pepper

1/4

teaspoon

nutmeg
Brown Butter Sauce
1/3

cup

butter

1

clove

garlic,

minced

1

teaspoon

kosher salt

1/4

teaspoon

pepper

1/4

teaspoon

fresh sage,

finely diced
Instructions
Noodles
Sift flour and salt onto a work surface.

Make a wide well in the center of the flour.

Crack the full egg in the well.

Add egg yolks and oil and gently whisk the wet mixture together within the well.

Slowly fold in the flour mixture, a little at a time, until the dough is too stiff to mix with a fork.

Using a bench scraper, cut into the mixture to break up the gluten, while continuously using your hands to bring the entire mixture together. Fold it into a single mass.

Knead the dough with your hands for 7-10 minutes, adding more flour as needed.

Form a ball with the dough and cover it, allowing it to rest for 30 minutes.

Roll the dough out into a ¼ inch thick rectangle (thin enough to fit into a pasta roller attachment at its widest setting).

Move the rollers to the next smallest setting and pass the dough through again. Continuously lower the size settings, passing the dough through once or twice each time.

Stop rolling with the dough is thin enough to partially see-through.

Cut the length of dough into 24-inch sections. Set aside as you make the filling and garlic brown butter.
Filling
In a medium bowl, combine the ricotta cheese, mozzarella cheese, parmesan cheese, pumpkin puree, garlic, salt, pepper, and nutmeg. Set aside.
Brown Butter Sauce
In a medium saucepan, melt butter.

Add garlic and cook for 1 minute. Be sure to not overcook the garlic.

Add salt, pepper, and sage and remove from heat.
Assembly
Lay out each section and, working one pasta sheet at a time, lightly spray each sheet with water.

Starting on one edge, spoon out 2 teaspoons of filling in the center of each sheet, leaving 1 inch of space on each side.

Lift the top edge of the sheet and bring it over the top of the filling, lining it up with the bottom edge.

Using your fingers, gently press the dough as close as you can to the filling. Try to eliminate any air pockets that form.

Press again on the edge to seal it completely.

Using a fluted pastry wheel, trim the long edge of the pasta. Then cut in between each section to create the individual ravioli.

Bring a large pot of salted water to a rolling boil. Add ravioli to hot water, working in batches to not overcrowd the pot.

Cook for 3-4 minutes and then gently scoop out the ravioli, strain out any excess water, and transfer to a plate.

Drizzle brown butter sauce over ravioli.

Top with extra grated parmesan cheese and chopped parsley. Serve immediately.
Did you make this recipe?
You can tag me at @iamhomesteader.