Roasted Salsa is homemade salsa made with oven-roasted vegetables that are bursting with flavor and packs a little kick from jalapeno peppers. Whether you're serving it with chips, adding it to tacos, or using it as a marinade, this versatile salsa is sure to be a crowd-pleaser. Try my Pico de Gallo for another flavorful, homemade salsa perfect for dipping, topping, or adding to your favorite dish. For your convenience, I will also let you know how to roast the vegetables in an air fryer.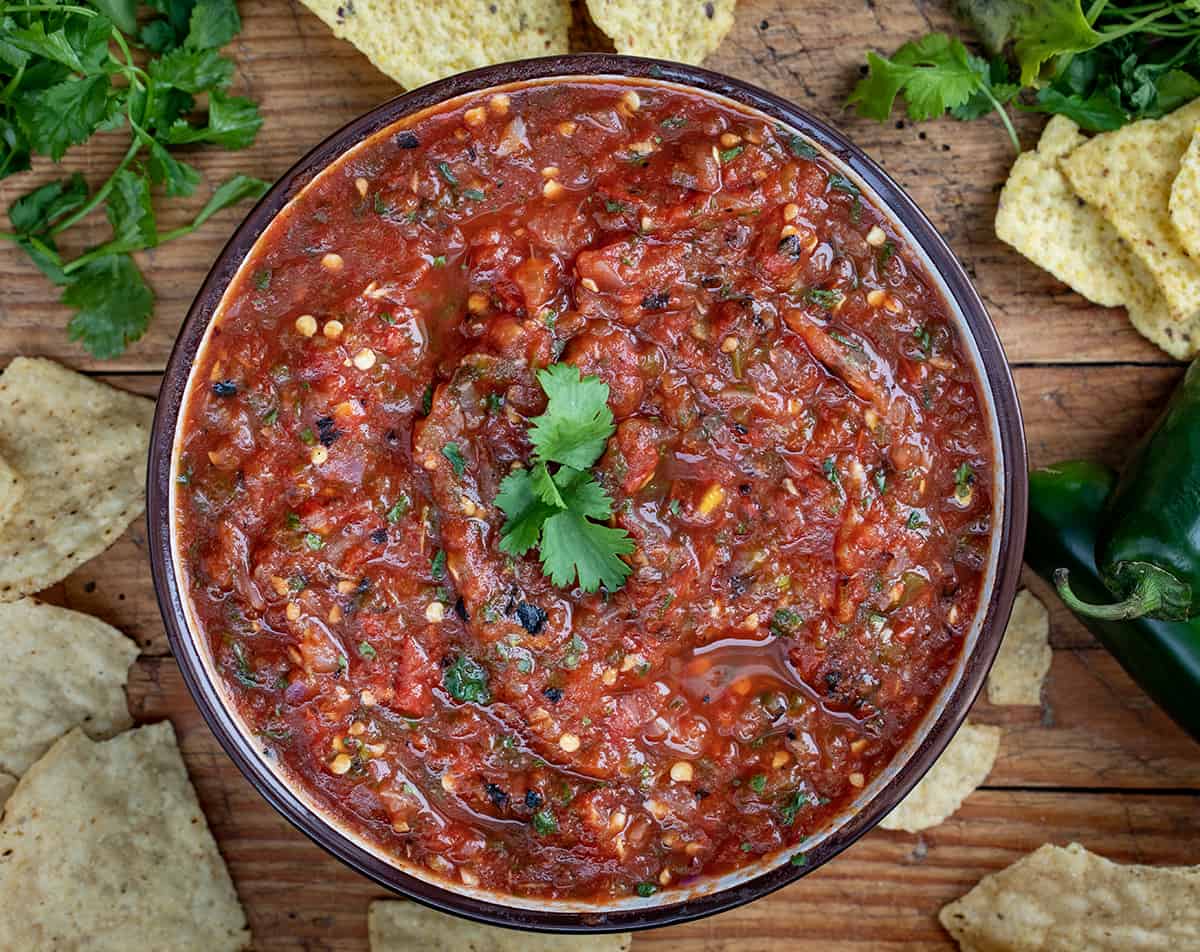 Ingredients & Substitutions
Tomatoes: I used beefsteak tomatoes, large, meaty tomatoes named after their size and shape. You could substitute plum tomatoes like Roma tomatoes.
Jalapeno Peppers: The peppers give the salsa a little bit of a kick. For a spicier jalapeno pepper, look for peppers with white marks on them. They are older and will have more heat than younger peppers. To adjust the heat even more to your preference, use your favorite kind of pepper or leave them out.
Red Onion: Red onions have a mild, slightly sweet taste that complements the bold flavors of the other ingredients in the salsa without overpowering them. You could substitute yellow or white onions if that is what you have on hand.
Garlic: Roast 4 cloves of garlic along with the tomatoes, peppers, and onions. Roasting the garlic adds depths of flavor to the salsa, as well as softens it for easier blending. In a pinch, you could substitute 1/2 teaspoon of minced garlic for each garlic clove. Add the minced garlic to the food processor when blending the ingredients together. However, it will alter the flavor of the salsa.
Cilantro: Fresh cilantro is used in this recipe. It's a flavor that some people love, but some stay away from altogether. It does make a difference in the flavor of this salsa recipe, so try it before you forget about the recipe altogether. Wash the cilantro well before using it.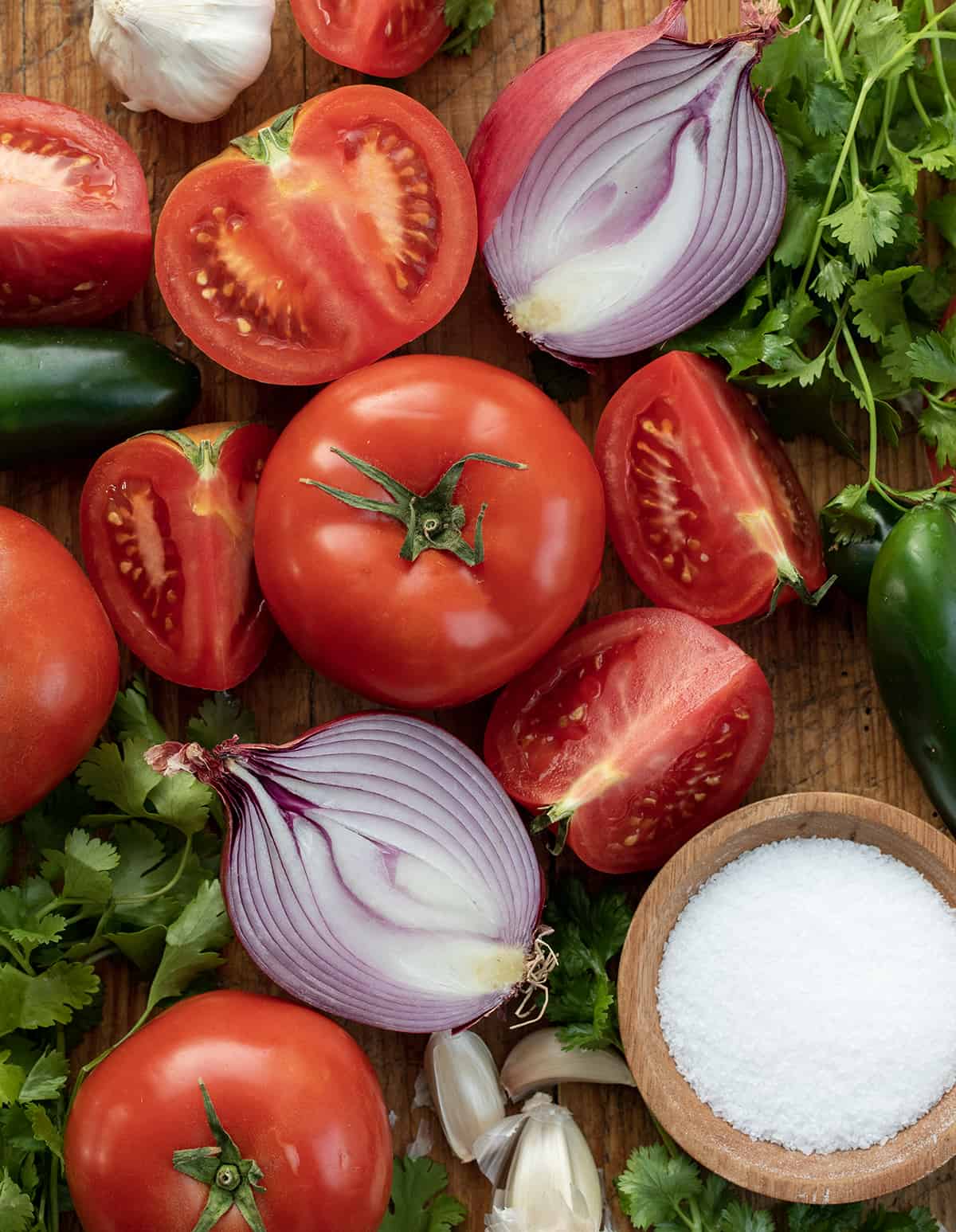 How to Serve Roasted Salsa
Besides topping tacos and burrito bowls with salsa, there are many other ways to use this versatile dip. Here are a few of my favorites:
Can I Make Salsa Without a Food Processor?
Yes! If you don't have a food processor, you can still get this salsa made. A blender would work well to mix all of the ingredients together. Or, you could even make it by hand. After the vegetables have roasted, let them cool a bit before finely chopping them. Transfer the vegetables and remaining ingredients to a bowl and mix until all the ingredients are well combined. A muddler or potato masher would also work. Whether you use a blender or chop the vegetables by hand, the key is to mix everything thoroughly so that the flavors are evenly distributed throughout the salsa.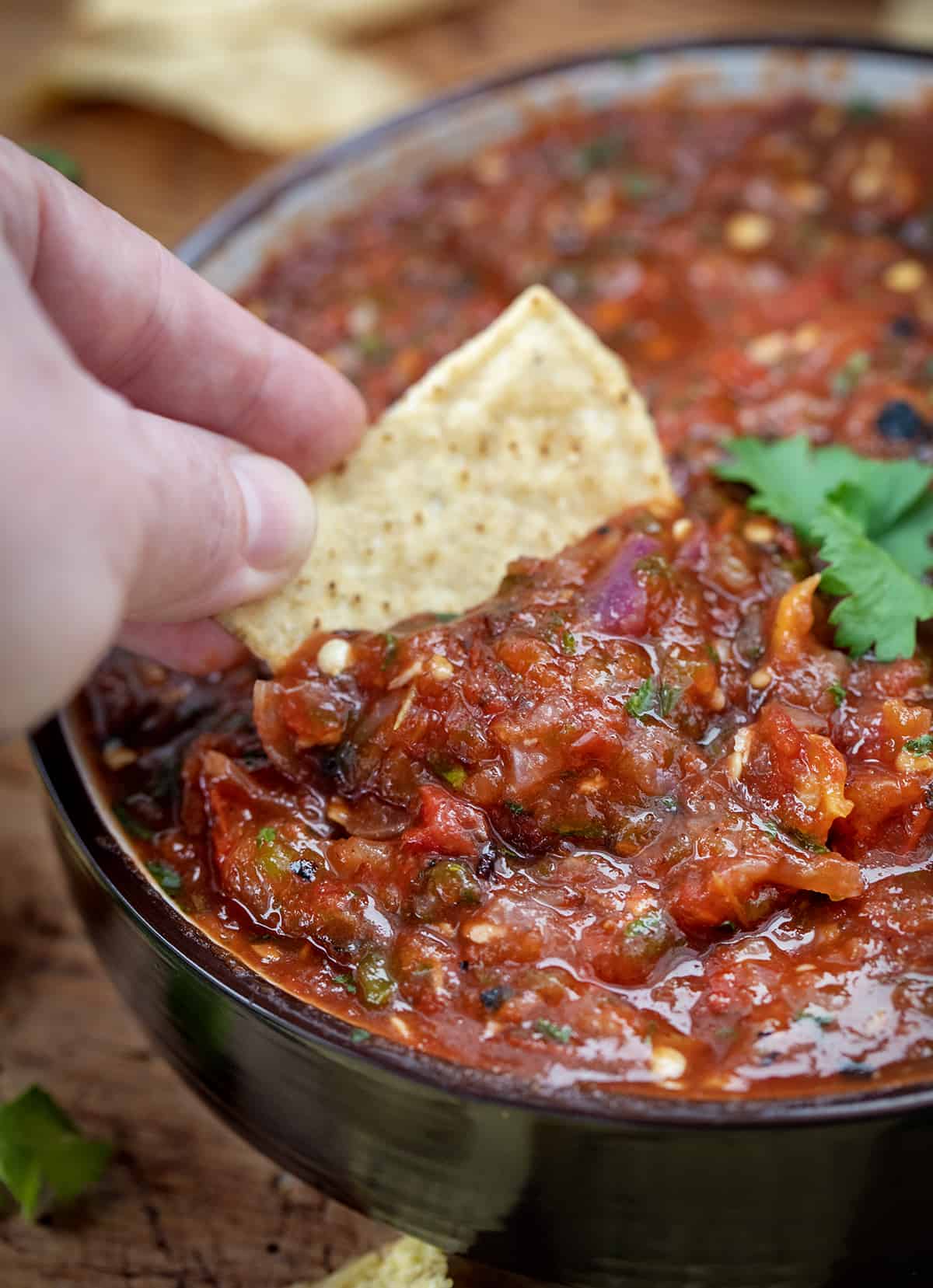 How to Store Homemade Roasted Salsa
Homemade salsa should be stored in an airtight container in the refrigerator. It will last 5-7 days. For longer storage, freeze the salsa in a freezer-safe container for up to 3 months. Leave a little bit of room at the top of the container for expansion. When ready to serve, let the salsa thaw in the refrigerator.
Can I Can Roasted Salsa?
Yes, of course. I would recommend following the instructions on Ball Mason Jars website.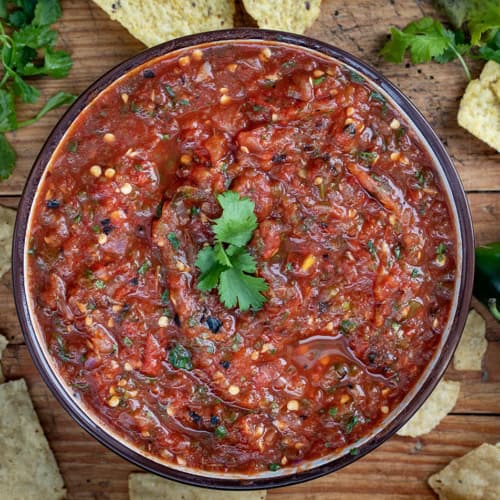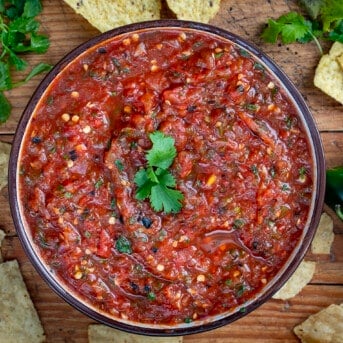 Roasted Salsa
Roasted Salsa is homemade salsa made with roasted vegetables that are bursting with flavor and packs a little kick from jalapeno peppers.
Ingredients
4

large

beefsteak tomatoes,

cored, quartered

2

large

jalapeno peppers,

stems removed

1

large

red onion,

quartered, layers separated

4

cloves

garlic

½

cup

cilantro leaves

2

teaspoons

kosher salt
Instructions
Preheat the oven to the broil setting* and line a baking sheet with aluminum foil.

To the lined baking sheet, add quartered tomatoes, jalapenos, layers of red onion, and garlic cloves.

Broil the vegetables for 9 minutes. Then, flip over the vegetables and broil for an additional 10-15 minutes, or until the tomatoes and jalapeno peppers start to brown and blister. Watch carefully so the vegetables do not burn.

Place the broiled vegetables into a food processor. Add cilantro leaves and salt.

Let salsa cool to room temperature before serving.
Notes
*Air Fryer Instructions
To roast the vegetables in an air fryer, follow these instructions to make the salsa:
To the basket of your air fryer, add tomatoes, jalapenos, red onion, and garlic. Spray the tops of the vegetables with cooking oil.
Air fry at 375°F for 15 minutes, or until the tomatoes and jalapenos start to brown and blister.
Place the air-fried vegetables into a food processor. Add cilantro and salt.
Process until smooth.
Did you make this recipe?
You can tag me at @iamhomesteader.