This Shrimp Ceviche recipe is a chilled, refreshing dip loaded with shrimp, lime juice, and lots of fresh vegetables. Try my Shrimp and Avocado Salad for another recipe that blends fresh, crisp veggies with shrimp.
What is Shrimp Ceviche?
Ceviche is a recipe that marinates or 'cooks' fresh fish in lime juice or lemon juice. There is no heat involved; the acid from the citrus does all the work. I went with precooked shrimp for this recipe, but I still let the shrimp marinate in the lime juice and added lots of fresh vegetables. It is a perfect recipe for those looking for a light and healthy dish that is also bursting with flavor! For more refreshing dips, try my Avocado Corn Salsa, Black Bean Salsa, and Pineapple Salsa.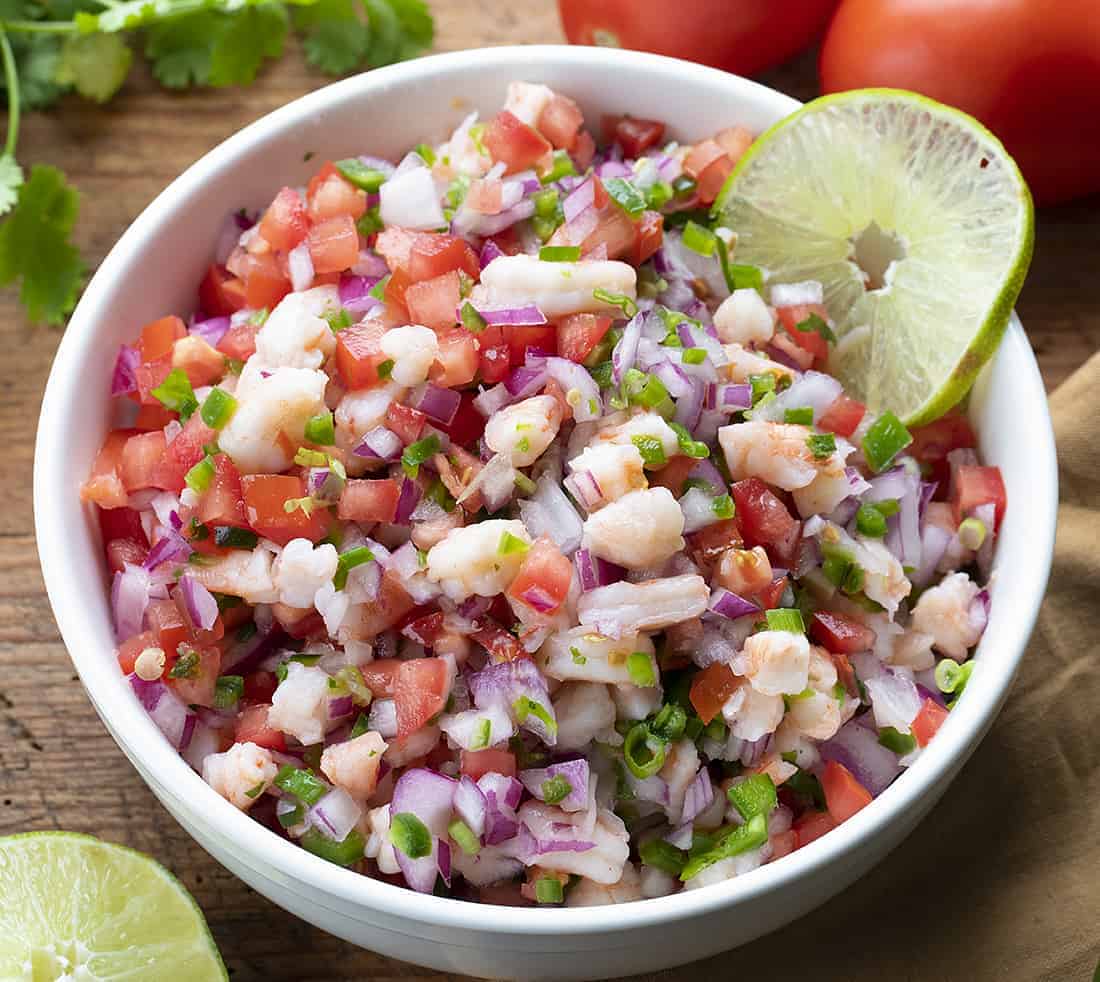 Ingredients & Substitutions
Shrimp: For this recipe, I used pre-cooked shrimp that was peeled, deveined, and had the tail removed. But, you could use raw shrimp. The acid from the lime juice 'cooks' the shrimp just like heat would. Let the raw shrimp sit in the lime juice for about 15 minutes. It is cooked when it turns an opaque white with some pink tints. It will also be firm. Do not eat shrimp if it is gray. When preparing fresh shrimp, deveining is optional and based on appearance. To peel shrimp for this recipe, start underneath and remove the tail. If desired, devein the shrimp by making a shallow slit along the back and removing the black vein with a knife.
Vegetables: Fresh vegetables are essential in ceviche. Add vegetables you love, like avocados, corn, olives, or any other favorites! The hardest part of this recipe is probably seeding and dicing the jalapeno peppers. To remove the seeds of jalapeno peppers, slice the pepper vertically down the middle and use a spoon or slice along the sides, leaving the seeds attached to the core before chopping the pepper strips. Avoid touching your face or eyes while handling the peppers.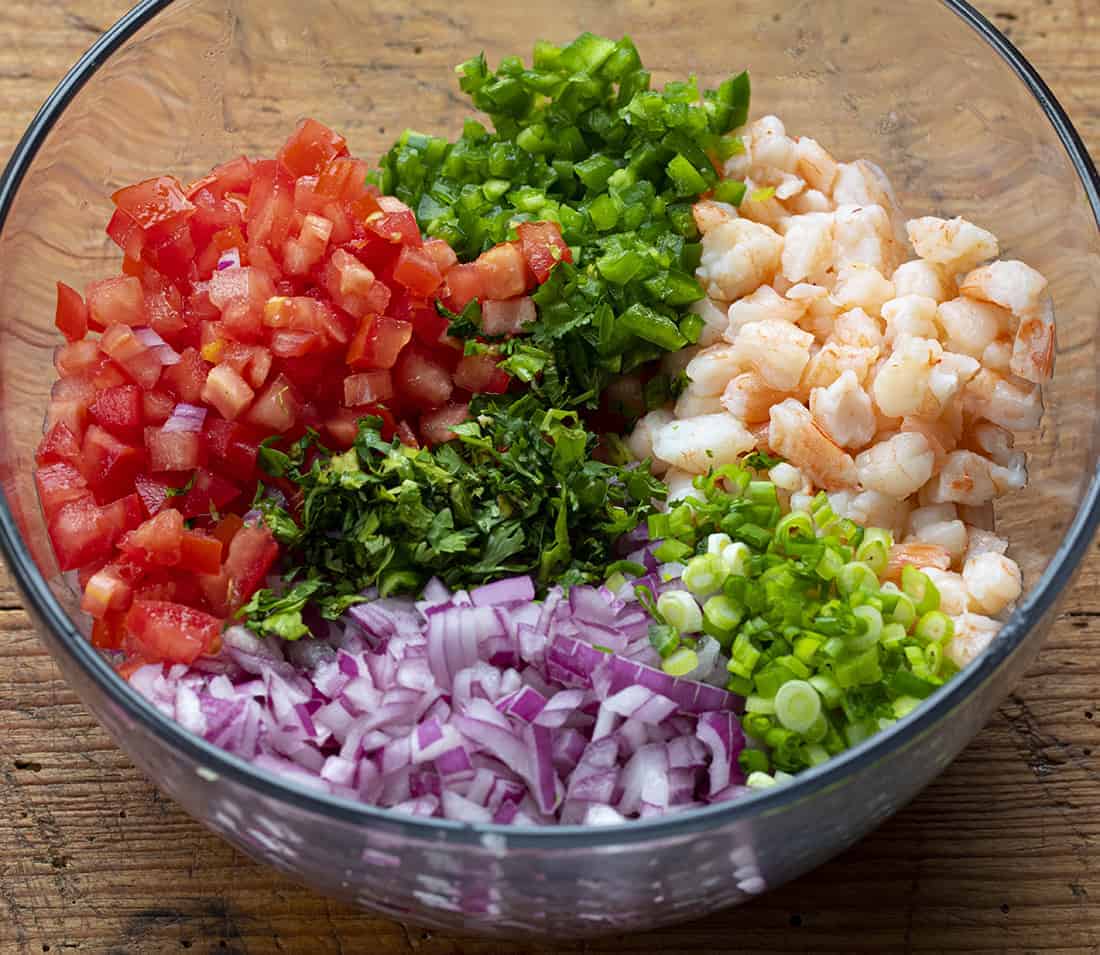 How to Serve Shrimp Ceviche
Shrimp ceviche can be served as an appetizer with tortilla chips, crackers, or sliced vegetables like cucumber. It can also be served as a light main dish on its own, or as a substitute for pico de gallo on tostadas or tacos. For a complete meal, serve the shrimp ceviche with a side of cilantro lime rice and refried beans or a salad. Some people also like to add avocado or hot sauce to their ceviche for extra flavor.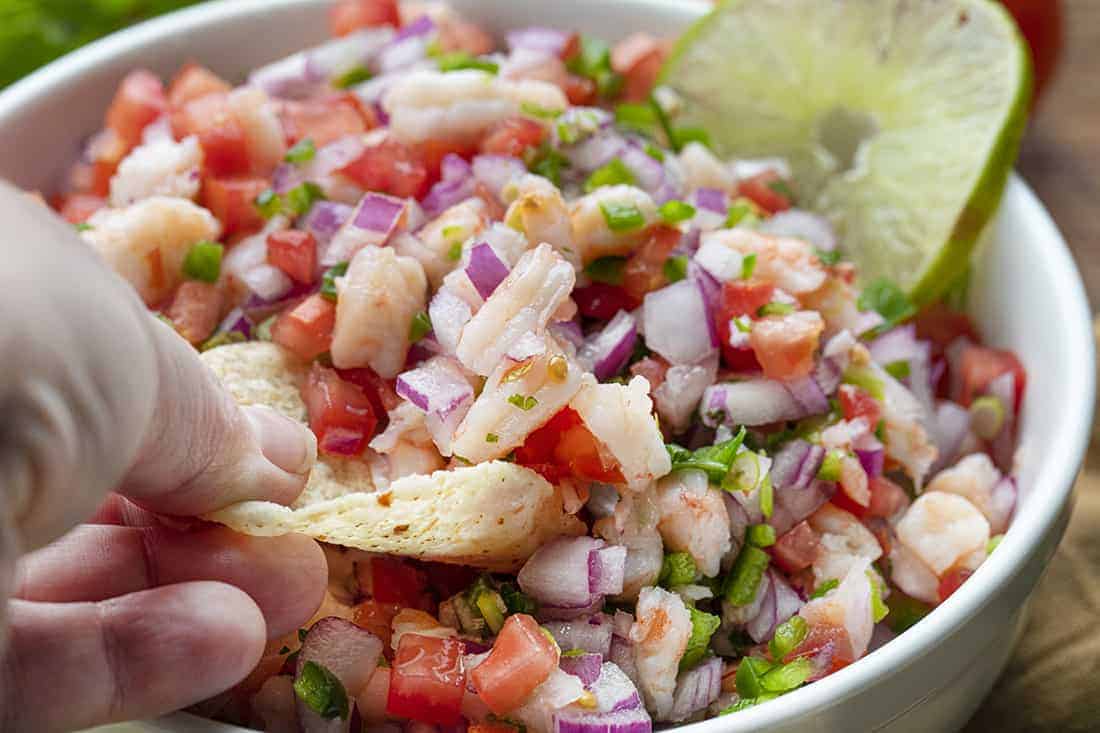 How to Store Shrimp Ceviche
Store Shrimp Ceviche in a sealed container in the refrigerator for up to 2 days. However, it is best when enjoyed within 24 hours for the freshest taste and texture.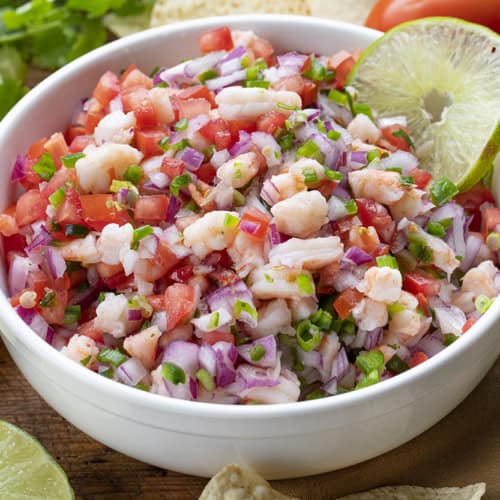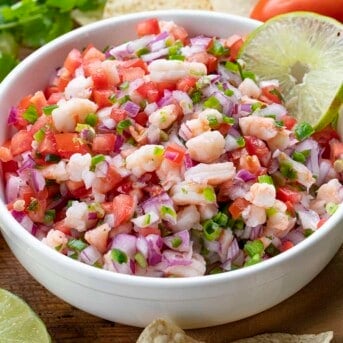 Shrimp Ceviche
Shrimp Ceviche is a chilled, refreshing dip that is loaded with shrimp, lime juice, and lots of fresh vegetables.
Ingredients
12

ounces

cooked shrimp,

peeled, deveined, tail removed

½

cup

fresh lime juice

2

Roma

tomatoes,

diced

1

medium

red onion,

diced

2

medium

jalapeno peppers,

seeded and diced

¼

cup

cilantro,

chopped

2

green

onions,

diced

¼

teaspoon

kosher salt
Instructions
Chop the shrimp. Place in a medium bowl.

Add lime juice. Toss to coat the shrimp in the lime juice. Let rest for 10 minutes.

Add tomatoes, onion, jalapenos, cilantro, green onions, and salt. Cover and chill for 30 minutes to an hour.

Serve with tortilla chips.
Did you make this recipe?
You can tag me at @iamhomesteader.