This Blueberry Spinach salad has pure, raw ingredients that work perfectly together and are super satisfying! The first time I made it the kids didn't even want to try it, but now they request it and I love that! My roasted chicken recipe is perfect for this salad!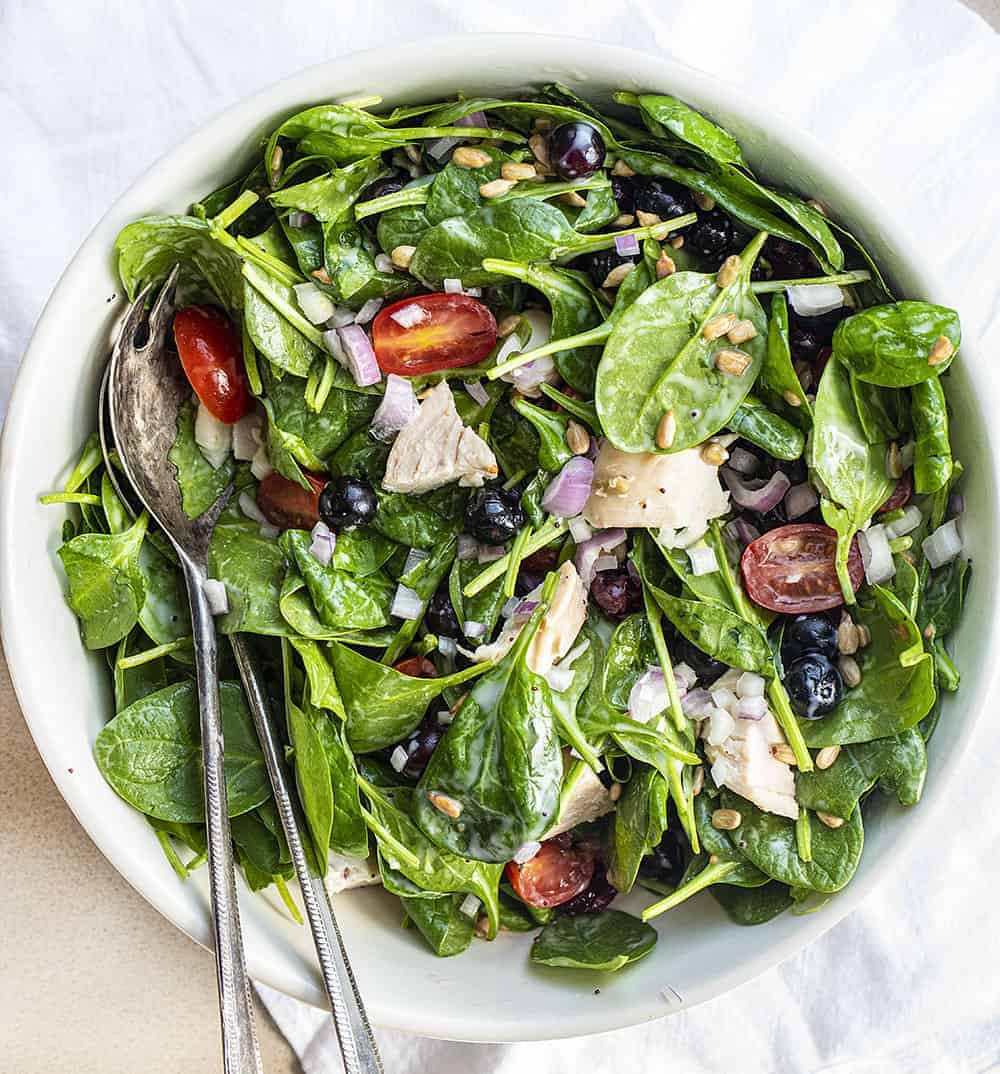 Blueberry Spinach Salad
This salad just screams healthy to me! This is why I decided to share it today. With all of the health issues the world is facing I am ALL about what simple things we can do to support our immune system and give ourselves the best possible chance to combat any illness we may face.
Ingredients
Spinach-Spinach is definitely a superfood! It is so full of nutrients, with Vitamin C being one of them. Vitamin C is key to keeping our symptoms of the cold or flu more bearable or to help fight the germs our bodies come in contact with every day!
Blueberries-Not only do blueberries help with memory and heart health (among other things), they are packed with flavonoids (a class of antioxidants) that cut down your chance of catching a cold by a third! It's no wonder that WebMD calls blueberries a 'One Food Wonder'.
Chicken- Chicken is a good source of vitamin B12, niacin, vitamin B6, pantothenic acid and also contains vitamin E and vitamin K, just to name a couple.
Poppyseed Dressing –Poppy seeds are a rich source of thiamin, folate, and other essential minerals.  They are known to relieve exhaustion, decrease anxiety, and aid in a good night's sleep. They can be used to ease a dry cough(!) in their purest form. We aren't using much in this recipe and they are in a dressing that contains sugar, so if you want a super healthy salad, try using a sprinkling of fresh poppy seeds!

Tips & Tricks for Spinach Salad
Season the chicken by sprinkling it with salt and pepper. You could mix it up to your liking by adding other seasonings or even marinating it with a balsamic vinaigrette.
I didn't add any cheese to this recipe, but you sure can! I love the creamy texture of goat cheese, but you could also use feta or even blue cheese. It can be fun to add a little tang to this salad!
This salad is also great with some toasted almond slivers or even some candied pecans if you want to get fancy.
Don't miss my Homemade Ginger Ale for a refreshing and healthy drink option with this salad! And as always, make sure you are prepared. Check out my Food Preparedness post on how to stock up on essentials!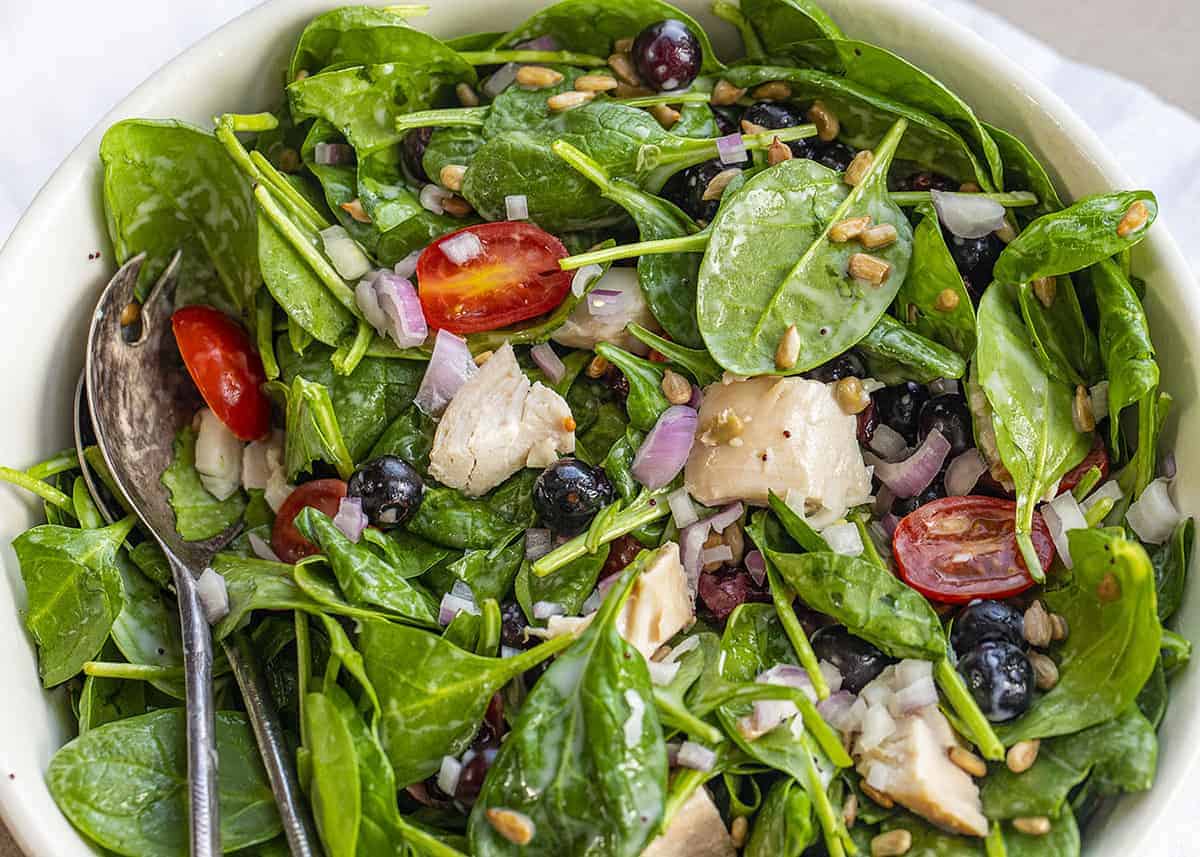 Spinach Blueberry Salad
This Blueberry Spinach salad has pure, raw ingredients that work perfectly together and are super satisfying!
Ingredients
8

ounces

baby spinach

½

pint

blueberries,

rinsed

1

cup

cherry tomatoes,

halved

¼

cup

dried cranberries

¼

cup

sunflower seeds,

I used salted

1

shallot,

finely diced (about ⅓ cup)

2

chicken breasts,

cooked and sliced (I used rotisserie chicken)

poppyseed dressing,

as much or as little as you would like
Instructions
In a large bowl add fresh baby spinach.

To that, add the blueberries, tomatoes, dried cranberries, sunflower seeds, and diced shallot.

Place cut chicken on top. (I like to place ingredients in sections and then toss the salad when I am ready to serve.)

Pour dressing over (start with less than you think you would need, you can always add more!) and then toss the salad.

Serve immediately.
Did you make this recipe?
You can tag me at @iamhomesteader.